With over eight hundred million downloads, and five hundred million monthly active users, TikTok has completely consumed the time and energy of people throughout the globe. Since its inception under the title of Douyin in September of 2016 in China, TikTok has expanded to 75 languages and 150 countries and has quickly become a significant medium for marketing campaigns all over the world. TikTok has taken over social media, fired the imaginations of Generation Z and Millennials across the world, and influenced the marketing strategies of international companies, all while maintaining an approachable and intuitive interface.
What is TikTok?
TikTok is the international analogue of the original Chinese-based Douyin application, which was created in China in September of 2016 before spreading rapidly to 150 markets across the globe a year later.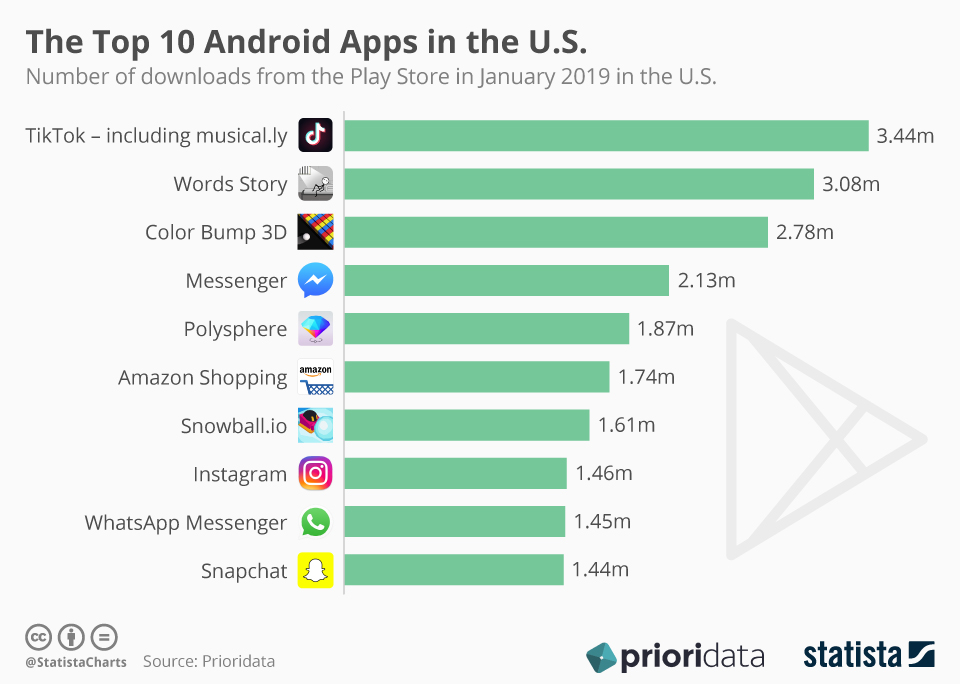 Anybody who has used Vine before will surely recognise the main draw of this new social media phenomenon, with the general idea of short user-uploaded videos being created, collected and shared amongst a global community. However, Vine died out in 2016 when Twitter disabled new uploads, so why buy into the TikTok hype? Will this new short-video social media app suffer the same fate?
The good news for marketers looking to use TikTok in their new campaigns is that TikTok is already far more popular than Vine ever was. Vine topped out at about two hundred million active users, while TikTok, still a relatively new platform, already has five hundred million.
So what's the difference, why is TikTok gaining popularity that the similar but now defunct Vine never did? It starts with their vast library of licensed music. As you might expect with such an on-trend platform, a huge number of uploads revolve around dancing or lip-syncing and this is where TikTok takes advantage of their expansive music library featuring all the top names in music (Bruno Mars, Ariana Grande, Nicki Minaj, Slipknot, Zedd, etc.) allowing users to sync these megastars' music to their short video clips. This was made possible by ByteDance's (Chinese-based owner of TikTok) eight hundred million dollar acquisition of Musical.ly, which, following the take-over, was merged with the already existing TikTok to create an endless library of bite-size clips for users to generate content with.
Of course, TikTok has evolved to host content showing more than just dancing and lip-syncing to the top names in music, it's also become a platform for internet comedians, influencers, sports clips, and one of the mainstays of any social media platform – cat and puppy videos. The display of the content is split into a couple of key sections; your home page has two sides, one "For You" which uses your interests to find new videos and users you may like, and "Following" which puts together a feed of new videos from users you follow. It's an interesting format as you don't need to follow anybody to get started. Immediately after signing up, you begin receiving content featured by the app in your feed to help you find what you like. You can also search for videos with different hashtags, or themes, with trending hashtags displayed in an easy to find format.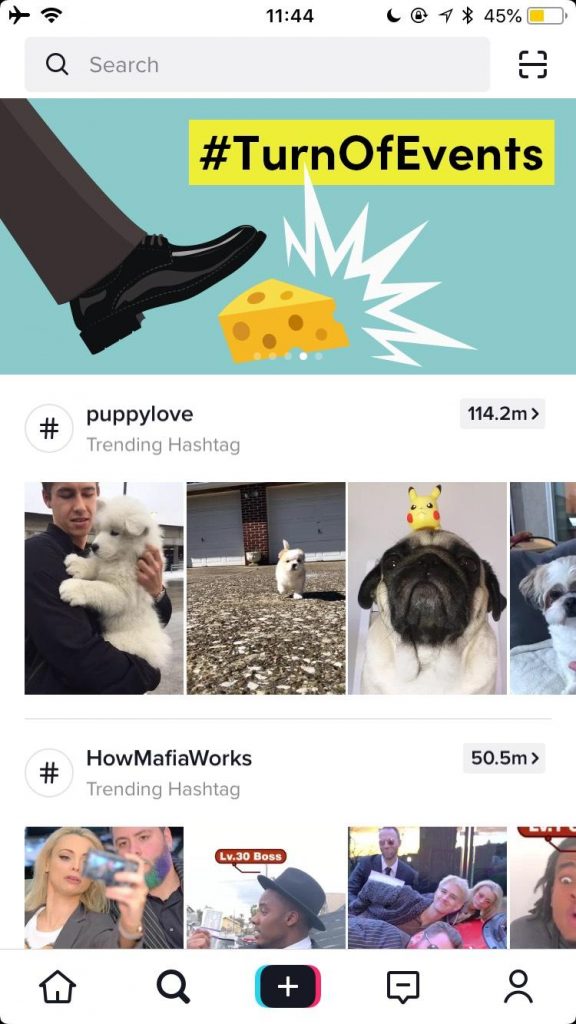 Key Usage and Demographic Statistics of TikTok
Before getting into how companies have started using the TikTok platform to promote their products and campaigns, it's helpful to examine just who is using the app and how often they do so, in order to get an idea of why promotion on this platform can be successful for companies in 2019 and beyond.
Even in the face of some stiff competition, the popularity of TikTok has exploded, generating over 660 million downloads in 2018 alone. Since its creation in 2016, TikTok has attracted 500 million "active users" or monthly users, a number that Instagram took over 6 years to pull off. For another perspective on just how popular the app has become, Twitter currently has an active following of about 321 million according to theverge.com. So how does this large group of active users engage with the app on a daily basis?
Users spend an average of 52 minutes per day on the app, which ranks right around the same number as the ultra-popular Facebook and Instagram, and higher than Snapchat. To put all this in context, the app has become so popular that in April 2018 the app launched an addiction-reduction feature that encourages users to take a break every 90 minutes.
How can I use TikTok for my next marketing campaign?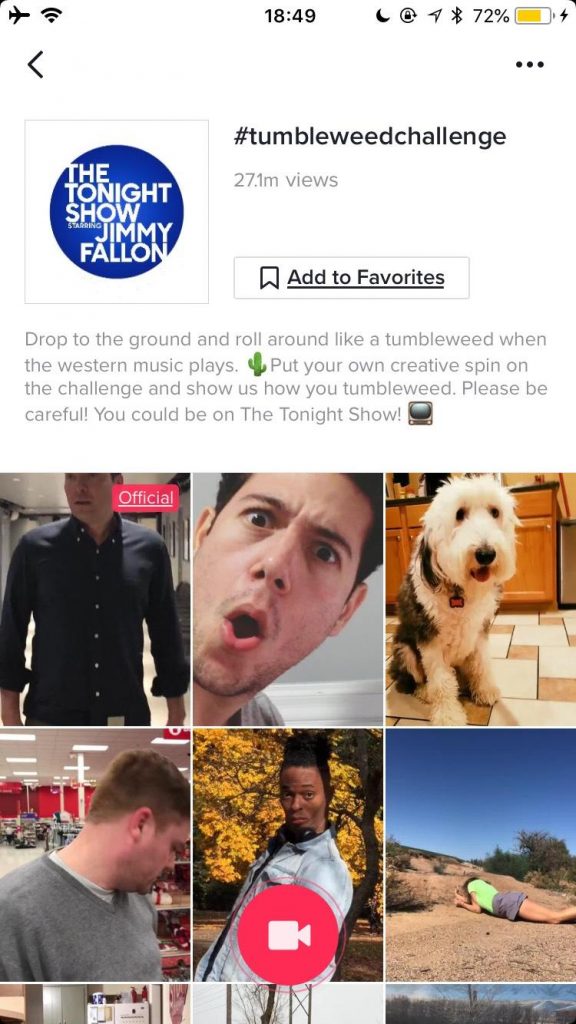 Currently, the most popular of the TikTok marketing options come in the form of hashtag challenges. One famous example being when Jimmy Fallon, star of NBC's The Tonight Show, posted a challenge that asked users to roll around like a tumbleweed across the desert with the tag #Tumbleweedchallenge. The result was a flood of over 8,000 posted videos that garnered over 27 million views to promote the popular late-night talk-show.
The Real (another American talk-show) is promoting #therealcomedychallenge where the show partnered with TikTok to hold a contest imploring users to post their funniest videos to potentially win a ten thousand dollar cash prize and a trip to Los Angeles to appear on the show. The hashtag has accumulated 380 million views around the world and has surely been responsible for enticing potential new viewers. McDonald's displayed their advertising acumen in Malaysia where they created the #BigMacTikTok Challenge where they prompted users to dance to a pre-recorded music clip to win a free Big Mac upon submission.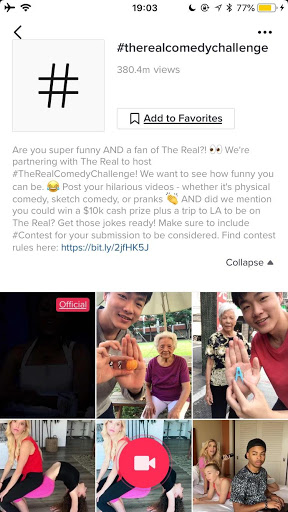 Another way to promote your brand through TikTok is an "In-Feed Native Video" which is similar to those commonly found on Instagram or Snapchat. These full-screen adverts are skippable but provide the ability to download apps or click on website links. The ads are 9-15 seconds in length, adhering to a similar philosophy of short videos that the app is built on.
The influencers of social media have found their way onto TikTok as well, dragging their millions of followers with them. Companies can use this to their advantage by paying these accounts to promote their brand, an idea that was recently thrust into the spotlight following the Fyre Festival debacle which was nearly entirely promoted by some of the highest followed users on Instagram. Tiktok is replicating this ability to promote and provide a highly visible advertising platform.
Branded lenses have proven to be successful on the Snapchat platform and in 2019, TikTok is entering the fray with their own spin on their rival's tool. Advertisers will be able to promote their brand with a custom lens, an augmented reality feature that will likely be standardised across many social media platforms in the future.
So, how can you use this platform to your advantage and grow your brand? It may sound obvious, but recognising the target market, promoting your company to a younger demographic, particularly those belonging to Generation Z and the Millennials seems like a sure bet of success. Being aware of the type of advertising that attracts young people nowadays is key. Things go viral just as quickly as their forgotten in today's world, so you not only have to produce unique and imaginative content, but you also have to consistently keep your brand on users' radar by releasing relevant new content quickly.
Key Takeaway
With over 500 million active users, about 66% of which are under the age of 30 (according to businessofapps.com), TikTok has quickly become a platform worth investing in from a marketing perspective. The right combination of imagination and timing has already proven effective in using the application for advertising, and with new features being unveiled, the possibilities are nearly endless to help grow your brand with one of the fastest growing social media apps in the world.