Ensure customer satisfaction
Omnichannel platform to provide spotless customer service and build strong brands
Social Listening & Analytics

Online Customer Service

Customer Service Automation
---
Social Listening & Data Analysis
Now you can hear billions of internet users around the world. And not just hear but actually listen. Explore the web to collect online opinions and get a clear vision of how your brand is perceived online.
Social Listening and Online Media Monitoring
Monitor billions of discussions on thousands of web sources such as news, blogs, forums, portals and social media.
Unlimited Keywords and Results
Analyse unlimited keywords in any language and get unlimited results.
---
Audience Insights
Identify the right target for your business. With proper customer analysis, you'll be able to communicate what matters most.
Sentiment Analysis
View the number of positive, negative, and neutral mentions for your keyword-based projects. We use proprietary algorithms to estimate the emotions behind the mentions.
Competitive Research
Prove your position in the market thanks to advanced comparative dashboards for competitive analysis.
Online Customer Service
Reach your current and potential customers wherever they need you. Integrate all of your online channels and address comments instantly. By creating an engaged online community, you build strong brand awareness and advocacy.
Instant Response
Reduce response time by up to 70% thanks to alerts and omni-channel integrations to provide excellent customer care.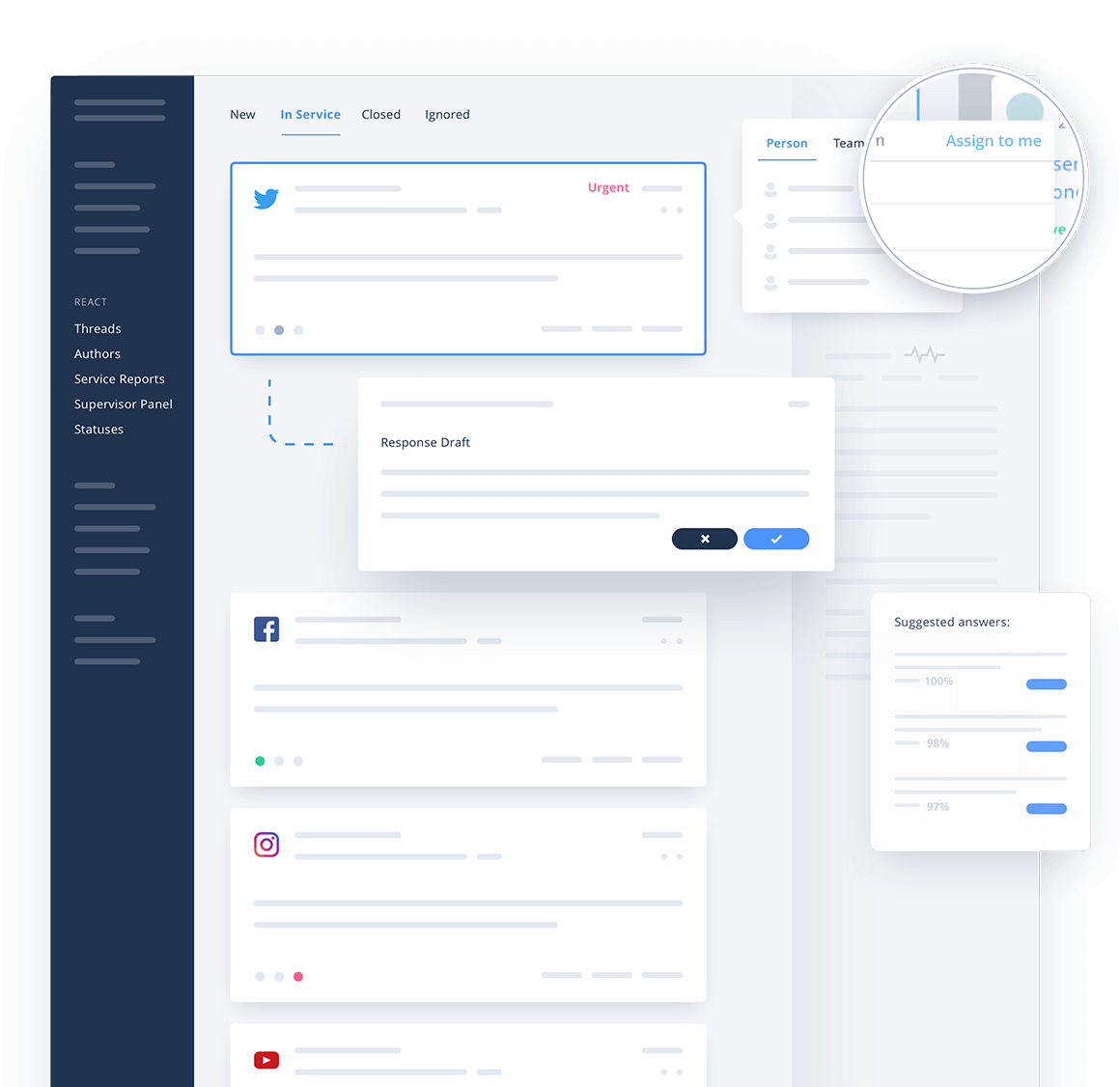 Multi-Channel Integration
No more clicking through multiple social platforms to juggle your brand image. Integrate your social media profiles and join online conversations.
---
Online Reputation Management
React to 80% more of online discussions, which happen outside your own channels and show that you care.
Customer Engagement
Build your social engagement on audience relationships. Address your clients' needs in no time.
Crisis Management
Don't let negative mentions spread and damage your reputation. With the anomaly detection and alerts, you can react instantly and save your brand.
Customer Service Automation
Gain competitive advantage by providing excellent omni-channel customer service. Handle most customer requests with conversational AI and save your agents time. Supporting your team with next-generation bots, you invest in your company's future.
Industry-agnostic NLU Engine
Automate recurring processes with robotic agents able to discuss any topic thanks to machine learning engine.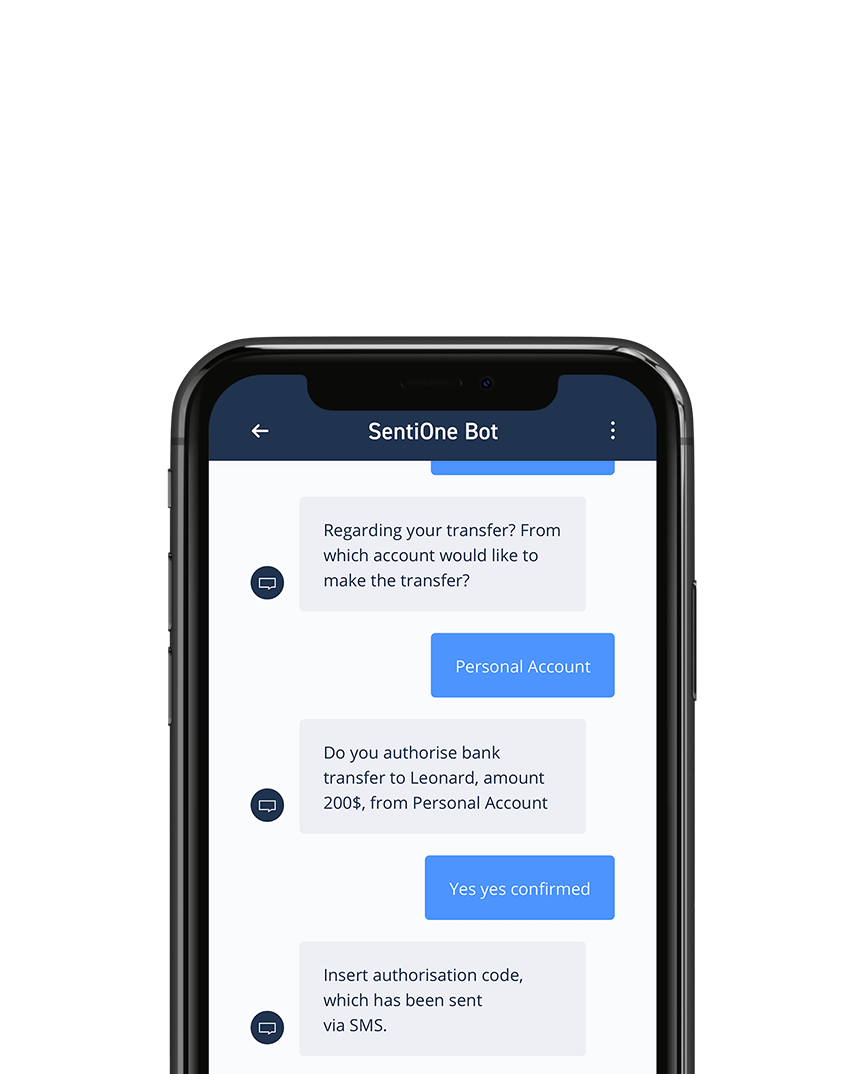 Text-channel Chatbots
Meet the expectations of Gen Z and Millenials and enable contact center via messenger and chat apps.
---
Telephone Voicebots
Save your client service costs by reinventing your call center with voicebots in telephone channel.
Seamless Multi-channel Integrations
Provide stable customer support on all channels with an all-in-one solution.
Intuitive Bot-Building Interface
Learn how to build your own next-generation chatbots with no qualified IT team needed.
Enterprise Solutions
SentiOne is designed to help you make the most of your online management. We want to meet all your needs so with enterprise plan you can get custom solutions. Choose the technologically advanced and secure suite!
Multi-Market Dashboards
In the enterprise plan, you get access to data from more than 30 countries. This means you can compare what people are saying about your chosen subject in different countries and expand your business!
Unlimited Users
The bigger the company gets, the more the needs. At SentiOne, you have no limits on the number of users that can access the application, because we know that it's people who grow your business.
Dedicated Account Manager
If you ever wonder how to get relevant insights and make the right decisions based on unlimited data, your SentiOne dedicated Account Manager can lead you through any issues.
Free Account Setup & Training
SentiOne is one of the most sophisticated and advanced platforms on the market. So to make sure you get the most out of it, we help you configure your first projects and show you the details of unlimited online monitoring!
Trends
Be the first to know what's trending in your market by getting the results of our in-depth data analysis. Navigate your company in the right direction.
Custom Implementations
Our platform is based on the proprietary technology that we've developed from scratch. If you are ever in need, we are able to add new functionalities or integrations for your company.