Ensure customer satisfaction in every respect
Choose a multi-channel solution to secure your customer journey from attention to advocacy
Listen
Online Listening & Analytics
Explore online insights and make data-driven decisions. Monitor and analyse online mentions of your brand or competitors on the entire web. With all online opinions and statistics gathered in one social listening tool you get a clear vision of customers' needs.
Request demo
Online Media Monitoring
Stay on track with billions of discussions on thousands of web sources (such as social media, blogs, forums) tracked and analysed for you.
Unlimited Keywords and Results
Get the full market research thanks to unlimited phrases in any language gathered in one tool.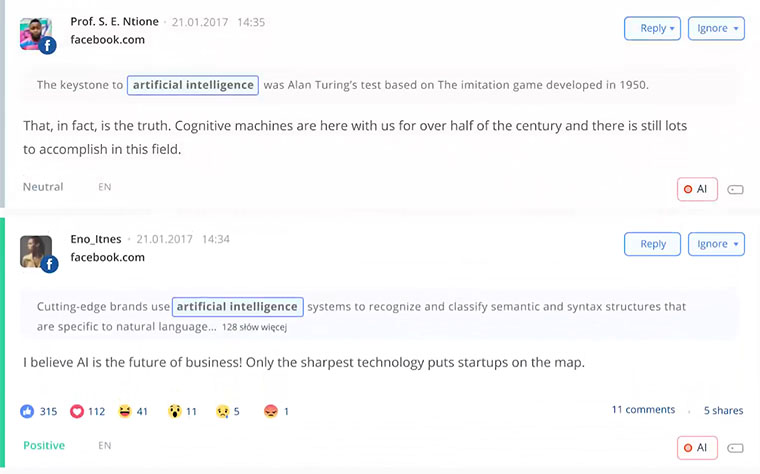 Real-time Data
Always be on track with instant access to real-time and historical data.
Audience Insights
Identify the right target groups by pulling insights from customer analytics. Get instant results when analysing discussions based on gender breakdown, geolocation, discussion peak time, most popular sources, and many more.
Diverse Sources
Find mentions you are looking for thanks to hundreds of thousands of web pages crawled, like Facebook, Twitter, Instagram, YouTube, Google Reviews, VKontakte, TripAdvisor, Amazon, Reddit, G2 Crowd, The Guardian, Forbes, and many more.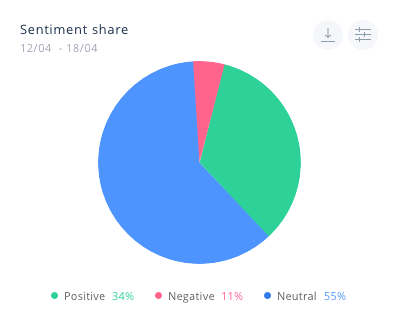 Sentiment Analysis
Identify actual customers' needs, problems and requests with automatically detected undertone insights.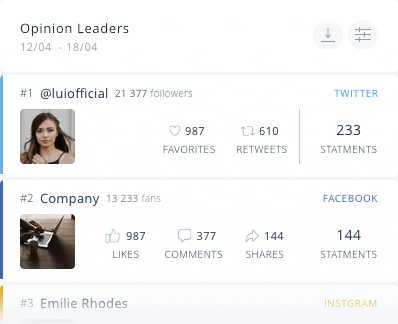 Influencer Marketing
Build credibility and trust by reaching out to your brand advocates. With the help of social media influencers expand your loyal customer base and reach of marketing activities.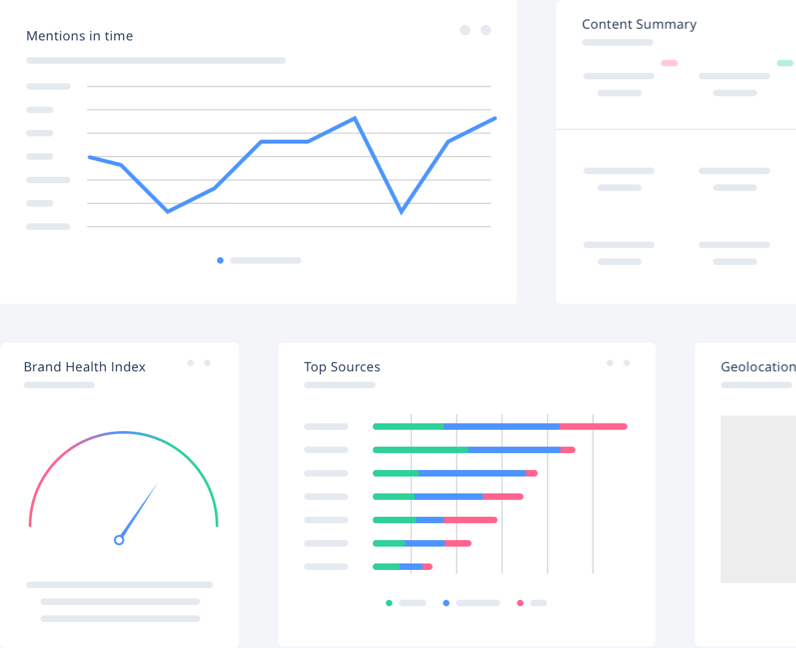 Competitive Research
Capture competitive intelligence on other players on the market: their customers, services, products and performance. Prove your position in the market thanks to advanced comparative dashboards for competitive analysis.
We have been working successfully with SentiOne since 2012. They provide NIVEA with Social Media Listening, Insights, and Analysis across multiple European markets. Throughout our cooperation, SentiOne has proven to be a trustworthy and on-time supplier.
Book a demo
React
Online Customer Service
Reach your current and prospective customers wherever they need you. Integrate all of your online channels into one dashboard to address customer requests instantly. By creating an engaged online community, you build strong brand awareness and ensure customer satisfaction and advocacy.
Instant Response
Reduce response time by up to 70% with automatic alerts and omni-channel integrations to provide excellent customer care.
Multi-Channel Integration
No more switching between multiple social platforms to juggle your brand image. Integrate your social media profiles into one dashboard and join online conversations.
Chat with us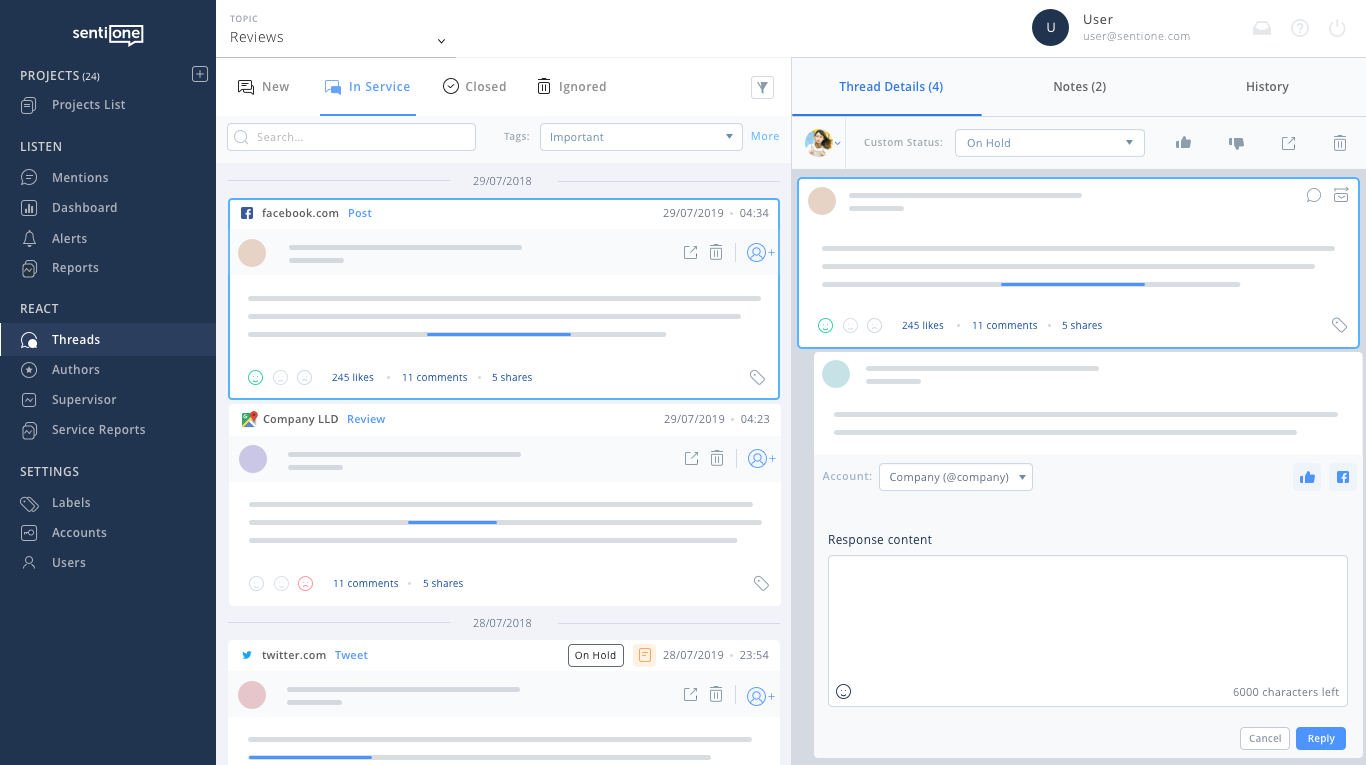 Customer Engagement
Build your social engagement on audience relationships. Address your clients' needs, resolve their doubts and manage discussions in no time.
Smart Automated Routing
Segment customer requests into different categories and assign automatic routing to selected teams: marketing, social media, customer service, technical support - you name it. Smart routing will save time, ensure maximum efficiency and increase the number of resolved issues up to 90%.
Supervisor Panel
Measure the efficiency of your customer service team with the Supervisor Panel. Define the right KPIs and monitor the workload, response time and level of service. Ensure the highest quality of service with real-time statistics and reporting.
Service Level Reports
Always stay up-to-date with reports on your customer service KPIs: service level, response time, status overview, etc. Download, report and share the stats and data that matter to your team.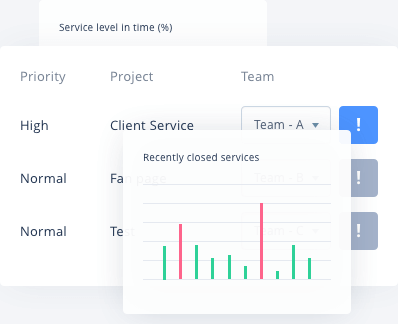 Online Reputation Management
On average, 80% of online discussions about your brand happen outside your own channels. Expand your coverage and monitor 100% of your brand discussions to show that you care.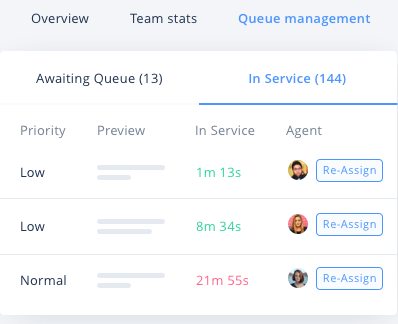 Crisis Management
Don't let negative mentions spread around and damage your reputation. With the anomaly detection and automatic alerts, you can react instantly and protect your brand.
Having tried various international social listening providers, I can honestly say, that SentiOne is one of the best social analytics tools globally, and obviously the best choice for the CEE markets
Get a quote
AUTOMATE
Customer Service Automation
Gain competitive advantage by providing excellent omni-channel customer service. Handle most customer requests with conversational AI and save your agents time. By supporting your team with next-generation bots, you invest in your company's future.
Industry-agnostic NLU Engine
Automate recurring processes with robotic agents able to discuss any topic thanks to machine learning engine.
Text-channel Chatbots
Meet the expectations of Gen Z and Millenials and enable contact center via messenger and chat apps.
Contact Us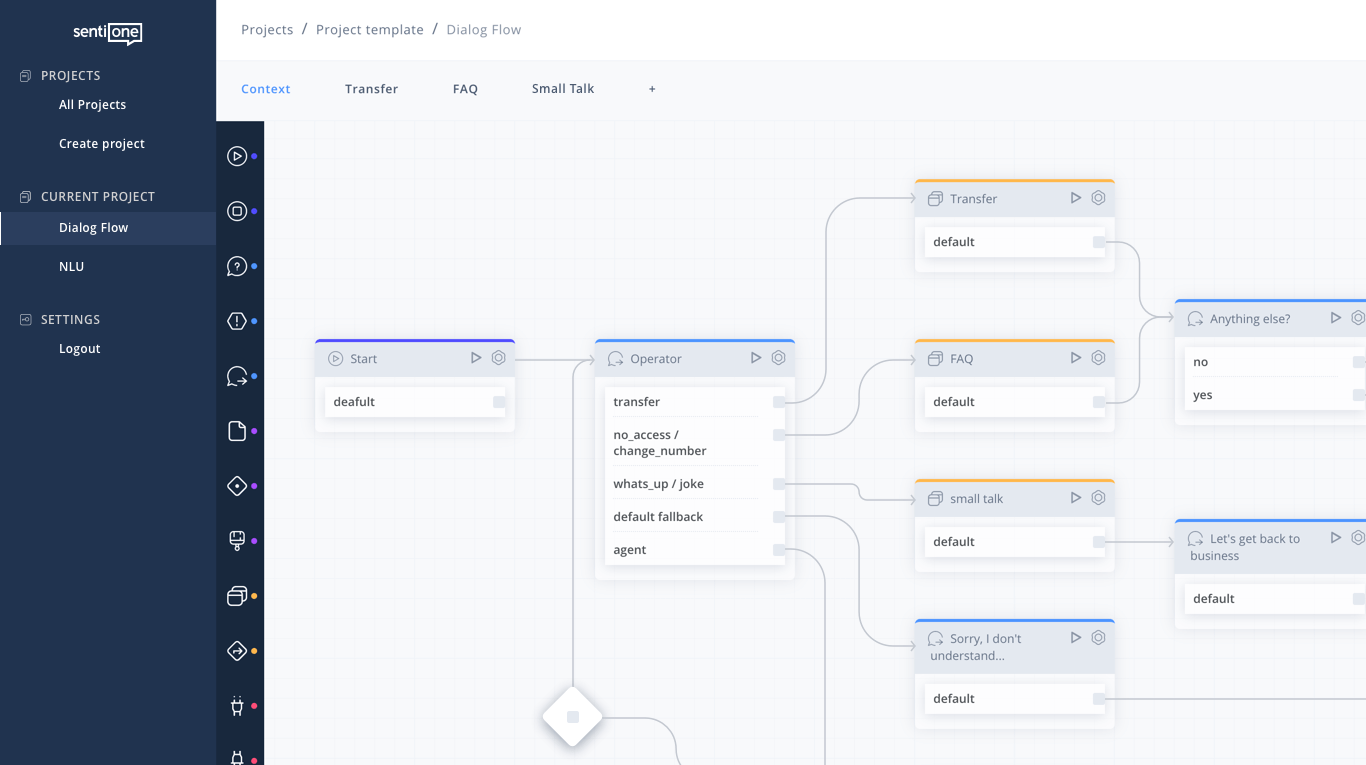 Telephone Voicebots
Save your client service costs by reinventing your call center with voicebots in telephone channel.
On-premises AI Solutions
Choose the platform model you prefer, either cloud or on-premises, to make sure your data is safe and sound.
Seamless Multi-channel Integrations
Provide stable customer support on all channels with an all-in-one solution.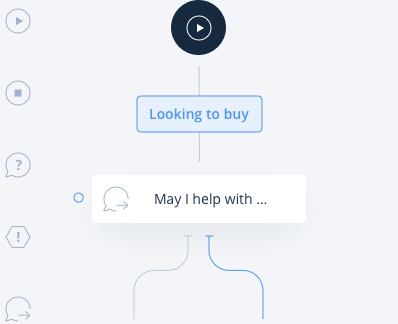 Intuitive Bot-Building Interface
Learn how to build your own next-generation chatbots with no qualified IT team needed.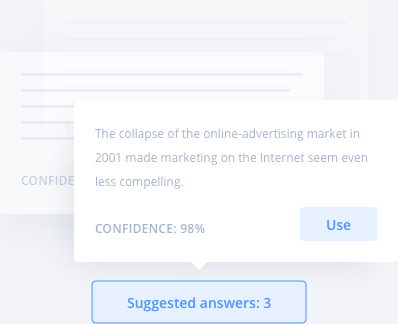 AI Answer Suggestions
Augment your customer support with AI. Try the ready-to-use answers provided by specially-trained AI engine.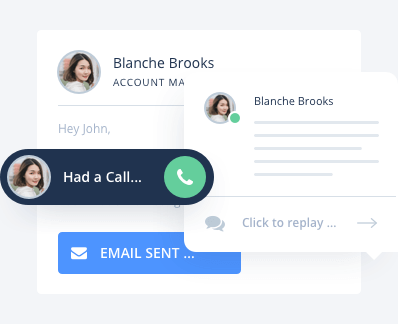 Dedicated Account Manager
Become a master of customer service automation with our support. Be sure you get all the tools to join the AI revolution.
Ogilvy and Mather work with SentiOne for several clients in 15 markets of the CEE region. SentiOne is a partner to reach our goals and answer important questions about the brands that we work with.
Contact us