Hello, and welcome back to our monthly social media digest! As usual, we have a healthy dose of the most important trends, memes, and events that shook the social media world over the last month.
Well, two months. You may have noticed our conspicuous absence last month – and for that, we offer our most sincere apologies. As luck would have it, your faithful scribe was struck by COVID-19. I am back, however, and as a token of apology you're getting an extra-long digest this month.
As usual: all of the data presented here has been captured using our flagship social listening solution, SentiOne. Clicking on each heading will take you to an interactive dashboard which presents all of the data used to compose the digest. If you missed past installments of this series, here they are, in order: September, August, July, June, May, April, March, February.
The NFT bubble – how to manufacture a trend
If you follow new trends, you must have come across NFTs – "non-fungible tokens". They promise to be the future of digital art by providing "proof of ownership" for digital files. Just imagine: you could be the certified owner of monalisa.jpeg!
What NFTs are, in practice, is a database entry that wastes an incredible amount of electricity. By purchasing an NFT, the customer receives an entry that associates their name (or, more precisely, their Ethereum wallet address) with an URL to a file hosted on a server.
In practical terms, it doesn't translate to any legal ownership. It's as meaningless as buying stars – even though you pay real money, you don't actually own the star and no legal authority recognizes your "ownership". Unlike buying a star, however, you also get to contribute to the horrendous environmental impact of cryptocurrencies, as the whole thing runs on the Ethereum blockchain.
Like all crypto scams, the essence of the NFT grift is in recruiting new believers by convincing them a blessed database is an authoritative registrar of value. Just like star naming the grift isn't about utility it's simply a shared delusion in a get rich quick scheme.

/fin

— Stephen Diehl (@smdiehl) October 6, 2021
Let's not mince words: NFTs are a bad idea, and even the inventor of the "tech" says so. It's also an incredibly toxic idea for any business that decides to touch it. The NFT space is rife with get-rich-quick schemes and scams (since that's essentially their only purpose) and the bubble is on its way to bursting.
That's not even mentioning the fact that a lot of NFT art is either mass-produced from a template, as in the case of the Bored Ape Yacht Club, or outright stolen from artists.
Cool new scam artists should be aware of. Any rando can now turn your tweet and by extension, your artwork into an NFT by tagging this account @/tokenizedtweets

Block this guy pic.twitter.com/JeHXwcoYFV

— RJ Palmer (@arvalis) March 9, 2021
Let's do some mathematics. SentiOne detected over 1.1 million tweets about NFTs in November alone.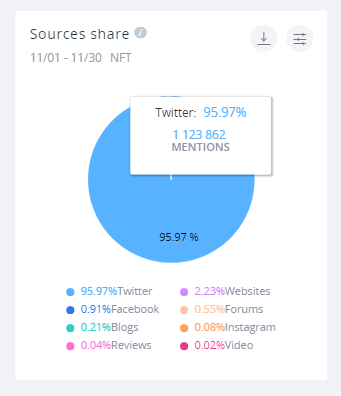 However, the engagement summary reveals something interesting: only slightly over seven million likes. It doesn't take a genius to determine that on average, a post about NFTs receives less engagement than an average cat photo.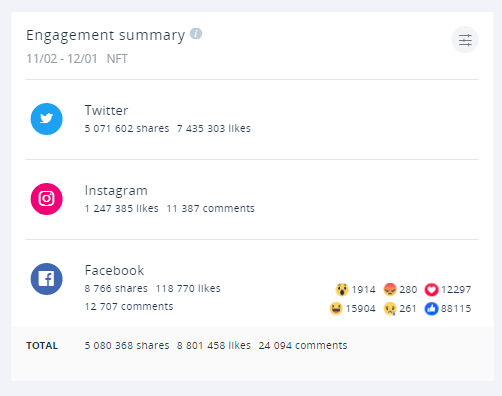 This is because the NFT space is filled with new "projects" and "communities" offering prospective buyers new "artwork", hoping that someone naive enough will invest in them. The market, such as it is, is oversaturated to the point of bursting.
While large platforms, such as Twitter and Discord, are hopping on the NFT bandwagon, understand this: regular users – your potential customers – hate them with a burning passion. Discord learned it the hard way. 
Not to mention, going into the cryptocurrency business might not be an option soon. China already banned crypto transactions earlier this year, while Sweden is calling for an EU-wide ban, citing environmental concerns. 
And finally, most NFT sales seem to be so-called "wash trades" – where a single person using two wallets sells a token to themselves in order to drive up the price.
Analysis of 6.1 million trades of 4.7 million NFTs shows that the top 10% of traders have traded 97% of NFTs which definitely puts meat on the bones of the hypothesis that a lot of NFT trades are wash sales intended to artificially boost prices. https://t.co/ufgmhE2iBi

— Dare Obasanjo (@Carnage4Life) November 30, 2021
The UN Climate Change conference takes place
As climate change becomes an ever more pressing issue, leaders around the world gather to discuss the best way forward. On October 31st the United Nations Climate Change conference, popularly known as #COP26, began in Glasgow, Scotland.
The conference was called in order to "accelerate action" towards achieving the goals of the Paris Agreement and led to the signing of the Glasgow Pact – committing the signatories to reducing the use of coal and providing financial aid to countries impacted by climate change.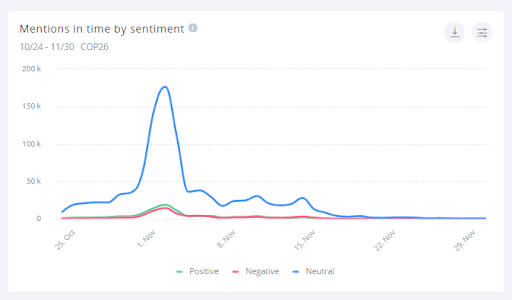 The agreement, however, was much more lenient than many anticipated. This led to a very mixed reception online: positive and negative mentions are almost neck-in-neck.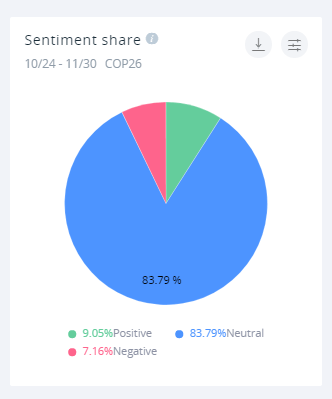 The positive mentions also gained much more reach: this is owing to large accounts belonging to prominent politicians, government agencies and even brands tweeting positive takes around the event. The most influential tweet captured by SentiOne belongs to none other than Bill Gates.

Conversely, critical voices belong primarily to news outlets reporting on climate activists criticising the #COP26 participants for not doing enough.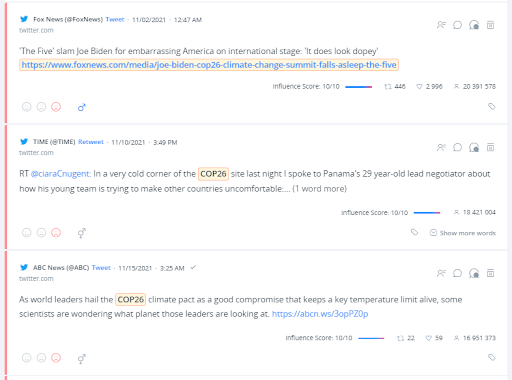 #FreeBritney – Britney Spears is finally free, fans rejoice
Britney Spears' conservatorship has been a hot topic since 2019. The pop star's affairs and assets were managed by her father since 2008, after a series of mental health incidents. Awareness of her treatment during this time steadily grew as more details were made public.
Without going into too much detail, Spears' conservatorship meant she had little to no autonomy, while her father controlled all of her earnings. Leaks from people claiming to be on Spears' legal team reported that the singer has been forced to perform and take medication against her will.
"Framing Britney Spears," a documentary detailing her struggles under the conservatorship and the details of the arrangement sparked a surge in popularity for the steadily growing #FreeBritney movement after it was released earlier this year (it's on Hulu, and it's worth a watch). A couple months later, Spears herself spoke out in court about the years of abuse she endured under the conservatorship.

With newfound mainstream media attention and popular support, the case for ending Spears' conservatorship finally gained enough momentum. As of November 12th, she is free – and she credits her win to the support of her fans and the #FreeBritney campaign.
However, her case is just one of many – and #FreeBritney is proving to be an useful launchpad for more discussions around ending the conservatorship system in the United States, helping even more people. Already, politicians are working on reforms to the existing law. The fight continues!
Captain Kirk finally makes it to space!
"Space… the final frontier," announced Captain Kirk during the opening of every Star Trek episode. The Enterprise's mission was simple: to boldly go where no man has gone before.
Well, nearly sixty years after portraying the always-dependable Kirk, the actor behind the iconic character finally got a chance to go to space himself. William Shatner joined the ever-growing club of space tourists taken to space by Jeff Bezos' Blue Origin company. In doing so, he became the oldest person to ever fly to space.
It was long overdue, Captain! However – how did the internet react?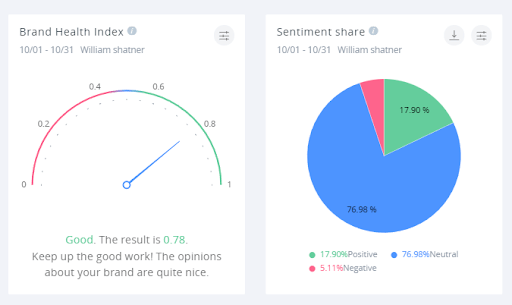 Unfortunately, our technology did not yet allow you to truly go where no man has gone before – but we're all happy for your achievement nonetheless.