Case study
How Stor9 uses social listening data to measure influencer marketing campaign ROI
Client
Stor9

Stor9 creates and implements communication strategies, represents public figures, builds brands and produces photo and video shoots. They bring strategy, design and development together to create meaningful connections between brands, influencers and their target audiences.

Stor9 was looking for a partner to support their influencer marketing activities. They needed support to effectively measure the effectiveness of their campaigns, generated online reach and created brand associations.
Moreover, the agency was also responsible for protecting the online reputation of its client brands and catching the first warning signs of a potential social media crisis.
The client required help in:
Influencer marketing campaign analytics
Customer opinion monitoring
Brand and influencer reputation protection
Solution
By having access to social listening data, Stor9 was able to address all their challenges regarding effective influencer marketing strategies. The agency created multiple dashboards with real time data regarding all their influencers and brand ambassadors: their reach, mentions, engagement, product placements and online sentiment.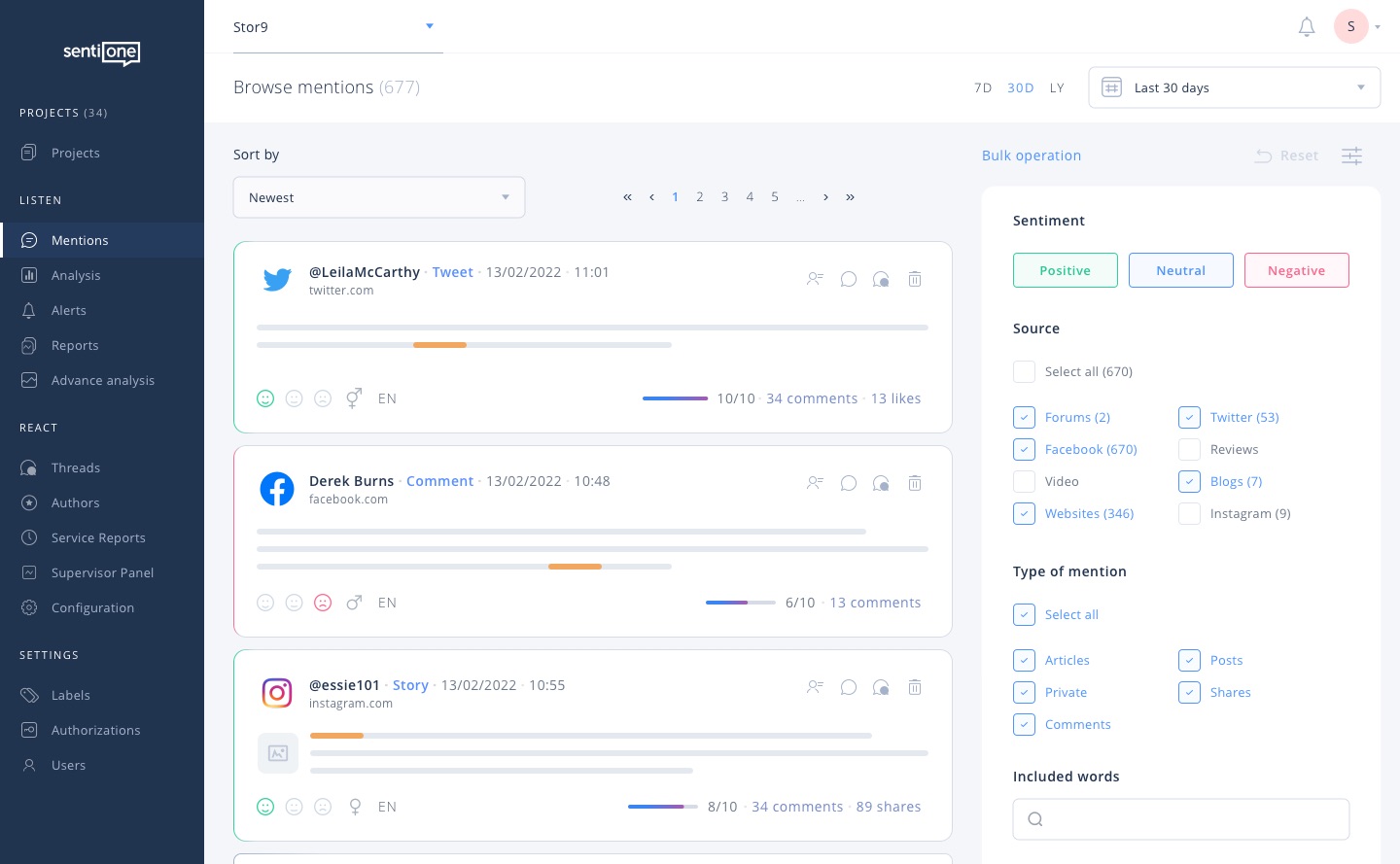 By using the Owned Media Analysis tool, the agency monitored the activity on their influencers' social media channels — Facebook, Instagram and Twitter. Alert notifications and anomaly detection allowed the agency to spot any warning signs of a potential social media crisis.
Our services
Marketing campaign reporting
Online reputation management and crisis prevention
Owned media analysis
Results
With complete access to all social media activity around their influencers, brands and campaigns, Stor9 was able to control the online presence and reputation of their clients. Dedicated features like Owned Media Analysis, Simple Reply and Alert Notifications, allowed them to increase the overall influencer marketing campaign ROI. By monitoring and engaging in discussions on social media, the agency could control the message, identify potential brand-damaging comments and analyze online sentiment around the brand and their ambassadors.
100
%
Coverage of social media activity of brand ambassadors and influencers across all channels
Increase
of ROI
Thanks to detailed measurement across all campaigns and early crisis detection
Realtime
reporting
Instant insights into campaign results and product placement mentions
We are very pleased with the cooperation with SentiOne. Their tool is very intuitive to use, allows for comprehensive monitoring of online activity of our top brand ambassadors. As a result we are able to deliver high quality campaigns, measure effectiveness in real time and respond quickly to any potential PR crisis. That sets us up for success for future brand collaborations.