All
Teach me marketing, Rihanna!
The winner of this year's Super Bowl is not only the Kansas City Chiefs and the more than 50 companies that advertised on the big game, but also Rihanna. Why? The half-time performers aren't paid, but those 113 million viewers can ensure a good reputation, especially if you top it off with a good marketing strategy. And Rihanna took it to the next level. Let's discover what techniques we can learn from her.
The Super Bowl isn't just about the game. It's an all-night entertainment with a halftime show and unique commercials. Compared to a regular TV show, the audience — more than a hundred million — does not stand up even during the commercials since the ads are often "award-winning works" and can be seen directly during the Super Bowl. 
The championship football match offers an outstanding advertising opportunity for the companies. Since the Super Bowl was the site of Apple Computer's famous Macintosh launch in 1984, advertisers have constantly been working to dazzle audiences with extravagant ads during the big game. Some brands use most of their funds for this one event because it reaches more people than any other advertising.
In 1967, the price of the first Super Bowl commercial was only 37,500 dollars. In 2023, 7 million dollars had to be paid for 30 seconds. 
Team Halftime show?
Performing during the Super Bowl Halftime show is an opportunity every artist dreams of. This year, Rihanna — who took to the stage for the first time after a seven-year hiatus — could perform during the break of the legendary sports event with a 13-minute concert. (How much would that cost?)
Although this is the dream of every world-famous singer, it is not because of the money. NFL spokesmen have confirmed that celebrities will not be paid for the Super Bowl halftime show. 
Rihanna didn't stop at getting publicity for herself. She also set up a whole strategy for getting advertising for her Fenty Beauty brand. And she did it so well. Let's see what we can learn from her.
Lesson 1: Everything can be an ad platform
Although Rihanna didn't buy advertising space and the halftime show was about her performance as a singer, she still managed to sneak in an iconic advertisement for her own Fenty Beauty. 
During her performance, she blotted her face with Fenty powder. This 3-second act went viral and sparked online conversations about the brand.
SentiOne analysis shows that conversations about Fenty increased by 215% after the show, generating 145 billion online reach in 2 days. Fenty's Brand Health Index was poor in January, while it had become an authentic love brand by February. All this in 3 seconds. 

Lesson 2: Storytelling 
The storytelling technique can build a closer and deeper relationship between the audience and the brand. A well-chosen story evokes emotions in the audience, moving them to action far more powerfully than any number, fact, or information. And last, a good story will be remembered much longer than any data.
Rihanna used the power of this technique when they created a promo video for the Halftime show with Apple Music. Result? More than 3 million likes on Instagram, 7 million views on TikTok, and more than 7 thousand retweets.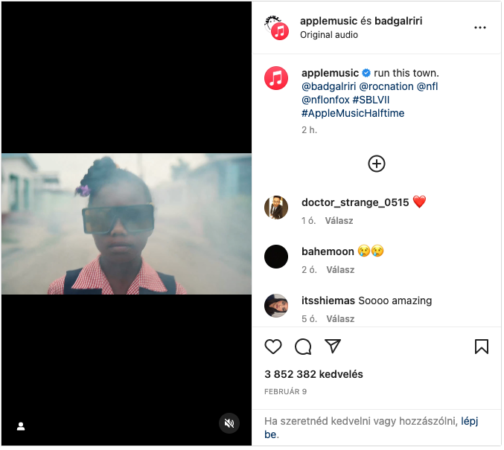 They used all the crucial elements needed to make storytelling effective. 
Emotions: We can follow Rihanna's journey until the Halftime show

Background: They show his love for his homeland, Barbados

Strong content: The visual world and scenario of the video engages the viewer
Lesson 3: Buzz generation
To make something viral, we can use humor or a big announcement. The singer used both.
Rihanna's entrance became legendary, as she showed that she was pregnant in the first moments. This spread like wildfire on all existing platforms, generating excellent publicity. How did it affect the Fenty brand?  Searches for 'is Fenty safe for pregnancy' surged 3.333% in Google Search.
It's not surprising that Fenty Beauty released its limited edition Game-Day collection.  
But Rihanna launched a limited-edition t-shirt worn by celebrities such as Cara Delevingne. The creativity of the text made the t-shirt go viral. It says: "Rihanna concert interrupted by a football game, weird but whatever." 
This post is Cara Delevingne's most popular post in a year; it has almost 6 million likes on Instagram. 
This analysis perfectly shows we can exploit our opportunities with the marketing strategy. It is crystal clear that setting up a well-oiled marketing machine involves a lot of work and planning, but the energy invested in it pays off quickly. Tell your story, be present on all platforms, generate buzz, and think 'out of the box.'