Case study
By increasing their reach by 300%, Mobile Vikings achieved a 70% rise in sales
Client
Mobile Vikings

Mobile Vikings is a mobile virtual network operator which started doing business in Poland in 2013. They offer pre-paid phone plans and mobile internet, while their stated goals are to advocate for their users' freedom and build up the network by working together with its community.

Mobile Vikings is a challenger brand facing the problem of communicating their offer to the widest possible audience and increasing their brand awareness.
A high-budget campaign using traditional mass media was not part of the brand's strategy. Throughout the pandemic marketing activities – including sales – were primarily focused on online channels. One of the primary objectives was coordinating activities across different channels and selecting appropriate KPIs in order to track their effectiveness in real time.
The client requested help in:
Measuring the effectiveness of marketing activities
Brand monitoring
Solution
Taking into account the communications and sales strategy of the client, we determined it necessary to focus on achieving as large an organic reach as possible: this was the North Star metric for all marketing activities.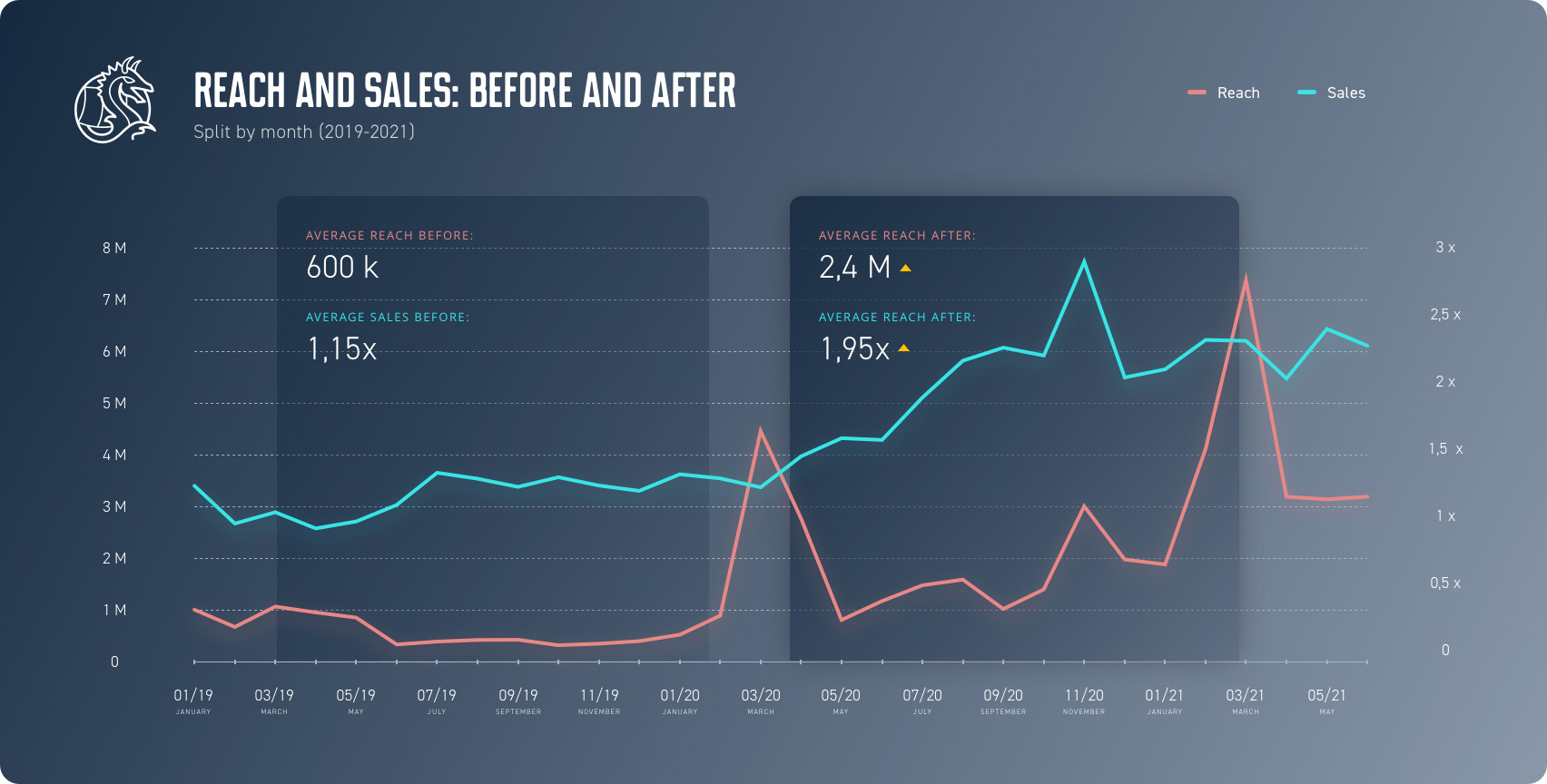 We implemented the 4dx methodology, which helped organize daily work to support our priorities and provided a way of monitoring the effectiveness of every action undertaken. SentiOne supported Mobile Vikings not only in reach measurement and growth reporting, but also in providing their team with data for their 4dx scoring board.
Our services:
Social listening
Reach analysis
Marketing campaign analysis
Results:
The effectiveness of focusing on reach, introducing 4dx and constant efficacy monitoring was immediately obvious. Comparing the 12 months before implementing the new work methodology and the 12 months afterwards we noted an average monthly reach growth of 300% and an average sales growth of 70%.
Analytics
Effective analytics tool for the entire team
Our primary goal in 2020 was increasing our reach," says Magda Broj, Mobile Vikings Head of Communications. "By introducing a new work methodology and utilizing SentiOne tools we were able to accurately track the effectiveness of our marketing efforts and adjust our plans accordingly. This led to stable growth – it's difficult to argue with this kind of outcome. We rate our collaboration with SentiOne positively and we're glad to continue it.