Automated reports
Access tons of insights with one click
Analyse millions of brand mentions and get automated reports delivered to your inbox – every day!
Try now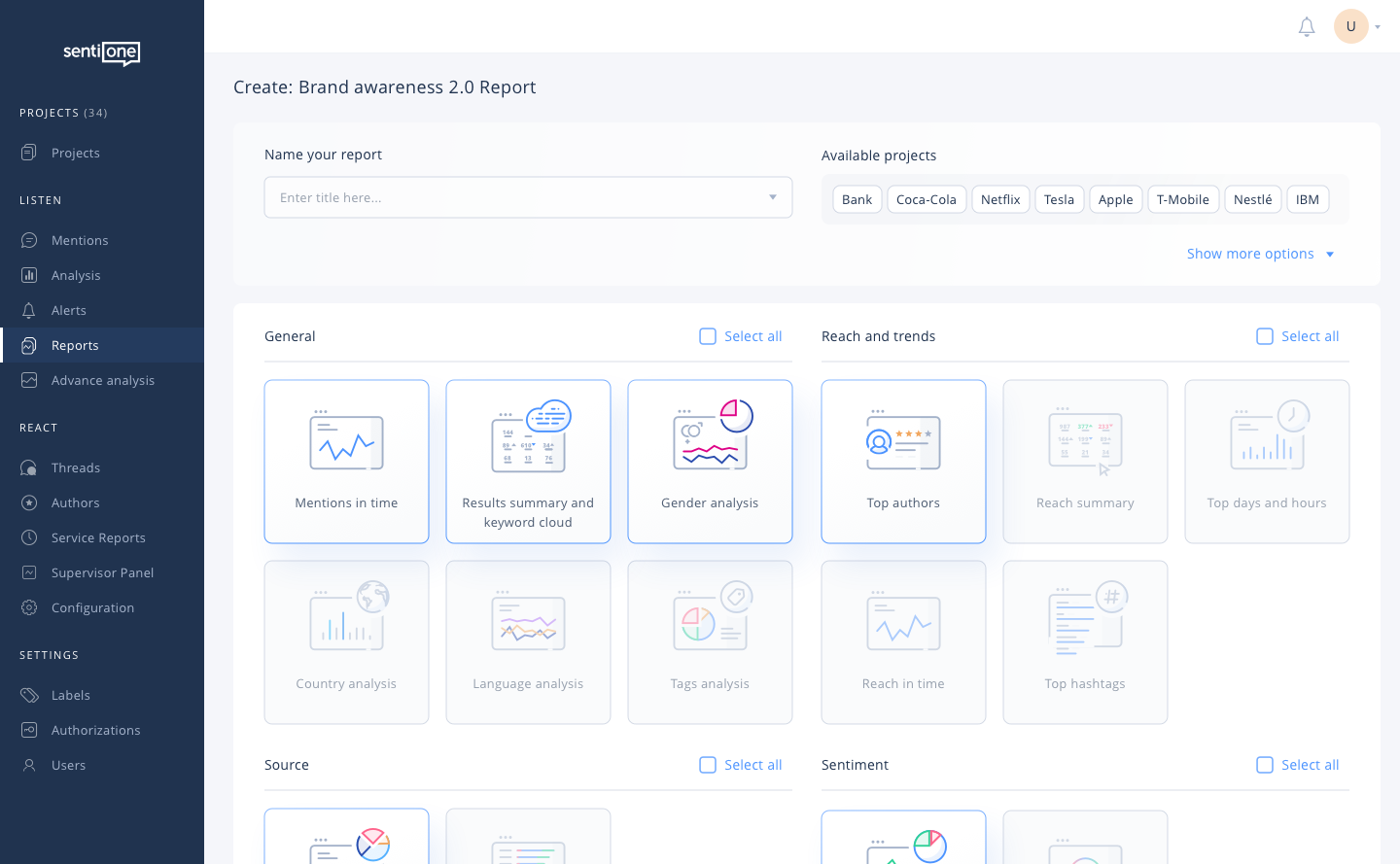 Generate reports quickly and effortlessly
Ready-to-use automated templates

Unlimited reports generated in a few seconds, offered in every SentiOne plan

Various file formats, including PDF, PPTX, and Keynote

Quick and accurate online data analysis

Direct access to reports from your inbox

Regular reports sent to you at a chosen time of the day

Report customization, including logo, comments, and slides
Four ready-to-use templates – all you have to do is choose the right one
Brand Awareness 2.0
Our most popular, fully-customizable report that lets you uncover what people say about your brand online. Get a quick summary of any chosen topic – your brand, competitors, or online trends. Your report will include key metrics such as sentiment analysis, mentions overview, reach, and more. Decide which information to display, including top authors, reach, summary, top days and hours, reach in time, and top hashtags. Everything will be nicely visualised on charts and graphs.
Comparative Report
The perfect template for analysing two polarising topics, such as presidential candidates or key market rivals. Select several projects and run a comparative analysis. Create benchmarks to find out who had better online reach, social media engagement, and the most positive sentiment.
Results Report
A deep dive into your clients' sentiment levels. Based on all the brand mentions online, you'll receive a qualitative analysis of what customer love and hate about you. All so you can improve your services and brand image.
AI Analysis
Uncover what AI can reveal about your brand image. We use eight machine learning algorithms to analyze emotions like joy and anger, semantic categories such as opinions and sales leads, and spot any potential brand crises.
Download reports in PDF or PowerPoint
Automated reports can be accessed as standard PDF or PowerpPoint and adjusted to your needs. You can edit slides and graphs, add comments, compare results – whatever you need!
Get periodic or one-off reports
You can access online listening data as a one-off report or set up periodic reports to be delivered directly to your inbox every day, week or month!
Try now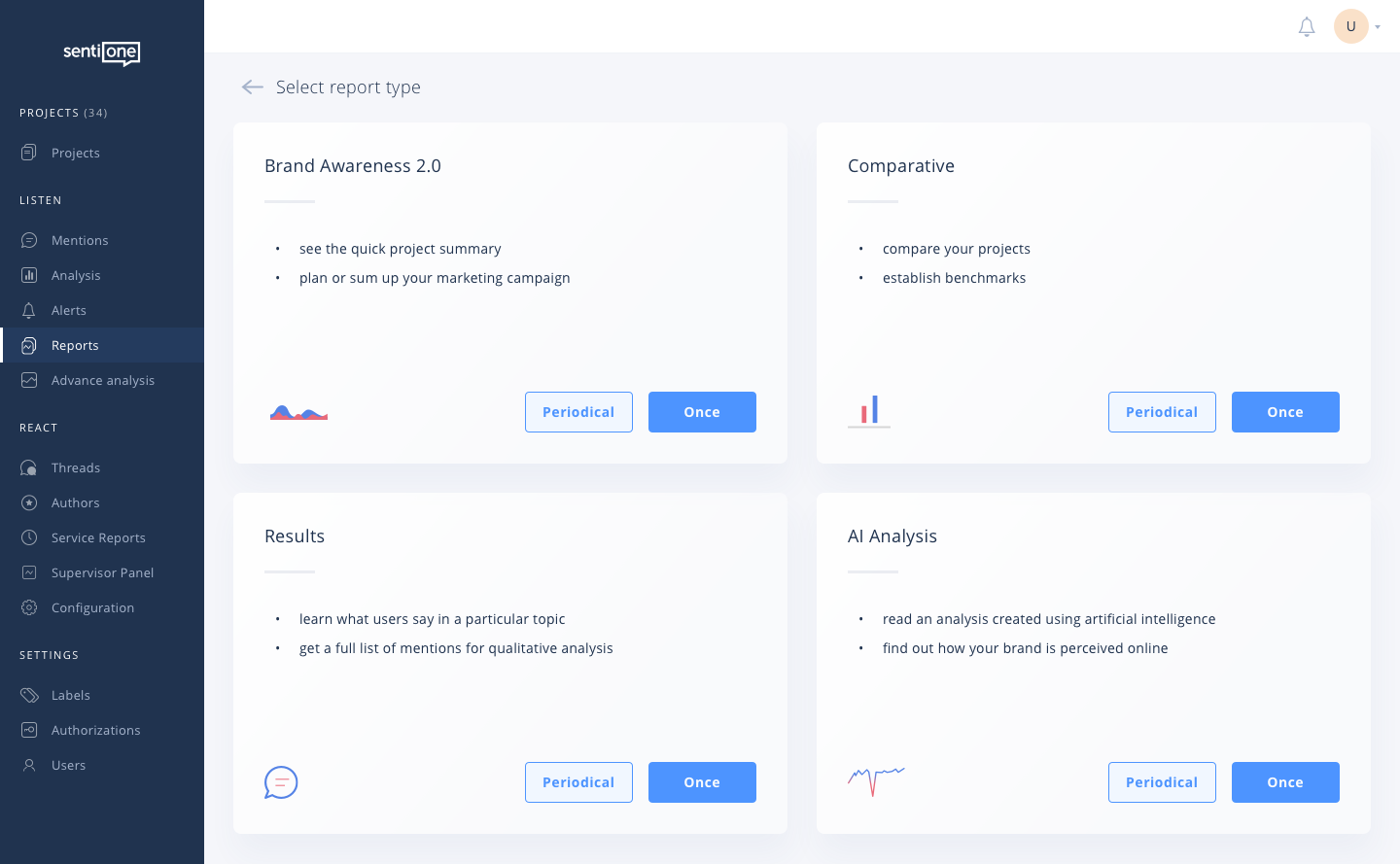 Make sense of what people say about you online
4 ready-to-use templates
Full customization
3 years of historical data
Periodic reports automatically sent by email daily, weekly or monthly
One-time generated reports
Downloadable in PDF or PPTX
Data selection for analysis (all mentions, articles only, mentions with specific tag)
List of example mentions (most popular, newest or tagged)
Descriptions in English, Spanish, German, Polish, Czech or Hungarian
Customizable date formats on charts
Custom logo
Custom report title
Mentions in time
Book a meeting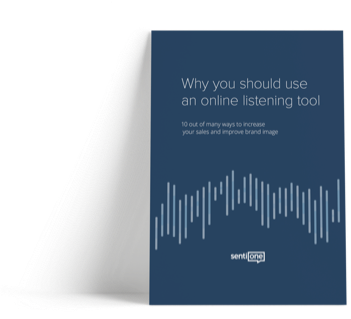 Get Social Media Strategy Guide
Improve your social media presence thanks to this practical guide