Case study
How AirHelp reduced their response time by up to 65% with SentiOne React
Client
AirHelp

World's largest air passenger rights advocate that has aided more than 16 million people for delayed, canceled, or overbooked flights

As a customer centric company with global reach, AirHelp is determined to be accessible to their customers wherever they are: Messenger, Facebook, email or messaging apps.
With a customer service team in over 35 markets speaking 16 languages they had quite a challenge gathering requests from multiple channels, in various languages in order to assign to the right team, with the right expertise in the right location. Time is a key metric when handling airline complaints - customers' messages should be read and assigned as soon as they appear in the queue.
AirHelp needed help primarily in:
Gathering all inbound customers requests from social media into one queue
Effective ticket assignment to decrease agents' response time
Monitor performance of 16 language social media profiles with a single dashboard
Solution
SentiOne provided an all-in-one online contact centre with integrated social channels and messaging apps to help AirHelp reduce response time on Facebook Messenger by up to 65%.
Instant Response Module for 40+ agents. Implemented total of 846 response templates to speed up response time of all teams.
Supervisor Panel to monitor volumes and service quality of all markets. One dashboard to oversee all metrics of customer service, assign resources based on real-time data and plan performance-oriented KPIs for all teams.
Our Services
Social Media Channels Integration
Thread Management
Advanced Routing per Team
Supervisor Panel
Performance Panel Reports
Anomalies detection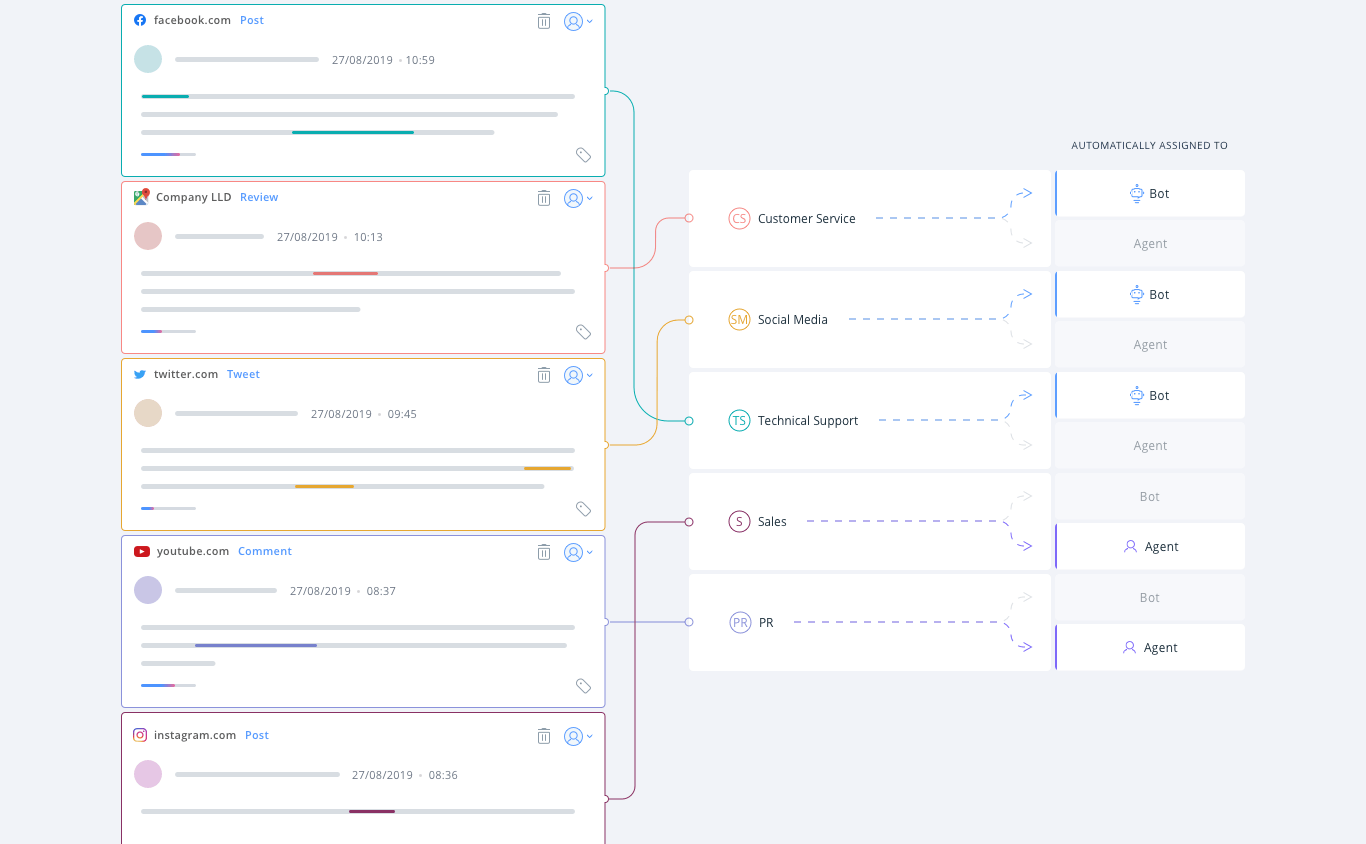 Results
SentiOne React enabled AirHelp to extend their customer service coverage, capture 100% of requests as well as reduce overall reaction time. On top if, AirHelp gained clear visibility into performance and efficiency of each market, team and individual agent.
1
Dashboard to monitor all customer service channels (Facebook, Messenger, Twitter, Instagram) workload and workflow. Allows to assign resources based on real time data
65
%
Reduction of response time for direct messages on Facebook Messenger
4
x
Increase of response coverage for Facebook comments