Bot Analytics
Analyse chatbot and voicebot performance in real time
Gain access to actionable customer insights and quickly assess bot performance
Try now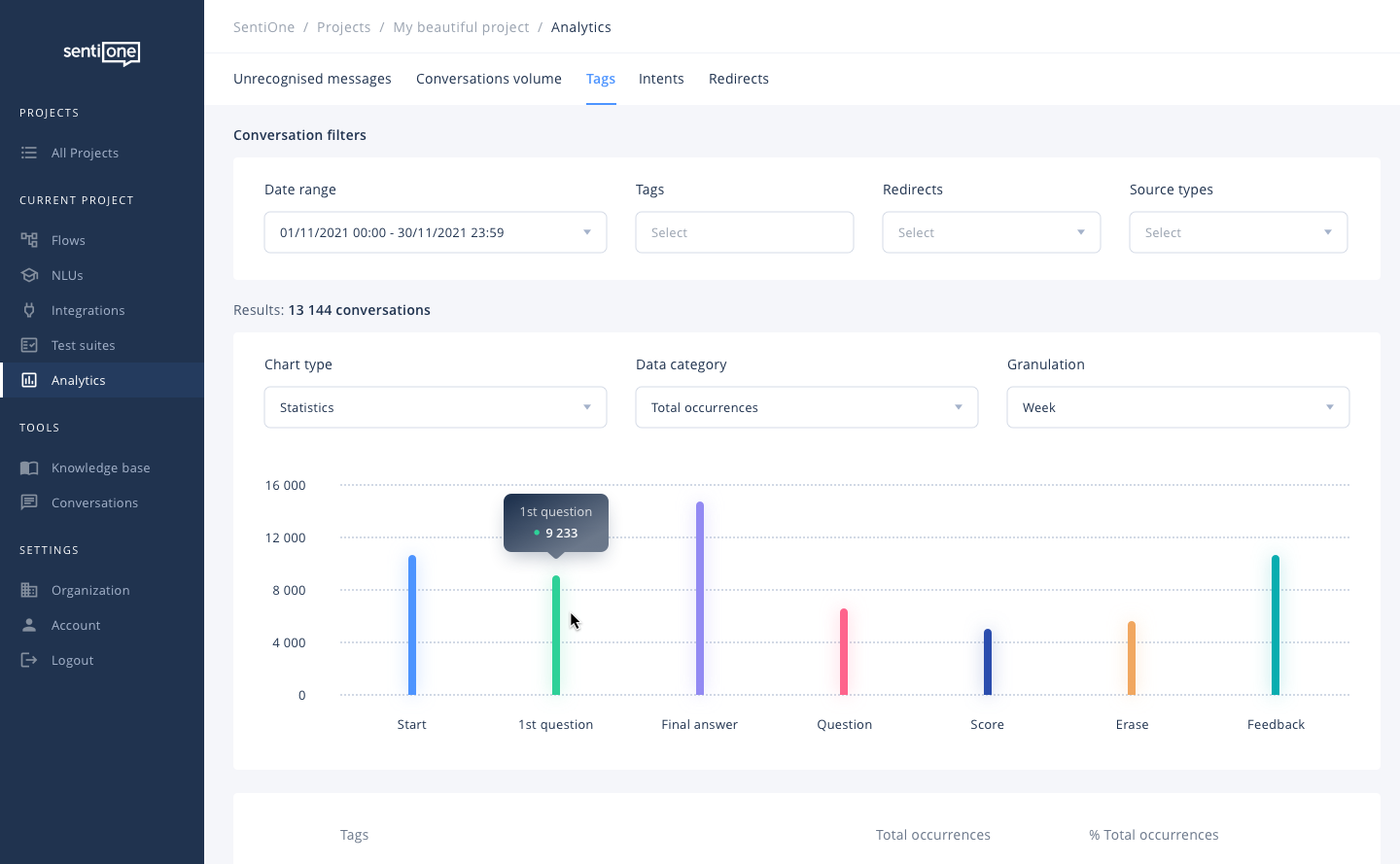 Continuously monitor your bot's performance
Gain access to a data goldmine including users' pain points and turn them into actionable insights.

Check if your bot properly answers customer queries, and add new use cases to improve customer experience.

Analyse customer experience with virtual assistants

Monitor volumes of customer-bot conversations in real-time
Easy access to advanced bot analytics
Intuitive categorisation
Navigate through your findings with ease by using categories dedicated to the most popular use cases, such as customer complaints or X
Enhanced customer experience with NLU
Identify new use cases based on unanswered customer queries and continuously improve your bot's accuracy by adding new vocabulary
All key data at your fingertips
"Use various filters to check the number of conversations, messages from users and bots, etc. Display all your data on a table or chart to easily interpret the results"
Customised dashboards based on user intent
"Create separate dashboards to analyse conversations based on their outcome. Tag all the conversations depending on the user's intent, and easily verify your success rate. Categorise calls based on their result, such as a redirect to an agent or drop off."
Track relevant KPIs with ease
Use the Analytics' module to its full potential. Customise your bot's flow to create funnels and track relevant metrics.
Spot the most popular themes
Use the advanced real time intent analytics module to identify popular conversation topics and adjust your customer communication strategy
Try now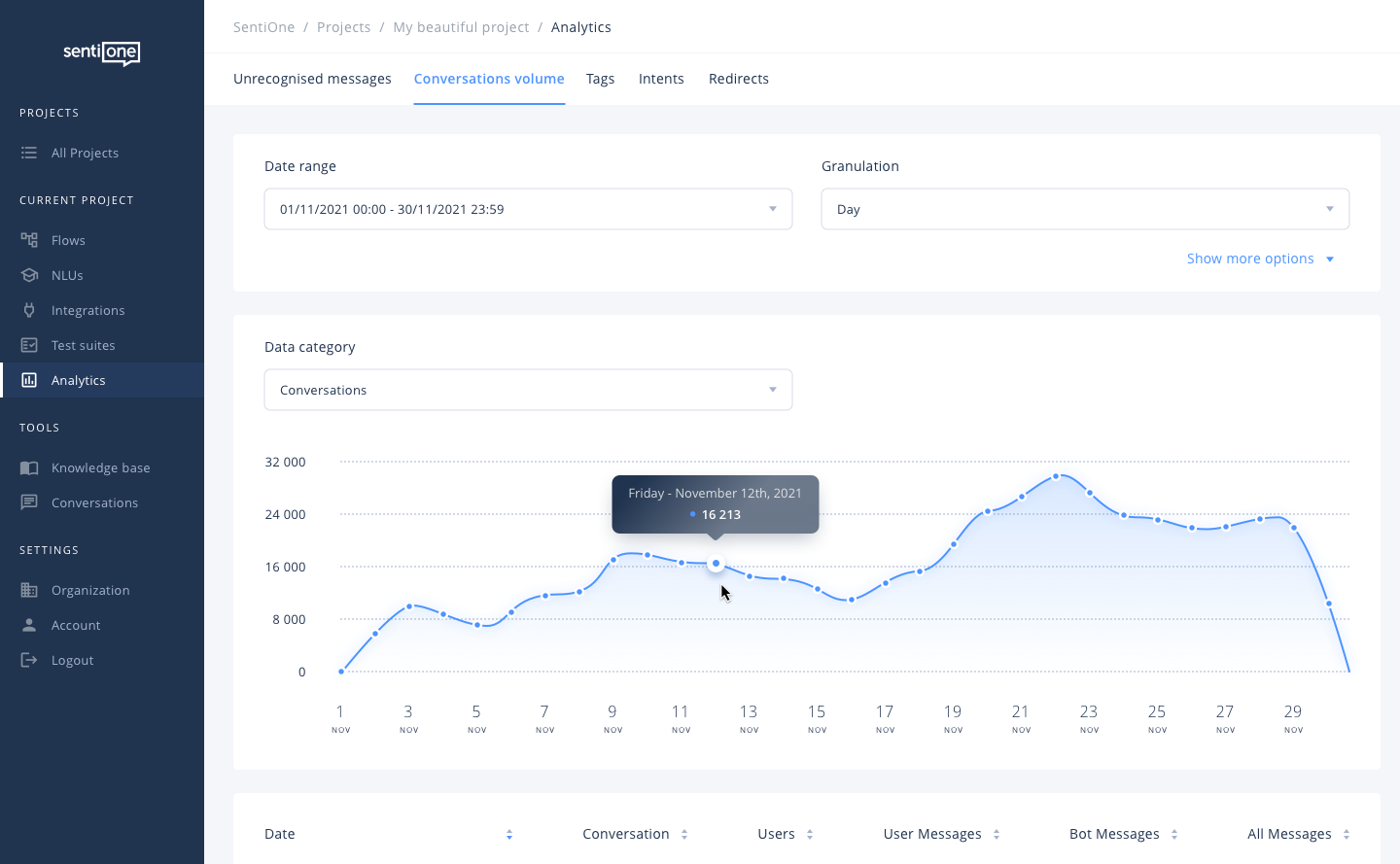 Continuously monitor your bot's performance
Gain access to a data goldmine including users' pain points and turn them into actionable insights.
Check if your bot properly answers customer queries, and add new use cases to improve customer experience.
Analyse customer experience with virtual assistants
Monitor volumes of customer-bot conversations in real-time
Try now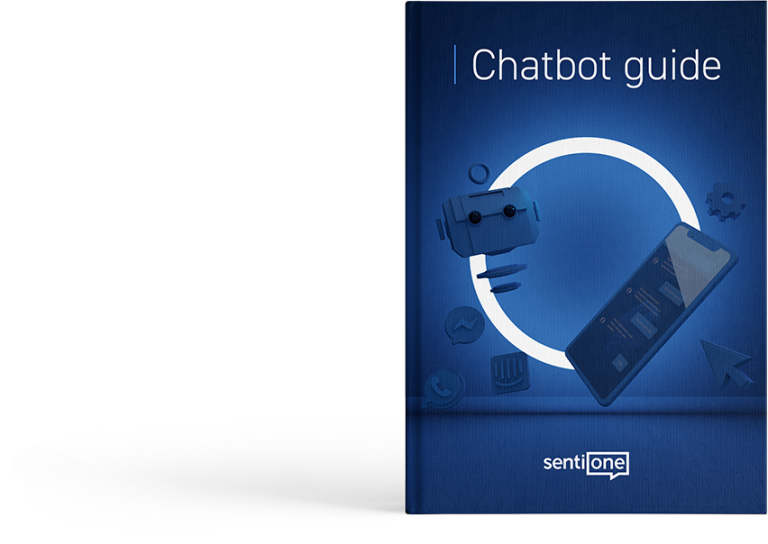 Chatbot guide
Read our guide and get actionable insights for implementing chatbots in your business.