Careers
Join #SentiTeam
We are engaged in cutting-edge research projects and never seize to question the status quo because we want to make an actual contribution to the future world of computer science. We share core values that are Curiosity, Drive, Unity. As a team, we've created space to develop our unique talents and exchange knowledge.
We respect each other and trust each other's judgment when it comes to work but also spend time having lots of fun together.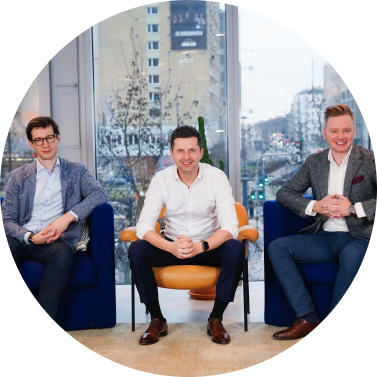 Join the group of like-minded people driven by shared values:
Unity
We believe that together we can achieve more, we are honest in telling the truth and respect each other and we help others grow.
Curiosity
We challenge the status quo, we constantly strive to discover new things and ideas and we are willing to leave our comfort zone.
Drive
We aim high, we go the extra mile to achieve more, we have a strong internal drive to develop.
Your application
Call from Talent & Culture Team
Google Meet interview with future Team Leader
Task (optional)
Meet one of our Founders
Welcome to the team!
What you'll get (with the great team on top)
TRUST, OWNERSHIP, FREEDOM
We believe in people and their potential – which is why we give them space to use their knowledge and expertise. You take ownership and responsibility for your work. No micromanagement here.
OWN AI PRODUCTS
We develop our products using the latest technologies and state-of-the-art solutions in the field of intent detection and text processing. You have an impact on the products we create.
WORK FROM ANYWHERE
You can work from one of our offices or another location as long as you have good wi-fi and availability within our core hours. We are distributed-first but we pop into our Gdańsk or Warsaw offices from time to time. We encourage you to do so as well, it's fun!
DEVELOPMENT & LEARNING OPPORTUNITIES
Our goal is to create tailored-made development paths for all our SentiTeam members – you will get one too! You can also join our SentiAcademy to learn new skills from talented peers.
TOP-NOTCH EQUIPMENT
We provide everything you need - a laptop or a powerful workstation and all other necessary equipment to make your work experience comfortable.
HEALTH & SPORTS PERKS
Your health is important for us so in Poland, we cover private medical care. If you enjoy physical activities, we offer MultiSport cards (once the pandemic is over). Climbing, sailing, snowboarding, gym? You will always find a training partner!
SOCIALS & OFFSITES
We like spending time together so depending on the pandemic situation, we organise sailing/kayaking offsites, board games and beer nights... And our integration events are surely ones to remember!
FLEXIBLE WORKING HOURS
We believe that a reasonably balanced schedule is the key to productivity. It doesn't matter if you are an early bird or you get a lot done in the wee hours of the night. Just make sure you are available within our core hours - 10 am - 4 pm CET.
HOLIDAYS & DAYS OFF
Everyone needs to recharge their batteries and get some rest. Regardless of the contract, you get paid days off.
Where we make the magic happen
Our offices have eye-catching design, great localisations, and are supplied with coffee, snacks, fresh fruit, beverages. We celebrate meals together by the big table and organise get-togethers practically every week.
Gdańsk, Poland
Lęborska 3B
Warszawa, Poland
Postępu 15
Dubai, United Arab Emirates
One - Sheikh Zayed Road
Ostrava, Czech Republic
Výstavní 2968/108
Budapest, Hungary
Madách Imre út 8. 3/4
Munich, Germany
Leopoldstraße 154
Mexico City, Mexico
C. Montes Urales 424