Inside SentiOne
SentiOne at BrandFest – Our 6th sense for social
Recently SentiOne has stepped on the stage of one of the most acknowledged Hungarian marketing and media festival for creative entrepreneurs and out-of the box thinkers. Our goal was to represent SentiOne as a complex and innovative tool to gain and channel conscious online communication strategies in terms of brand simplicity and efficiently targeted online content sharing.
Make the social burn with the hottest flame
The social media is a living organism: it does not only take what it needs, but also what it finds to be an inspirational and nurturing source, contributing not only to its development, but its self-entertainment and well-being. Therefore, it quickly and harshly gets rid of the roughage, which means messages must be adjusted to its desires, flows and trending topics. And not vica versa. What I mean to say here is to 'Tell or not tell. But do not try.'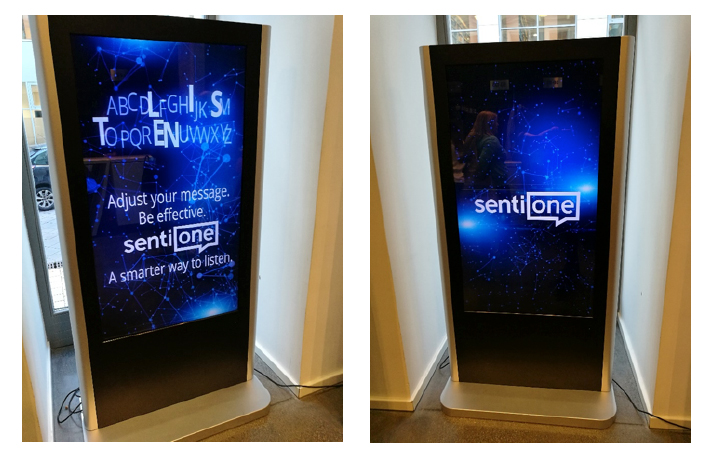 When being present and active as a brand on these platforms, we must be aware of the fact that most of the communication that actually would matter to us and could provide real additional value, takes place outside our comfort zones (aka. our official channels), where we are protected by our admin roles. Therefore, what really counts is most of the time hidden from our eyes. Or at least, that WAS the story, before in terms of BRANDXPERIENCE360° SentiOne has arrived to the BrandFestival 2016 – and the Hungarian market – to offer a new path that puts everything that is important – and nothing less or more – in focus.
SentiOne is the sixth sense for social when it comes to monitoring and engaging online that provides relevant answers when it comes to the ever-most-important 5 communication attributes to be taken into consideration when establishing messages: Who? What? When? Why? Where?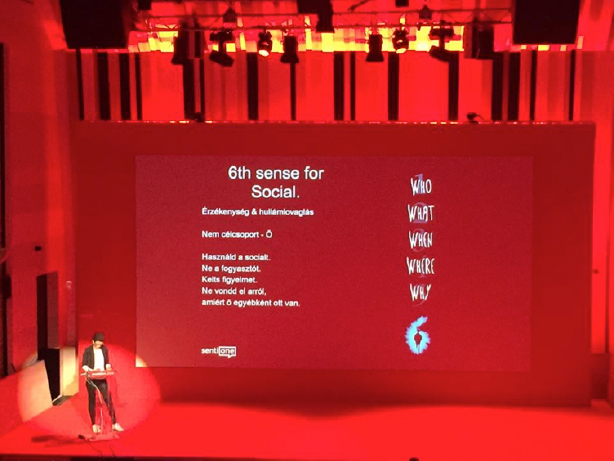 Use the social. Not the user.
A field of interest is still a rather adequate and functionally viable factor to make use of, whenever we want to inject our messages into the social and to channel it towards our target audience. Though, we must never forget that interests are static. People acting and surfing on the net are inspired by much more fragile and momentary drivers – like current mood, time of the day, solely by the urge to kill time or purposely and exclusively to look for something. We have to be able to join these moments as a brand. To grab these moments as a brand. To be there at the other end of that channel as evidently as possible.
This way:
It won't feel like we are addressing him/her via a pre-set audience targeting.
We could reverse the anonym into personal: not in terms of addressing, but in terms of content and timing. Therefore, it would seem that we are talking to him/her and no other – FOR THE MOMENT. And that could lead to the …
Social win-win: a give and take that is based on a common will and conscious presence – both on our and the user's side. With no requested long-term effect, just a momentary glitch of total agreement and shared flow. Never ask for more. Satisfy him in that very moment that never lasts – with an on-the-spot message that will.
We must use the social. Not the user.
We must raise interest. And don't distract him/her from the things he/she is really there for. Because 99% of the time – it is not because of us.
Social reflection must precede self-reflection. Otherwise, our communication strategy will be outlined with the same 'pen' we use for defining and redefining ourselfves. No. Look around, because the 'I' we see, is not the 'I' they see.
A hypothetical product launch
For BrandFest we created a trending topic based on the Halloween makeup craze for the time period of October 2016, relevant to the Hungarian market, and launched a totally hypothetical product, called S-CREAM.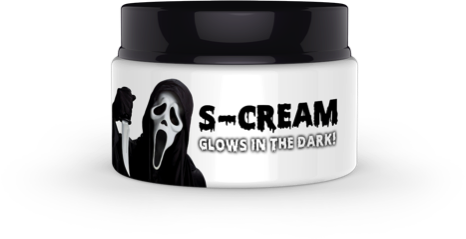 Cream that illuminates in the dark. We wanted to present all the features that could outline a successful product launch in terms of social. You know: exploiting the sixth sense to cover those 5 holy questions to be answered (Who? Why? What? When? Where?).
So, this way we showed the audience:
How the share of voice on the online social platforms regarding this topic has changed during the last 3 years? Has it declined or grown?
When are the most usual peaks and lows of the conversation? And is there any pattern that can be outlined starting from 2014 to 2016?
How did the share of top sources alter during the last couple of years? Did it, at all?
What contextual highlights are there to outline?
Who are the opinion leaders and why are they so important?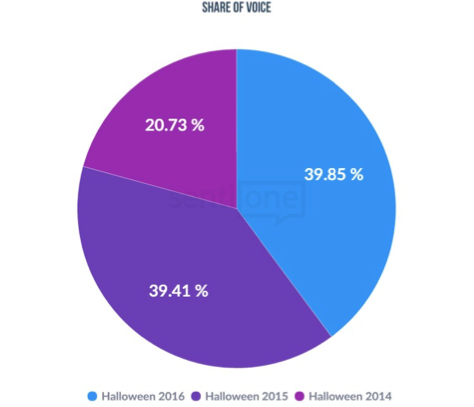 Establishing the fact that the popularity of this topic is still growing, that midnight is actually an awesome time for communicating with our potential customers, we could also show some interesting and rather unexpected change of trends: Facebook vs Photo and video sharing channels (Insta, YouTube).

In 2014 Facebook was still the number one platform, while in 2016 it had a huge fallback representing only a poor 20% of the total social communication with regard to the Halloween make-up topic.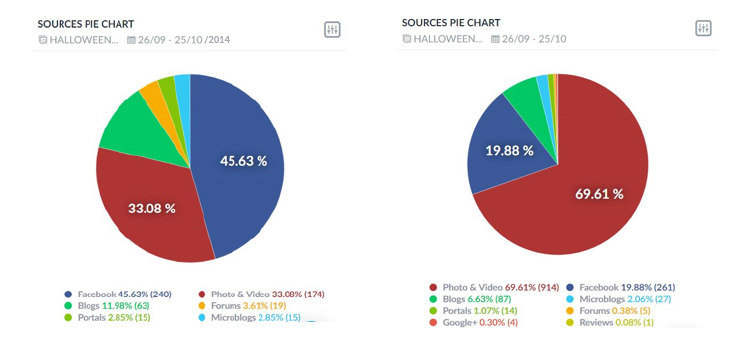 So, after all Hungarian people have figured out how and why to use photo- and video sharing. Something to be very attentive of in the future if we are a brand present in HUN, I must say!
We must use the social. Not the user. We must raise interest. And don't distract him/her from the things he/she is really there for.
Not-yet-determined-desires & pre-problems
In addition, it can be also very profitable to elaborate on the context outlined by the most popular keywords, provided by SentiOne. Beyond the obvious (the exact words), there are two very significant conclusions to be drawn here. These, I call: not-yet-determined-desires & pre-problems.
The first is a desire, a wish that already exists on an individual level, yet these people have not found each other to jointly channel their message/request in a socially relevant context with measurable effect. We addressed ithis with a topic of 'fruit flavoured beer mixes'. Naturally, people are not only talking about existing flavours, but the ones they wish to have on the shelves. Therefore, the keywords can give us proper direction, in a gentle, subtle, but really proactive way.
By pre-problems we mean customer-satisfaction 2.0. When customers have not yet turned to the customer-service with a complaint, but it is 'in the air'. More precisely, coded in the social media to arise within some time. Here, we mentioned a real and already executed project for an airline company. They wanted to know which was that exact destination their customers missed the most from their portfolio as being an accessible spot with a direct flight from Budapest? With SentiOne they could put their finger on it, so – since then – the new direct flight to the Canari-islands has been launched.
Let the "person" speak, not the $$$
And here we arrived to having answered – in this specific case – our relevant questions, yet there is one more to go. It is very important to be willing to give voice to our messages – beyond our own. To find those bloggers, opinion leaders that really matter and are close to our target audience. Their value lays within the fact that they are not owned by a brand. To put it simply: not the $$$ speaks, but the "person". Of course, handing out ourselves to them is an undeniably significant exposure we are willing to undertake with regard to our own beloved brand. And that is exactly why it works. Because it has a reversed logic: we must not tell these people what to say. Just as we don't/can't tell our customers what to think – in a direct way. No. We must take part in their messages, in their stories they want to share. This way the message won't be conveyed as forced and artificial with us being present in it. It would bring along that kind of self-confidence and honesty that these people already have when it comes to the value of their shared content.
After all, our comfort zone is to be crossed here – not to be widened. People sense this 'a little bit of yes and a little bit of no' attitude. And the good thing is the we have a compass in our hands with SentiOne and the built-in Social Contact Center, putting the relevant conversations and mentions just right in front of our eyes. Giving us directions to the place where we want to get, with content-wise valuable insights to characterize our voice through the online world when we arrive there – with a coherent and reinforcing offline echo.