Product News
Product Update – SentiOne launches Owned Media Analysis
We are extremely excited to announce the newest product update! It is big, exciting, and it opens up new online analytics possibilities! Starting in October, all SentiOne customers will have access to our newest feature: Owned Media Analysis. 
This update also marks a shift in how new functionalities in SentiOne gather data from sources. Starting with the Owned Media Analysis feature, new features will allow users to monitor both earned and shared media, as well as owned channels – all from SentiOne's familiar interface.
The how and why of Owned Media Analysis in SentiOne
Owned Media Analysis is a brand new dashboard in the SentiOne platform which contains four widgets summarising statistics and metrics from your owned social media channels:  
Reach and impressions in time

Reach and impressions summary

Followers in time

Followers summary
This dashboard will display data coming from your authorised social media profiles: Instagram and Facebook to start with, with Twitter and LinkedIn coming in a future update.
This allows all SentiOne users to measure the performance of their online presence with the highest possible degree of precision. What's more – it's free for all existing and future customers!
Owned Media Analysis – key benefits
The Owned Media Analysis functionality is designed to help brands to plan and evaluate their marketing campaigns by providing them with precise metrics and smart insights. Our newest dashboard will consolidate performance data from your owned channels in one, readable interface. That way you'll be able to quickly:
Compare the reach and performance of your social media posts

Monitor the growth of your follower base across different platforms

Identify which campaigns went viral and which underperformed

Understand how paid campaigns contribute to organic growth 
How to access Owned Media Analysis in SentiOne?
Login to your SentiOne platform, select Analysis and choose Owned Media. Then choose at least one authorized social media profile from the list (for now you can choose from Facebook or Instagram – we're working on bringing Twitter and LinkedIn support in the near future).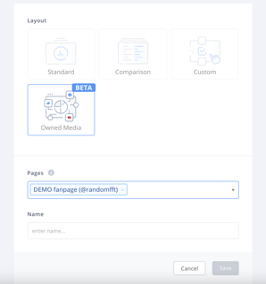 Once you are in Analysis view, you can add more widgets with the Customize button. New widgets can be found in the 'Reach' tab: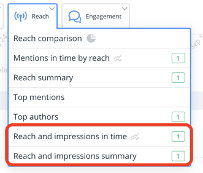 If you're in the standard analysis and want to add the new widgets, you have to go to widget settings and choose your authorized page from the list.
And there it is! All the important information is right at your fingertips:
Reach and impressions in time

Reach and impressions summary

Followers in time

Followers summary
Let's analyse these functions a little bit deeper.
Owned Media – Reach Analysis
It's finally here! All the data about your reach: paid, organic, and viral – collected in one graph! You can easily analyse which activities had the highest impact on your reach, which campaigns had viral potential, and which paid media were worth the money. The best part – you can include all your social media channels in one view! No need to log into different analytics tools.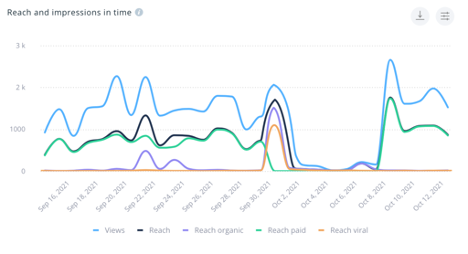 Owned Media – Followers Analysis
This graph provides you with a high level overview of your follower base. How many followers have you gained? What are the overall trends? Which activities impact your follower numbers the most? You can learn all of this and more – with the SentiOne Owned Media Analysis!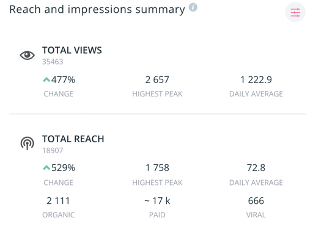 Where does Owned Media data come from?
All of the data we collect comes directly from the platform holders' APIs. This is why we can only create dashboards for authorized accounts. For now, the released functionality only works with Instagram and Facebook and it requires you to authorize SentiOne to access your profile through the API. Twitter and LinkedIn support is coming soon in another update 🙂
SentiOne complies with all standard data privacy and protection regulations (such as the GDPR), as well as the terms and conditions of each social media platform holder. Our handling is subject to regular reviews and we have successfully passed each compliance test in our history.