All you need to know about
online reputation management
Table of contents
Introduction
What do we understand by online reputation management and why is it important?
Getting started with digital reputation management - top metrics to track
How to make your online reputation management strategy effective
The best tools for online reputation management
Predicting online reputation damage - top mistakes & best practices
Handling an online reputation crisis - top advice from brand management experts
Summary
Chapter 1

Introduction

Did you know that there are approximately 2.5 quintillion bytes of data created online each day? Chances are, you might not even have heard of such a number (fun fact: it's a digit followed by 18 zeros). This means one thing – if you've been trying to get a grasp of your company's reputation by manually searching for mentions online, chances are you're not even seeing a fraction of all of the content related to your brand.

Good news, though! There are ways to conduct your online reputation management effectively, and this is exactly what we're going to cover in this guide.

Let's jump right in, starting off with the following question:
Chapter 2

What do we understand by online reputation management and why is it important?

Before we explore the subject of brand monitoring in more detail, it's worth explaining what online reputation management (ORM) actually is. Broadly speaking, it's taking appropriate actions online to ensure that your business is perceived in a positive manner both inside and outside of your organization. It involves tracking and reacting to brand mentions across all online channels.
What are the benefits of ORM?
Here are the main benefits that come from effective brand monitoring: 
Improved sales – when was the last time you entered a shop and bought something completely spontaneously? While impulsive purchasing still happens, most of us tend to do online research prior to buying. This means that the information that customers find online about brands directly impacts their purchasing behaviour – the more positive your brand image is, the higher the likelihood of a sale.
Building trust – with so many options available to us, while making our purchasing decisions, it often comes down to credibility – especially if we're spending huge amounts of money or if the product might have a serious impact on our life (such as property). Monitoring and controlling the content that mentions your brand and making sure that it's positive will help you build trust and credibility. 
Attracting the best talent – reputation management isn't solely about how your customers and prospects perceive you, it's also about how your employees – present and future – see you. If your reputation precedes you, you'll have no problem attracting top talent!
We've mentioned just a few benefits; if you're hungry for more, we've written an extensive article on this subject, "What is Online Reputation Management & Why Is It Important".
Chapter 3

Getting started with digital reputation management - top metrics to track

With the definition covered, you might be wondering – how exactly should I approach online reputation management? Are there any specific metrics you should track, or things to be aware of?

Let's begin by answering the first question. 

Here's a handy list that will get you started:
Write down all the sources that matter to your business (and audience). Where do your clients and prospects turn to when considering a product or service like yours? This can be anything from online review sites, blogs, news outlets, all the way through to social media and forums. These channels are where you should prioritize having an impeccable reputation. If it's hard for you to assess which online channels get the most engagement from your target group, a tool like SentiOne will help you out. Here's an example of a pie chart showing where people most discuss the sneaker brand Nike:

Set up real-time alerts. Each minute a controversial brand mention is left unaddressed increases the chances of a PR crisis. That's why you should set up alerts to track your brand name (and any other keywords that directly relate to it).
Automate brand monitoring. Even the largest and most dedicated PR team won't be able to peruse the entire web in search of your brand's mentions. To make sure you don't miss anything, set up an online reputation management tool to conduct online listening for you.
We dive further into the best practices and brand monitoring strategies in the next section.
3 brand reputation metrics worth tracking
For this piece, we've selected three brand reputation metrics you'll find extremely useful as you ease into your brand monitoring efforts (you can find a full list of metrics in a dedicated brand health metrics article). These are:
Brand Health Index (BHI)
BHI is a score your brand receives on a 0-1 scale, based on the analysis of thousands (if not millions) of online mentions. The higher the number, the better your online reputation. A tool like SentiOne calculates your score by assessing the ratio of all positive-to-negative mentions of your brand. For instance, here's an example of the score for the pharmaceutical company AstraZeneca – notice how the negative PR around their COVID-19 vaccine has impacted their score between March and April 2021: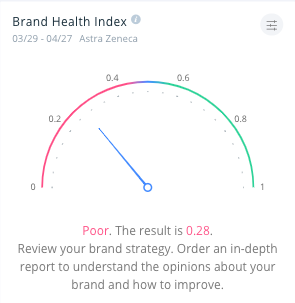 Mentions over time
This reputation management metric indicates the volume of mentions a brand receives over a selected period of time. What makes it particularly useful is that it shows any sudden spikes, such as in the image below:

As a result, your brand managers can quickly inspect where the sudden attention came from and scale the issue to leadership if it came from negative press.
Net Promoter Score (NPS)
NPS is one of the best ways to assess your customers' loyalty. This popular metric is part of online reputation management at global brands such as Apple, Microsoft, and Coca-Cola. 
You can assess your NPS score by running a survey among your clients. You ask them: "How likely is it that you would recommend us to a friend or colleague?" and receive a score on a 0-10 scale. People who give you low (0-6) scores are a potential source of negative press. Your '7' and '8' respondents are generally satisfied with your service, but not thrilled enough to mention you to anyone. However, your 9-10 answers come from your promoters, who are blown away and likely take it online (and offline) to share their love for your brand. 
With this brief overview covered, it's now time to roll up our sleeves and discuss what an effective reputation management strategy entails.
Chapter 4

How to make your online reputation management strategy effective

It's hard to get your reputation management right without having an effective strategy in place. This includes tactics to help you ensure your brand image stays intact. Now, let's discuss how you should go about creating a proper strategy.
5 tips for establishing a great reputation management strategy
Find out what your current brand sentiment is – the first step you should take is investigating what people say about your brand online. When you Google your brand, what results appear on the first page? Is the general sentiment positive or negative? Don't forget to check social media channels; comments will say a lot about people's attitudes towards your brand. Use the right reputation monitoring tools such as SentiOne to do it effectively and quickly, instead of wasting time doing it all manually.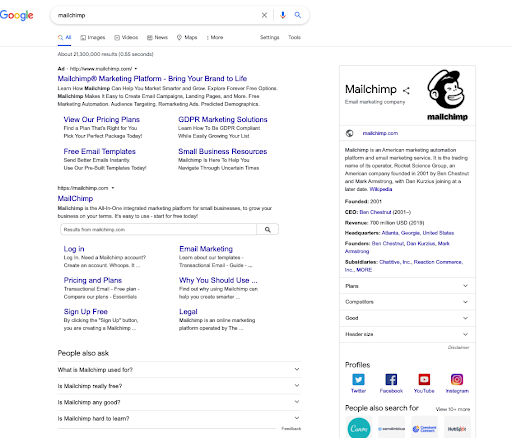 Agree on the challenges you have to face – tackle the most pressing issues first, identify your most active channels, and define your online reputation goals. 
Make sure your strategy is both reactive and proactive – your online reputation management plan should incorporate proactive and reactive tactics. Proactivity indicates foreseeing potential problems before they arise, and preventing them from coming to fruition. Reactivity means knowing how to respond to critical situations quickly, and tackling them before they escalate into a major crisis. 
Discover articles that feature your brand – you don't always have control over information that appears online – especially if it's on someone else's channels. You can use a platform like SentiOne to spot all articles that mention your brand. If there are plenty, focus on those with the highest traffic. If the included information is no longer relevant, get in touch with the domain owner and ask for an update. 
Get positive reviews from happy customers – the best strategy for getting a little sentiment boost is asking your satisfied customers to write you a review. The fastest way to do it is by running an NPS survey and identifying your promoters, i.e. those who are particularly happy with your brand. You can then get in touch with them and ask them to publish a few positive words about their experience. 
When it comes to brand monitoring we cannot forget about online reputation marketing, which is about collecting positive reviews, testimonials, etc., and turning them into marketing collateral. This is the best way to gain more credibility, as people tend to trust their peers more than brands. If you want to learn more about online reputation marketing and gain a few additional insights about creating an online reputation strategy, read our "How to make your online reputation management strategy effective" article. 
Chapter 5

The best tools for online reputation management

You have probably noticed that we frequently mention different tools while talking about online reputation management. It's because the right toolset is indispensable if you want to do it effectively. 

We said that having access to the right software is critical, but we didn't really explain what the benefits are. The right solutions can:
Help you escape an online reputation crisis
Measure your overall brand sentiment
Spot potential problems
Check which marketing initiatives had the best impact on your brand
These are only some of the benefits ORM software can bring you. Let's take a look at some of your options:
Google Alerts
If you're new to brand monitoring or you're on a very tight budget, then Google Alerts is a good choice to get you started. It's free and it will provide you with basic insights on what people say about you online. You can create alerts for business information, competitors, info about your products and services, brand-specific keywords, and more. 
G2Crowd
We've talked about the power of positive customer reviews, and G2Crowd is the perfect place to get them. Not only can you monitor what users say about your brand (the feedback is usually very constructive, and customers mention both their likes and dislikes) but you can also check what they say about your competition. You can use these findings to your advantage.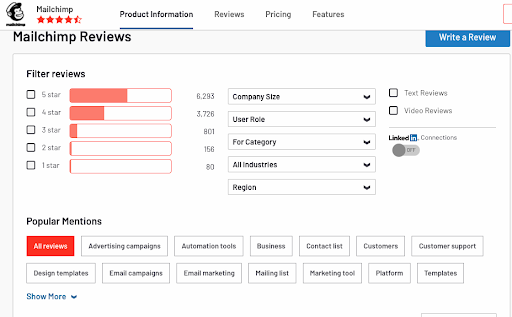 SentiOne
If you're serious about online reputation management (which you should be) then you must put SentiOne on your list. Effective brand monitoring goes beyond tracking your social media: it should basically cover the entire Internet. If this sounds overwhelming, rest easy – it's perfectly manageable if you use a platform like SentiOne. It allows you to: 
Track brand mentions from a variety of sources
Get alerts about any anomalies or crisis-prone words
Identify your brand sentiment
Respond to all comments from one platform
And much more!
Survicate
It's hard to imagine your ORM toolkit without a customer feedback platform like Survicate. It allows you to gather huge amounts of insights from customers using surveys on your website, through email, and in your app. Collecting user feedback is invaluable to building a great brand reputation – customers will tell you exactly what they like and dislike about your products and services, making it easy to respond to their needs. 
This list isn't exhaustive. For a more in-depth look at ORM software, read our article about the top 7 tools for managing your online reputation.
Chapter 6

Predicting online reputation damage - top mistakes & best practices

Ultimately, the end goal of any online reputation management strategy is not to simply get a high NPS score or a 1.0 Brand Health Index result. It's about maintaining good press both within and outside your company, as well as treading your path towards further business growth. For this, you need to have protective measures in place – i.e., a bullet-proof strategy for avoiding online reputation damage.

Before we dive in and discuss the mistakes and best practices that will keep your brand from getting into trouble, it's important that you understand the four pillars of an effective corporate reputation. These are:
#1 Company ethics
All of your employees – regardless of their seniority levels – should be aware of what your company stands for. Ikea is a great example of how you can manage corporate reputation for even the biggest of teams. 
Acting as a customer advocate, eliminating client effort in resolving issues, and surprising customers with personalized experiences all help set the tone for the company's standards. Once you set a baseline, any deviation can be easily detected and addressed before it escalates into a public relations crisis.
#2 Social media strategy
A clear social media strategy can help reinforce all of your ORM efforts. Above all else, ensure it has:
A cohesive tone of voice across all channels
A clear understanding of the topics and comments that could escalate into a social media crisis
Where the competencies of the social media team overlap and end, and where brand managers of the C-level suite should take over.
#3 Brand management
Your brand managers need to work hand in hand with the PR and social media teams. They should be responsible for analyzing and creating data-driven strategies for maintaining a good brand reputation. It is precisely for this reason why your brand managers should use online reputation management tools like SentiOne, which let them keep track of key business and brand health metrics, and receive alerts for any crisis-related keywords used in relation to your company. 
#4 Customer service
Lastly, let us not forget about ensuring great customer service standards – especially given that 60.6% of clients admit they'd move to a competing service after just one bad experience. As client support agents are the face of your brand, you should make sure that their interactions with customers and prospects always meet your communication standards.
With all that in mind, let's now discuss a few mistakes you should avoid at all costs.
Avoid these mistakes while managing your brand reputation 
No matter how hard we try to avoid them, mistakes will happen. While we can't fully prevent them, here's how to avoid making the three most common ones.
Removing negative comments – no one likes negative comments; they're always upsetting and sometimes even unfair. Deleting them, however, is not an easy way out. Everyone has the right to an opinion, and negative comments should be addressed, not removed. Maybe you'll manage to explain the situation and, as a result, appease the commenter and make them change their mind, which will positively impact your image. 
Limiting your brand monitoring efforts to only internal channels –  we've mentioned that online reputation management must go beyond your own social media channels. This is because some companies make the mistake of only focusing on their internal channels. Big mistake. What if your competition trash-talks you on their social profiles, or there is a heated discussion where people mention your brand and you're not involved in it? You should monitor every online channel where discussions about you can happen. Obviously, this is impossible without the right toolset.
Not knowing how to handle a crisis – we can't always prevent a crisis. Sometimes, things simply get out of hand. When one does happen, however, you need to know exactly what to do – there must be rules and procedures in place so you can tackle the crisis instantly. Make sure you have a plan, and that you and your team knows what to do.
Chapter 7

Handling an online reputation crisis - top advice from brand management experts

We've reached out to business owners and brand management experts, asking them about their own experiences with handling brand crises and what advice they'd like to share with companies facing a similar challenge. Here's what we learned:
Ask the CEO to join the online discussion
Caroline Lee, co-Founder at CocoSign, decided to come forward to help handle major backlash her brand received. It started with a micro-influencer tweeting about their bad experience with the service – the tweet had been shared multiple times, including by a person with thousands of followers.
As the CEO, Caroline assessed what went wrong and personally took to CocoSign's Twitter account, thanking for the honest review and promising to rectify the issue. After delivering on the promise, the company turned the bad press around and even included it as part of an ad campaign underlining the brand's humility and dedication to good CX.
Use SEO-optimized content to clear your name
Felix Yim, co-Founder at SEO agency GrowthBoost, had great success with clearing a client's name by leveraging the power of SEO. In order to battle bad press, they've written and optimized a number of articles that spoke positively of the client. As a result, GrowthBoost were able to bring the negative press in search results down in favour of more positive press.
Keeping customers updated about the situation at hand
Sometimes, the reputation crisis comes down to an issue with a product or service. Such was the case for comparison site Broadband Search. The company's Co-Founder, Carla Diaz, says that they were in the middle of their busiest month of the year when a small error in the software made it impossible for people to use their tool. They have taken a mix of proactive and reactive measures straight away: they took down the site and replaced it with an explainer message and have started responding to social media posts and emails from concerned users. Most of them, as Carla admits, were very understanding once the issue had been explained. Broadband Search's quick reaction helped handle the out rolling crisis and prevented it from getting out of control.
These are just a few of the insights we've collected from brand experts – for more real-life examples, refer to our dedicated article about handling online reputation crises.
Chapter 8

Summary

While online reputation management is a continuous process that requires effort from multiple departments, with the right tools (such as SentiOne) you'll be able to automate a lot of your brand monitoring. As a result, you'll be able to focus on the reactive and proactive measures needed to maintain a healthy brand image and promote further business growth.

Interested in learning more about how you can leverage tools for online reputation management? Reach out – we'd love to jump on a free demo call and show you how SentiOne can relieve you of manual brand monitoring work!