Brand Reputation
Social media presence done right – how to make the most of your brand's online reputation
According to Statista, there are 3.78 billion social media users worldwide as of 2021. What's more, this number is expected to grow to 4.41 billion by 2025. To brands, it means one thing: they have to pay huge attention to their social media presence. 
In the following article, we're going to explain what social media reputation management is, as well as share some tips on how to ensure your social reputation stays intact. We'll also mention a few companies with great social media presence to inspire you. Let's dive right in! 
What is social media reputation management?
Social media reputation management is the term used to describe the process of monitoring and managing a brand's social media reputation. Among others, this includes activities like:
Responding to comments on social media platforms (both owned and external)
Posting content that aims at strengthening the brand image, educating, and engaging customers
Planning social media reputation crisis management, i.e., the steps a brand should take to making an issue become a full-on crisis.
How to effectively manage your social media presence?
Below are a few recommended methods that will make your reputation management on social media more effective.
#1 Create a social media calendar – post content regularly
By posting regularly, you will see a variety of benefits. Firstly, you'll boost brand awareness by having your audience see frequent updates from your brand. Namely, it will increase the chances of them thinking of you when searching for the type of service or product you offer. 
Secondly, some social media platforms reward brands that post frequently by boosting their organic reach. Thirdly, by posting regularly you will strengthen your brand's credibility. After all, if your company doesn't post for a few weeks or months, it might get some people wondering why you've suddenly gone silent and whether you've ceased operations altogether.
#2 Monitor your social media presence with the right tools
In order to effectively monitor your brand's social reputation, you will need to use the right online reputation management tool. We recommend setting up an account on a platform like SentiOne, where you get a bird's eye view of everything that's being said about your brand online. It will help you understand your brand's perception (online sentiment) and let you make sure no critical comment goes unnoticed. As a result, you'll be able to spot a potential crisis and resolve it before it becomes a PR issue.
#3 Identify the platforms your audience uses the most
Building a strong social media presence requires you to be where your customers are. Although you have a variety of social platforms at your disposal, it doesn't necessarily mean that you should be active on all of them – focus on those that your target audience prefers. If your customers or prospects spend most of their time on Facebook and LinkedIn, then these are the two channels that you should focus on. 
It's good practice to use social monitoring tools like SentiOne to gain an overview of all the brand mentions you receive. This way you'll be able to quickly spot platforms where most of your users are. Let's take a look at the graphic below – it shows the distribution of brand mentions that Nike got between February 3rd and  March 3rd, 2021. You can clearly see that the majority of their mentions comes from Twitter, which might indicate that it's where most of their customers are.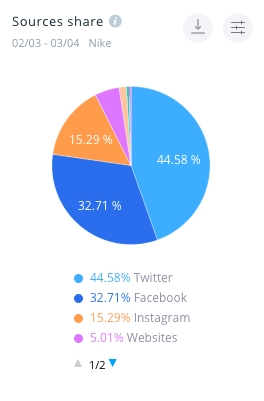 #4 Show off your personality
Part of social media reputation management is making sure that your communication style reflects your brand. Don't be robotic, act human. Social media gives you a great opportunity to show off your personality. By communicating regularly with your target audience you can build a stronger relationship with them. This is crucial, as people don't identify with products but brands. What's more, 54% of people browsing the Internet use social media to research products – it's your chance to shine! 
#5 Don't sell – educate
While most of us love buying, we don't like being sold to. For this reason, if you want to maintain a good social reputation, focus on educating your customers rather than selling to them. Make sure you're helpful – answer all of the customer queries, preferably as fast as you can. 32% of customers who contact a brand via social media expect a response within 30 minutes, make sure there is someone on your team to handle customer queries.
#6 Respond to comments
Address all comments – both negative and positive. Especially the negative ones should be tackled, as they can potentially escalate into a crisis. Use SentiOne to monitor mentions and respond to comments quicker – the platform can alert you of any negative terms used in your brand context and lets you filter positive, neutral, and negative comments. 
Why shouldn't you delete negative comments?
Simply put, it could severely harm your credibility. Instead, respond to them gracefully and make amends; chances are, you might turn around the commenters' opinions and make them positively perceive your brand in the future. The best part is you can respond to comments from all sources directly from the SentiOne platform, without the need to log on to each platform separately.
#7 Set up alerts for any unusual activity
Last, but not least, by using SentiOne, you can set up alerts for any anomalies, such as a sudden rise in brand mentions online (not just on social media channels). To give you a sense of what you can expect, here's another screenshot from SentiOne showing Nike brand mentions, which shows that the brand had an unusual rise in mentions on February 20th, 2021: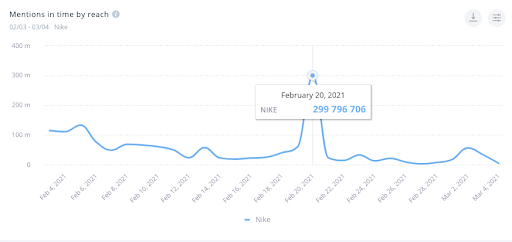 Who (or what) is the culprit behind such a rise, you might wonder? In the case of the sneaker brand, it was a positive event – i.e., the company announcing that buyers can now customize the Cristiano Ronaldo edition of the legendary Nike Air Force Ones. What if it were a negative event, though?
As mentioned earlier, it wouldn't be missed if you set up alerts that detect and immediately inform you of any pejorative or controversial terms used in relation to your brand. All this will let you resolve the issue within minutes of a potential crisis coming onto the horizon.
Reputation management on social media – companies that do it right
With the social media presence best practices discussed, let's now look at three global brands which ace their social media activities.
PlayStation
Let's have a look at how the PlayStation brand handles its social media presence. They managed to grow a substantial follower base on Twitter – a whopping 21.2 million people! Since 2019, their fanbase has grown by 2.5 million followers. This goes to show that the brand knew how to make the most of the COVID-19 lockdown and further engage entertainment-seeking people confined to their homes.
PlayStation builds its social media presence by posting multiple posts each day. They are a mixture of trailers, memes, user surveys, and game announcements. Most of their posts are liked by thousands and shared by hundreds of users.
Kick down doors like Infinitii to make your favorite community more accessible: https://t.co/GsnkKC7T0t pic.twitter.com/Uj03UungLg

— PlayStation (@PlayStation) August 22, 2021
KFC UK
Part of effectively managing your social media presence involves knowing how to cope with a PR crisis. In 2018, KFC experienced one first hand, and showed how to handle it with class. It was caused by chicken shortage – after switching to a new supplier, the brand was unable to meet the demand, which their customers were unhappy about. KFC took the blame and responded in a sincere, yet humorous fashion. 
They also won a lot of praise for their social media campaign titled 'Ain't No Small Fry' – where they used Twitter ads to promote Tweets that critiqued their old fries, to attract more attention to its improved chip recipe.  The campaign was a huge success, attracting 3 million impressions, with new fry awareness reaching 62%. 
This tweet was promoted by KFC. Conspiracy theory: they're going to be creating new fries or changing their recipe/cooking procedure https://t.co/Emn5MFN1ps

— Lee Kemp (@LeeExplores) November 4, 2018
LEGO
The Danish toy production company is a great example of how brands can encourage users to share their opinions online. This is the result of the company's long-time dedication to user-generated content and recognizing their customers' ideas. They were arguably one of the first brands to create an ideas platform where the community can pitch and upvote concepts for LEGO sets. 
During a past Web Summit edition, the company's Social Media Director, Lars Silberbauer, admitted that each YouTube content created by the brand resulted in 20 user-generated videos. As of March 2021, its YouTube channel has 11.7 million followers<.   
Effective social media presence – concluding thoughts
Reputation management on social media is crucial for any company with an online presence. It allows you to engage with your customers outside of your website, lets you monitor your brand sentiment, and ensure that no negative comments go unnoticed and turn into online social reputation crises.
In order to effectively manage your social media reputation, you must use an online reputation management platform like SentiOne. It allows you to set up alerts to any controversial terms and unusual behavior (such as a sudden rise in the number of comments), evaluate which platforms collect the highest number of mentions, understand your audience's demographics, and many others.
Reach out for a free demo if you'd like to learn more about how SentiOne can help you manage your social media.