Brand Reputation
Top 7 tools for managing your online reputation – how to select the best one
Whether you're a big player or a small brand, online reputation monitoring should always be a top priority for you – it has a direct impact on sales. In fact, online buyers are willing to pay 31% more for products from a company with positive reviews. 
In the following article, we're going to discuss the main reasons for using brand reputation monitoring software, as well as share a few tools that are definitely worth your attention while managing your online presence.
Why is it worth using reputation management software?
Before we proceed, let's start with answering the big question – why do you need online reputation monitoring tools in the first place? There are several reasons, most importantly:
Preventing reputation crises. The key to handling a potential reputation crisis is spotting any inflammatory comments or content before things get out of control. By addressing issues in a timely manner, you make sure that a dissenting opinion doesn't become a source of bad PR.
Tracking your brand sentiment and noticing any unusual changes. Dedicated brand reputation monitoring tools let you track the proportions of positive and negative comments. They also alert you to any atypical events, such as a sudden spike in brand mentions.
Implementing a reactive & proactive brand management strategy. By learning from past events and how you handled them, you'll be able to create not just a reactive, but also a proactive brand reputation strategy.
Analyzing which online campaigns had a positive effect on your PR efforts. You'll know what marketing activities brought anticipated results, and which aren't worth investing in further.
7 online reputation management tools worth looking into
To help you make the most of your online monitoring efforts, we will take a look at a few tools. Our list goes beyond typical online reputation monitoring tools. 
Google Alerts
Google Alerts is a service that provides free notifications about brand mentions or any phrases or content that you find relevant. You can set up alerts for:
Business information – you'll get notified of any brand mentions. It's worth accounting for any spelling mistakes in your brand's name.
Information about your product or service – do people say positive or negative things about you?
Competitors – to get a quick overview of what they're up to, and act fast if necessary
And many others.
You can decide how often you want the alerts to land in your mailbox – it can be daily, weekly, or monthly.
While Google Alerts is a good starting point to brand reputation monitoring as it's free, easy to set up and use, it might be a bit overwhelming. Make sure your search criteria aren't too broad, this will help you eliminate irrelevant information.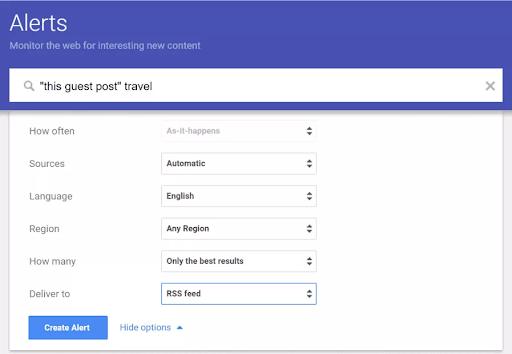 Source: Matthew Woodward
G2Crowd
G2Crowd is a business review site, which is why we've decided to include it on our online reputation management tools list. It offers you an opportunity to monitor what users say about your product, service, or brand. Most of the time it includes constructive feedback, giving you insight into the general sentiment towards you. Reviewers share their product likes and dislikes – it's a great way to understand what you do well, and what you should improve. G2Crowd also lets you respond to customer feedback, which you should do, especially if it's negative. 
Considering the fact that around 95% of buyers read online reviews before purchasing a product, review sites like G2Crowd are definitely worth monitoring.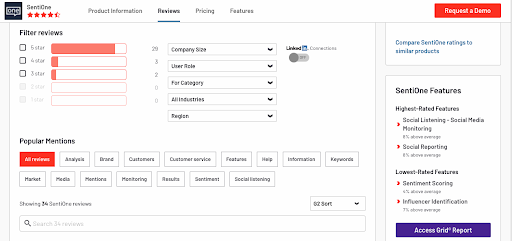 Source: G2Crowd
Hootsuite
Hootsuite is a social media management platform. So why do we consider it reputation management software? Prospects and customers tend to share their opinions about brands on social media, which makes it a very important channel when it comes to online reputation monitoring. Hootsuite is great for strategizing your social media activity. What's more, it also includes a basic module that lets you read people's comments without leaving the platform.
Part of effective online reputation management is producing high-quality, positive content regularly. This helps you build closer relationships with your prospects and customers. It's important to emphasize 'regularity', as your followers expect to hear from you consistently. Hootsuite allows you to automatically schedule your posts, so you have one thing less to worry about. 
The social listening module is only available on plans above $599/month, which is rather pricey, but there are other tools (like SentiOne) which offer better value for money.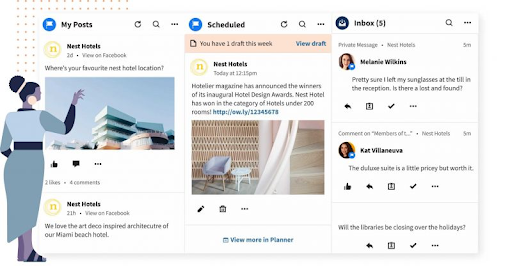 Source: Hootsuite 
SentiOne
SentiOne is an online reputation management tool that allows you to track your company mentions across not only social media, but also other online outlets, including blogs, forums, news, and review sites. As a result, you can rest assured that your brand management team is on top of any PR-related online activity.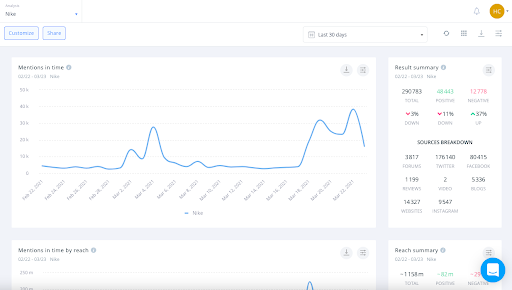 Here are several features which are especially noteworthy:
Anomaly detection. By using AI, SentiOne can detect any unusual events – such as a sudden spike in negative brand mentions – and send you a notification.
Alerts for crisis-prone words. While any negative press can potentially do your brand harm, it's especially true if it features crisis-related, controversial terms. If SentiOne detects them being used in relation to your company, your brand management team will instantaneously receive an alert. This will let you resolve the issue before it becomes a full-blown scandal.
Advanced analytics. The tool's analytics panel lets you easily access data for any chosen period. You'll be able to see the number of positive and negative comments for a given period, the amount of mentions in time, and their sentiment share. If you see an unexpected change in your statistics, you can dig deeper to nail down the specific reasons behind it.
The best part is that SentiOne isn't just a tool for reactive brand reputation management strategies. It also lets you learn from past activities to create proactive brand protection measures and build an overall bullet-proof strategy for handling any potential PR crisis.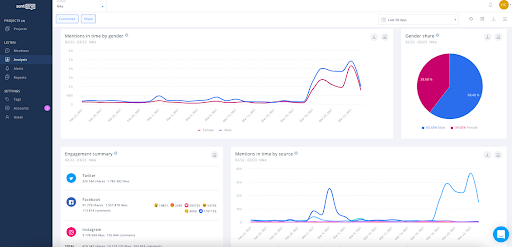 SentiOne offers a free demo – reach out if you'd like to see the tool in action.
Survicate
Survicate is another tool that allows you to build and proactively protect your brand's positive image. It perfectly supplements the information you can collect through online reputation monitoring software like SentiOne, as it lets you get insights from people who would normally not post online about their experiences with your company.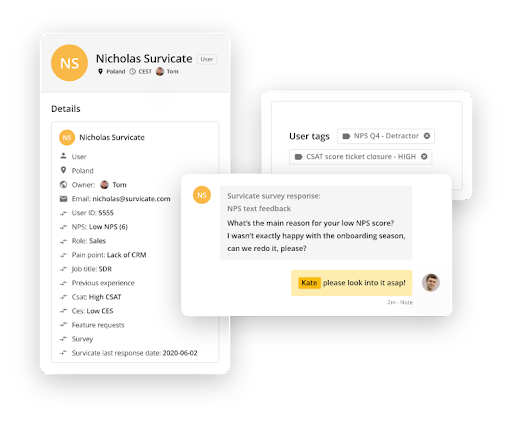 Source: Survicate
It allows you to reach out with questions to your customers through email, on your website, or through communication channels. This way, you can ask your clients to give you an NPS (Net Promoter Score) or CSAT (Customer Satisfaction Survey) evaluation or ask them any other question you're looking to find answers to. As a result, you can supplement the brand information that can be found online with input from customers or leads who need an extra nudge to share their thoughts.
You can try Survicate out at no cost – it offers a free plan for up to 100 responses a month.
GatherUp
GatherUp is a centralized review platform, which lets you collect and repurpose your satisfied customers' opinions to boost your brand reputation. Among other features, it:
Lets you automatically ask for a review online if you receive a good customer satisfaction score in a survey
Tracks the reviews your brand receives across a number of platforms, including Google, Facebook, Capterra, Trust Pilot, and more
Sets up email alerts about new brand reviews online
Allows you to repurpose reviews and leverage them as social media posts to gain more brand credibility.
While GatherUp doesn't offer a free plan, it lets you test out its features during a free trial.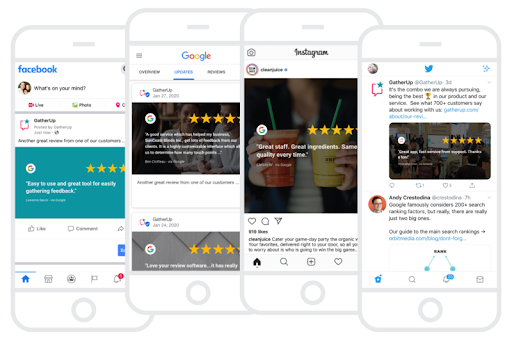 Source: GatherUp
Google Search
Google search results is another online reputation management tool that all of us have access to. While it might seem overly simple, it's a great way to quickly check the first page results to get an overview of how many websites mention you in a positive, negative, or neutral manner. By digging a bit deeper, you can also spot any recurring issues in negative feedback that will inspire you to improve. 
Another advantage is that Google Search lets you check whether your competitors are using your brand name in a biased manner in an effort to win over your clients. If that's the case, you'll be able to plan out your content and SEO actions so that you can outrank any sites that speak unfavorably of you.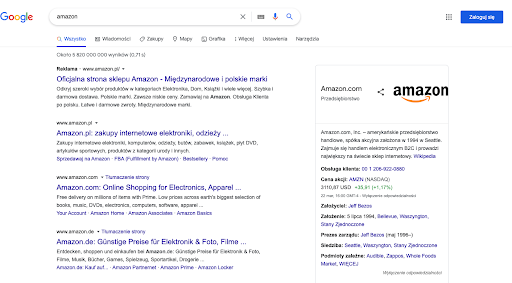 Source: Google
Summary
Using reputation management software is crucial if you want to maintain a positive brand image online. Regardless of whether you're an SMB or enterprise, it's crucial that you use online reputation management software. We recommend giving SentiOne a try – unlike many other similar tools, it analyzes not only brand mentions on social media but also elsewhere online. This way, you'll be able to stay on top of your brand image and create an informed strategy for all of your PR-related campaigns. 
If you'd like to learn more about how SentiOne can help you with effective online reputation management, reach out – we offer a free demo.