Finally! Here at SentiOne we pride ourselves on always meeting (and exceeding!) our customers' expectations. This time, we're delivering a feature many of you asked for — full TikTok support is now available in SentiOne.
Over the past couple of years, TikTok quickly became one of the most important marketing channels. Our Enterprise clients can now easily monitor comments, hashtags, ad content and much, much more!
You asked, we listened. You said the tools available on the market were disappointing. We heard many horror stories about limited capabilities: no comment analysis, monitoring restricted to just promoted content or hashtags… The list goes on. Needless to say, we decided that this would simply not do — we're therefore extremely proud to announce that SentiOne is one of the first tools on the market to offer full TikTok monitoring coverage!
What sort of content can SentiOne monitor on TikTok?
Comments

Hashtags

TikTok video descriptions

Paid content
What's more, all of this data is fully integrated with our advanced sentiment analysis — just like every other source available in SentiOne Listen.
What does this mean in practice? Clients can perform real-time monitoring on any given topic across the entirety of TikTok. In case of a sudden spike in mention volume, our anomaly detection algorithm will instantly notify the user. As such, missing a new trend, viral hit or a potential social media crisis will become impossible! 
Why SentiOne?
Standard TikTok analytics can offer only dry numbers: follower counts, view counts, comment and share counts, et cetera. Thanks to our advanced natural language processing algorithms, SentiOne adds a layer of context and qualitative analysis to these numbers.
We're able to determine the emotional sentiment of any statement (positive, negative or neutral), as well as its context. SentiOne users can perform mass analysis of online mentions in order to determine the most commonly used key phrases, compare statement sentiment and detect anomalies.
Of course, this isn't limited just to TikTok — we support over five million unique sources, including all leading social media platforms. This means our clients can monitor and compare the performance and effectiveness of their marketing campaigns across every relevant channel: from Facebook and TikTok, through YouTube comments and press mentions, to blog and forum posts.
How to start monitoring TikTok in SentiOne?
TikTok monitoring is available for every Enterprise client at no extra cost.
To start monitoring TikTok, create an Advanced Project (or edit an existing one). Under the "Social profiles" option you will find the TikTok option — use it to enter every key phrase and hashtag you're interested in. 
Once the project is saved, monitoring results will be available in the mentions panel and in the analysis view.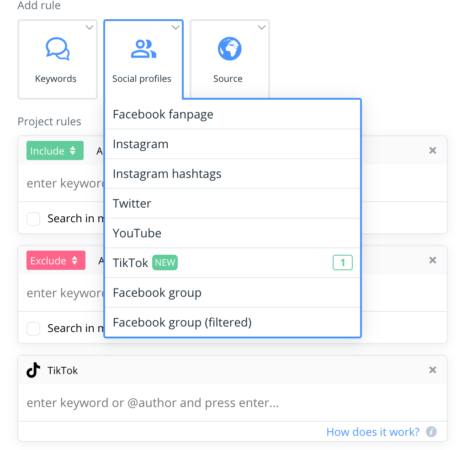 Where can I find TikTok monitoring results?
TikTok monitoring results can be found in the mentions panel. The filters on the right-hand side allow the user to select various sources, including TikTok.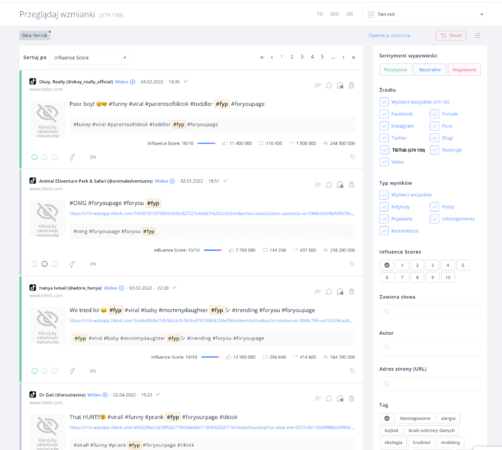 kTok results will also be included in the Analysis panel, just like data from any other source.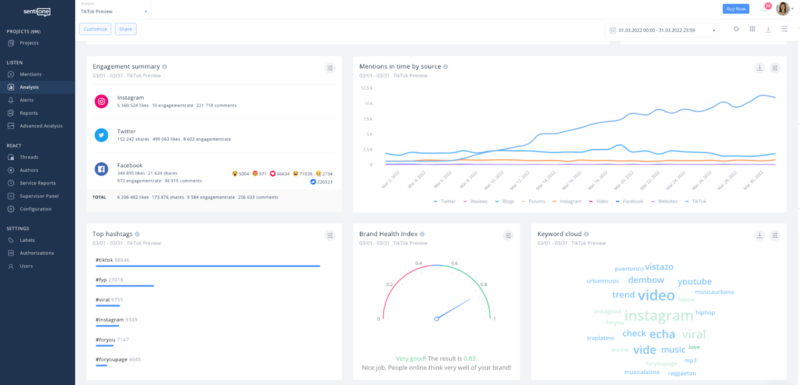 For more information, check out our knowledge base:
https://listen.help.sentione.com/docs/tiktok