Hello, hello, hello and welcome to the monthly SentiOne Social Media Digest! Once again we are proud to bring you our monthly roundup of all the trends, blips and controversies on social media!
In case you missed the previous instalments of this series: don't fret! Here are the digests for February, March, and April.
As usual, all of the data used to create this digest was captured using the SentiOne social listening tool. You can check out the interactive dashboards we made for each project by clicking on each heading in the article. Without further ado – let's go!
Last year, due to the COVID-19 pandemic, we did not get a Eurovision Song Contest. It is perhaps of this year-long gap that this year's edition of the tournament was met with such a warm reception on social media. We captured nearly 400,000 mentions (220,000 at its peak), which in total gained over 800 million impressions.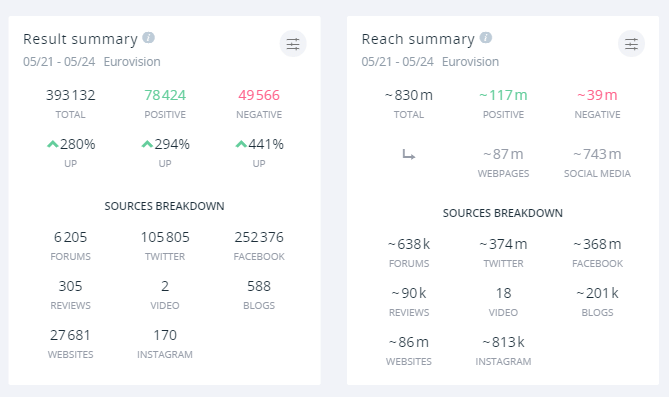 These numbers, however, are not the most impressive thing we've discovered about the Eurovision this year. No, that would be the sentiment share: just look at that! 20% of all the mentions were positive! The brands we usually analyse rarely clear the 15% mark, let alone 20%!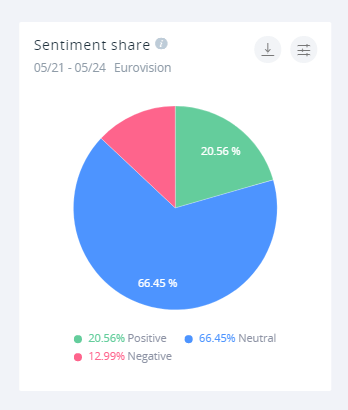 Another interesting data point: the countries that talked about the contest. Despite receiving no points whatsoever, the United Kingdom was the second most-engaged country in the discussion, following Germany and preceding Poland.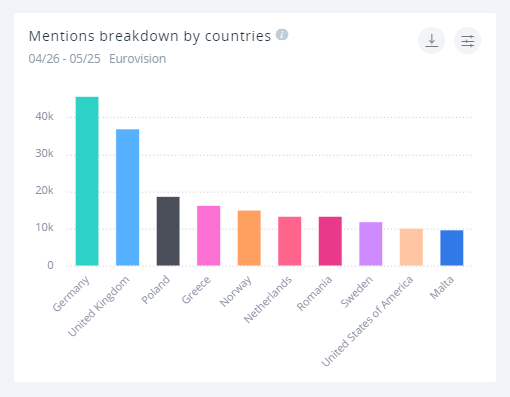 What about the artists themselves? We also took a look at this year's winners, the Italian band Måneskin (click here to view their own dashboard). What did we find?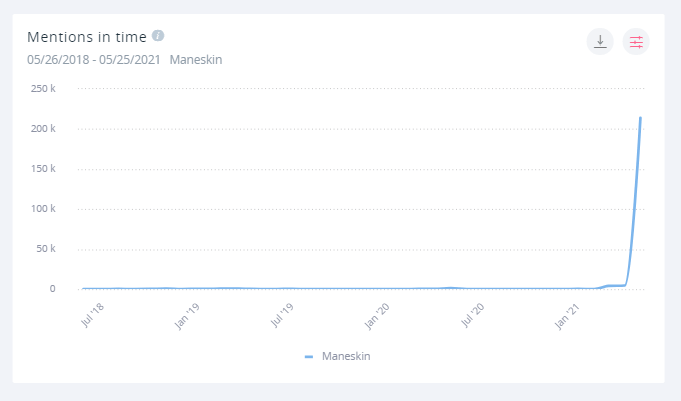 First of all, despite being active since 2016, their victory at the Eurovision marked their true breakthrough on social media. Despite appearing on Italian X-Factor in 2017, their online mentions in that year usually remained well below the 1,000 mentions mark. As you can see – this is no longer the case. The band is now recognised worldwide, being especially popular in Poland, Britain and Serbia.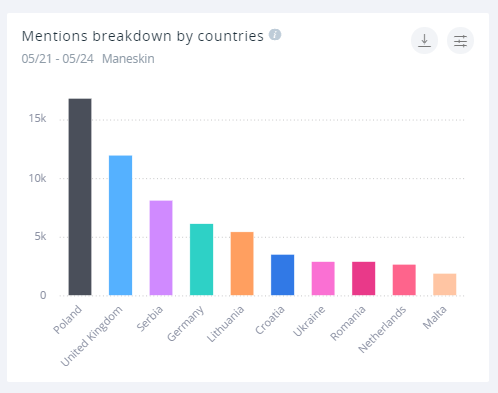 Earlier this month, Elon Musk got the honour of hosting Saturday Night Live, joining the ranks of many other billionaires who got to show off their comedy chops alongside the cast. We already wrote about how he fared – you can read more here if you're so inclined – but just to recap, here's what it looked like in social media data.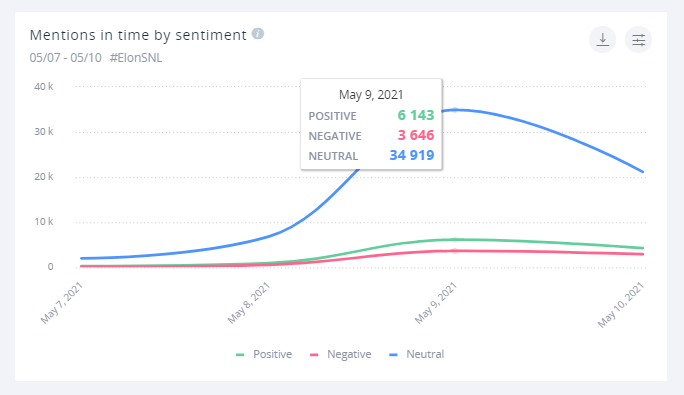 Overall, his episode wasn't received too badly – Musk's performance was judged favourably, while criticism mostly landed on the quality of the writing of some sketches (in particular, Gen Z Hospital, which has been widely panned by multiple outlets). Of particular note was Musk's admittance to having Asperger's syndrome – while the wording did receive some negative comments, it was overall perceived as an important act of advocacy.
Perhaps unsurprisingly, most of the discussion around the episode came from men. Given Musk's mostly-masculine following, this isn't very surprising. It does, however, contrast with the gender share for Saturday Night Live itself – and the difference is stark.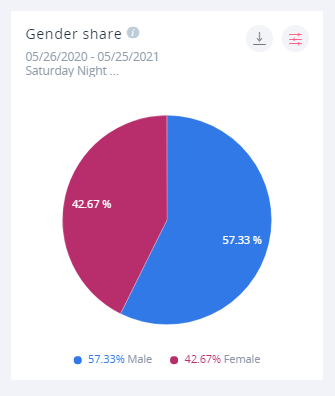 Finally, a large chunk of the online discussion about Musk's appearance on SNL centered around his attempt to push Dogecoin, a meme-based cryptocurrency of which Musk is a self-admitted fan. This attempt, however, fell flat, as the currency crashed hard during the episode's airing.
this is the funniest part of snl tonight pic.twitter.com/m5iBofzcpG

— slate (@PleaseBeGneiss) May 9, 2021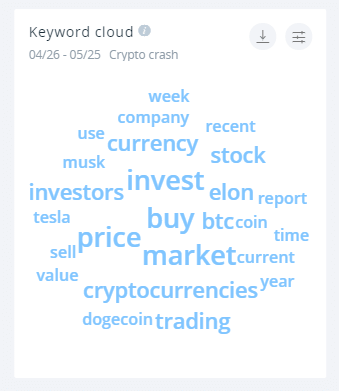 Speaking of cryptocurrencies – they did not have a great month. The trouble started in March, when the NFT craze kicked off in full swing, only to fade away due to a large public backlash – mostly centered around the environmental impact of blockchain related technologies, including cryptocurrencies.
These issues were only compounded by the emergence of new, supposedly "green" alternatives to popular cryptocurrencies. Of these, Chia got perhaps the most attention – for how fast mining it can ruin a SSD drive. Over the past year, crypto mining and blockchain technologies only made computer components scarcer and scarcer.
It is perhaps these issues that made some countries take steps to ban cryptocurrencies entirely. China was among the first, with countries like India considering similar steps. It's not just countries, either – server provider Hetzner has also banned all cryptocurrency mining on their hardware. Elon Musk, too, announced that Tesla would no longer take payment in Bitcoin, citing the environmental impact.
Tesla & Bitcoin pic.twitter.com/YSswJmVZhP

— Elon Musk (@elonmusk) May 12, 2021
What is interesting, however, is the sentiment we tracked around the topic. You'd think social media would be filled with would-be investors expressing their frustrations and woes at what are – in some cases – large financial losses. Not so, according to our sentiment analysis: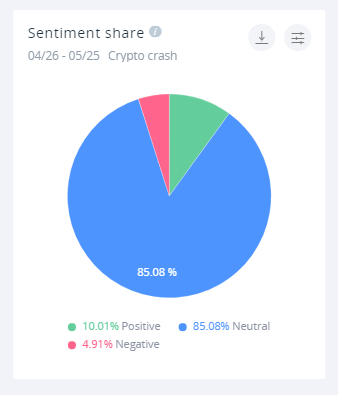 With any given topic, it's rare to see a negative sentiment share under 6% – and yet, here we are. This is unusual to say the least; it does, however, show that cryptocurrencies are still a long way from being accepted as viable by most people.
While the crypto bans certainly hurt traders and exchanges, leading projects are far from throwing in the towel. In fact, a leaked Goldman Sachs analysis has Ethereum well on its way to overtaking Bitcoin as the leading cryptocurrency. Prices of cryptos are recovering, despite the Chinese ban still being in place. It remains to be seen how cryptocurrencies adapt to the new conditions – and whether further crackdowns are coming.
For now, though, I'm going to keep my hopes up that I'll finally be able to buy a graphics card without a crypto miner swiping all of them from under my nose.