Online Trends
SentiOne Social Media Digest: September 2021
Hello and welcome to our monthly Social Media Digest! As usual, we're bringing you a fresh collection of statistics, metrics and the most intriguing topics that shook social media last month!
If you're new to the series, here's the ground rules. We collected all of the data using SentiOne, our flagship social listening solution. The headings for each topic are a link to an interactive dashboard, where you can look at the data yourself. If you want to browse through the past editions of this series, here they are in order: August, July, June, May, April, March, February.
September means one thing: the start of the autumn television season in the United States. For decades, this has been marked by the Primetime Emmy Awards ceremony – and this years festivities haven't been without surprises and upsets.
This year's ceremony cemented Netflix as the undisputed ruler of the television landscape. Their flagship drama, The Crown, took home seven awards – including Outstanding Drama, Outstanding Lead Actor and Actress, and Outstanding Directing for a Drama series. These awards were bolstered by further Netflix wins from The Queen's Gambit and Halston. Close behind Netflix, the combined efforts of HBO (the channel) and HBO Max (the streaming service) resulted in nine awards.

Social media was abuzz with Emmy discussions – mentions of the event managed to gather over two billion impressions. The sentiment was overwhelmingly positive!
Earlier this year, the Central American country of El Salvador voted to adopt Bitcoin as legal tender. While this doesn't replace the current currency, the US Dollar (adopted in 2001), it allows businesses to express prices in both currencies. Citizens can also pay taxes using Bitcoin.
Well, that was the plan, anyway. On the day the law came into effect, Bitcoin crashed 13.4%, to a low of $45,189.
#Bitcoin price crash – LIVE

– Bitcoin price crashes below $50,000
– El Salvador runs into problems with Chivo bitcoin wallethttps://t.co/EJ060G7R9A

— The Independent (@Independent) September 7, 2021
Protests were also held across the country. Protesters pointed out that Bitcoin is too volatile to be a currency, as well as its common uses by criminals and money launderers. What's more, the official government-backed wallet app, Chivo, did not have a smooth rollout – it was marred with bugs and availability issues.
You wouldn't be able to tell this from social media, however – even our own data shows an overwhelmingly positive response to the topic. That's all thanks to Bitcoin evangelists from outside the country congratulating El Salvador.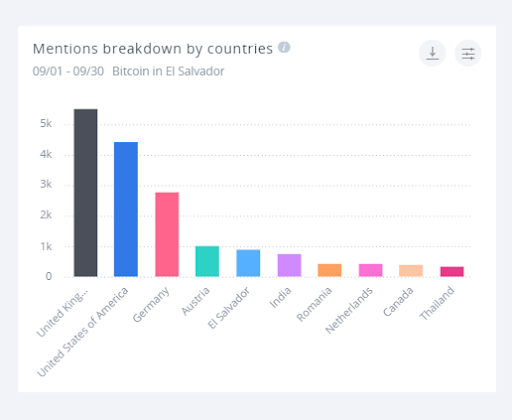 The results of trying to implement Bitcoin as an actual currency were predictable – economic experts have spent the better part of the last decade pointing out Bitcoin's unsuitability as a currency. To make matters worse, El Salvador's economy was already frail and unstable to begin with. Back in June, the World Bank rejected the country's appeal for help with implementing Bitcoin.
Just weeks later, China – once a cryptocurrency superpower – banned all crypto transactions in the country. Reasons cited include extreme energy costs and the association of Bitcoin with illicit activity.
They might be onto something with that first one:
El Salvador government spends $4,672 in electricity to mine $269 in bitcoins https://t.co/9CLrHqqJai

— your #1 source for absurdist true crime 🐍👑 🌷 (@davidgerard) October 3, 2021
This September, the video game company Nintendo hosted another one of its Direct presentations, bringing gamers announcements and news on long-awaited titles, such as the upcoming Metroid Dread.
Surprise announcements aren't anything new for Nintendo – but this one took everyone by surprise. There's going to be a Super Mario movie! And it stars… Chris Pratt?
The fans reacted with confusion – and in some cases, negativity. While Pratt is a competent actor, his comedy style is perceived as a poor fit for the character. He is also not known for being a voice actor – or even being Italian-American! All of these points were, of course, communicated through memes.
Chris Pratt as Jack Black as
Mario Bowser pic.twitter.com/EFID1iclNm

— 👻 Chaz the WooOOoosel 👻 (COMMISSIONS CLOSED) (@ChaztheWeasel) September 23, 2021
Guys, the casting for Super Mario Brothers could have been way worse. pic.twitter.com/iDBvr6Jrsc

— HeyIt'sVadim (@HeyItsVadim) September 24, 2021
'Chris Pratt is Mario' is a sentence that has caused many to lay awake at night, if not out of fear, then sheer bafflement. https://t.co/Gy8PFGcl6S

— VICE (@VICE) September 24, 2021
Another point that drew the fans' ire was the perceived sidelining of Charles Martinet. The veteran voice actor spent the last quarter century providing the voice of Mario and various other Nintendo characters. He is involved in the film, but only in a background role.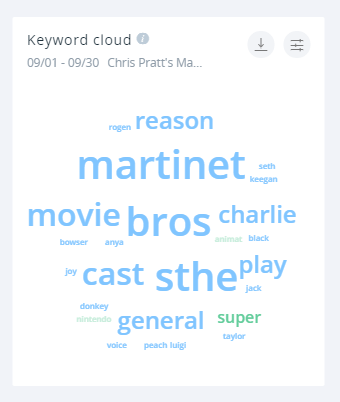 ok but I really do want to know who had to call Charles Martinet on the phone and tell him he wont be voice acting the characters he's played for near 30 years. pic.twitter.com/PEWPZf6ltc

— 🎃🧟‍♂️Riana-mator🧟‍♂️🎃 (@DIYferret) September 27, 2021
I find it kinda sad that Chris Pratt will probably get paid so much more for voicing Mario ONCE than Charles Martinet did in his entire 25-year tenure as him in every game/toy/promotion/etc.

— Michael Ruocco (@AGuyWhoDraws) September 23, 2021