Hello and welcome to the SentiOne Social Media Digest 2021! This is a new series we're starting that will sum up the latest online trends and hottest social media discussions that took place over the past month.
February was a turbulent month: from our continued fascination with Marvel's WandaVision, through Facebook boycotting its Australian users to the coup in Myanmar. We've been following all of the stories through social listening – and here's what we discovered.
WandaVision rules our screens
Despite being one of the biggest cultural forces in recent years, the Marvel Cinematic Universe has fallen off significantly in recent years. After building up to 2019's Avengers: Endgame for eleven years and twenty-two movies, Marvel decided to take a step back to recharge their batteries. 
We haven't had a Marvel film since 2019's Spider-Man: Far From Home. The company planned its "Phase Four" to be a massive undertaking: eleven films and thirteen television series, far more than we've seen come out from the company up to this point. These plans had to be delayed due to the COVID-19 pandemic, but are still pushing forward at a slower pace.
Despite the delays, WandaVision made it to our screens and instantly captured our attention with its unconventional approach to storytelling and strong performances. It was also released in a traditional TV model: one episode per week, instead of releasing the whole season at once, as is the case with streaming services.



<
This approach clearly worked: week after week, episode after episode, we're seeing strong engagement and discussions.
With one episode remaining until the finale, we're anxious to see how much of an impact the series will have overall.
Facebook and Australia – what a mess!
The relationship between Facebook and the Land Down Under have been strained, to say the least. The company opposed a proposed piece of legislation – and it did so in a rather drastic way. You can read more about Facebook (temporarily) leaving Australia on our blog.
The reaction to Facebook's heavy-handed handling of the issue was almost universally negative. Here are some top tweets concerning the issue we've detected using SentiOne.
OPINION | 'When you use the vandalisation of 13 million citizens' news feeds as a bargaining chip, you raise the stakes – and the temperature', writes former Facebook Australia chief Stephen Scheeler https://t.co/mP0f9MTssd

— The Age (@theage) February 18, 2021
Facebook's ability to shut down so many pages literally overnight is proof it could have done a lot more a lot quicker to remove sources of misinformation and hate speech.

— Mollie Gorman (@_MollieGorman) February 17, 2021
During a global pandemic, Australians can't access state health departments on Facebook. On a day of flood and fire warnings in Queensland and WA, Australians can't access the Bureau of Meteorology on Facebook.

The Morrison Government needs to fix this today.

— Anthony Albanese (@AlboMP) February 17, 2021
A former Facebook CEO says the Australian news ban represents an act of war and is a move Mark Zuckerberg may regret. https://t.co/JfJ85FLY9d

— The Australian (@australian) February 18, 2021
The coup in Myanmar
February saw the country of Myanmar face political upheaval. On February 1st, the country's democratically elected leaders were detained by a military junta.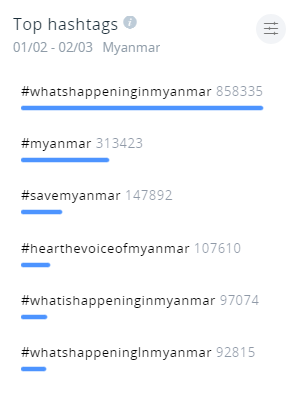 This sparked a large wave of protests and universal condemnation of the coup d'etat by the majority of the international community. The protests have also received significant attention on social media. A grassroots campaign seeking to inform foreigners about the situation, #WhatsHappeningInMyanmar reached over 850,000 posts.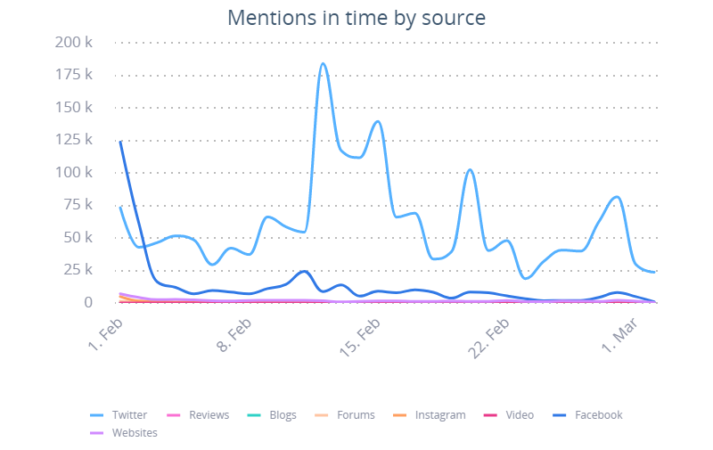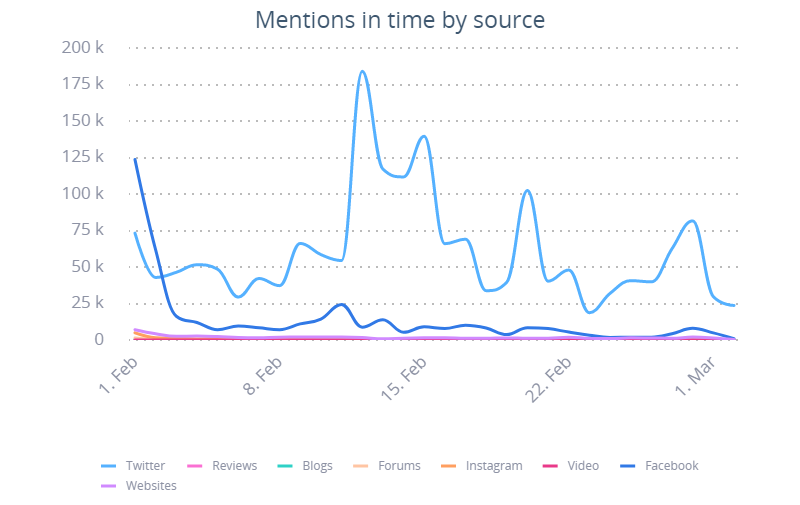 The coup authorities made moves against social media: major telecom operators in the country blocked access to Facebook, which was used to organise the first wave of protests. This blackout can be seen on our sources graph: notice how Facebook sharply falls off at the beginning of February.