All
Omnichannel customer service automation and more exciting news in our yearly summary
Time sure flies. Another year is coming to an end and we are proud to say this year we have moved forward with our technology like never before. We have created an innovative solution to help companies automate tasks related to social listening and customer service. Check out what's new in SentiOne.
New functionalities available in SentiOne:
SentiOne React AI –  Omnichannel customer service automation
More powerful keyword cloud widget
Redesigned Mentions module
More advanced options to compare brands
Monitoring Insta Stories and adjustment to Instagram API
New features related to Instant response in SentiOne React
SentiOne React AI
– Omnichannel customer service automation
In SentiOne, on our day-to-day basis – apart from developing the online listening and customer management platform – we build intelligent bots for client service. Together with our clients (mainly from the financial sector), we have been exploring the topic for quite some time now, developing the second generation of customer support chatbots that use deep learning.
Our bots can be implemented in any channel: messenger, phone, webchat, in-app mobile chat. We offer high-quality NLU engine, that is trained using a lot of data that we've gathered from social media in the last 3 years. The engine can be also customised and trained using the client's data.
Of course, our bots are fully integrated with our online customer engagement tool SentiOne React. The system is integrated in a way that agents can support bots whenever it is necessary. We believe the future of business is in AI solutions. This way the real people can take over more exciting tasks that need more responsibility and creativity rather than provide repeatable answers over and over again. We invest in automation because we believe this will make people's work more efficient and inspiring in the long run.
This is how our chatbots platform, where you can build possible client interaction scenarios from scratch, looks like now: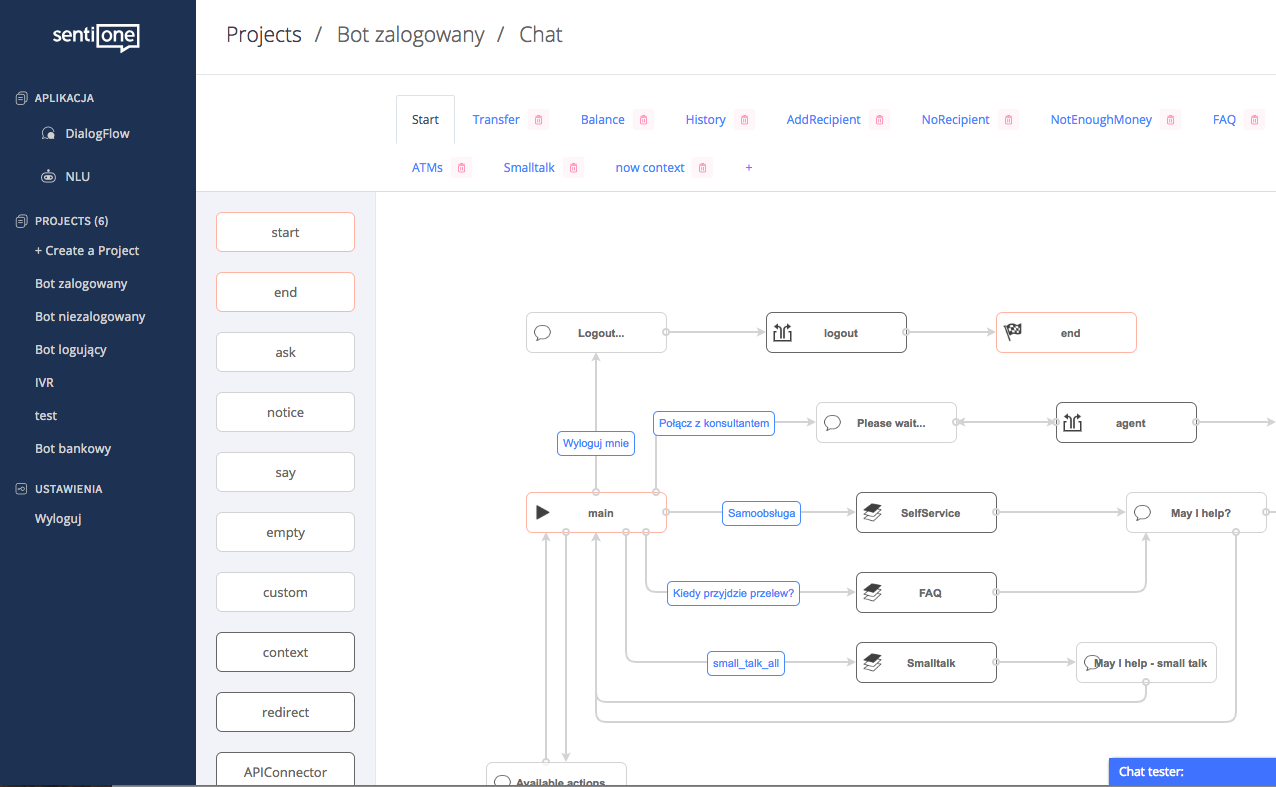 More powerful keyword cloud widget
We have added an option to export the word cloud as a CSV/Excel file. Now, in the downloaded file, you can see how many times a specific keyword appeared in the discussion around your topic for a requested time period.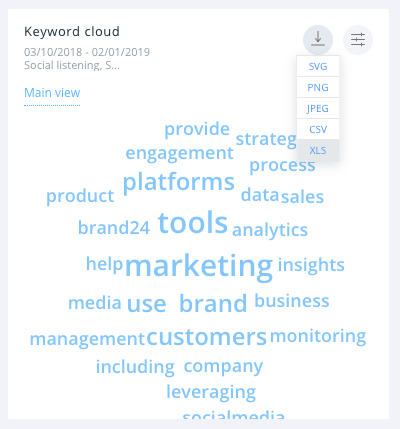 It is also possible to get deeper into the word-based analysis by clicking the specific word. Our app will ask you if you wish to check the mentions that include this of a word, or you want to generate new keyword cloud for mentions that include the chosen word.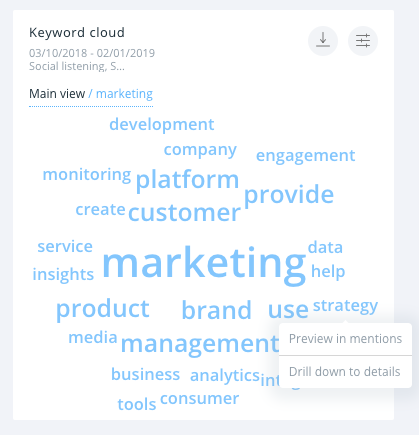 Redesigned Mentions module
Other than developing new tech, we are always focused on improving what we already have according to our clients' feedback. The most frequently used feature, that is the Mentions module, has been refreshed and improved.
We added a new sorting option by Influence Score so users can quickly find the most popular posts and comments.

We also made it possible to filter data by mention type, which makes it much easier to review posts, articles, comments, or private messages separately.

For power users, it is now possible to manage active filters and hide unnecessary elements of interface like filters panel.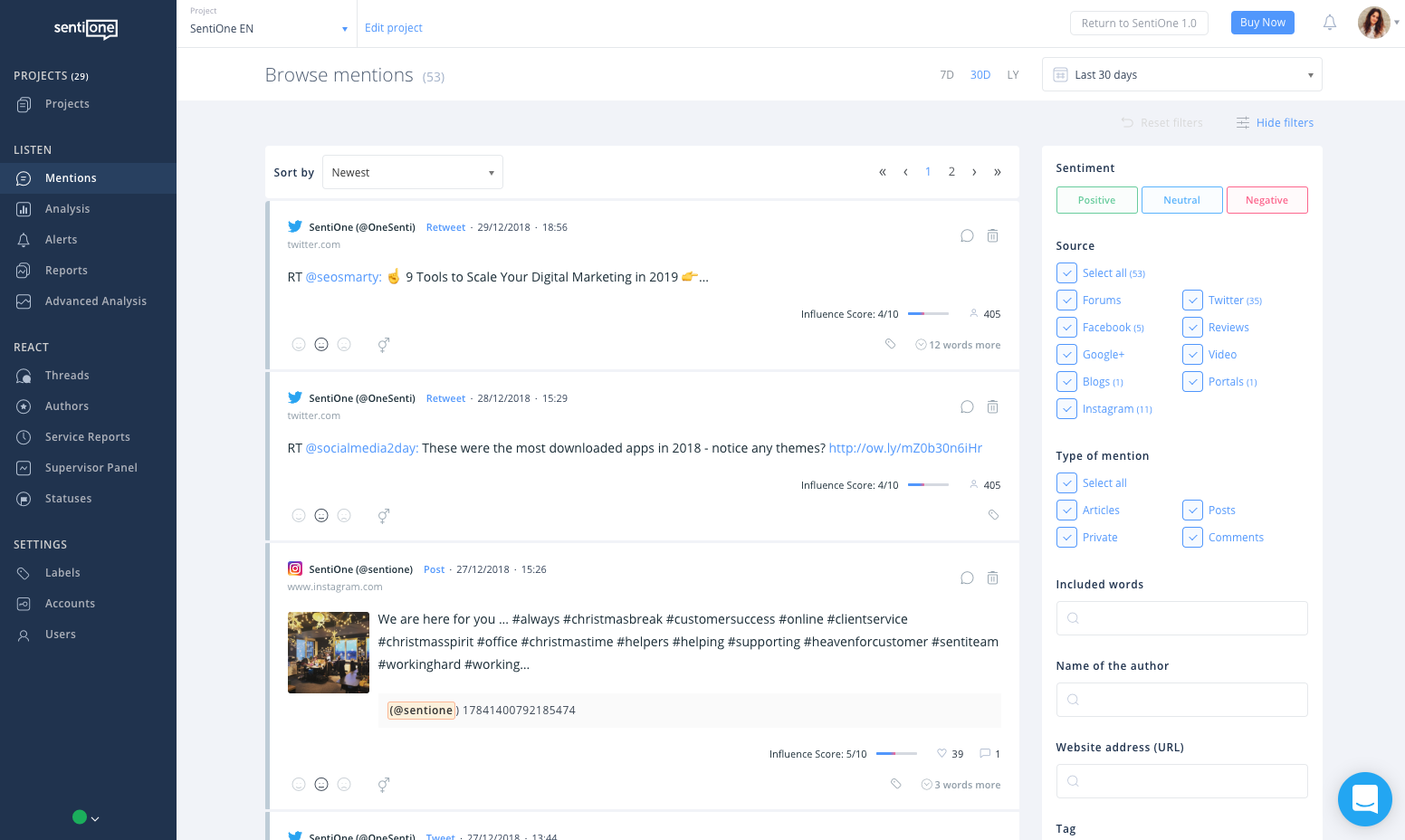 Find and analyse competitors with ease
Now you get more options to compare brands and products so that you can, for example, check the online performance of your products and/or compare them with your competition.
Using Comparative template in PDF reports you can generate a one-time report or set up periodic one to get a comparison of your projects sent by email weekly or monthly.

Using Comparative dashboards you can check out all available comparative options and learn more about your competitors. You have this one new widget, particularly interesting when it comes to setting benchmarks, that shows Sentiment Share between projects.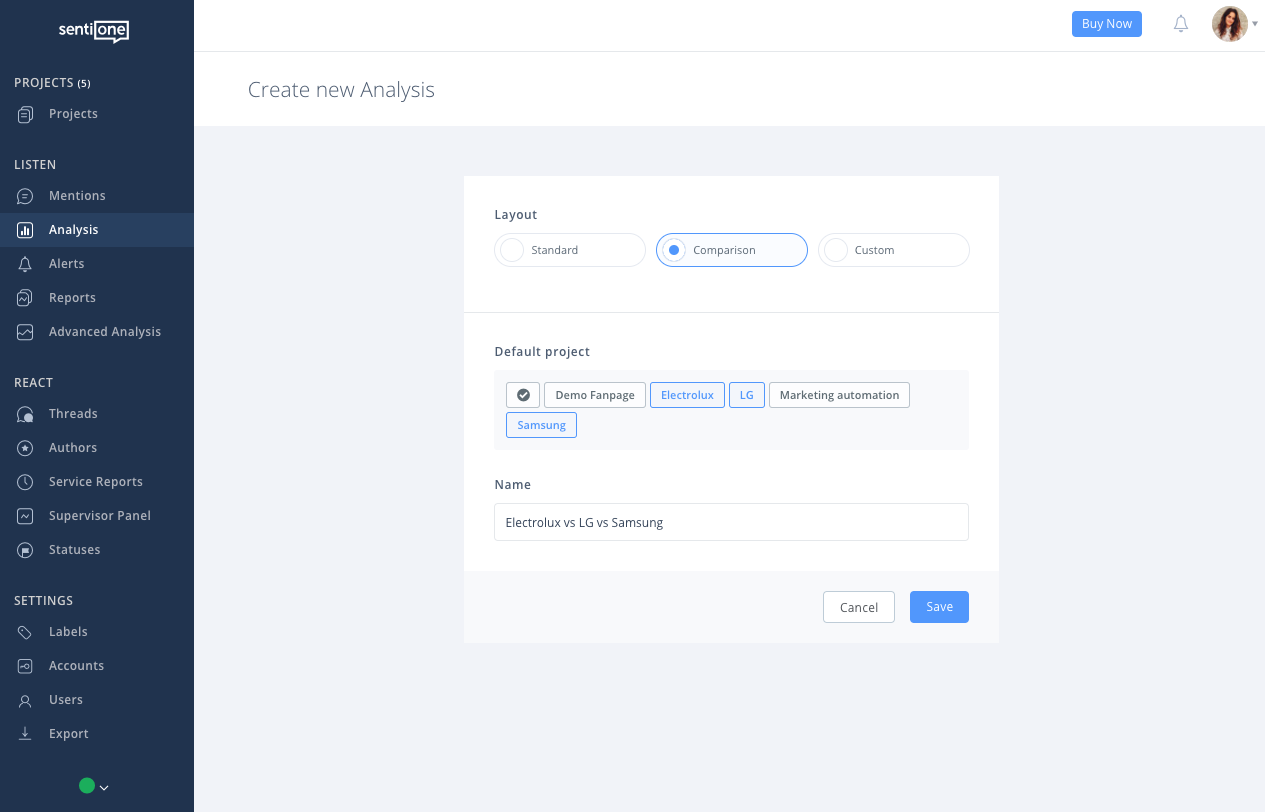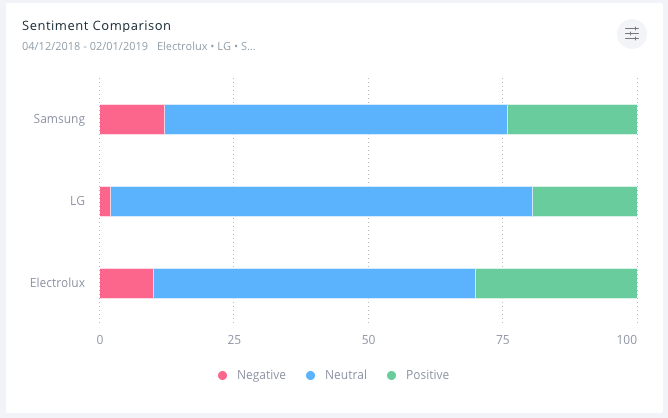 Monitoring Insta Stories and adjustment to Instagram API
More details of changes related to Facebook and Instagram API merge can be found here.
What is interesting, it is now possible to monitor Instagram Stories and get precious reach metrics for the content from an authorised account. Authorise your Instagram account to try it out.
New features related to Instant response in SentiOne React
1. Now users can use emojis while replying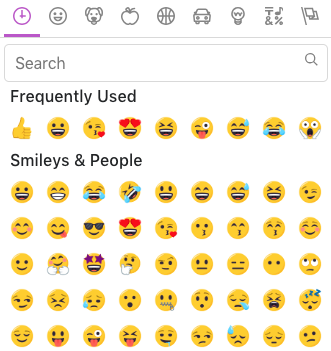 2. They can also edit sent messages
3. Hide a post or comment from Facebook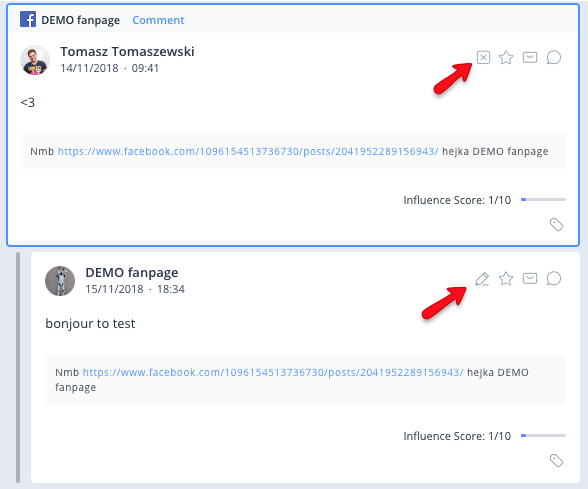 Negative comment has just appeared on your Fanpage? As an administrator, you would definitely like to take care of the type of content that is published on your profile as in the end, you are responsible for it.
Now, thanks to SentiOne React you can not only answer to user posts and comments but also hide them without logging into FB.
Those supporting features are available only for users that have permission to Reply.
Interested in how our product changed throughout the whole year? You can find our Release page here.
If you have any questions regarding the news or see the potential for our cooperation, don't hesitate to contact me directly at olga.springer@sentione.com.