Social Listening and AI Customer Service Automation
Boost your customer service from social listening tool to AI conversational bots
Request demo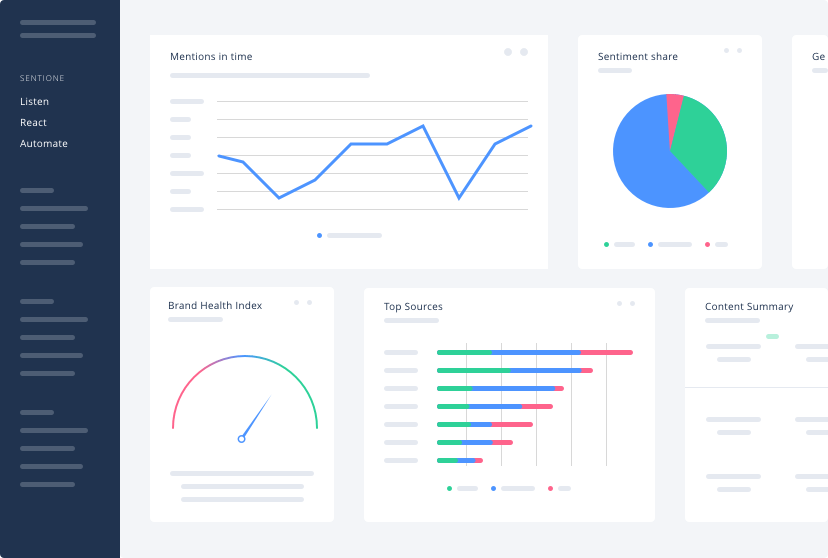 Three-step solution to perfect customer experience
Listen
Stay up-to-date with online listening and data analytics
Learn more
Listen
Stay up-to-date with online listening and data analytics
Reach your target groups wherever they are
Discover new sales opportunities
Explore the value of audience insights
React
Join discussions with online customer service integration
Learn more
React
Join discussions with online customer service integration
Avoid social media crises
Build strong customer relationships
Extend customer lifetime value
Automate
Enhance your customer service with multichannel AI automation
Learn more
Automate
Enhance your customer service with multichannel AI automation
Save your employees' time
Provide customer service of the future
Get competitive advantage
Listen
Stay up-to-date with online listening and data analytics
Reach your target groups wherever they are
Discover new sales opportunities
Explore the value of audience insights
React
Join discussions with online customer service integration
Avoid social media crises
Build strong customer relationships
Extend customer lifetime value
Automate
Enhance your customer service with multichannel AI automation
Save your employees' time
Provide customer service of the future
Get competitive advantage
Press and articles
They write about us
Listen
Online Listening & Analytics
Discover 80% of your brand mentions that happen outside of your own channels.
Monitor online discussions that matter to your brand. By finding truly relevant insights with AI-based online listening and data analysis engine, you can fully manage your online brand image.
Unlimited Keywords
Real-time Monitoring
5+ Million Sources
Audience Insights
Sentiment Analysis
Comparative Research
START MAKING DATA-DRIVEN DECISIONS
We have been working successfully with SentiOne since 2012. They provide NIVEA with Social Media Listening, Insights, and Analysis across multiple European markets. Throughout our cooperation, SentiOne has proven to be a trustworthy and on-time supplier.
React
Online Customer Service
Keep 73% of your customers loyal to your brand thanks to great contact.
Integrate your social profiles within one online brand management tool. Engage in online discussions with current or potential customers across all web channels to increase customer satisfaction.
Instant Response
Crisis Management
Account Integrations
Personalised Workflows
Thread Management
Influencer Score
INCREASE WEBCARE EFFICIENCY
Having tried various international social listening providers, I can honestly say, that SentiOne is one of the best social analytics tools globally, and obviously the best choice for the CEE markets
Automate
AI Customer Service Automation
Handle up to 70% of customer requests by conversational bots and provide instant reaction time.
Redefine customer experience with disruptive technology. Include AI conversational bots into your brand communication and exceed audience expectations.
Industry-agnostic System
On-premises and Cloud Solutions
Text and Voice Bots
Intuitive Bot-Building Interface
Natural Language Understanding Engine
AI Answer Suggestions
JOIN THE AI REVOLUTION


Number 1 in intent recognition in the world
Featured on Papers with Code and the Association for the Advancement of AI as the best natural language processing engine with an accuracy score of 98%.
Ogilvy and Mather work with SentiOne for several clients in 15 markets of the CEE region. SentiOne is a partner to reach our goals and answer important questions about the brands that we work with.
Multichannel platform appreciated by
You are two steps away from using AI in your business
What can you get with an AI-based online listening and customer service platform?
Let us show you how our tool helps our clients in their daily business!