TikTok continues its campaign to achieve world domination. Last year, it hit one billion active monthly users — and it shows no signs of slowing down!
As TikTok continues its growth, it also entrenches its position as one of the most important marketing channels around. It's no secret that companies are eager to make use of the platform — however, few manage to do so successfully. TikTok is unlike other social media platforms, as it demands a level of understanding of both its mechanics and its culture.
So, how do companies break through these obstacles? Which brands found success on TikTok? What strategies did they employ? This is what we discuss in this article. Read on!
Bringing legacy media to new audiences
When's the last time you actually bought a newspaper? Really think about it.
Legacy news media — and especially newspapers — have always struggled to remain relevant in the internet age. We've seen corporate buyouts of newspapers, mass layoffs and hard pivots towards primarily internet content. In order to maintain revenues, universally reviled paywalls have become a sad necessity.
This is the era in which Gen Z and millennials, the two primary demographics on TikTok, grew up. They don't buy newspapers, as they mostly went out of the mainstream by the time they came of age. They also eschew live TV in favour of streaming services and downloads. If this trend continues, news TV will also go the way of the dodo.
Which is why news media as a whole is adapting. Outlets such as the Washington Post and ABC News operate their own TikTok accounts which reach thousands of people every single day.
The view numbers range widely — as of this writing, a recent Washington Post TikTok has 24.2 thousand views while another has 1.4 million. These engagement metrics prove that TikTok is more than just a platform for lip syncing to popular songs — it can be a source of news for many young people.
Employer Branding
TikTok is built on the principle of authenticity — and authenticity is your greatest asset while doing employer branding.
As it turns out, companies love to use TikTok for "behind the scenes" content. By showing your working conditions, showcasing your employees' stories and daily life, you can help attract new talent to your company. After all, wouldn't you like to work for a company that boasts how comfortable its offices are?
Brand positioning and reputation management
A solid social media presence goes a long way.
Consider, for instance, RyanAir. It's a low-cost European airline, which doesn't really enjoy a stellar brand image. They're usually the cheapest option available for air travel, and that, predictably, comes at an expense. As a result, nobody actually associates RyanAir with comfortable planes or in-flight services.
The company's TikTok strategy? Leaning into that image!
Like we said earlier — authenticity is the key to success on TikTok. Sometimes, that takes the form of self-deprecation. RyanAir doesn't pretend to be anything they aren't. Instead, they acknowledge that yes, being the cheapest travel option means sacrificing leg room or having to pay extra for luggage. The TikTok crowd loves it: the honest approach means that RyanAir's TikToks routinely break the 1 million views mark.
As a result of this campaign, while the brand enjoys a rather mediocre reputation on the wider internet, its brand health index on TikTok alone is overwhelmingly positive!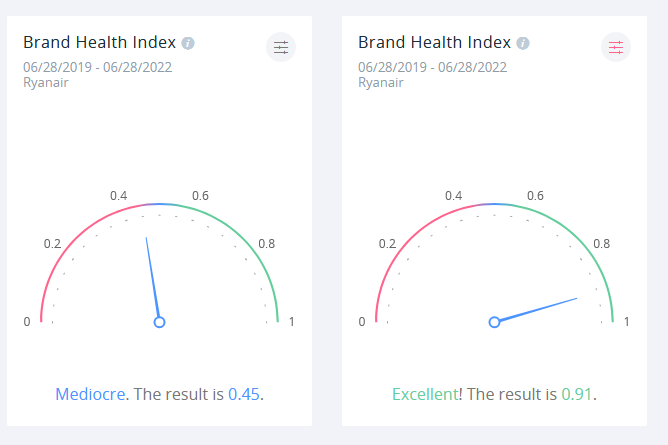 Reaching new audiences
TikTok is the stronghold of Gen Z and millennials. Like we keep repeating in our blog posts, these demographics are characterised primarily by their hostility to traditional advertising. These are the adblock generations. They grew up on an internet filled with intrusive advertising and they constantly find new ways to get around paywalls, autoplaying ads and pop-ups.
In this environment, influencer marketing emerged as the dominant form of marketing. While Gen Z may not trust corporations, they trust social media personalities. By reaching out to them and building partnerships, you can grow your audience.
A great example of a good brand-influencer partnership was Red Bull's collaboration with professional esports player Keeoh.
This simple video reached almost a million views (986 thousand, to be precise) — and it's just an example of how simple, yet effective these collaborations can get on TikTok.
In fact, TikTok itself recognizes how much brands want to make use of their influencer community. To this end, they launched their creator marketplace, which lets brands get in touch with influencers that best suit their image and brand profile. Although it's only available in select markets so far, it has already proven itself to be a roaring success.
Influencer marketing helps brands reach otherwise unreachable audiences. By partnering with an established TikToker, you can easily show off your brand's products or services to their followers — as long as you remember to stay transparent!
Making use of trends
Lastly, TikTok isn't only about the content you produce. It's also about the content you watch. Remaining in touch with the platform's zeitgeist will help you produce videos that better resonate with your audience — and TikTok as a whole!
To paraphrase an old adage, to talk like a TikToker you must become a TikToker. That is to say, if you want your presence on the platform to be a success, you must immerse yourself in the TikTok culture. Once again — authenticity is key! Participate in the community by watching popular and niche creators, exploring various interest groups… Use the platform like a regular user, instead of like a marketing professional!
That said, us marketing professionals have access to tools that can make interacting with social media platforms much easier. Social listening, for instance, is invaluable when it comes to seeking out and identifying platform-wide trends. It also lets you quickly judge a brand's standing on the platform, or the effectiveness of a marketing campaign.
As it happens, we just added TikTok support to our flagship social listening platform, SentiOne. If you're interested in monitoring all major social media platforms as well as blogs, forums and news websites, while also having access to state-of-the-art AI analytics, what are you waiting for? Get in touch with us and book a demonstration today!