What a way to start a year, huh? We have been hard at work improving the SentiOne platform, based in part on your requested features. As the first quarter of the year draws to a close it's the perfect time to look back at all the new features and improvements made to SentiOne! 
SentiOne Listen – quality of life changes and better locale handling
This quarter, we focused on quality of life changes and improvements made to the social listening module of SentiOne and the continued development of new features – which we hope to announce soon.
One such cosmetic improvement is the redesigned comparative analysis widget. We received a lot of good feedback from our users – and based on that, we have adjusted the widget to accommodate your needs.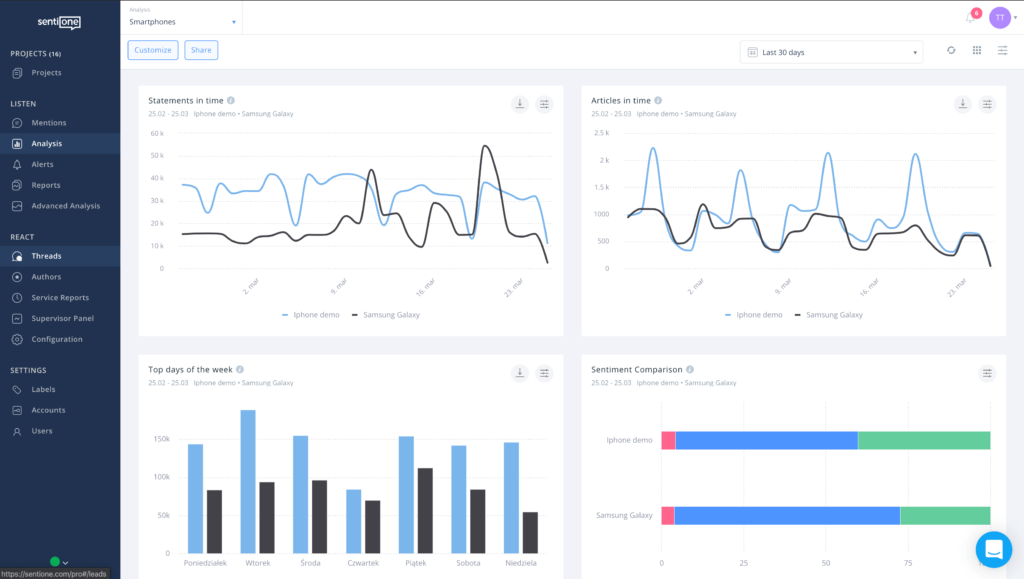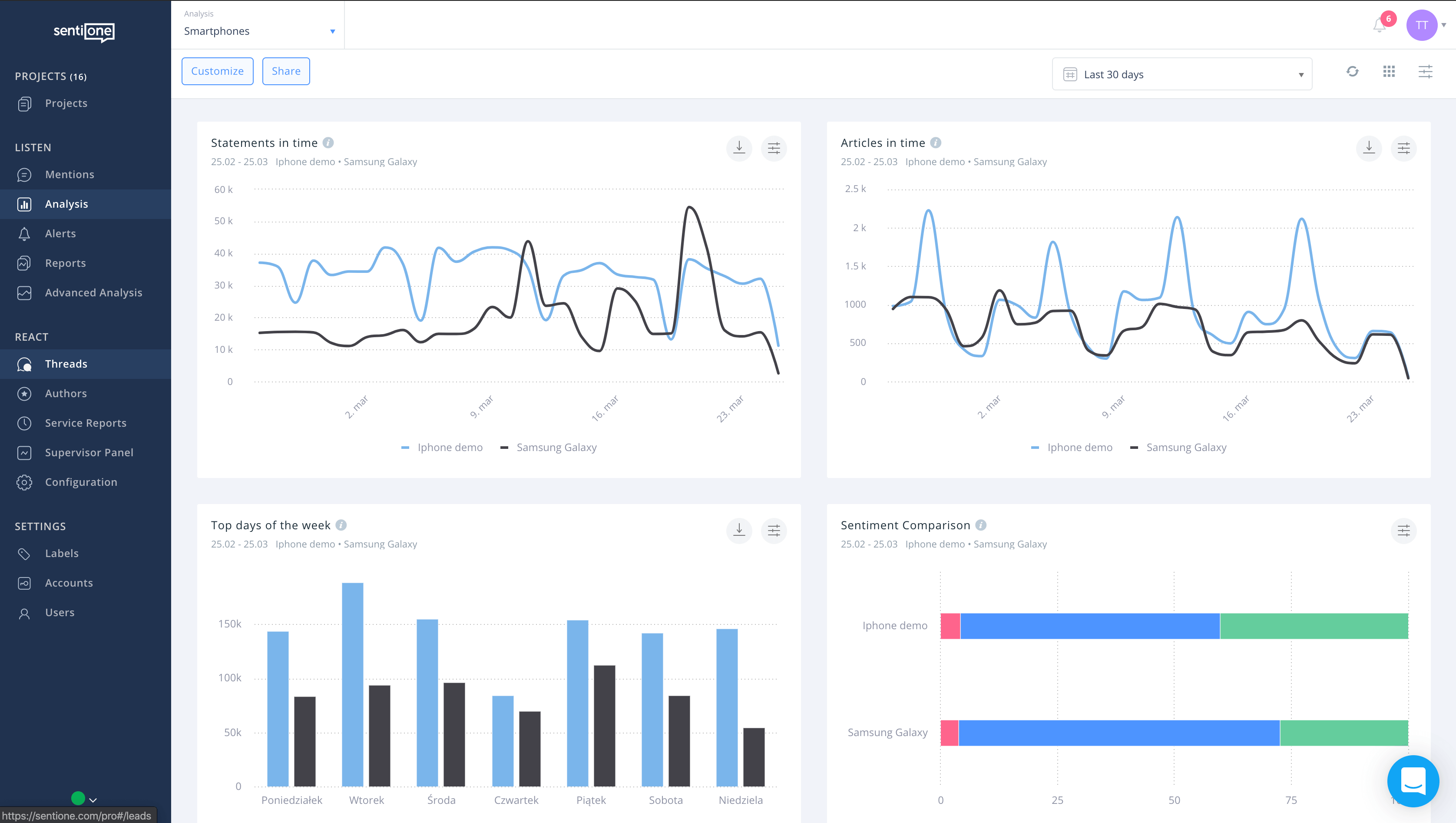 We also improved our language and localization handling. Our Hungarian users will be delighted to know that they can now generate reports in Hungarian. More importantly, projects now have language and country filters built-in. Are you only interested in mentions coming from a specific region? You can now easily learn how different markets and communities perceive your product, service, or brand!
We have also added Facebook group monitoring to our ever-growing selection of communication channels. Group owners can monitor new posts and comments, as well as participate in conversations from within SentiOne itself. As per the Facebook API access policy, this option is only available to group owners.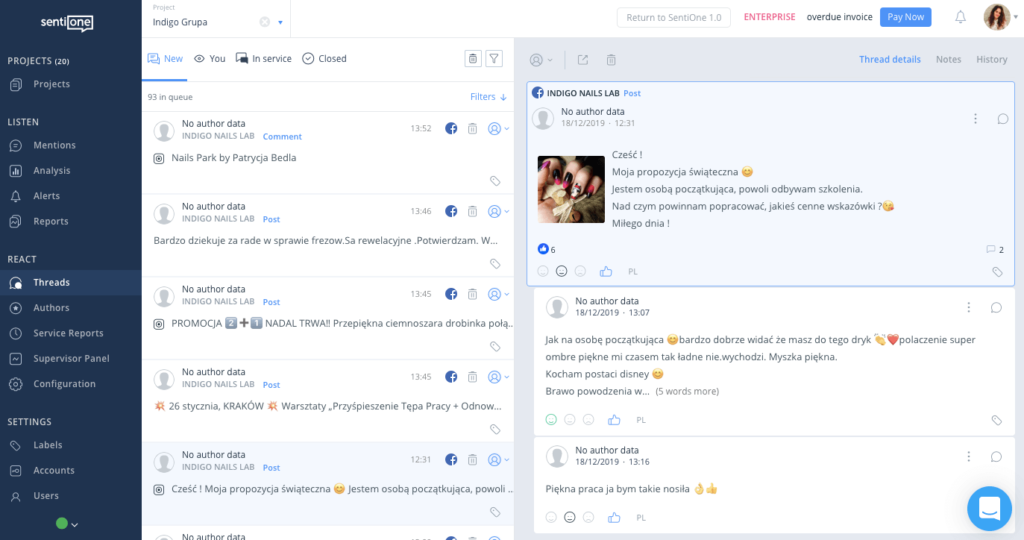 SentiOne React – new integrations and super-secret Facebook features 🤫
A lot of new features await users of our flagship customer service automation module. Our developers have been hard at work extending our functionalities – and we're proud to show off the results of our hard work.
First of all, our users can now take advantage of new features available on Facebook. Recently, the platform allowed Page admins to respond to fan comments through private messages, rather than just through comments. This feature is now available to SentiOne users as well.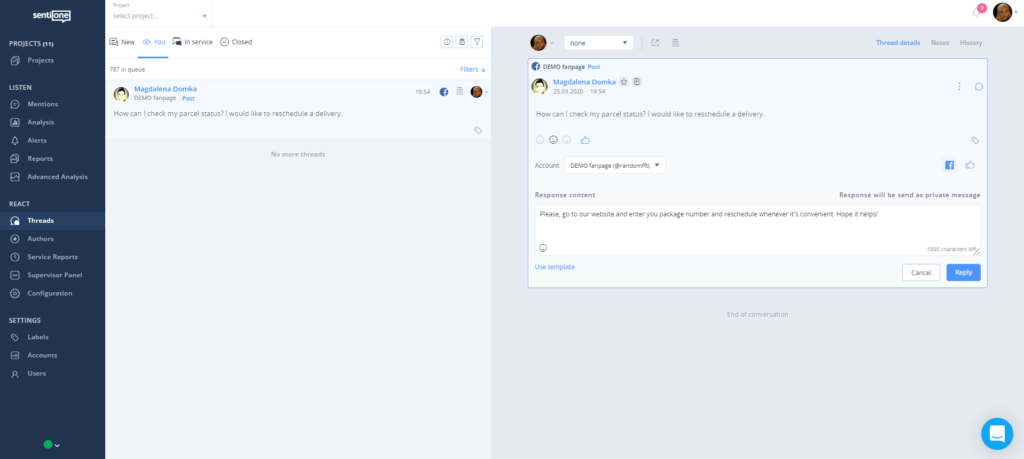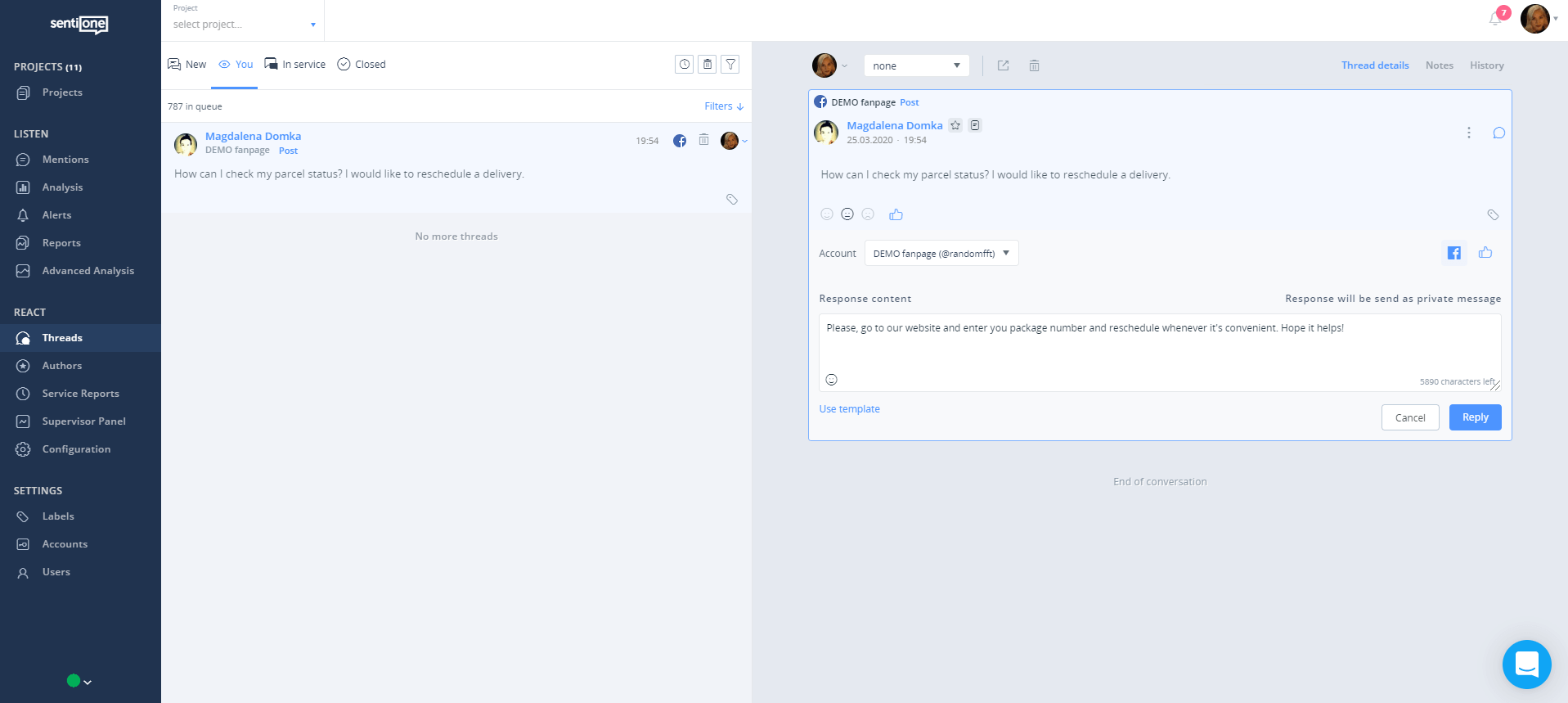 More importantly, we're proud to announce that SentiOne is one of the companies allowed access to the closed beta of their new Messenger feature – the Human Agents tag. Due to recent changes in the Messenger API policy, applications that use the API only have 24 hours to respond to any customer message.
Not so with the Human Agents tag feature – conversations can stay open for as long as an entire week. SentiOne is one of the companies granted access to the closed beta testing of the feature, which means our users are, too – please enjoy and take full advantage of the new feature.
We have also started testing two new integrations – email and WhatsApp. Both features are currently undergoing beta testing, with WhatsApp being available as an opt-in feature.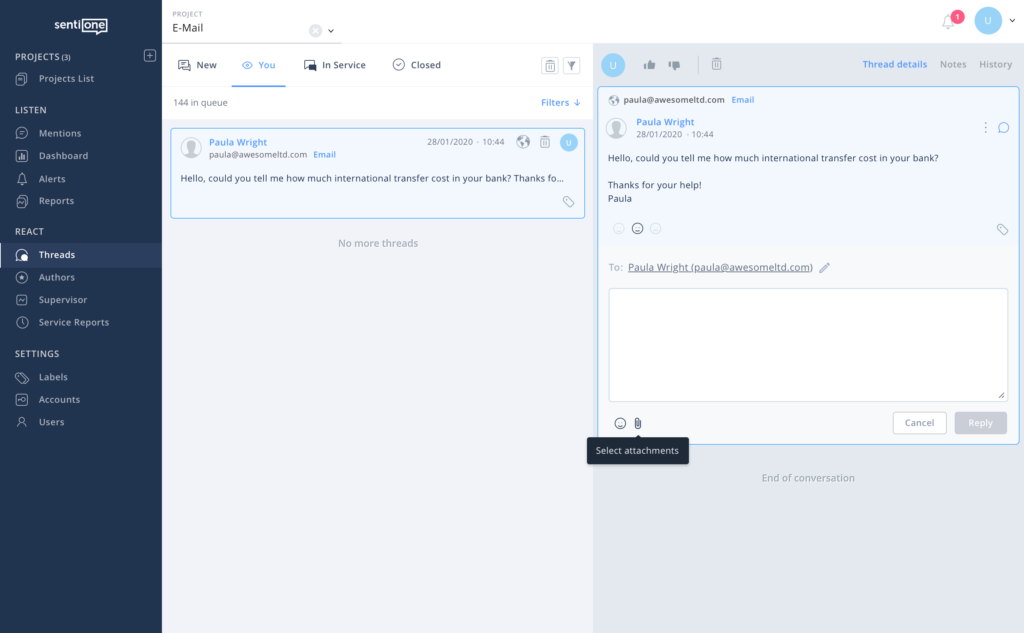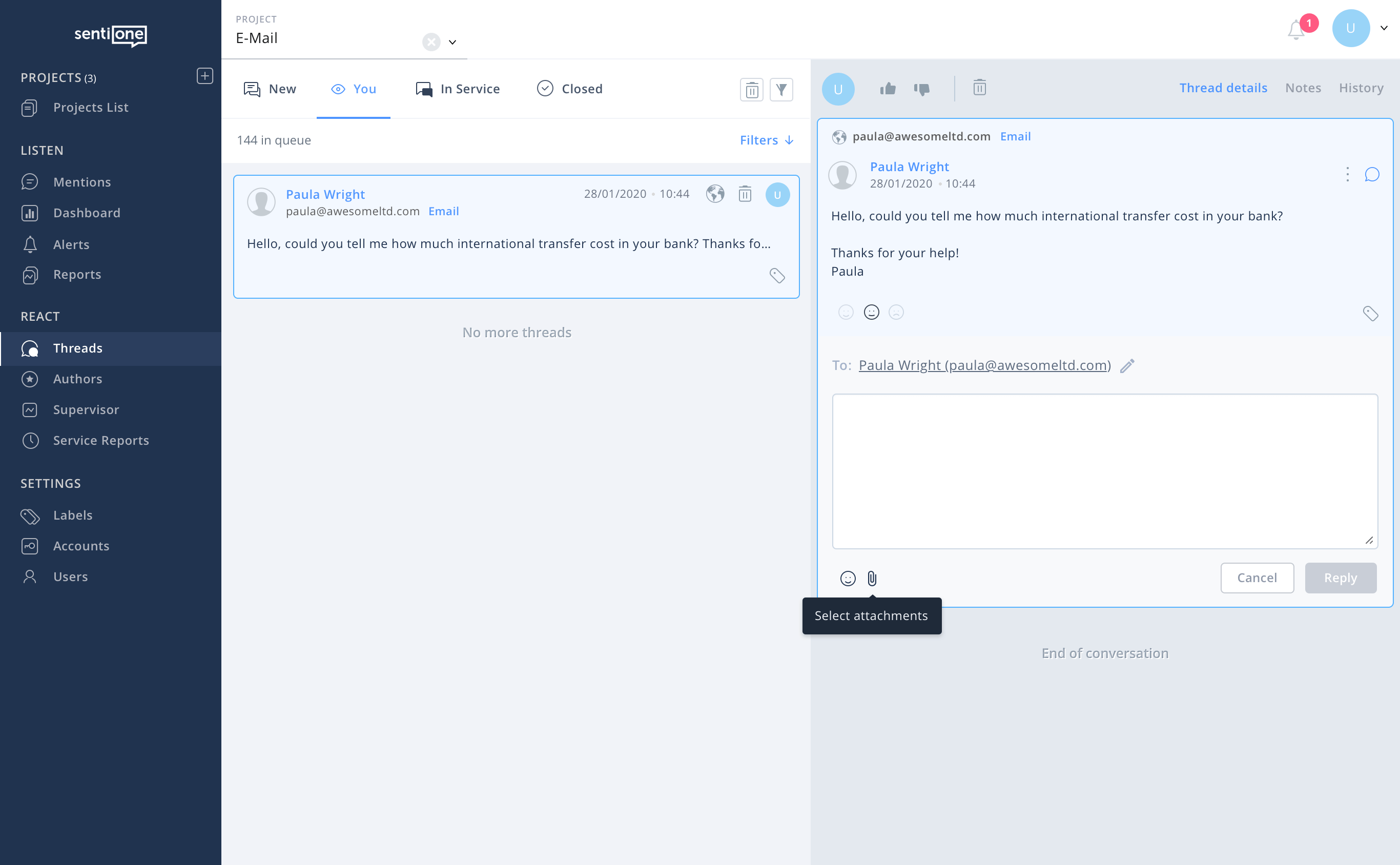 SentiOne Automate – better user management
Our chatbot platform is undergoing heavy development to include more features. While these are not yet ready to be announced, we hope to keep you posted throughout the year as we reach further milestones.
In the last quarter, we released support for user and role management for SentiOne Automate. Users can now finely tune who exactly has critical access to bot settings.