In the work of every content writer, copywriter, PR person, marketer (enter any), there is a moment when we ask ourselves: "What now?"
Poor blog click-through rates – "What now…?"
Low conversion – "What now…?"
No more topics to write about – "What now…?"
Lost inspiration – "What now…?"
Well, you can disagree, but only the last problem seems really important to me. Interesting ideas are not so hard to find – it's always good to look for some inspiration among friends, coworkers and even competitors or use proper tools to stimulate creative process. And if there is a topic and inspiration, all you need to make a piece of awesome content is a little bit of skill.
How to improve your online content marketing?
1. Monitor the market and competition
It may be a truism, but knowing the business environment is a key element in any content creating. What the market thrives on will be a great choice in your publications calendar, but the topics covered long time ago by the competition are better left to the side.
It's worth to set up a dashboard comparing two or more companies in social listening systems such as SentiOne. By clicking anywhere on the chart, you can move to the sources of the discussion and see what it's about – maybe it's worth to write some related article here? Or just to remember the content shared by the competition for the future.


Mentions in time, Apple vs Samsung. Source: SentiOne
2. Let yourself be inspired
Precise consumer insights are those pots of gold at the end of the rainbow. Understanding the audience, their needs and desires has always been the leverage of marketing – thanks to such knowledge you can create content that will not only interest, but also convince customer to buy the product or use your services.

How to find out what our current and potential customers need?
It's just a matter of asking the right question.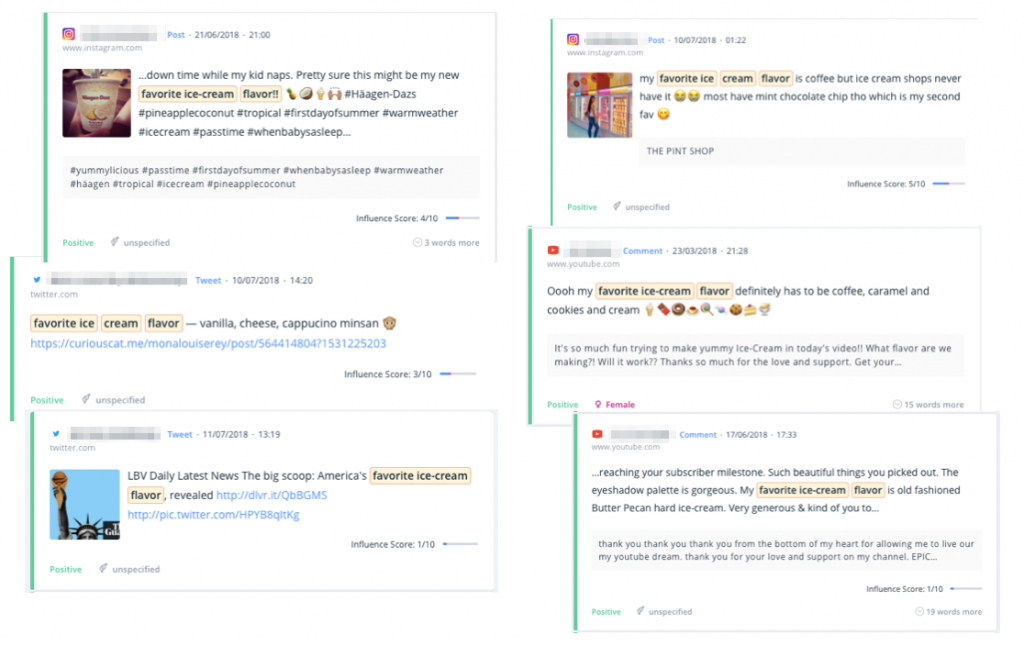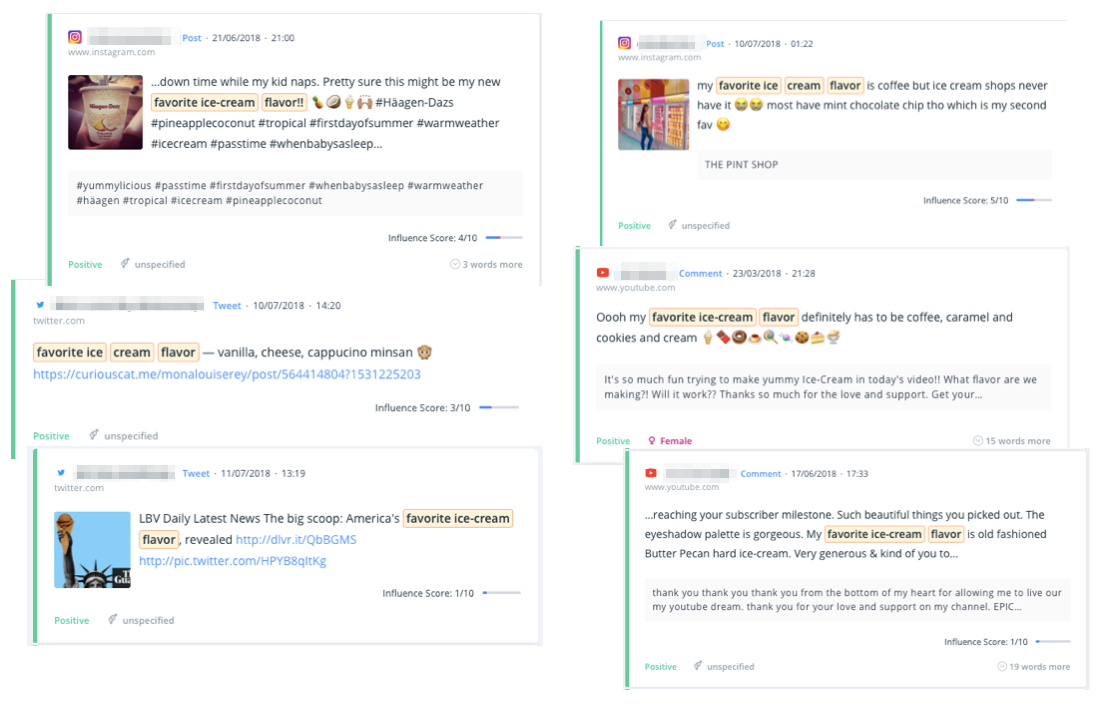 3. Check where and when to publish
It has already been written a lot about the hours at which it is best to publish online. However, it's still important to be up to date because the time and specific hours of social media use are constantly changing, hence the content is different depending on channels.
It is worth to look from a different angle and specify the target audience based on what they are saying online. Using the internet monitoring, you can very easily see in which days and hours your recipients are discussing a given topic and give them new arguments by publishing your content.
For example, writing about the benefits of diet catering, we would probably be able to catch up monitoring #diet. What hours have the Internet users talked about this topic most often over the last 12 months?
Just look at the graph: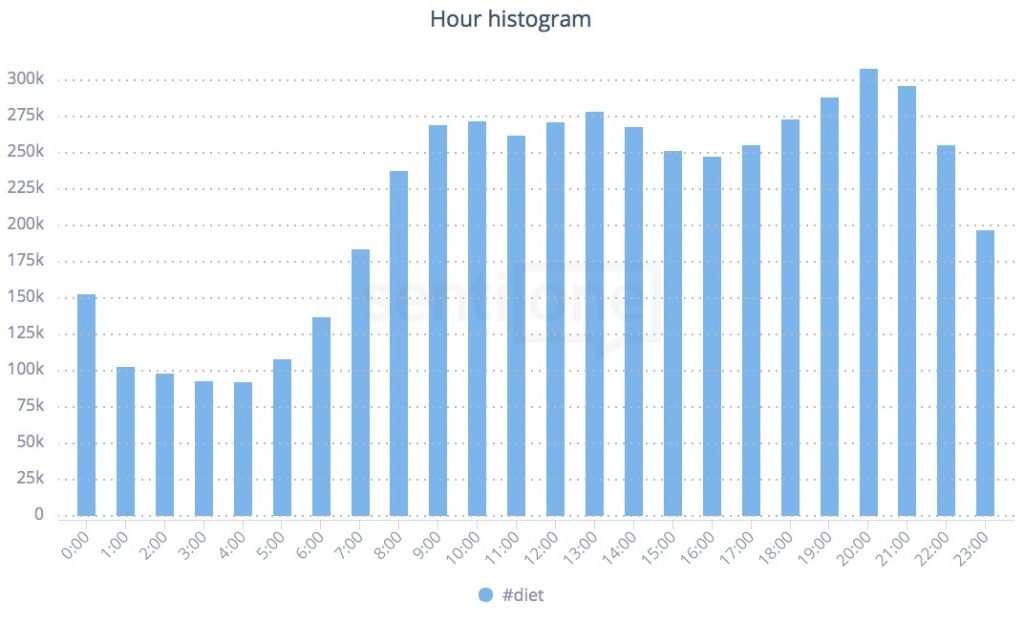 It is also not surprising that the vast majority of posts for this topic are discussions on Instagram: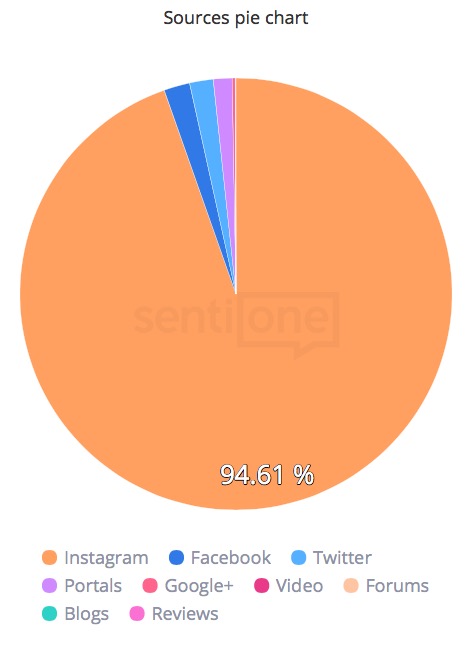 So, discuss the diet only in the evening and on Instagram! How to check which days of the week are best to publish? Read about it here.
4. Increase your reach
Thanks to the Internet monitoring, you can also easily discover the opinion leaders in the industry and what topics are currently on the top. Even if cooperation with the best influencers in the industry exceeds your financial capabilities, you can always join the discussion and build the image of experts from your own company. In many cases – for example, industries with a similar client specificity – a good idea will certainly be mutual content sharing.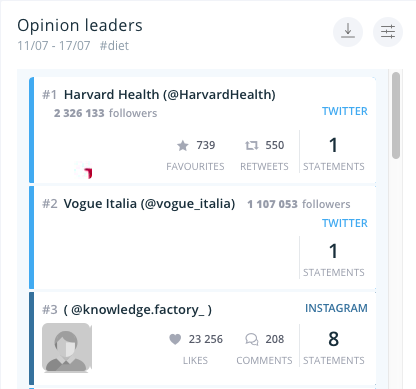 5. Paste the links and provoke discussion
Last but not least, a simple trick that will allow you to generate a significant number of views, increase the engagement of recipients, and in consequence build higher brand awareness.
It is worth to be creative while searching the topics related to the activity of the blog.
Are you writing for some restaurant or food producer? Just combine phrases "Could you recommend" with "recipe", and leave a short comment and a link to the publication in such a place: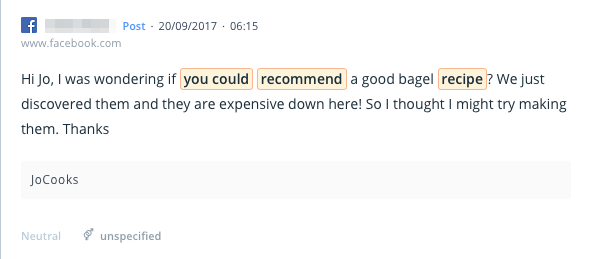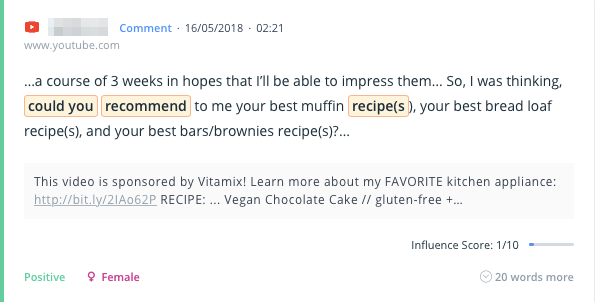 And those are just first results for random topic. Looks good? Try it yourself on our 14-days free trial.