We all know what happened by now — during last Sunday's Academy Awards ceremony, Chris Rock made an incredibly insensitive joke about Jada Pinkett-Smith. Her husband, celebrated actor Will Smith, went up on stage and slapped Rock in full view of everyone, on live television.
This was the slap heard around the world.
As usual, we were interested to see how the internet reacted to such an incident. What we found was extremely interesting.
Will Smith overshadowed the entire Oscars ceremony.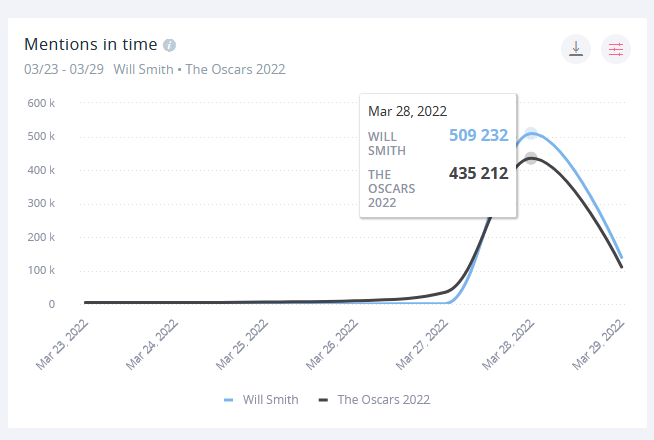 More people were talking about Will Smith than about the Oscars themselves. This is a simple comparison of two search queries. The first was looking for all mentions of the key phrase "Will Smith". The second looked for every mention of "Oscars" as well as "Academy Awards".
Things get even more interesting when we modify the second query to exclude the names of Chris Rock and Will Smith — this will return every statement about the Oscars that actually concerned the awards, and not the slap.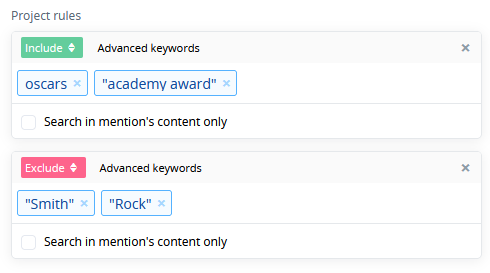 The results are even more shocking.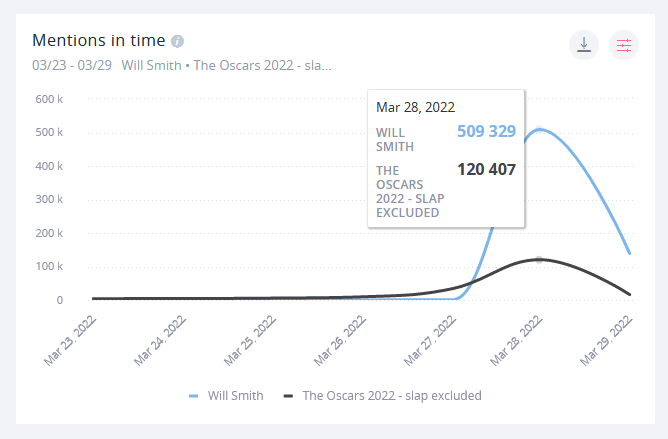 We could write an entire dissertation analysing the lack of interest in the actual award winners at this year's Oscars, but, frankly? This Twitter user rendered any analysis redundant. We tip our hats to you, Twitter user.
If Will Smith hadn't slapped Chris Rock I wouldn't have known the Oscars even happened

— Kick Push Kgosi (@MrSkinnyGenes) March 28, 2022
How did people react to the Oscar slap?
We rarely see topics as polarising as this. The split between positive and negative mentions is almost dead even. Look for yourselves: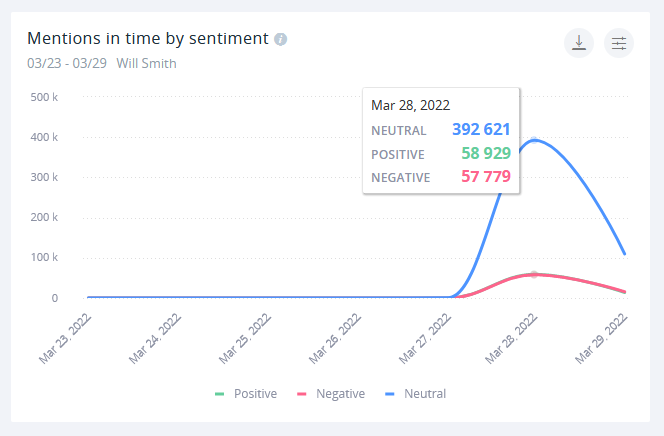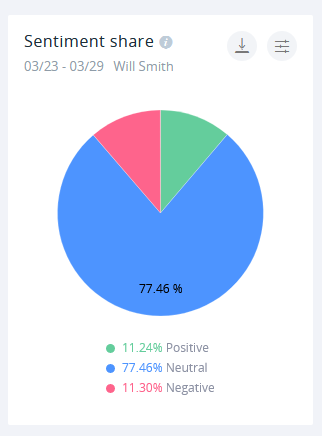 It's incredibly rare to see a split this close. Clearly, this struck — pardon the pun — a chord with a lot of social media users. Will Smith winning the Best Actor award only complicates matters. A lot of the positive posts are simply mentions of his victory, while there's a significant amount of negative posts calling for his award to be rescinded due to his behaviour.
Here's a selection of the most popular (and interesting) statements we found using our social listening tools.
The devil works hard but the updater of the Macbeth Wikipedia page works harder pic.twitter.com/c7QaLTS7So

— hannah strong (@thethirdhan) March 28, 2022
Lot of people weighing in on Will Smith but I have to say that if Chris Rock said that about my wife I would be confused because I don't have a wife

— Matt Lucas (@RealMattLucas) March 28, 2022
Andrew Garfield texting the other Peter Parkers to see if Will Smith slapped Chris Rock in their universes too. pic.twitter.com/mA4ht7AgLe

— Pooja Agarwal (@AgarwalnPooja) March 28, 2022