All
Which museums in Europe should I visit if I can only visit ten?
There are many types of people. We all know beach lovers, city-breakers, well-organized trip enthusiasts or nature travelers. There is one thing connecting them all – and it's the desire to explore new places. Everyday, people all around the world are traveling! What makes some destinations better than the others?
FIRST: idea
SECOND: research!
How do we usually start planning? We GOOGLE our destination! At first, some general stuff – accommodation, vaccinations, commuting – the whole logistic bundle. In the end, details – like coffee prices and typing the most popular slogan: "what should I visit in…".
So…It's 2018 and we've reached this amazing point in time when we no longer need to read sad tour guides.
But we do know that one of the most fabulous ways to get know the culture and local history is to visit…museums. How to find the best ones?
Here we come!
From the beginning: the purpose of museums was (since ever) to collect, present and interpret art for the sake of common education. Knowledge hunger is still pushing us there!
What is quite important, museums have changed enormously since the 90's! We can really interact with culture in such places now, literally touching and feeling it! Plus we can visit a chocolate museum, beat museum or a dolls museum, what completely changes the rules of touring.
Which museums are worthy of visiting?
We decided to investigate that. First of all, we made a list of 75 the most famous European museums. Then we checked them all in SentiOne. Mentions from 2018 gave us such insights:
TOP 10 European Museums based on the number of mentions*:
1. Musee du Louvre (68% mentions!)
2. The Hermitage
3. Musée d'Orsay
4. Centre Pompidou
5. Rijksmuseum
6. Gallerie degli Uffizi
7. The Tretyakov Gallery
8. Tate Museum
9. Van Gogh Museum
10. Musei Vaticani
*from 75 the most famous European museums
Women's choice:
Women talk most about Bildmuseet in Umea. On seven floors of striking architecture, Bildmuseet shows exhibitions of international contemporary art, sometimes along with art historical retrospectives. From all mentions, 76% come from females.
Almost identically, 72% mentions from women concern Louisiana Museum of Modern Art. The Louisiana Museum of Modern Art is an art museum located on the shore of the Øresund Sound in Humlebæk, 35 km north of Copenhagen in Denmark.
Women seem to be interested in Scandinavian modern art.
Men's choice:
In 2018 male are talking about Mercedes-Benz Museum in Stuttgart. 68% internauts that mentioned Mercedes Museum are men. What else? The Neue Nationalgalerie is dedicated to the art of the 20th century, and since the begging of the 2018 year, 66% mentions written belong to men.
It's easy to notice that men are talking about German art more than women.
People talk positively about…
You definitely must visit Museu Coleção Berardo in Lisbon! More than 35% mentions online are positive! It makes me feel that it worth to visit that place for sure!
Almost same score – 34% positive mentions were added online in 2018 in regard of Mercedes-Benz Welt in Munich.
Most popular sources of discussion about museums are Instagram and Twitter (Facebook setles on the third position).
Which days are best for visiting museums?
I guess I would recommend Thursday as the best day for visiting the Louvre. Based on a number of mentions, Thursdays are less crowded than other days.

Here are some quite popular posts regarding museums in 2018:
Musée du Louvre: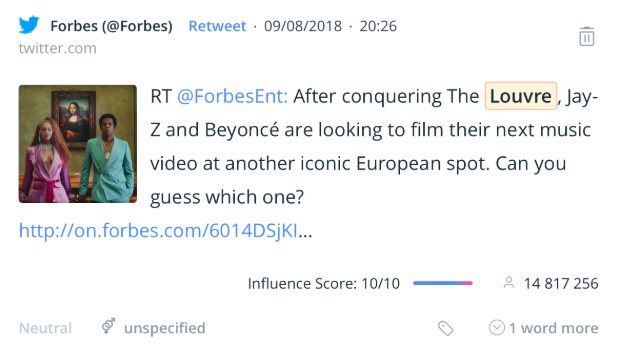 The Hermitage: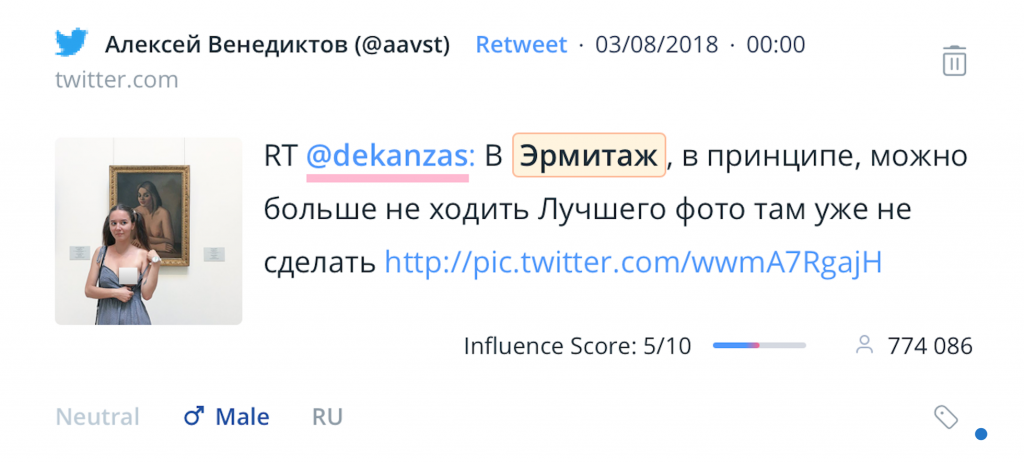 Musée d'Orsay: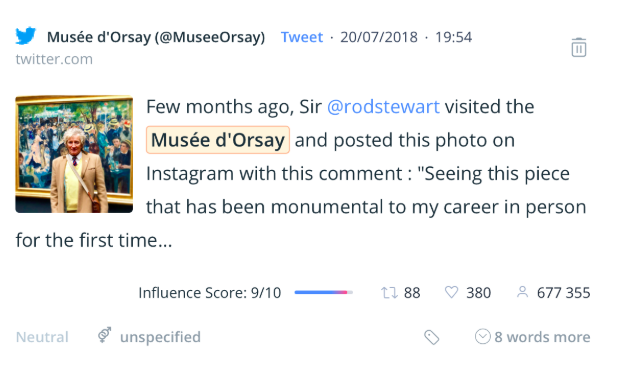 Centre Pompidou:

Rijksmuseum: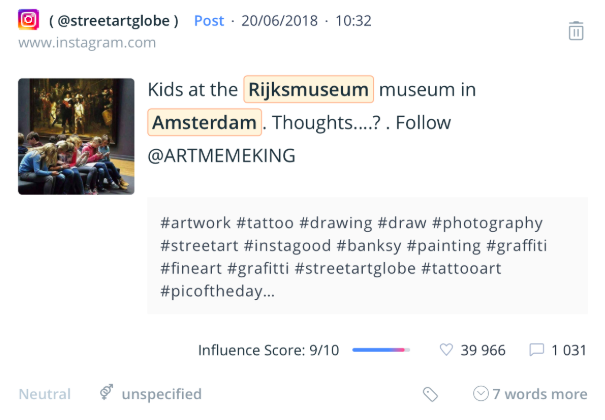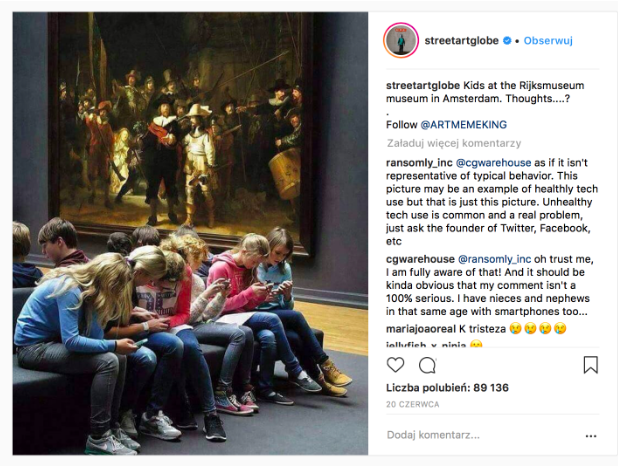 Van Gogh Museum:
Twitter, Instagram, blogs or even Facebook mentions could be very helpful for travelers. Social tips may be an extension of what authors are trying to say in articles, books, and guides. The Internet may also function as an incredible source of inspiration. For us as customers, social media listening can be something more than Google.
On the other hand, does it make sense for museums to listen to social media data? For sure it results in better marketing and client service decision making. Try us!