We spend an insane amount of time surfing the internet. In fact, according to the 2020 Digital Report from Hootsuite and We Are Social, on average, we dedicate 6 hours and 43 minutes each day to online activities. No wonder that the digital information we consume impacts our brand perception! 
From a business perspective, this means that ignoring even a single negative review or comment can quickly escalate into a major issue for the entire organization. For this reason, companies need to have an online reputation management process in place.
In the following article, we're going to provide you with the online reputation management definition and share the top 12 benefits of implementing it for your business.
Online reputation definition 
Online reputation management (ORM) is a term used to describe all the actions an organization takes to monitor, address, analyze, and shape the impressions customers and leads have of a brand. A crucial element of online reputation management is tracking and reacting to brand mentions across a variety of digital touchpoints. Depending on the industry and customer base, this may include:
social media platforms

product review sites (both on Google and platforms like G2 and Capterra)

websites, such as news sites & blogs

videos 

press coverage

and others.
Now that you know what online reputation management is, let's discuss why it's so important.
The 12 main benefits of managing your online reputation 
Here are the top reasons why it's worth considering implementing an online reputation management process for your business:
#1 Improving brand credibility 
Let's face it – negative comments are bound to come up, regardless of how much effort you invest into keeping your buyers happy. And customers can be merciless – according to PwC, 32% of shoppers would walk away from a brand after just one bad experience. 
That said, it all comes down to how you handle a negative brand mention once it shows up. When you manage your online reputation and respond to comments, reviews, and mentions (both positive and negative), you build credibility. There's no better way to show that you care about your customers than by responding to a negative comment gracefully and making amends, whenever need be.
#2 Boosting customer engagement
The more channels your organization monitors and is active on, the higher your chances of boosting your customers' engagement rates. This is possible by embracing both a proactive and reactive approach to client interactions. By being active online, providing customers with special offers, and responding to their queries and comments swiftly, you can keep them invested in your brand. As a result, they will be less tempted to churn and move to your competitors.
#3 Increasing sales
While spontaneous shopping still happens from time to time, most of us do online research prior to buying. In fact, 81% of consumers admit that they surf the Internet gathering information about the product they're planning to purchase before they do so. Sometimes, one negative review is enough to change our minds and make us lean more towards other products. There is a link between good online reputation and increased sales – the more positive company mentions appear, the higher the chance of closing a sale. 
#4 Optimizing online marketing to trigger reactions
Monitoring your online reputation can also be a great source of inspiration for your marketing initiatives. In a tool like SentiOne, you can check how your audience reacted to your past content and marketing campaigns. For instance, below is an example of how people reacted to two announcements by mBank, one of the biggest banks in Poland. The first spike, in mid-October 2020, relates to the brand's support of the All-Poland Women's Strike, while the second, in January 2021, is a response to the bank's participation in the country's biggest charity event, The Great Orchestra of Christmas Charity.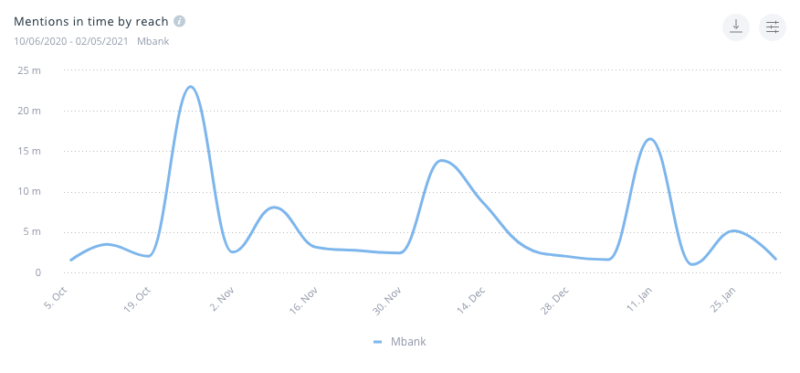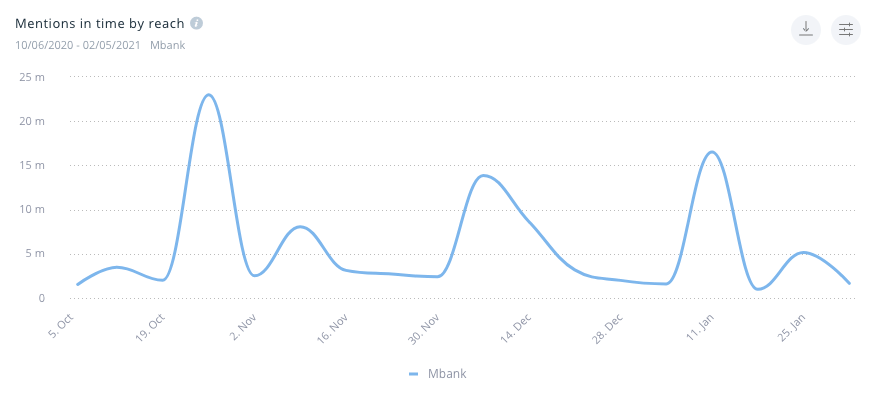 Through tracking your reach and brand mentions, you'll know which campaigns work and which don't, what messaging resonates with your customers and leads, and what kind of actions drive negative reactions. Summarizing your findings will help you decide what marketing campaigns to run, which will result in higher ROI. 
#5 Building trust
Trust is the basis for forming long-lasting relationships with customers, which supports business growth. However, as mentioned earlier in the reputation management definition, responding to brand mentions in your owned media only won't be enough. Even if you have a good brand reputation today, you can't take it for granted as there are many threats lurking around the corner. Just imagine what could happen if you failed to notice a major website slamming you in their review!
It's also necessary to verify the information posted about brands online to make sure it's consistent and true. This can be certainly achieved by using a tool that tracks and alerts you about mentions from all parts of the web.
#6 Showing customers that you care
Monitoring what people say about brands online and responding to both negative and positive comments shows them that you care. Naturally, all of us would like to receive flattering comments only, and these are certainly easier to respond to. However, negative comments can also prove beneficial to a brand long-term. They are a source of invaluable feedback – take into account what customers say and fix the issues. Never ignore disheartening opinions as they might escalate into a social media crisis. Responding to both positive and negative comments will help you build better relationships with customers. 
#7 Encouraging recommendations 
Did you know that 90% of people believe in brand recommendations from friends? Considering the fact that consumers casually talk about brands 90 times per week – online reputation management is definitely something that you should care about. Since people tend to trust other people more than their trust advertising, making sure that you get a continuous flow of word-of-mouth recommendations through effective online reputation management is key.
#8 Increasing web traffic
Positive news or opinions – especially those coming from reputable sources – have the potential of becoming viral. With an online reputation management tool, for instance, you'll be able to spot a top news outlet lauding your service. This will explain any sudden spikes in organic traffic. You can use this to gain further momentum. Display the positive review/brand mention across your online channels to boost your reputation. If done well, this can result in increased conversion.
#9 Attracting employees 
A positive online reputation not only translates into increased sales but can also attract a lot of interest from potential job seekers. The best candidates are keen on working for companies with a good reputation – and since the war for talent is fierce, it might help companies get the best employees on board. 
#10 Easier to deal with potential crises
Brands that put in the effort to maintain a good online reputation are overall better equipped to deal with any crisis. Especially if they use an ORM solution that alerts them of any crisis-related terms used in relation to their brand. Also, a gentle stumble will be easier forgiven by customers if a brand has an overall positive reputation. 
#11 Improving your Brand Health & Customer Satisfaction scores
Online reputation management gives you the chance to react quickly to mentions of your brand. In the case of unflattering reviews on your owned channels, you can make amends quickly and, perhaps, change the customer's negative opinion into a neutral or positive one. This could have a positive outcome on your customer satisfaction scores like CSAT or NPS. 
Respectively, in the case of external channels, ORM will give you a chance to advocate for your brand and quickly put an end to any detrimental rumors. 
#12 Getting more testimonials for your website 
Last, but not least, if you use an online monitoring tool like SentiOne, not only will you be able to identify brand mentions but also filter out the positive ones. You can then reach out to your most delighted fans and ask them for a citation which you can then turn into a testimonial to place on your website. To kickstart your efforts, think of places like Google Play, Apple App Store, and specialized online review platforms.
What is online reputation management – final thoughts 
As we've mentioned in the online reputation definition provided in this post, there are a variety of actions you need to take to maintain a positive view of your brand online. Regardless of your industry, it is crucial to track, collect, analyze, and manage your brand reputation. If you engage in ORM continuously, there are numerous benefits you can expect, including:
building customer trust
increasing sales
optimizing your marketing campaigns to trigger positive reactions and boost ROI.
The best way to manage your online reputation is by using an online monitoring tool like SentiOne. You'll be able to monitor countless online sources including social media, blogs, forums, and portals in real-time. By listening to online conversations and analyzing what customers or leads say about your or your competitors, you'll be able to identify and respond to any potential PR crisis.