Online Trends
The Weight Gainers and Their Friends – a Powderful Case Study
Here comes the summer. Here comes the heat. Here come the "hottest" activities all around Europe as the festival and beach season is about to kick in. And here comes our social media analysis, because we wanted to listen and find the truth. How are people actually preparing their bodies and souls for the eyes of the world? Tricks for the trips and summer tips. A powderful case study, click it off!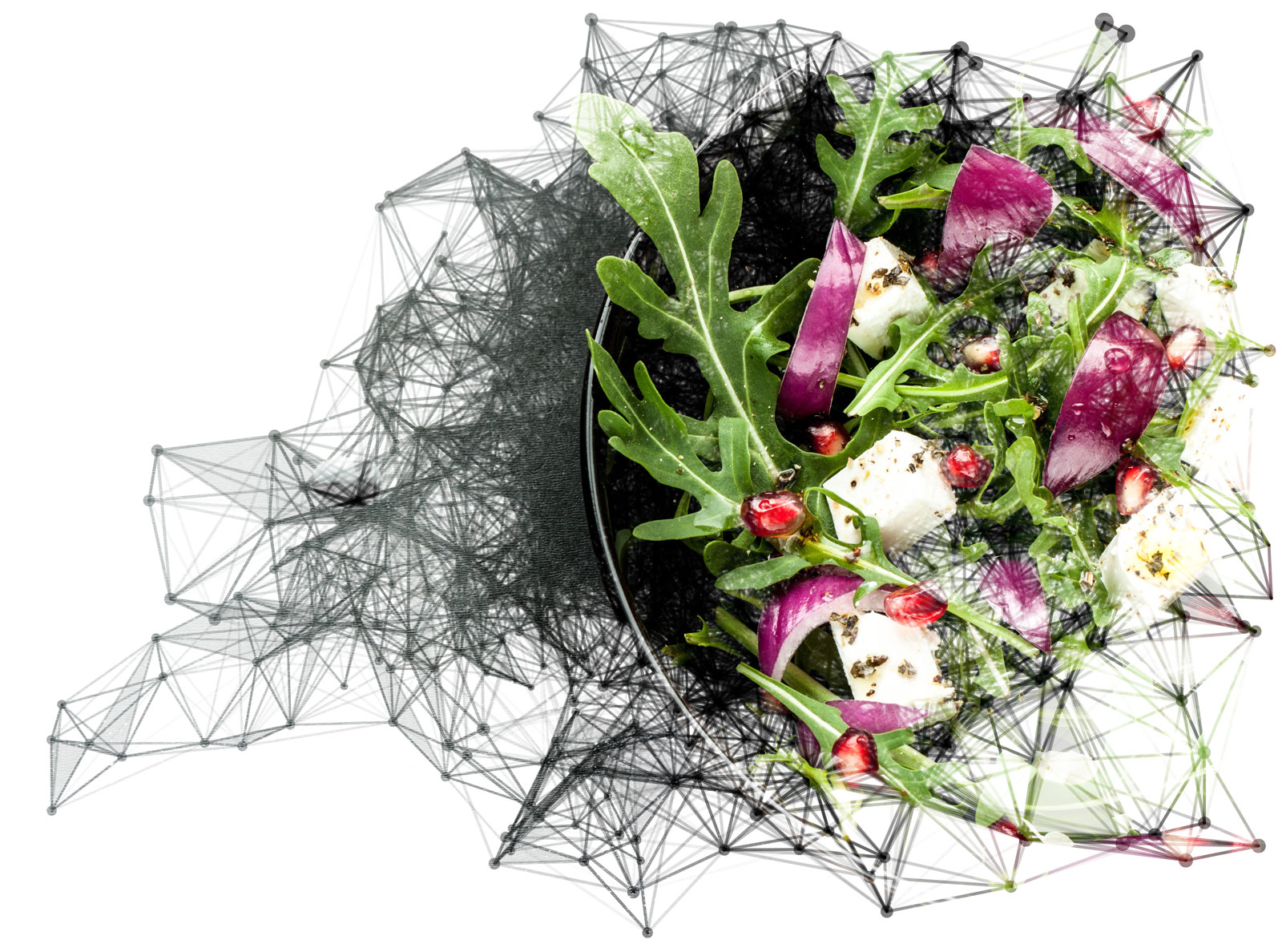 It is all about diets and healthy recipes and exercise and 'TOP 10 tips how to create the perfect beach body' on the internet. An argued and devisive topic, but in terms of its relevance for a brand with such a product portfolio, there is no place for argument. That brand shall listen.
Diet tour in 365°
Solely in Hungary, between the time period of May 2016 and May 2017, more than 550 000 people have mentioned 'diet' in social and online media. The most popular months were June, August and end of January. No surprise there: pre-craziness at the beginning of summer and post-laziness after Christmas.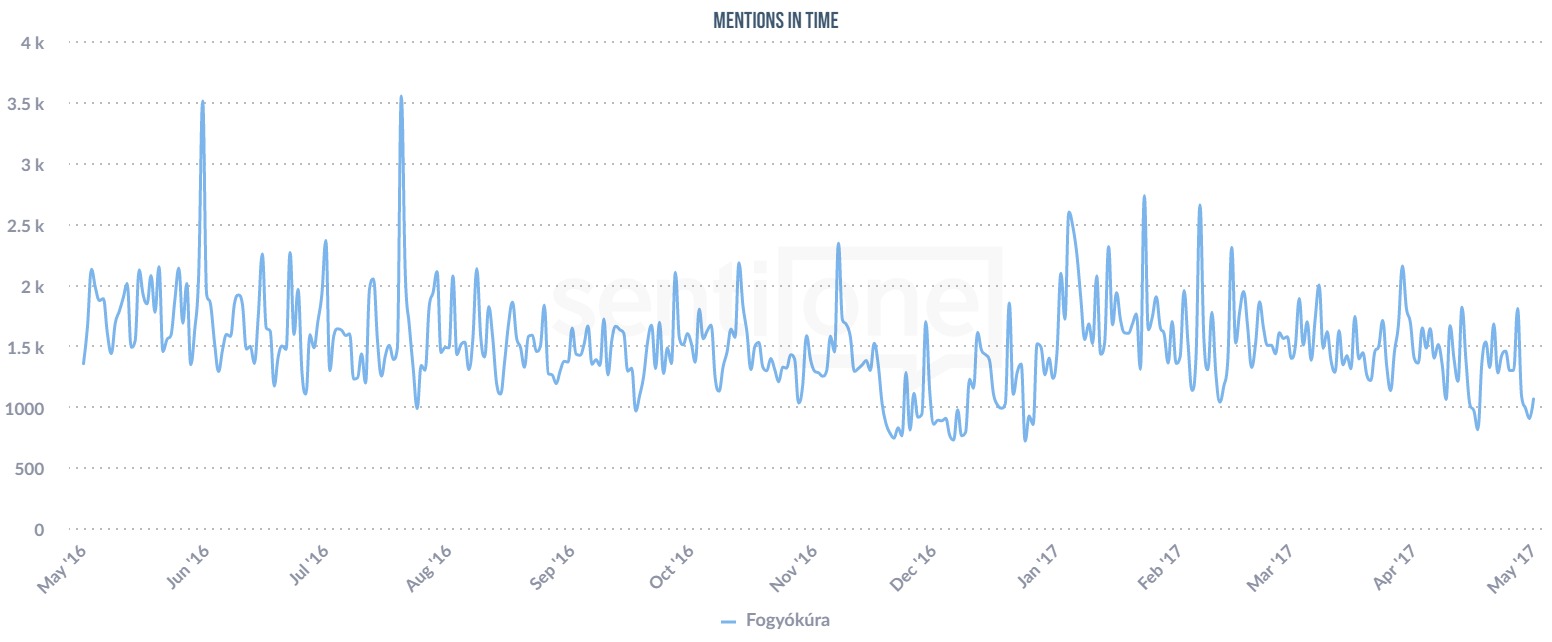 We narrowed the search in order to create an insightful sneak peek and focused on April. Exclusively during this 30-day period, we found more than 31 000 topic-related mentions on the Hungarian Facebook. We did qualitative analysis in terms of almost 7000 mentions (with random sample methodology). We found 137 diet recipes, 237 product ads and almost 400 tips how to lose weight… We are indeed in a dietary ocean of information, aren't we?
The recipe for finding the truth
To understand the trends behind these discussions, we focused on mentions that seem to emerge from the main current. People were all over the social about 4 critical issues:
Is the egg diet really just a hoax?
How can I lose weight over 40?
How can I lose weight after pregnancy?
Now what about oatmeal – is that, like, effective or not?
If you – as a brand – are somehow related to the field, addressing these topics might just win the internet for you.
Ok, but what about weight gainers, the power of protein, the fat burners and all the products that go beyond diet and are actually supposed to build this body of yours? They sure seem legit all over Europe. We have created a research based on the four major brands to see how people percieve them online (May 2016 – May 2017). Namely, BioTech USA, MyProtein, Scitec Nutrition and Optimum.
Because competitive analysis is indeed a valuable key to unlock your path for a market leader position.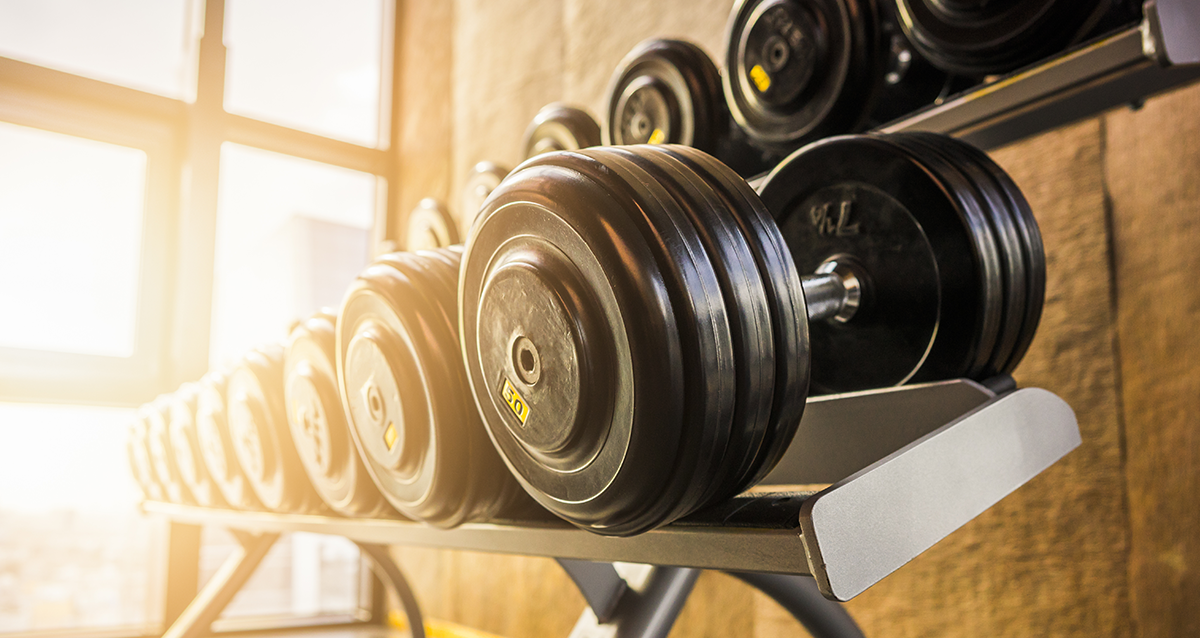 The weight gainer related online communication is usually led by men. Except for the Czech Republic. In Czech Republic women seem to be a lot more interested.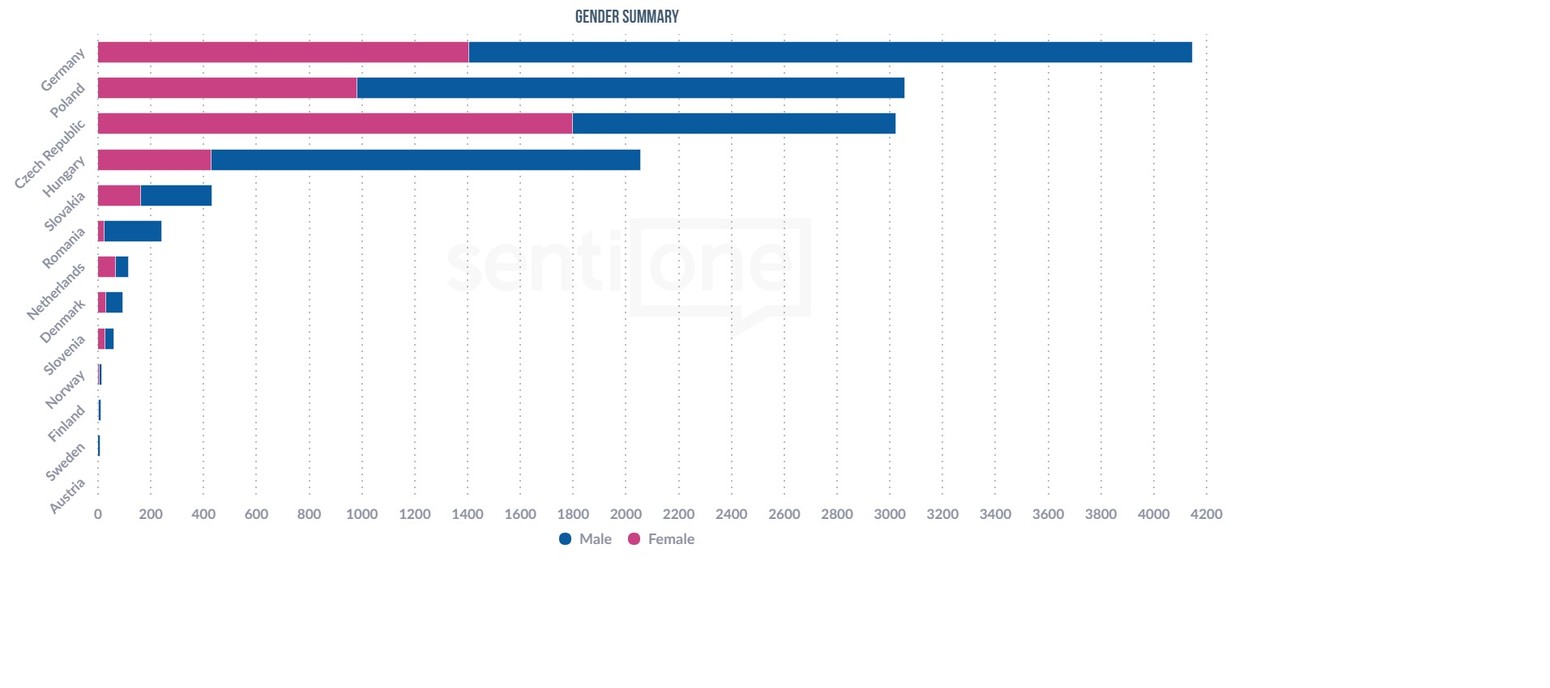 The picture gets even more interesting when compared to the gender share of fat burner products. The share of Hungarian and Czech women skyrockets compared to any other European country – even though the volume is not the same.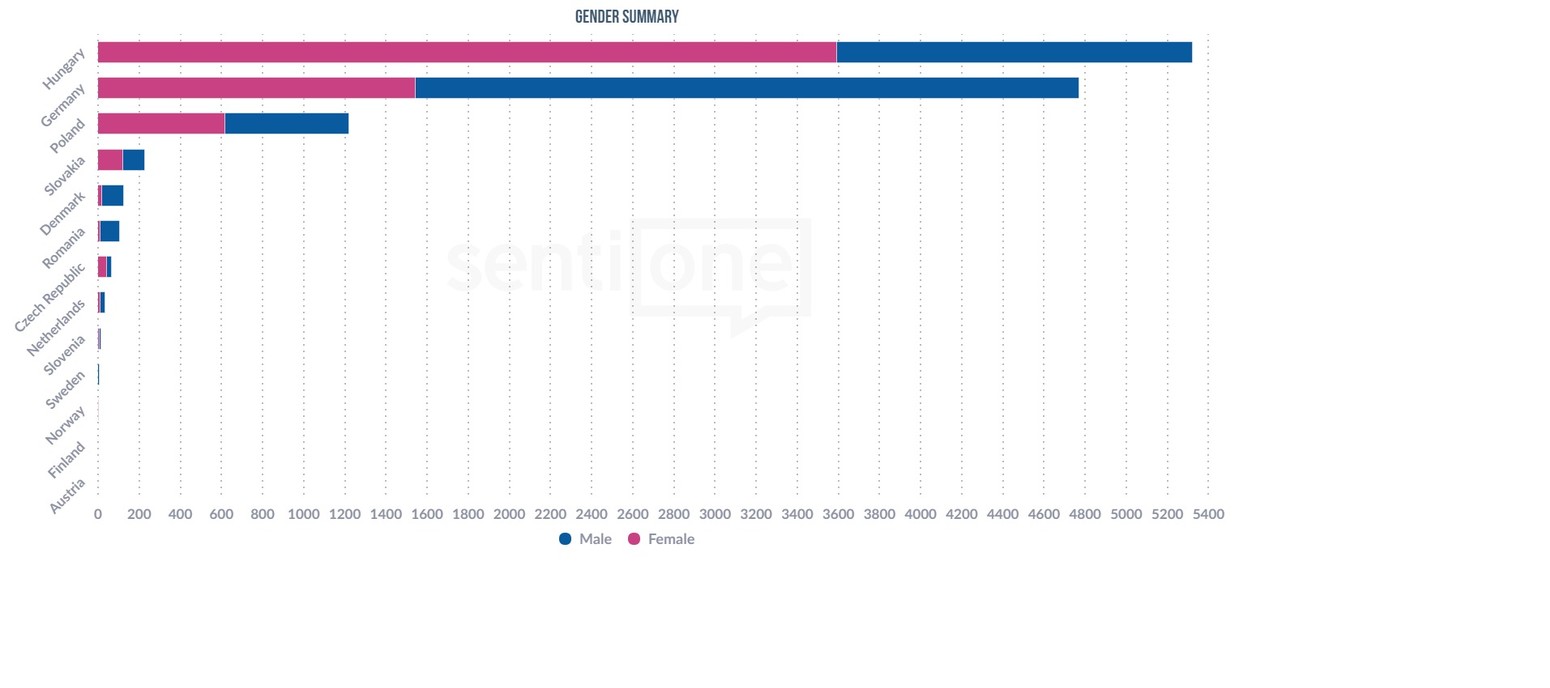 That tendency is reflected also in the number of mentions regarding these two categories. While the share of countries for fat burners is ruled by Hungary (on the left side), the chart portraying the results of weight gainer related online chit-chats (by number of mentions), well, it paints quite a different picture. The chart is ruled by Germany, Hungary is the 2nd, but Checz Republic and Poland are closing up to them (on the right side).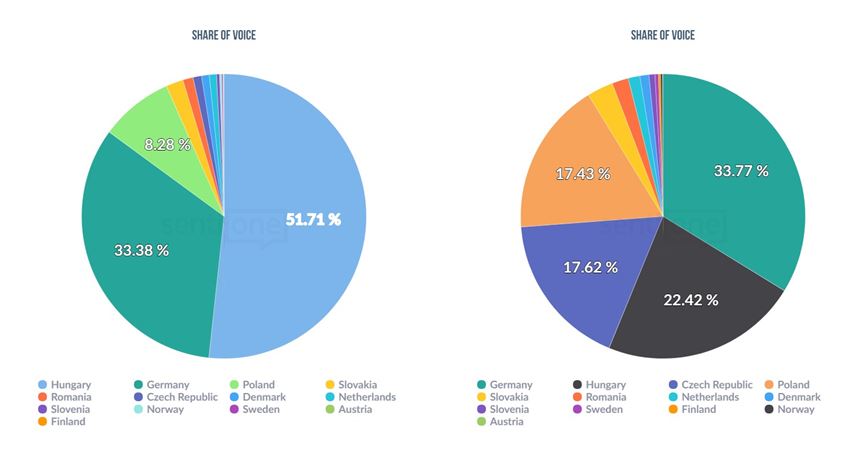 Checz Republic got really interested actually in the wieght gainer topic between July and August. That was/could have been the perfect time range to interact with the relevant audience.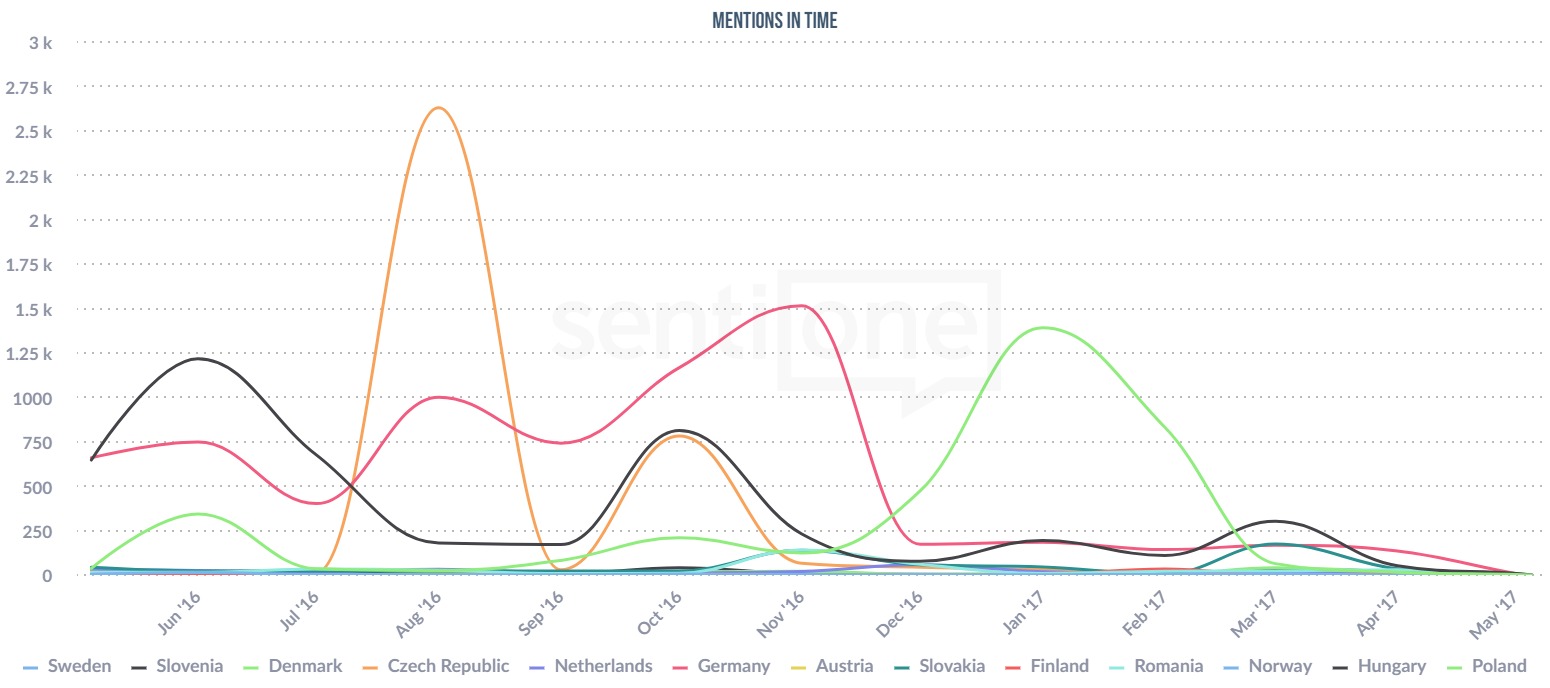 A colorful map series
When it comes to the brands, a whole new overview appears (the pinker the area gets, the more feminine the online discussion is). Women do talk a lot more than men about BioTech USA in Finland and about Scitec Nutrition in Norway (Northern women clearly have preferences), while MyProtein is all they way on the other side. Women are much more interested in that brand in the Southern area. The least feminie brand is Optimum.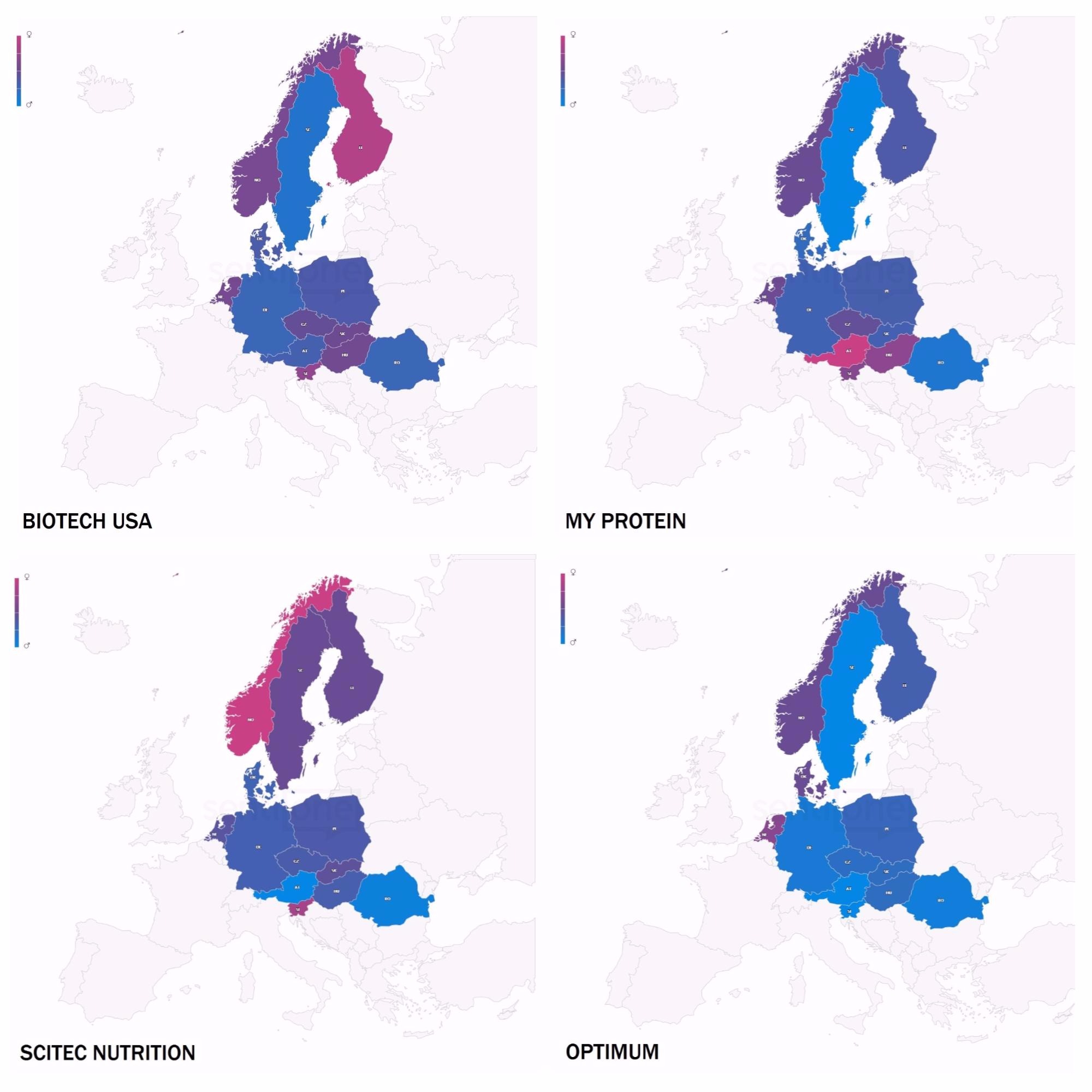 Just as the following approach, that shows the sentiment of these brands' mentions.
BioTech USA's online reputation could use some uplifting in Checz Republic, while MyProtein does not perform well in Austria in terms of positive online mentions and publications (the greener the area gets, the more positive the online brand perception is).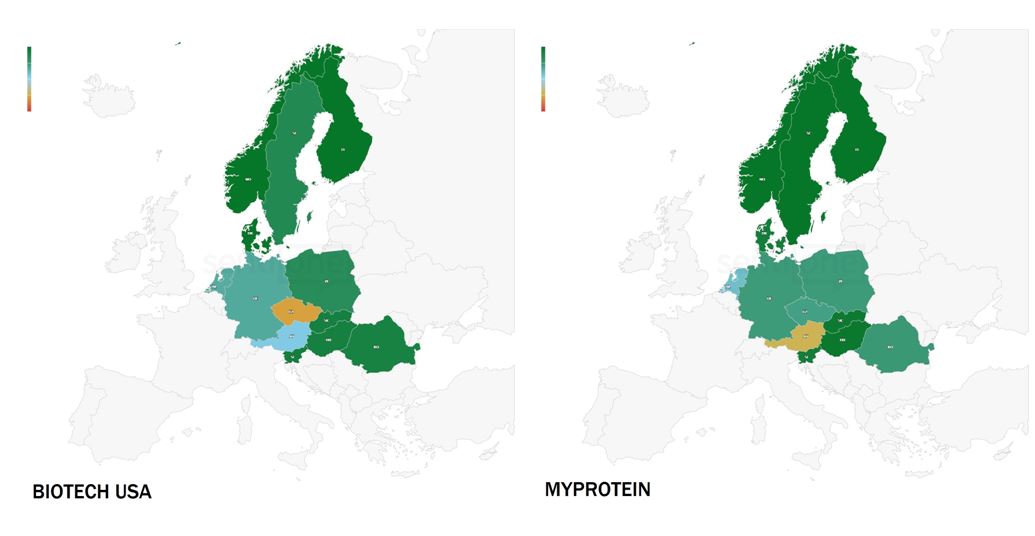 And, although every country has its own favorite brand based on the number of online mentions, the social media users seem to be not interested in these products in Sweden, Norway, Finland, Netherlands and Austria at all. That resulted in very low numbers throughout the year (eg. Finland – 316 mentions, Germany – 21 541 mentions).
What could be the reason that distracts them from chatting about these products? Simply a different lifestyle? Or maybe they have a better alternative? That would be quite interesting to find out, if you are a brand from this particular market.
So, if you are looking for some new market opportunities, digging deep in social and online media in search for insightful answers, is a thing to do. You just need a tool to make sense of this huge pile of data. It can be decoded into a higher experience. Listen to what truly matters and find your way to data-driven truth. And enjoy the ride!
Let the summer be with you all!