All
St. Patrick's Day around the world
There is a good chance that you ran across many St. Patrick's Day discussions yesterday. The main centre of festivities is — of course — Ireland, but the holiday is celebrated all over the world. But who was St. Patrick and why is he celebrated?
St. Patrick's Day is an Irish National Day in honour of  St. Patrick, one of Ireland's patron saints. It is celebrated on the 17th of March because according to tradition, Patrick died that day. 
On this National Day everyone wears green. The shop shelves are filled with all sorts of props to make the celebration of St. Patrick's Day as green as possible. The pubs are full of Guinness beer, and the three-leaf clover can be seen everywhere. 
If we observe the online presence of this day, there were around 100k mentions online about it.
We've logged in to SentiOne and found this:
St. Patrick was neither named Patrick nor Irish.
Let's start with a little disappointing background information: St. Patrick, the patron saint of Ireland, was not an Irishman and the anniversary of his death became a prominent holiday for the first time in North America. 
St. Patrick was born as Maewyn Succat in the Roman province of Britain. He was abducted by Irish looters and sold to a slave. He escaped, went to Britain, and found refuge in a monastery. When he became a priest, he took the name Patricius. When he returned to Ireland to convert pagan Irish people to Christian religion.
Why is it celebrated in the US?
According to SentiOne, the online perception of St. Patrick's Day is very positive all over the globe. But why are there parades and celebrations in the US when it is an Irish holiday? 
In the 1800s, emigration from Ireland was enormous — and much of the emigrant Irish came to the United States. The diaspora tried to preserve traditions and holidays including the anniversary of St. Patrick's death. The first high-profile event took place in Boston in 1737 — green-clad Irish people covered the streets and, of course, Guinness flowed in streams. Since then, the US becomes an emerald country for a day. Americans wear green clothes and drink green beer, green milkshakes. Green bagels and grits appear on menus as well. Chicago even dyes its river green.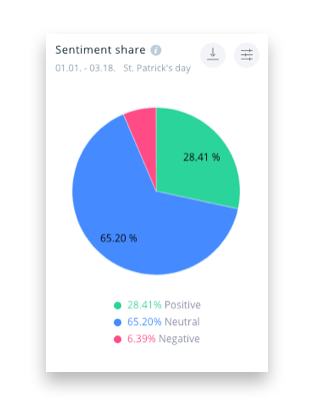 To beer or not to beer?
Alcohol and Saint Patrick's Day go hand in hand. Alcohol sales go up approximately 150% on Saint Patrick's Day. Pubs and stores sell 800% more Guinness beer than usual. If we compare last year's hashtags with this year's, we can see that tequila played a big role last year while this year, beer took the crown.
St. Patrick's Day around the world
The word tequila in the top hashtags also indicated the global reach of St. Patrick's Day. In addition to Ireland, people celebrate with parades in several countries, including several parts of Canada, the United Kingdom, Australia, New Zealand and the United States. However, the most extravagant celebration is held in windy Chicago, where the painting of the Chicago River has long been part of the tradition, always drawing a crowd of thousands of spectators. Based on online data St. Patrick's Day is most often talked about in the United States and Ireland.