All
Real-time insights and other new features in SentiOne
As we put a capstone on another successful quarter for SentiOne, we'd like to invite you to join us as we take a look back at all of the improvements and changes made to the platform in recent months.
Social Listening – deep analytics and popular hashtags at your fingertips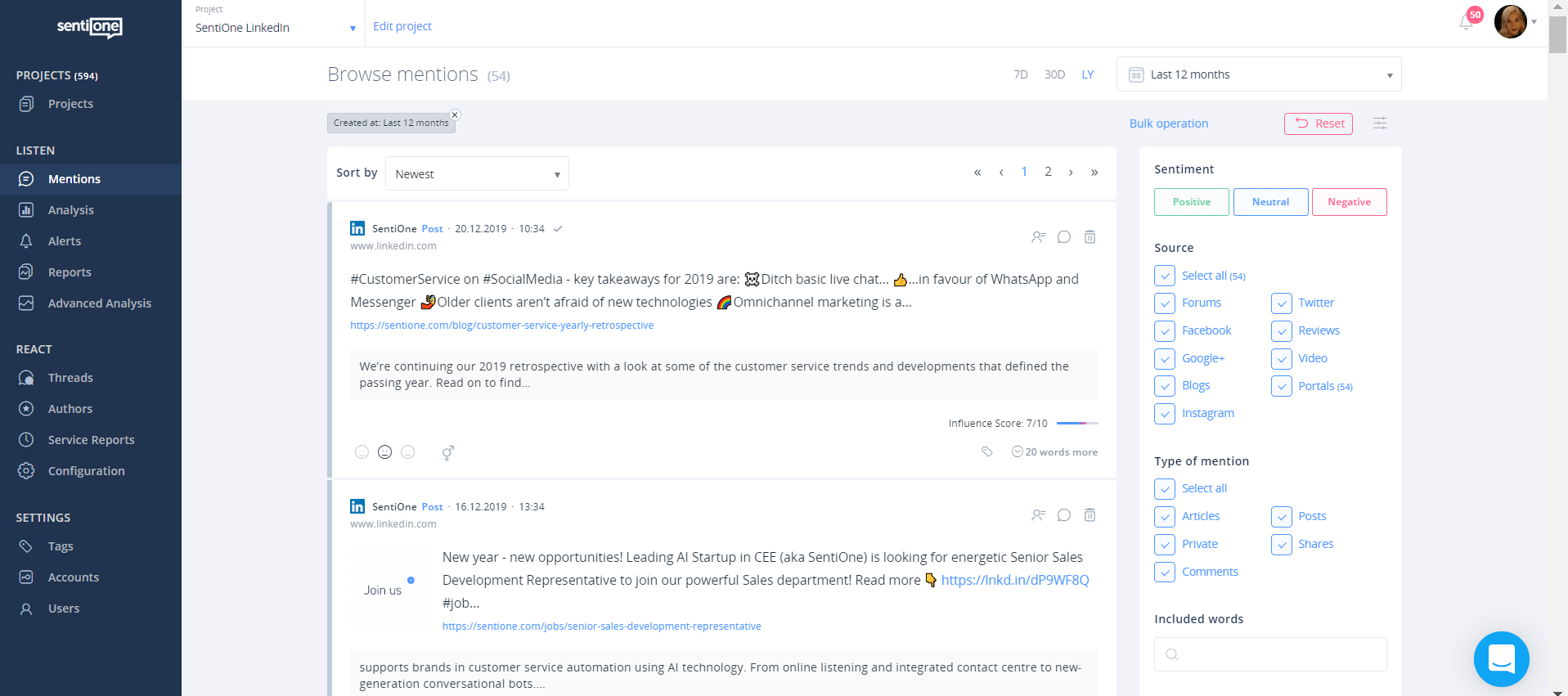 New widgets
Our pride and joy, the veritable social listening monitoring module received some new features over the last couple of months. We added three new widgets – one which tracks the most popular hashtags associated with tracked keywords, one which displays all of the most important Fan Page stats, as well as another that shows the most important analytics about a fan page's followers.
Geolocation and language detection
We also improved our geolocation and country recognition algorithm, which now takes into account regional language differences (country-based) in English and Spanish. The app itself has also received a full Spanish translation.
LinkedIn monitoring and more
By popular demand, we added LinkedIn monitoring to our feature set. Users can now monitor posts and comments that appear on their LinkedIn page. We have also added support for Google Reviews.
Facebook Groups
Finally, we have added support for monitoring Facebook Groups. Group owners can simply add the SentiOne app to their Facebook Group to enjoy full monitoring and response capabilities within the main SentiOne application – just like any other communication channel.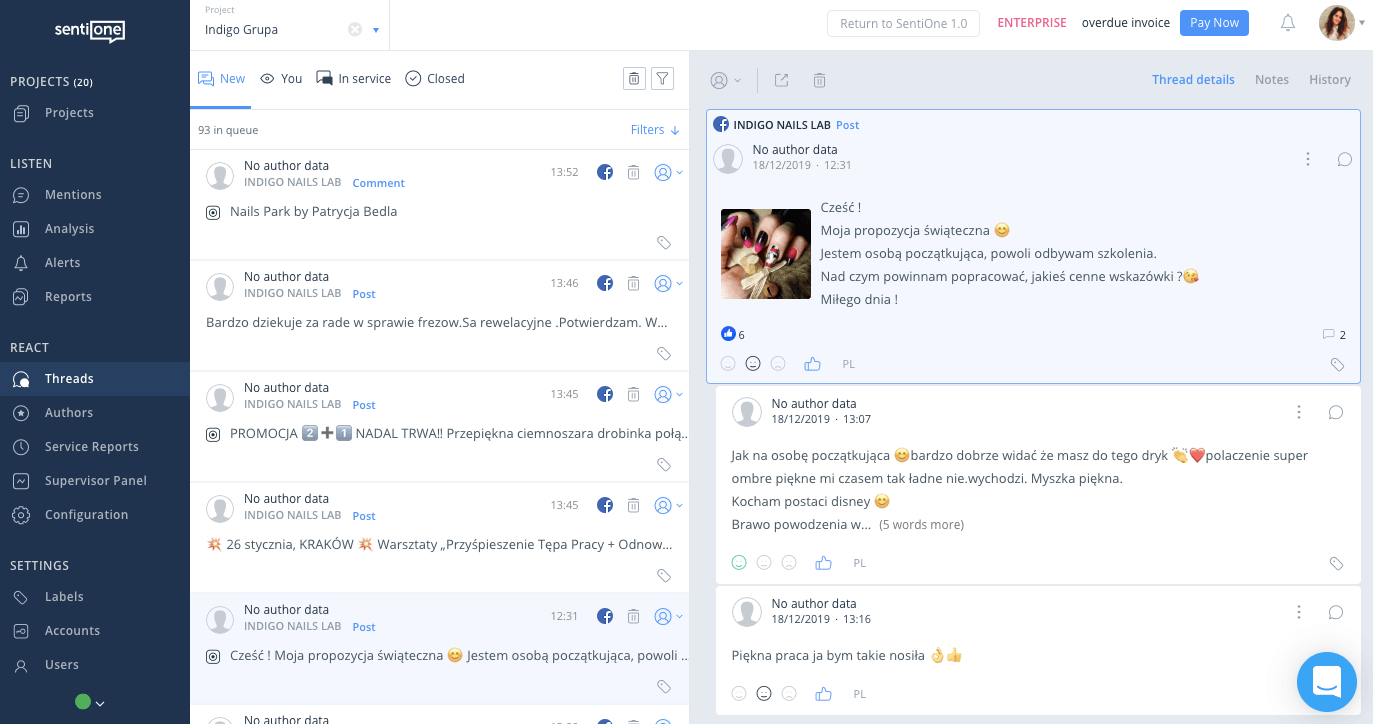 Customer Service Automation – real-time statistics and new channel integrations
Advanced real-time statistics and reporting
Our flagship customer service automation package, SentiOne React, also received a lot of attention and care. First of all, we launched our real-time reporting and resource management module – users are now able to closely monitor all of their customer service metrics and KPIs. No longer do you need to hunt for your average service time, ongoing services or first reply time statistics – they're all available at a glance.
Quality-of-life changes and improvements
We have also introduced several quality-of-life changes. Most importantly, response templates are here – you can forget about that massive spreadsheet with potential responses. You can now choose different settings for different types of mentions: posts, comments, and private messages can all be handled differently now. We also added message translation, as well as the ability to block users from interacting with a given fan page directly from React. Access to specific accounts can now be defined on a per-user basis, allowing easier organisation of work within large teams. Deleted and hidden posts are now clearly marked.
New channel integrations
What's more, we added new channel integrations. SentiOne users can now reply to Google Play Store reviews, as well as WhatsApp messages, Instagram ads, and posts on Facebook Groups.
Automation – our bots
sprechen Deutsch!
New language support
Last but not least, we have our cutting-edge chatbot solution, SentiOne Automate. Last quarter was full of breakthroughs – for one, our bots are now able to speak both English and German, detecting message intent with 90% accuracy. This doesn't mean you have to train your bots again – because English and German are similar on a linguistic level, you only need to train the bot once, in just one language.

Of course, we're not resting on our laurels – our developers are hard at work adding support for more languages.
Easier bot training
And speaking of training, our bots now accept .xlsx/.xls Excel spreadsheets and .CSV files with training datasets – a lot of our clients have asked for this functionality, and we're happy to deliver.
Looking forwards
These changes are just some of the many improvements and new additions to the SentiOne platform. Our team works tirelessly to expand the scope of our functionalities and improve on existing foundations.
We hope to share many new announcements about the SentiOne platform with you in the future – stay tuned!