Content Marketing
How to win at real-time marketing? Royal Wedding 2018
What do little girls dream about? Apart from becoming a vet, a ballerina, or – more and more often these days – a race driver or firefighter, there's one specific goal that comes to your mind when you are a little girl – and that is becoming a princess. As unreal as it may seem, during last weekend one girl was lucky enough to join the British royal family as a wife of Henry, Duke of Sussex, better known as Prince Harry.
Who is this special lady?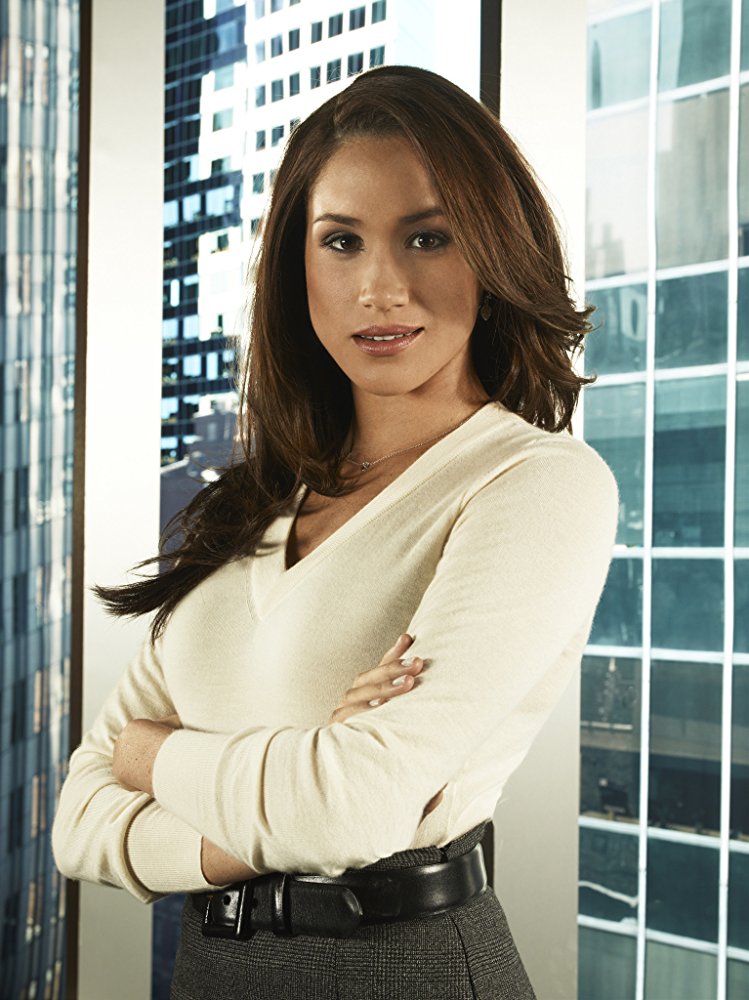 Meghan Markle's photo from IMDB
Name: Rachel Meghan
Surname: Markle
Age: 36
Occupation: former actress, current Duchess of Sussex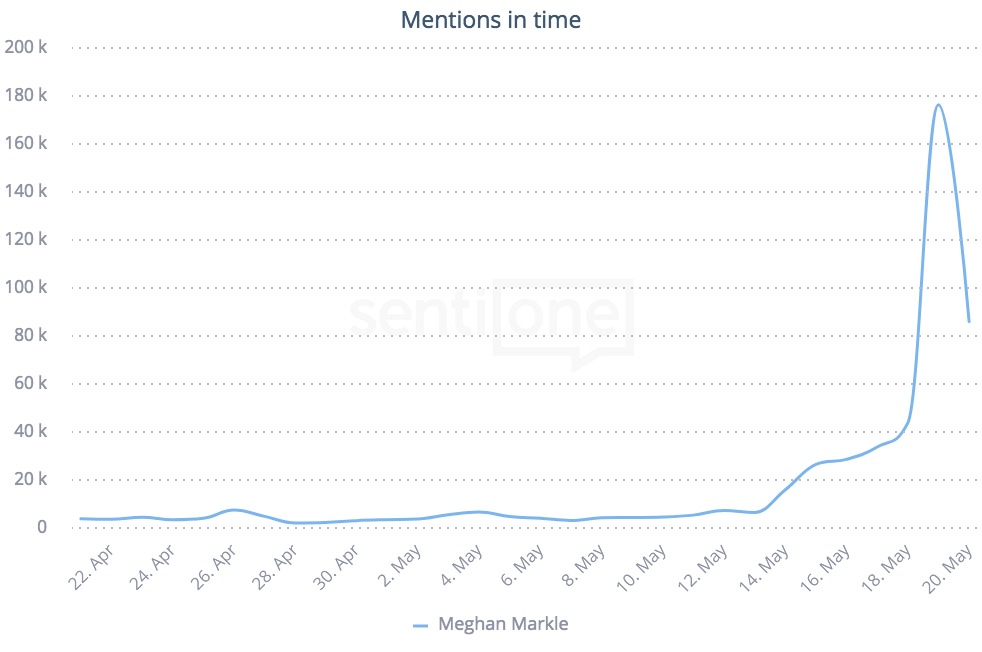 Mentions in time regarding Meghan Markle during the last 30 days
The ceremony took place at Saint George's Chapel in Windsor, gathering 600 invited guests (including many celebrities, such as Sir Elton John, Oprah Winfrey, or Mr and Mrs  Clooney) and around 100,000 Londoners and tourists who came to see the newlyweds during their carriage procession after the ceremony. The whole wedding event was transmitted live not only by many national tv channels worldwide, but also on YouTube, where it drew millions of viewers.
Although the wedding took place in a very traditional venue, it definitely contained few modern twists, such as bishop Michael Curry's speech transcript, that was displayed on a tablet in front of him. What was also surprising was the fact that there were no politicians at the guest list and the bride was walked to the aisle by Prince Charles, her soon-to-be father-in-law, substituting for her father currently staying at a hospital due to health problems.
Many commentators evaluated this wedding as "very american" – looking at a gospel choir and the whole entourage, they may have been right! No wonder, given the bride comes from the US.
A dress to die for
Just as expected, considering other spectacular weddings, there was a question that had been engaging public attention for quite a long time before the wedding. What the dress would look like? Who would design it? According to the tradition, people were counting on a British designer to be the author of the most popular dress of the year and they weren't wrong! Meghan Markle's gown, with white veil and boat neckline turned out to be a project of Clare Waight Keller, the first female Artistic Director of famous French fashion house Givenchy. Without surprise, it turned out to be a major boost for designer's online reach, orbiting to almost 55 millions on the wedding day!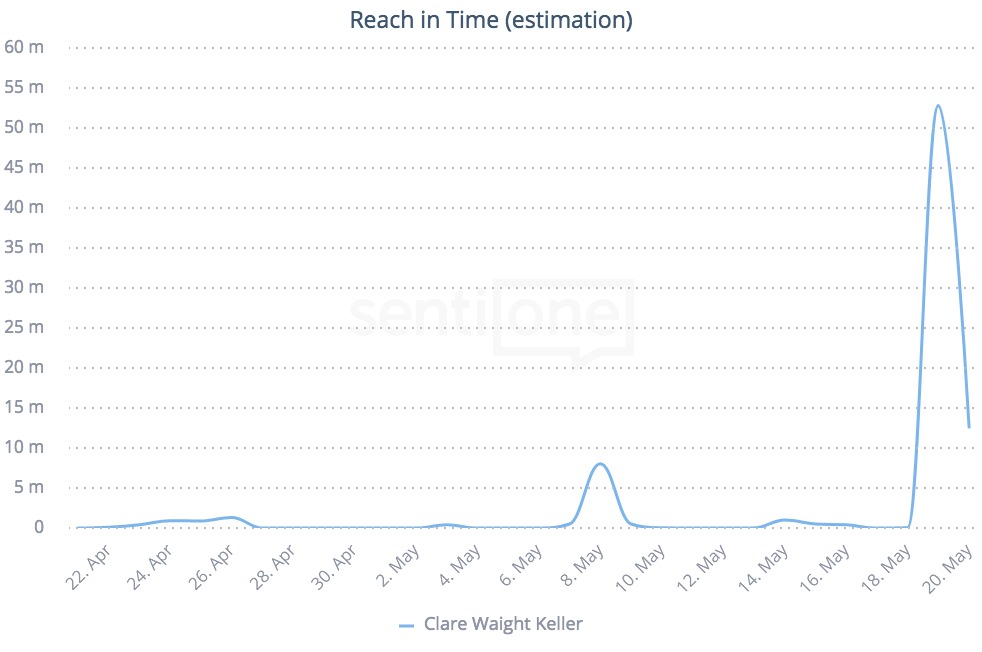 Estimated reach of Clare Waight Keller, the designer of Meghan Markle's wedding gown
When the opportunity arises…
As the Royal Wedding was a significant event not only for British, but somehow for the entire world (though some may argue), it certainly created a whole bunch of opportunities for implementing certain real-time marketing campaigns. Who took up the gauntlet?
One of the most spectacular campaigns was Marks&Spencer's temporary rebranding, changing its name for Markle&Sparkle in order to honor Britain's most anticipated wedding of the year. The brand not only changed its name on social media, but also altered the signboard of their Windsor store, and even hired a town-cryer to announce their rebrand!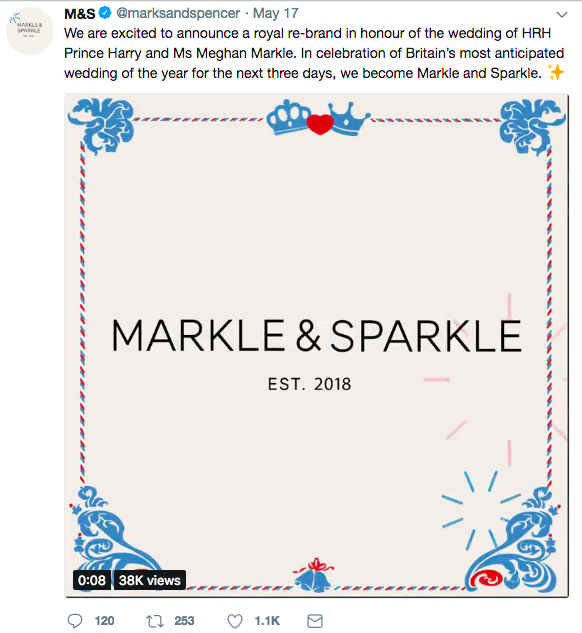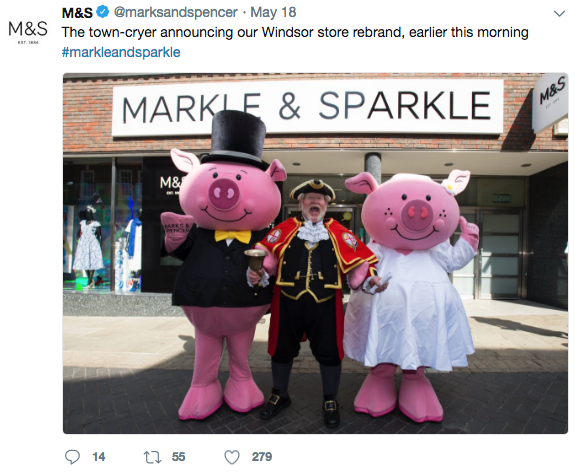 Other interesting example was New Look's limited edition of socks, with "Sparkle like Markle" slogan on them (this slogan was widely used by wedding gadgets' producers and appeared on t-shirts, mugs and other celebration-related products). The socks were quickly sold out and probably worn proudly by lucky royal couple fans during the big day.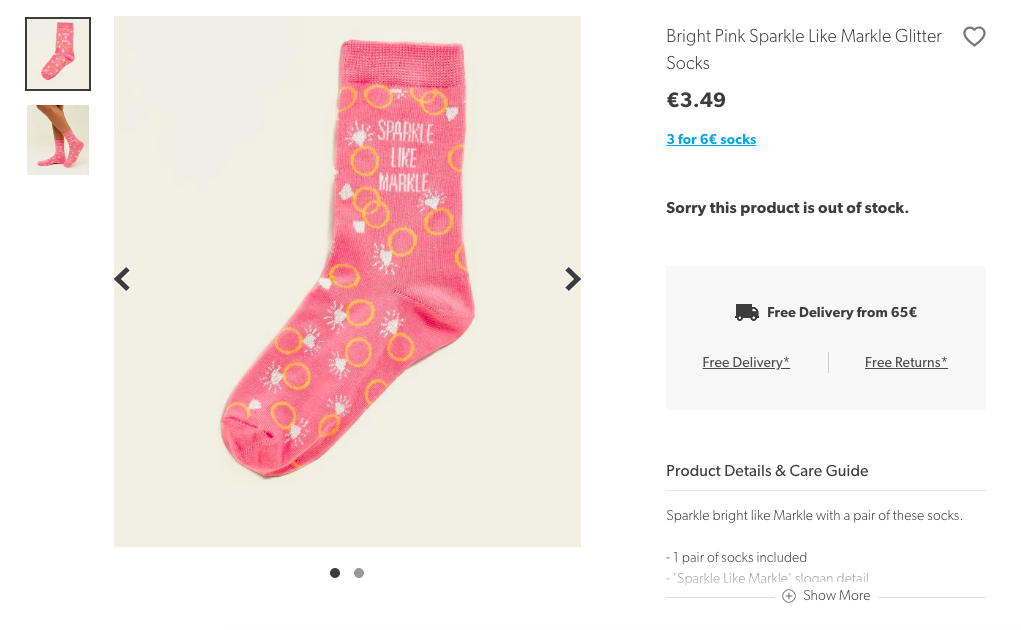 There's no better way of transport for a princess than a royal carriage – apparently Dunkin' Donuts understands that very well, having prepared not only a branded royal carriage, but also a special doughnut to consume while travelling in such a fancy vehicle.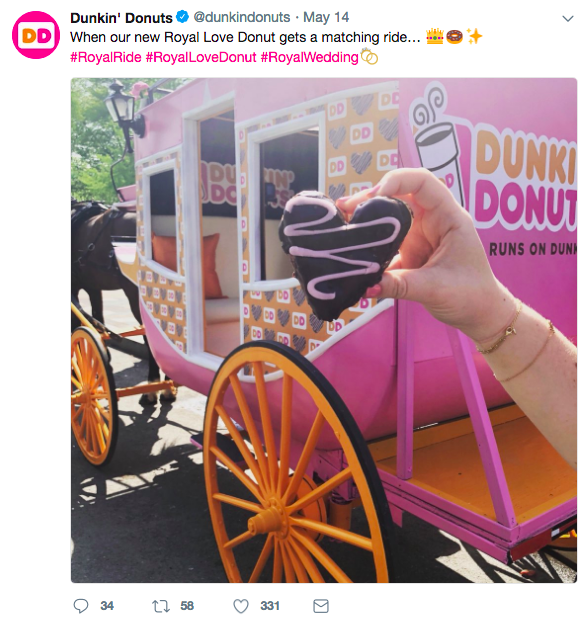 The Royal Wedding was also a reason for thousands of heartbreaks – no wonder, regarding that Britain's favourite bachelor is definitely off the market now! To cure broken hearts Deliveroo offered to award the ones in the biggest grief with some comfort food: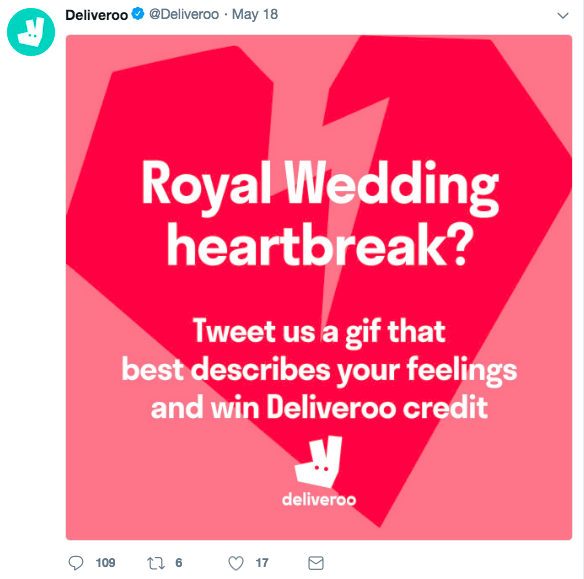 Royal Wedding in numbers
Number of people getting married: 2
Number of guests invited to the chapel: 600
Number of friends and relatives invited to the after-party: 250
Number of estimated viewers around the world: 3 000 000 000
Number of organic eggs from Suffolk used for the wedding cake: 500
Number of diamonds from Princess Diana's collection used in engagement ring: 2
Number of online mentions regarding Royal Wedding during last month: 1 005 192… and still counting!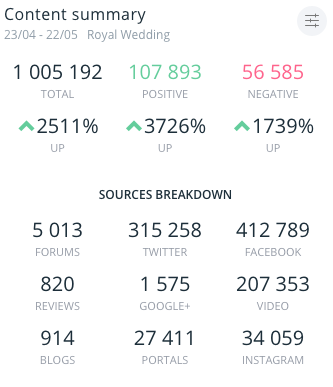 Are you planing a next royal wedding? Or you're curious how your brand performs online in terms of real-time marketing? We've got solutions for you, tailored to your needs! Try SentiOne for free and see the online mentions for yourself!