Brand Reputation
How to get to the top in business rankings?
"If 5 years ago, when there were just the 6 of us, someone asked me how would 80-people SentiOne look like, I wouldn't even imagine that I could call such a big group of people my dream team. But I can! Never before I was more confident than I am today, that we will make a huge mark in history." That's more or less what Bartosz Baziński, SentiOne's founder, COO, and mastermind, said at our latest meet-up.
Great success. Bright future. No recipe?
These words sum up an amazing history of how a crazy idea of a teenage student, who just wouldn't surrender, can evolve into a well-prospering business. Maybe it was luck, a knack for business, fitting circumstances, the help of good people around? Or maybe a bit of all those with a pinch of wit?
What makes a small company from a medium-sized city go to the top rankings in its sector? What makes people choose the product and stick with it? How to create a startup that will not only survive but actually get loyal clients and some recognition in the industry?
There are probably no easy answers to these questions. You won't find quick 5-step guides to answer the tricky question in the title either. There are so many variables that it's hardly possible to coin advice. However, you can for example analyse what it takes to get into top recommended social media marketing platforms, based on Martech Advisor report and draw some conclusions.
What to focus on while building a tech startup?
Reports such as MTA's are dedicated to potential clients and/or investors who are looking for a martech product that will suit their business needs. As flattering as it is to get on top, this report could be read more like a guide for those at the beginning of the great journey that building a successful business is. What are the main metrics in the mentioned report and how to apply it IRL?
The industry of martech has a very specific set of demands and that's why MTA's researchers looked for tools with very specific features, such as Social Listening, Sentiment Analysis, Reporting & Analytics etc.
Real-life Tip: When you develop your tool, try to focus on audience's requirements. Run tests and feedback interviews often to learn what people truly need. Obviously, we will advise trying online monitoring as well to discover what people are saying about your product or feature on the internet.
In the report, the pricing index was determined not only by the numbers but also by the pricing structure, specific features listed, etc.
Real-life Tip: When creating your pricing try to be competitive. Compare your offer with other players in the market. Remember that in martech, at the end of the day, the customer wants value for money and tangible return on investment.
MTA's research was focused mainly on products dedicated to SMBs so this factor was pretty crucial in the general score.
Real-life Tip: Every marketer and business development specialist would probably confirm that targeting your product should be one of the key focus points for newbies. Make sure you establish and communicate specific sets of features and message needed by small and medium business, and enterprises. This way you can reach your buyers and no one gets confused.
MTA report authors made an assumption that companies offering both cloud and on-premise deployment provide more stable services which can be translated to stability and reliability.
Real-life Tip: Try to build your tool so that it's stable in sickness and in health. And scalable. Customers often like startups for agility so make sure to provide it.
Erase and rewind
Since SentiOne got featured as "Best Fit for SMBs" in MTA's research, which means a lot to us, we would like to share how exactly we think we did it. I'm not going to bore you with our history, all the ups and downs, garage phases, mistakes that probably could have been avoided. Let's just stick to lessons learned. First of all, there's one that is clear and simple, yet sometimes very difficult to apply.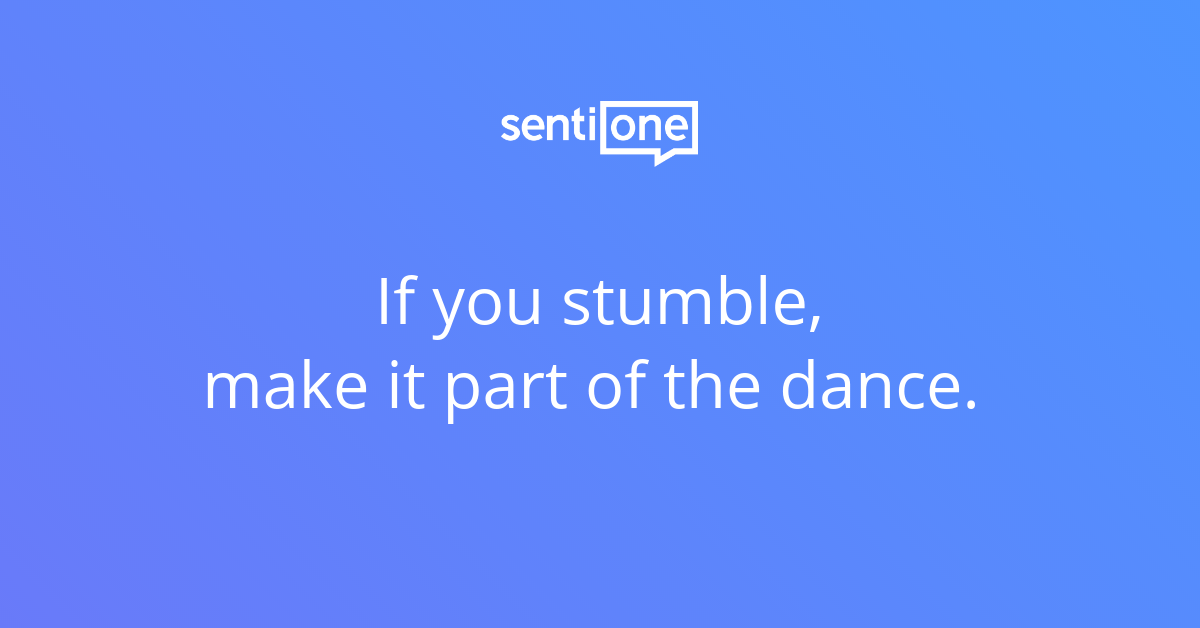 From our experience, this means that no matter how hard it gets, just be cool and stay focused on your goal. Keep moving forward. The reward will come up eventually. Along with a taste for more, trust us.
We don't mean to be presumptuous because we are well aware that there's still a lot ahead of us, but if we can give advice to those who are where we were a few years back (which we kind of already did e.g. here), it would be:
Work hard. Yup, it shouldn't be any more complicated than this. We can list hundreds of motivational quotes but hard work is always on top. It's the basis for all that we do.
Reach for the sky. In the world of internet, it doesn't matter where you are or how big you are, as long as you deliver.
Never forget about team play. Deep down we believe it is the amazing synergy that moves us forward. Cherish that feeling and take a good care of your friends (and customers!).
Big thanks to "The Academy"
We are very ambitious and have a grand plan for the future, on which we try to focus every day. We hate to brag but when we look back, it's hard not to give ourselves a little pat on the back. Saying it without false modesty, we've been working hard to get where we are and we'd like to acknowledge that (if only for the sake of the #SentiTeam).
Being noted by top business experts, for example as one of the 5 types of tools and software your business needs in 2018, and 7 Tools Every Blogger and Marketer Need to Be Using in 2018 gives us drive for further development (There's so much we'd like to tell you about our plans! But let's keep it secret for now…) so we are thankful for what happened so far and proud of our achievements. However "Oscar-speechy" this sounds.
As flattered as we are, let us roll up our sleeves and get back to work to provide the best real-time internet monitoring.
But don't just take our word for it! Feel free to test our tool and leave your opinion on G2 Crowd. We appreciate the feedback, it keeps us going!