Online monitoring supports the activities of specialists in various fields of marketing – social media, PR, brand management, customer care, lead generation… However, not everyone is aware of its potential regarding SEO activities.
SEO (search engine optimization) is an area of online marketing that aims to acquire traffic from organic search results (mainly from Google, but also from different search engines – depending on particular market).
Many perceive SEO as websites optimization, treating positioning as a separate area. In practice, not only on-page SEO activities influence search engine algorithms, but also off-page – mainly as a form of acquiring links to promoted website.
In both cases, on-page and off-page SEO, online monitoring can be really useful. Very often, SEO specialists are responsible for analytics and planning activities related to content development on websites. They also frequently coordinate the process of external publications, sponsored articles, guest blogging, distribution of expert opinions.
At least they should – this is where lays a big opportunity for cooperation between marketers responsible for content, PR specialists and SEO experts.
Based on specialized tools, SEOs are able to:
* identify proper keywords and topics, that attract big audience and give the possibility to effectively acquire traffic from search engines,
* identify valuable websites that may serve as a source of high quality backlinks that support positioning process.
I don't want to go into the details of processes mentioned above. What I would like to focus on, is the effective usage of social listening (web listening) tools in supporting these processes.
In most cases, SEO specialists use such solutions as Majestic, Ahrefs, Semrush, Searchmetrics (or Polish ones – Senuto and Semstorm).These extremely useful tools may not only support improving search engine rankings of your website, but also overall content marketing activities, giving vast space for analyzing competitors, examining consumers preferences, etc. They have one flaw, though – working on the basis of historical data.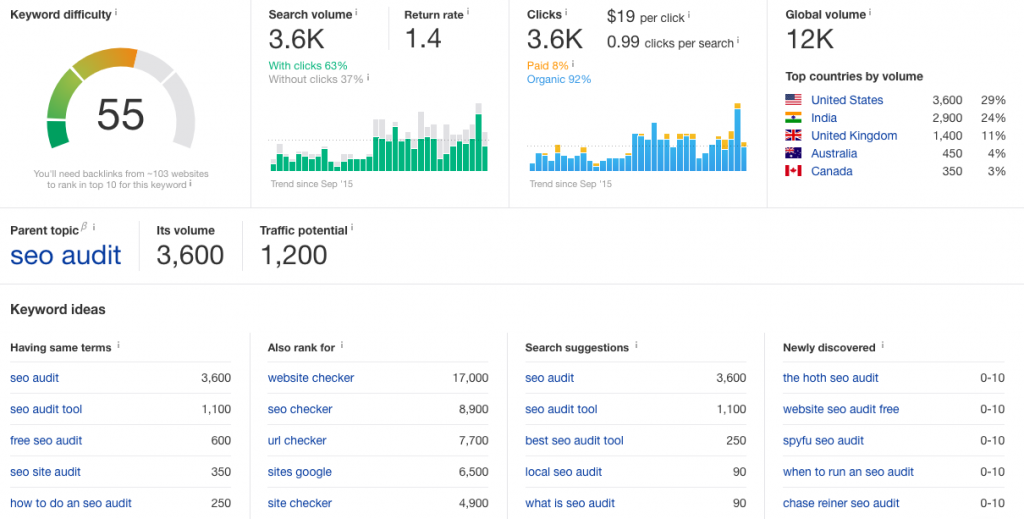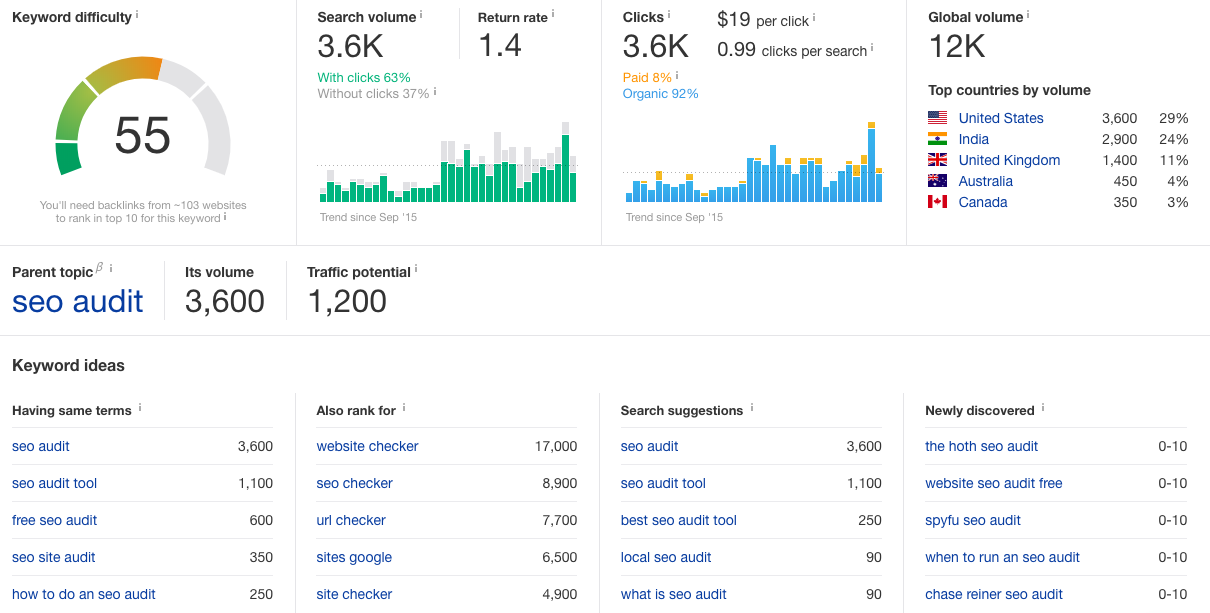 Keyword analysis in Ahrefs Keyword Explorer (source: ahrefs.com)
Of course it doesn't cross out their utility – I'd like to underline that these are very valuable tools that in most cases provide us with more information for marketing department to process. When we are in need of real-time data, online monitoring is a perfect addition.
In principle, creating website content shouldn't be conducted impulsively, but rather as the effect of thorough planning. Same thing goes for link building – it should be properly planned and implemented over time. However, it's often worth to supplement such actions by applying more dynamic approach.
Thanks to online monitoring we can observe all the mentions related to company's offer in real time. If we own some valuable content on our website (such as database; evergreen, guidelike content, landing with downloadable ebook), we can reach out to users interested in particular matter and in short period of time (which is crucial if we're counting on recipient's reaction) try to slip them a link to your resources in subtle manner.
Such action shouldn't be perceived as spam because it's not an anonymous recommendation of precise offer, but an official one, that doesn't aim at selling anything, but rather concerns sharing the knowledge, helping, giving advice. It favors building relations, brand awareness, but also supports SEO goals, as it enables gathering links to the website. It's worth noticing that in the context of SEO, it's the activity on blogs or comments on forums that have an impact, not in social media. For example – a comment under a picture on Instagram, or a Facebook comment that includes a link will not have influence on search engine rankings. However, there is a number of other, not SEO-related arguments, to carry out similar activities in social media.
Another purpose of online monitoring is observing your competitors. Based on online monitoring you can see where and how individual brands take up activities and acquire links. Similar options has Ahrefs (new links monitoring) that is mentioned above, but, for some campaigns, the more sources the better. For example, I personally monitor "SEO audit" phrase (in variations), to know whether other providers actively promote their service, or to join the discussion with them if need be. I can also observe where companies like mine can acquire a link or order sponsored publication. Of course there are other ways to check it, but an everyday email with a summary of the project is simply a very convenient solution.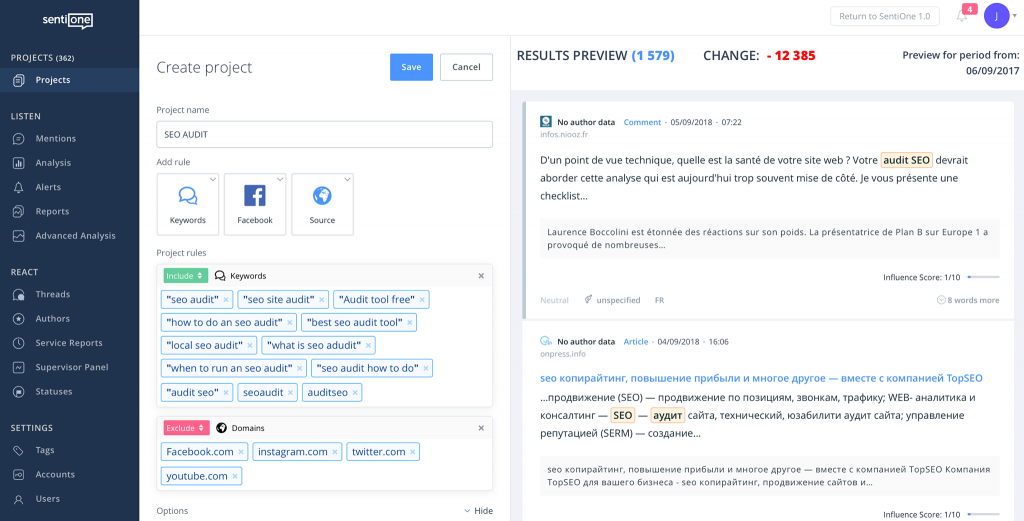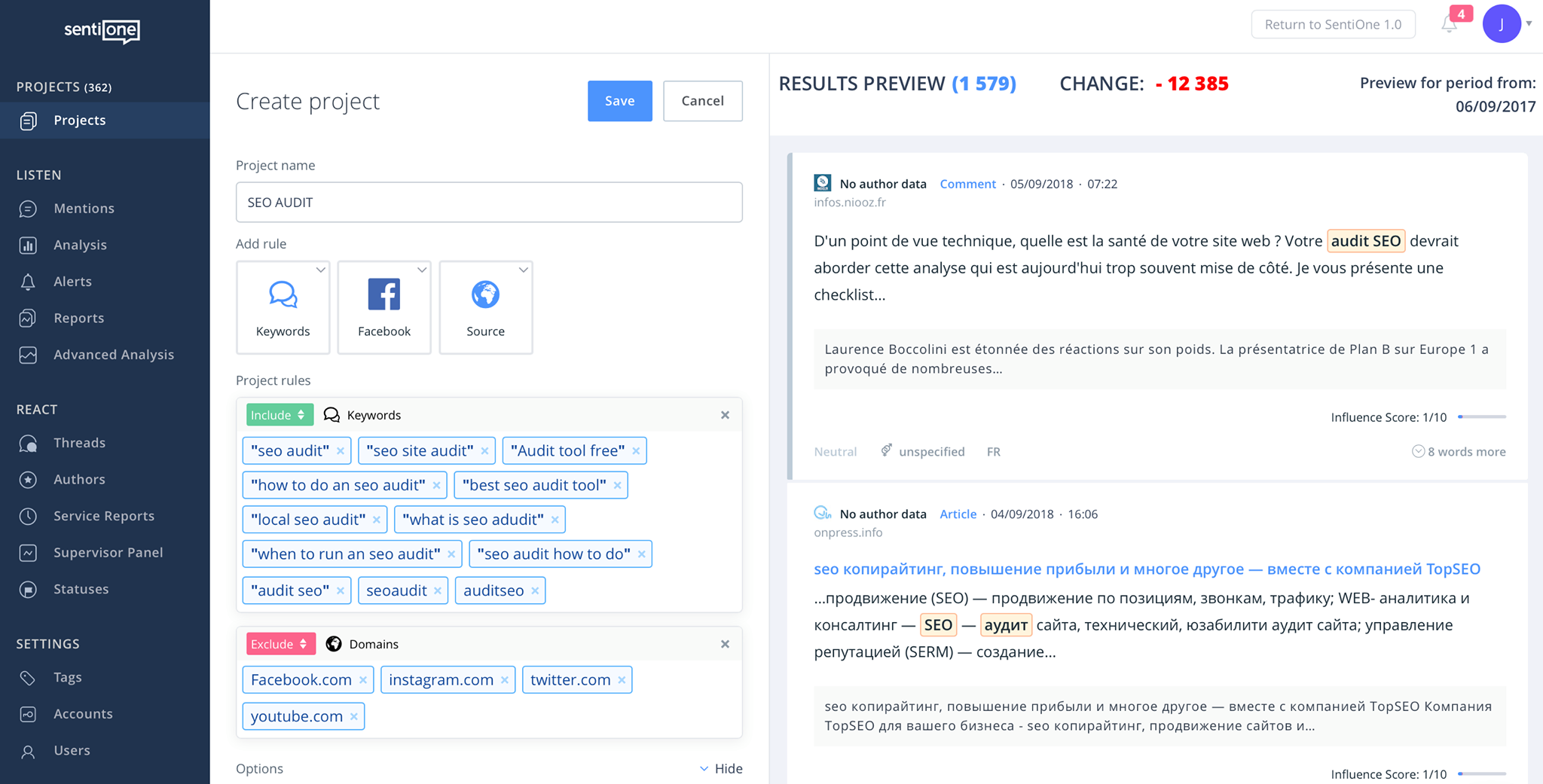 Project Configuration in SentiOne
Current and constant observation of trends may serve as an inspiration to create engaging content. Sometimes it's worth a shot to prepare blog post that concerns a topic that is, and will be, popular during the upcoming weeks. Keywords' analysis based on tools specific for SEO professionals won't deliver such knowledge. Typically, real-time marketing comes down to attempts of implanting a viral in social media, but content activities and targeting keywords used by search engine users is a ploy worth considering.
Such move often doesn't translate into direct conversion, but can result in widening the reach, brand awareness, but also cookies that can be used afterwards as a remarketing tool (for example in Facebook Ads and Google Ads – previously AdWords) and new newsletter subscriptions.
To sum up, online listening allows integrating actions related to content marketing, SEO, lead generation, customer service and social media marketing, but also PPC campaigns. In well managed versatile marketing team, it may serve as very valuable source of knowledge.
When choosing an online listening tool, it's worth to be guided by flexibility in the selection of keywords. Honestly and without coercion I can say that I haven't come across a better option than SentiOne, which gives you the opportunity to listen on the basis of very extensive lists of keywords. In many alternative solutions, it is usually unprofitable.