The richest man in the world (according to the Bloomberg Billionaires Index) has lost almost $120 billion over the past year. Currently the bulk of the losses is attributed to his car and EV company, Tesla Motors, Inc. The following article dives deeper into the stock losses of the innovative company and how it connects to Elon Musk's recent decision to buy Twitter.
In early November last year, Tesla shares hit their all-time high on the stock market, just over $1,229. On May 31 this year this amount was just over 758 USD, with the lowest result over the year 628 USD on May 24, 2022 (according to Google Finance statistics). This over 50% decrease can be attributed to at least several factors.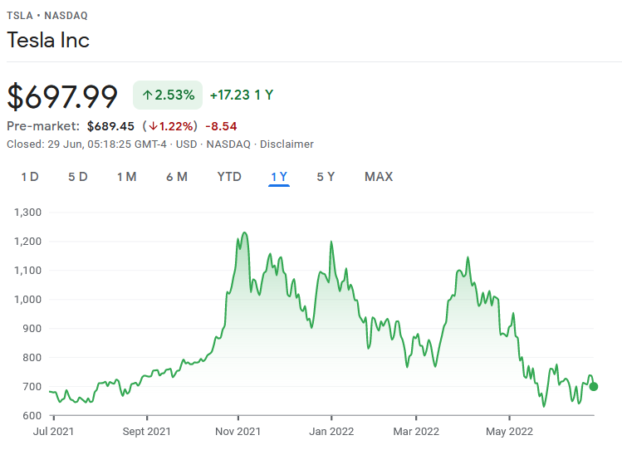 Elon Musk bought Twitter — or did he?
One of them is Musk's efforts to buy Twitter. Initially, Musk considered three options – starting his own social networking platform rivaling Twitter, buying the most shares and assuming the position of CEO or buying the platform in its entirety. After dropping the first option, it seemed the billionaire would follow through with the second. In early April 2022 Musk bought a 9.2% stake in Twitter and started negotiations to take a position on the board. At the last moment, however, he unexpectedly withdrew from the talks, and soon after he announced his intention to purchase the platform outright.
In theory, Musk and Twitter entered into a contract on the 25th of April this year. The Tesla owner was to acquire the platform for $44 billion – partly financing the purchase from his savings, partly from sold Tesla shares, partly from a loan he took out for the purpose. The agreement is to oblige both parties to complete the transaction under a $1 billion cancellation fee.
The amount of compensation itself is alarmingly low, which is most likely lowering the stock market of Twitter. Some analysts are signaling their skepticism about the final outcome of the transaction.
The breakup fee for @Twitter is only $1 billion. @elonmusk didn't buy TWTR, but a call option at $44 billion for $1 billion.

I don't believe he will exercise (close).

— Scott Galloway (@profgalloway) April 28, 2022
Musk himself is sending out mixed messages. On one hand, he is selling more Tesla shares, seemingly showing that the purchase of Twitter is certain and secure.
On the other hand, he is reluctant to finalize the transaction, imposing additional conditions on the current management of the platform. On May 17, the owner of Tesla demanded that Twitter prove the number of spambots and fake accounts on the platform does not exceed 5%. According to Musk, this percentage may be as high as 20%. Since then, the platform and Musk have engaged in a lethargic back-and-forth, leaving the purchase in limbo.
The acquisition delay is affecting Tesla investors. As the company's stock market value declines, Musk may have to sell more shares to cover the commission on the loan he took out to buy Twitter.
Megalomania, concentrated
Musk's notorious Twitter record doesn't help his case. It begs the question, whether the whole Twitter buy isn't just a show of power. For example, Musk was recently revealed to be cropping Hard Drive's magazine credits on the screenshots from their articles. When confronted he deflected and called an article about himself 'Less funny than SNL on a bad day'. Hard Drive was quick to remind Musk who has more expertise on this subject.
well you're the expert on SNL's bad days pic.twitter.com/Ysb5oJsRBK

— Hard Drive (@HardDriveMag) May 30, 2022
Musk is also known for his truly Fordian love for capitalism (and perhaps just as fordian level of its understanding). Here, for example, he claims that the recession is good, actually, and that the COVID-19 pandemic made people forget what it's like to work hard.
Yes, but this is actually a good thing. It has been raining money on fools for too long. Some bankruptcies need to happen.

Also, all the Covid stay-at-home stuff has tricked people into thinking that you don't actually need to work hard. Rude awakening inbound!

— Elon Musk (@elonmusk) May 27, 2022
Elsewhere, he does not understand the irony of such phenomena as dogecoin, here emphasized by the creator of the currency himself.
i enjoy that something stupid could also have utility and be successful

— Shibetoshi Nakamoto (@BillyM2k) May 12, 2022
…or indulges in creating an alternate version of reality, especially in the face of global trends of nationalism and authoritarianism being on the rise.
— Elon Musk (@elonmusk) April 28, 2022
Musk also evangelizes his queer understanding of "freedom of speech". In this case, the freedom to say anything, however harmful or untrue it might be. Recently he announced to unban the account of the former president of the United States, Donald Trump. Twitter decided to permanently suspend Trump after he pledged support for his electorate, right after some of his followers participated in an armed terrorist attack on the Capitol.
Dangerous software, unavailable hardware
In early May, Tesla's car crashed into a curb and drove into building materials, resulting in the death of three people in the car and injuries to construction workers. The accident is one amongst a few that has been investigated by the federal National Highway Traffic Safety Administration.
Of the 35 investigations into special car accidents that Tesla has been subjected to since 2016, only three have ruled out Tesla's automatic steering system as the perpetrator. In total, 14 people died in accidents involving Tesla self-steering cars. Such results do not encourage investors' interest and pose questions about the quality of automated driving systems offered by the company.
Another challenge that Tesla is facing as one of the leading producers of electric vehicles is the shortage of microchip supply. The shortages result both from restrictive lockdowns in the Chinese People's Republic and from Russian aggression in Ukraine. Tesla's Shanghai plant is facing periodic downtime due to the pandemic, and the vast majority of models produced are sold to the primary market, never reaching the US. The entire automotive industry has been struggling with shortages of semi-finished goods on the market since the beginning of the COVID-19 pandemic, which negatively impacted the sector.
Removal from the S&P500 ESG and accusations of sexual harassment
Musk's stock market listings are also harmed by bad labor and environmental practices. In mid-May Standard and Poor's 500 ESG Index had its fourth annual revision. The index compares five hundred companies with the highest capitalization in the US market in terms of their non-financial performance. ESG indices measure three basic factors – environment (environmental impact), social responsibility and corporate governance.
After the May revision Tesla was removed from the index. One of the reasons is that the automotive industry has fallen in the indexes in general this year due to its overall negative environmental impact.
However, that's not all. Besides the aforementioned investigations into road accidents Tesla failed on several other fronts: Tesla's carbon neutrality strategy (or lack thereof), insufficient business transparency and, finally, at least two documented cases of racial and labor discrimination at the company's Fremont factory.
The California Department of Fair Employment has filed a lawsuit against Tesla and issued a statement, claiming that the factory is racially segregated and especially hostile to black workers.
#UPDATE California Department of Fair Employment and Housing files racial discrimination complaint against Telsa.

Agency "found evidence that Tesla's Fremont factory is a racially segregated workplace where Black workers are subjected to racial slurs and discriminated against" pic.twitter.com/qZXutdpruV

— AFP News Agency (@AFP) February 10, 2022
Musk himself dismissed Tesla's exclusion from the S&P500 ESG on Twitter, undermining the reliability of the index itself. In his opinion the index became a tool of "social justice warriors".
Exxon is rated top ten best in world for environment, social & governance (ESG) by S&P 500, while Tesla didn't make the list!

ESG is a scam. It has been weaponized by phony social justice warriors.

— Elon Musk (@elonmusk) May 18, 2022
This is especially distasteful given recent accusations of harassment at SpaceX that have recently surfaced.
Uncertain future
Since the stock market low on 24th of May Musk's net worth has been on a slow rise again. However, the future of his reputation and finances depends upon many factors. The results of investigations into employee discrimination and defective self-steering vehicles could prove to be heavy blows to the billionaire. If the Twitter deal doesn't go through and Musk pays the compensation it will show Tesla's shareholders that they are not being taken seriously. Only time will tell what happens to Elon and his companies in the upcoming months.