Online Trends
Hashtags in restless times
Saint Petersburg, Tanta, Alexandria, Stockholm, Dortmund, Paris – these are only a few places of terrorist incidents that have been brought to public attention over the last few months. People online do what they can in reaction to those attacks – most often, they offer help using a unique hashtag.
The social value of a hash
At first, the number sign was used on the Internet to mark specific words. It became popular in the 70s (!), when people begun to group and catalogue topics at the IRC communication platform. As it happens, when the platform ceased to exist the hashtag was put down for quite a few years, too. Until 2007, when Google employee Chris Messina brought it back to life asking on Twitter 'how do you feel about using # for groups?'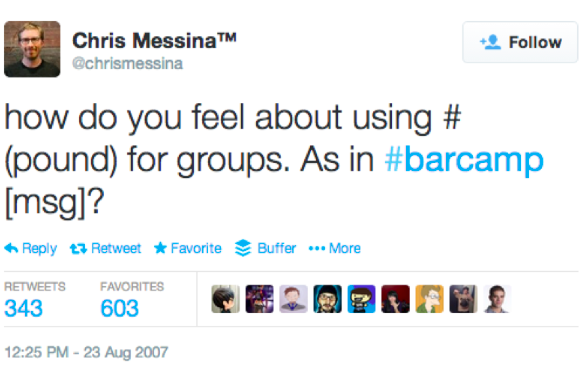 However, hashtag received a truly social meaning a few months later because of a huge fire that happened in San Diego. At this point people started using #sandiegofire online.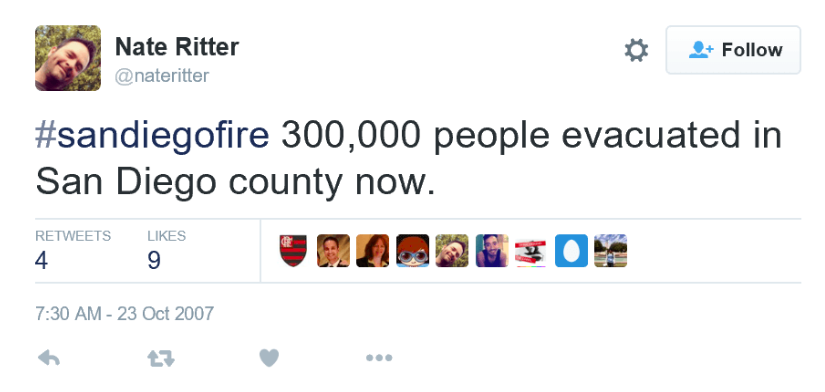 Nowadays, as we know, it is used in comparable tragic situations. Enough to mention the range of #PrayForParis, #PrayForBrussel or #JeSuisCharlie.
When football speaks with one voice
On 11 April 2017 in Dortmund, Germany, the tour bus of local football team was attacked with roadside bomb. Luckily, the attempt hasn't occur fatal as only one football player was slightly injured. For the safety reasons, the match with AS Monaco was postponed to the next day. Given the sad circumstances of violence aimed at the world of sport (let's recall the series of attacks around Stade de France during the matches preceding Euro 2016), the reaction of football fans still leaves hope.
The information about the attempted attack broke at about 8 PM. And just a few minutes after release of information about postponing the match, hashtag #bedforawayfans came to life. Borussia fans were using it to offer accommodation to those who came to the game and had not planned to stay over. This hashtag had been used within 3.000 mentions in just an hour, and the number had reached 20.000 til the end of the day.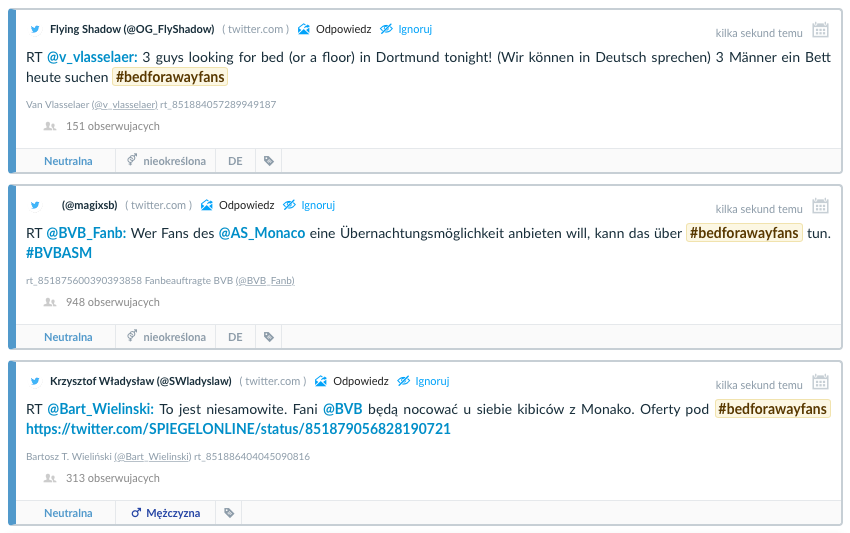 This particular hashtag turned out to be the answer to the need of the hour and became the token of unity in the world of sport fans, that is usually divided. It didn't last long – just the next day. Although, it was acknowledged at most of the world's popular media due to this photo: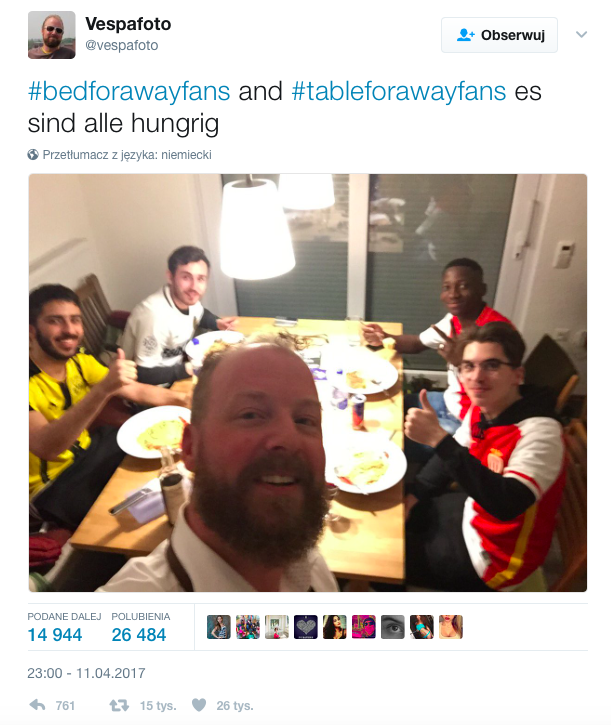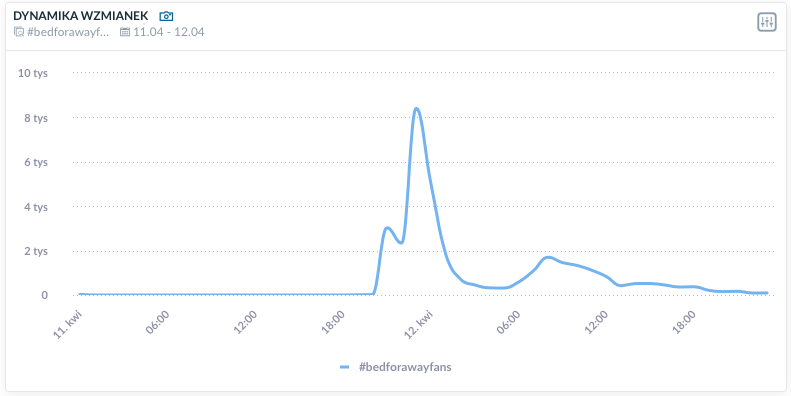 Going home
Similar online reaction occured during the campaign of violence in Saint Petersburg on 3 April 2017. Explosive device was detonated in the metro tunnel killing and wounding about 50 casualties. And, of course, paralysing the whole city as metro is one of the most popular modes of transportation in the city. Immediately, on the Russian Internet, some hashtags came into existence – #везу and #домой, which means 'I'll drive' and 'home'. That way people offered each other a safe ride home. In two days – 3 and 4 April – these hashtags were used over 8.000 times. What is more, some taxi and Uber drivers chose to work free of charge to help people in need.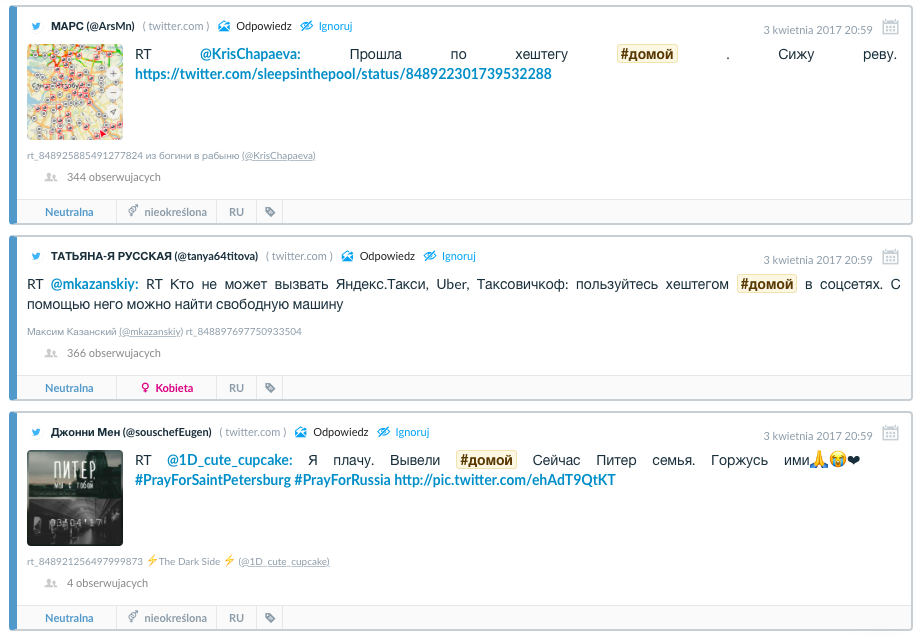 In search of solace
Thanks to their distinctive function, hashtags are of service in times of the information chaos caused with crises such as terror outrages. While telephone lines tend to go out of order, the Internet still works. In Paris over the series of bombings in 2015, people were desperately looking to get in touch with their loved ones posting photos online with #RechercheParis and #RechercheBataclan. A Facebook functionality "Safety check" – that had been released a few weeks prior to these attacks when the earthquakes in Nepal occurred – came in highly useful as well. If some kind of tragic event happens in your area, thanks to geolocation Facebook asks you to let your friends on social media know whether you are safe.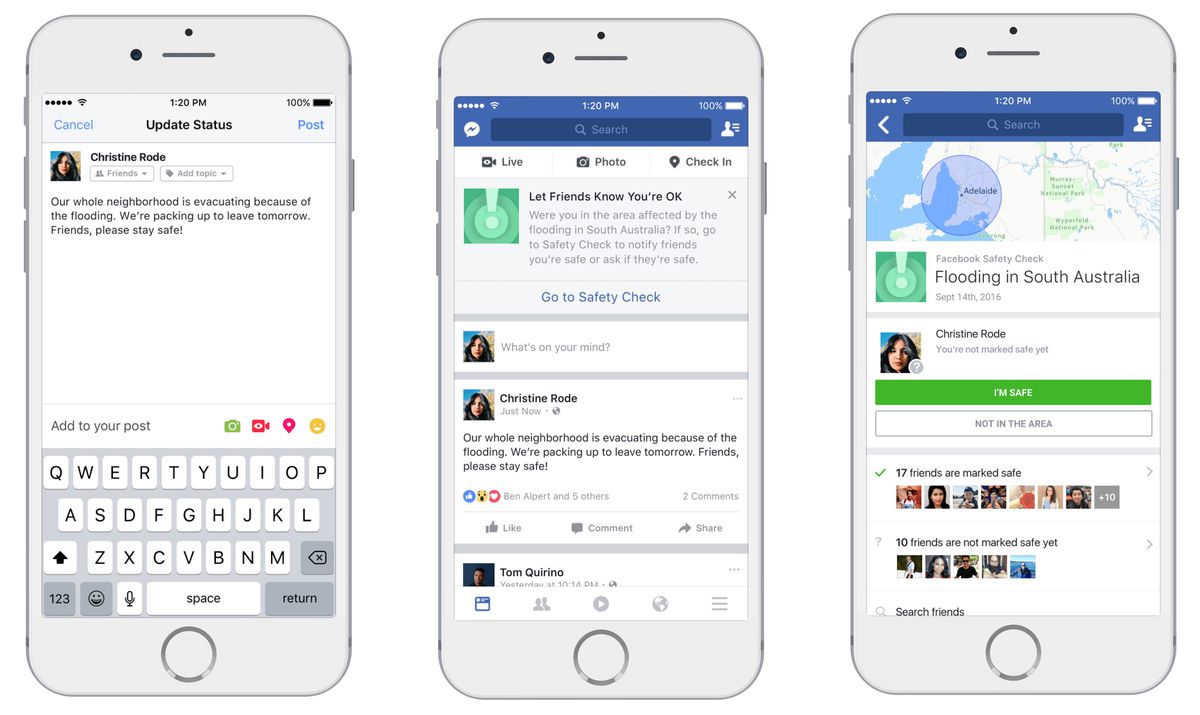 Going back to normal
#Wearenotafraid #LondonStrong – these are hashtags that were created right after yet another attacks that took place in London on 22 March 2017. According to media and official statement of English authorities, these hashtags were supposed to show that the London community wouldn't be intimidated by terrorists and that their acts of violence are pointless, because it wouldn't affect everyday life of Londoners. People demonstrated unity against terrorism by posting some pictures online.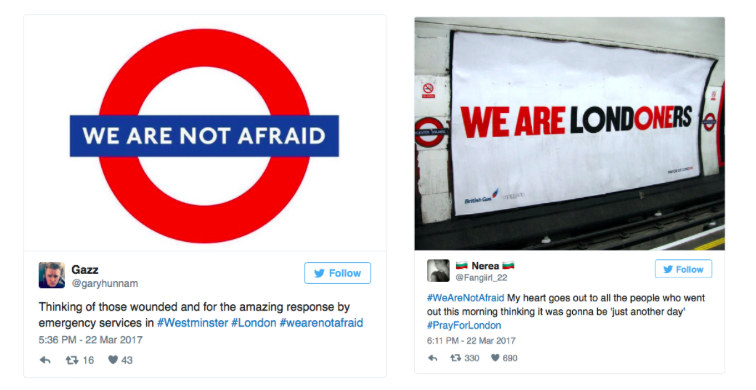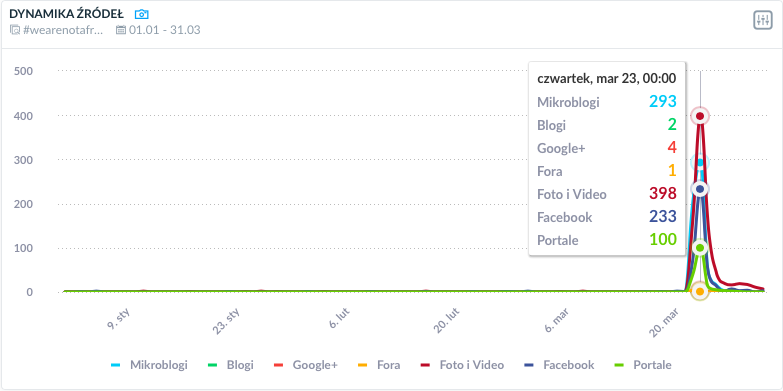 Without a doubt, we all wish we'd never need any of those hashtags in the first place. Obviously, we can debate on the reasons to put some posts online while death takes its toll in reality. Although, when the terrorism threat level is considered highly likely, it lifts the spirits a bit that some people use the Internet not only to watch funny cats, create fake news or inappropriate virals, but also to build some kind of bond and sense of safety while facing a real danger. As a matter of fact, however the hash sign may seem insignificant, it is more often than not put to use to bring actual help, such as giving accommodation or finding family and friends. Let's hope we'd all go online to do something that is actually valuable not just in such restless times.