If you've spent any time online in the last decade, you've been exposed to Reddit. "The front page of the internet", as it calls itself, is home to tens of thousands of active and diverse communities for essentially any interest you can imagine. Reddit remains one of the most prominent platforms for online discussion — and as such, it is an attractive option for marketers.
In this article, we'll look at some opportunities awaiting marketers on Reddit and how to use the platform to its fullest potential.
Why market on Reddit?
Reddit is significantly different from other social media platforms in that it's not governed by some nebulous algorithm. Instead, users vote on content they think is worthwhile and valuable for their communities and downvote spam and marketing. This approach — dare we even call it direct democracy? — leads to highly specialised communities for both niche and general interests.
A warning bell might already be ringing in your head. Doesn't this mean advertising gets downvoted? Of course! Reddit users, as a general rule, are as anti-advertising as they come: their primary interest is content that provides value or entertainment. Certainly, this makes Reddit challenging territory for even the most experienced marketers. 
However, the rewards match the challenge. Since they're home to thousands upon thousands of highly-technical communities, Reddit is an incredibly rich source of valuable user feedback. You'd be hard pressed to find a better platform to augment your market research efforts.
Reddit is also a respected source of knowledge — that's why an increasing number of people append "reddit" to their Web searches. It's simply the best way to filter through all the SEO drek and get the goods fast.
Additionally, it's worth remembering that while Redditors are traditionally hostile to advertising, they're not (generally speaking) hostile to brands. By approaching each community in a transparent, respectful way, you can build lasting relationships with people who are otherwise unreachable by marketing.
Reddit marketing examples
As experiments conducted by Ladder conclude, paid ads on Reddit don't work — and, due to the platform's user base, that's extremely unlikely to change. This means you'll have to approach the platform differently than on other social media. For instance, while the Ladder experiments prove that paid ads are a dead end, they also prove that organic posts work extremely well.
Of course, this doesn't mean you should create an account and just post links to your company's products in any tangentially-related subreddit. In fact, many communities simply prevent new accounts from posting links altogether — precisely to discourage this practice. This helps cut down on spam, but it also ensures only accounts actually invested in the platform get to contribute to discussions.
This doesn't mean your brand is forbidden from posting, though: you can still post comments, answer questions and handle customer service cases like on any other platform. Just keep in mind: you're there to contribute to a community, not advertise your products and services. 
Follow the example of Tony, an Amazon rep who would frequent the r/GameDeals subreddit — where users shared information about video game discounts and promotions. Every time Amazon happened to have a better deal than what was posted, Tony would be there, like in the post below. Notice his approach: first, he's transparent about being an Amazon employee. Second of all, he's providing value to the redditors he's engaging with. 
Be like Tony.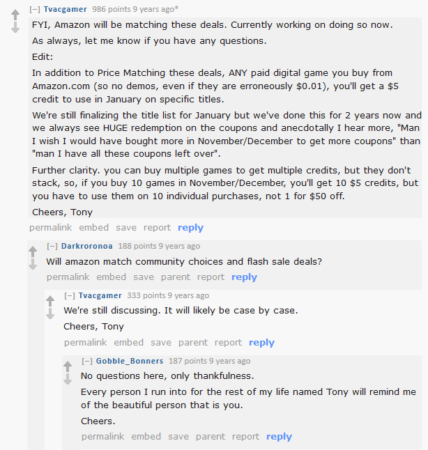 Once you have some credibility on Reddit, you might consider hosting an AMA session. Ask Me Anything threads are exactly what they say on the tin — they let you reach out to the wider community and answer as many questions as you can. Reddit AMAs have a long and storied tradition and have been used to successfully build brand trust. Famously, Elon Musk took to Reddit on multiple occasions to promote both SpaceX and Tesla — with great results!
However you choose to present your brand on Reddit, remember the one overarching principle: respect the platform. If the users think you're trying to pander or advertise to them, they will be ruthless. Stories about AMAs going wrong and brands failing to grasp the platform are prolific… and always go viral on Reddit!
Monitoring Reddit for fun and profit
Like we mentioned before, Reddit is a great repository of knowledge for almost any topic. User discussions on the platform, then, are a great source of insights. Here's where social listening comes in.
Social listening is the practice of analysing huge volumes of online mentions for any given topic in order to discover patterns: common key terms, emotional sentiment, and much more. 
What does this mean in practice? For starters, you're now able to discover whether your brand is mentioned on specific niche subreddits. This, in turn, lets you discover what certain communities think of your products or services. If redditors are talking about your brand, social listening will tell you the context.
Of course, this can also apply to your competition. Through smart social listening, you can pinpoint what Reddit thinks brands in your business line could do better — or, conversely, what they appreciate! Actionable insights, straight from the customers' mouths: who could say no to that?

Finally, automated alerts and reporting can help you pinpoint any customers having problems with your brand's offerings. Swooping in to solve a problem on a public forum is an easy way to build brand trust and credibility — and social listening ensures you won't ever miss a mention.
All of this, and more, is now available in SentiOne Listen, our flagship social listening solution. This means you can use Reddit alongside every other major social networking site for your marketing and customer service needs — all from one familiar interface.
Reddit monitoring with SentiOne
As far as social media platforms go, Reddit is unusual in how old-school it is. This presents certain challenges to modern marketers, true. However, Reddit's unique nature brings with it opportunities you won't find anywhere else. In our opinion, the rewards are well worth the effort.
In order to make your Reddit marketing journey easier, we recently added support for the platform to our flagship social listening solution, SentiOne Listen.  If you're not yet our customer and would like to take the cutting edge of social listening out for a test drive, get in touch with us and schedule your demo period today.