Inside SentiOne
Understand online mentions – now even more effectively with Facebook reaction analysis
Each day we work here, at SentiOne, for more and more detailed analysis of online mentions so that you can save time. With our automation, you can understand the true meaning of what people are discussing online almost effortlessly. We gather online statements, which you can filter and analyse yourself, but our algorithms are designed to make the work easier. The insights you get are based on automated analysis of mention contents but also emotions of their authors.
To provide even more precise analysis, we implemented the recognition of Facebook reactions function recently. Our research is focused on how people express their emotions online through emojis and how it may complete the text itself or tags. We measure the sentiment of mentions thanks to natural language processing, which gives you the general idea illustrated in the form of sentiment prism on your app dashboard. Whenever the mention is backed up by a certain emoticon, we get more information to better estimate the author's intentions.
It's not that easy to recognise irony or sarcasm in written text. It may be even more challenging, given that sentiment analysis is automated, even though we improve our algorithms constantly. Reaction emoticons can help us to reduce the number of posts that couldn't be defined before.
SentiOne analyses Facebook posts, when it comes to sentiment, the gender of the author, reach, a number of shares and comments, and – from now on – also the reactions, like these:

What's more, if you authorise your Facebook fanpage in our system, your data – including the emoji reactions – will be updated even faster.
Let the hearts rule
Reactions recognition on Facebook is not all. SentiOne has a lot of features to help you fully understand the web. On Instagram, other than the comments, we gather the hearts received by uploaded photos.


Hear all the birds chirping
For the record, our system also gets the Twitter results, such as likes, retweets and the number of followers.

See the bigger picture
You can find the number of views for each film uploaded on Youtube as well.


Please note, that besides social media, our tool monitors mentions from:
– blogs,
– forums,
– news.
Foreign languages no longer an obstacle
We'd like to kindly remind you that at SentiOne you can monitor mentions written in multiple languages. If you hesitate from using multimarket dashboards because you are not familiar with all the languages, simply try the translation functionality.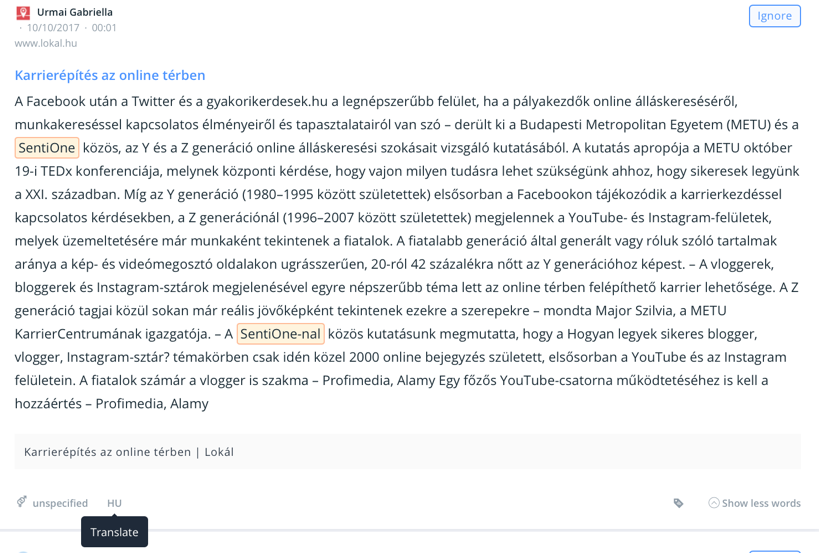 Get the full scope of online data analysis by setting up your own search with unlimited instant results – free within the trial period.