Brand Reputation
"Time well spent" – Facebook News Feed changes and how to prepare
Facebook News Feed changes – why? what? when?
Mark Zuckerberg, the founder of Facebook, has been talking about bringing people closer together for some time now. He likes to emphasise that this was the idea behind his social network in the first place and that he doesn't agree with the platform becoming a space where people lose their time mindlessly scrolling the feed. Therefore, Facebook adopted a new strategy based on academic studies and their own research. Their goal is to bring back the quality of social interactions to Facebook experience.
"Since there's more public content than posts from your friends and family, the balance of what's in News Feed has shifted away from the most important thing Facebook can do — help us connect with each other." – said Zuckerberg on January 12, 2018 [source].
In general, the change is Facebook News Feed algorithm will promote posts, videos, and photos put by your friends and family and diminish content published by Pages (as in fanpages of brands and celebrities).
What to common people like me and you can actually be quite refreshing, to brands and social media agencies is the end of an era. You can read about it in industry news as Facebook Zero or Facebook Armageddon. Marketers are truly agitated.
There are, however, a few things you can do about it as a brand.
1. Do your homework.
First of all, throw away all the scary biased revelations and learn for yourself what the changes truly mean. Watch this video:
to understand the motivation behind them. Read the official statements and documentation to make sure your reaction is data-driven.
2. Get closer to your audience.
Reach out for the "See First in News Feed" option while it's still on the table. There are supposed to be limited "See Firsts" for each account so make sure you win your customers.
And once you've got them hooked, provide value to keep them. Engaging content that will get organic shares and involvement is still precious. Make sure you provide more resources which your followers will actually find valuable and worth interacting with.
You may also animate a Facebook group or events connected to your product or industry.
Although, make sure you steer clear of engagement baits. These are cheap shots that will bring you traffic, sure, but it won't be genuine. What you aim at is to build a meaningful connection.
3. Diversify your efforts.
The world doesn't end on Facebook, right? Well, you mustn't underestimate the 2 billion society up there, but remember your target groups may spend their time using different kinds of social media as well. So make sure you use Twitter, LinkedIn (especially valuable in the B2B sector), but also Instagram, YouTube, Snapchat maybe? You might have heard that Vine is supposed to strike back. Be prepared and try to lure them away from Facebook. Your owned media will become now more significant than ever. Cherish your blog readers or newsletter subscribers and don't let them leave!
The changes go live in February so act fast if your strategy needs rethinking!
Facebook API changes
Along with the News Feed, there are some Facebook API changes coming that may affect all companies which provide services based on online sources like Facebook itself. This includes SentiOne. In simple words, application programming interface (API) is a set of documentation and protocols on which communication between apps is possible. That is why if Facebook rewrites their API, we have to make some adjustments as well.
What will change in SentiOne (and other social media monitoring platforms)?
The private author's info in the mention box might not be as detailed but, luckily, it doesn't apply to fanpages.
Gender analysis might get less accurate in case of Facebook mentions.
What do we suggest to prevent issues?
1. Authorise your Facebook account – you will get author's info then.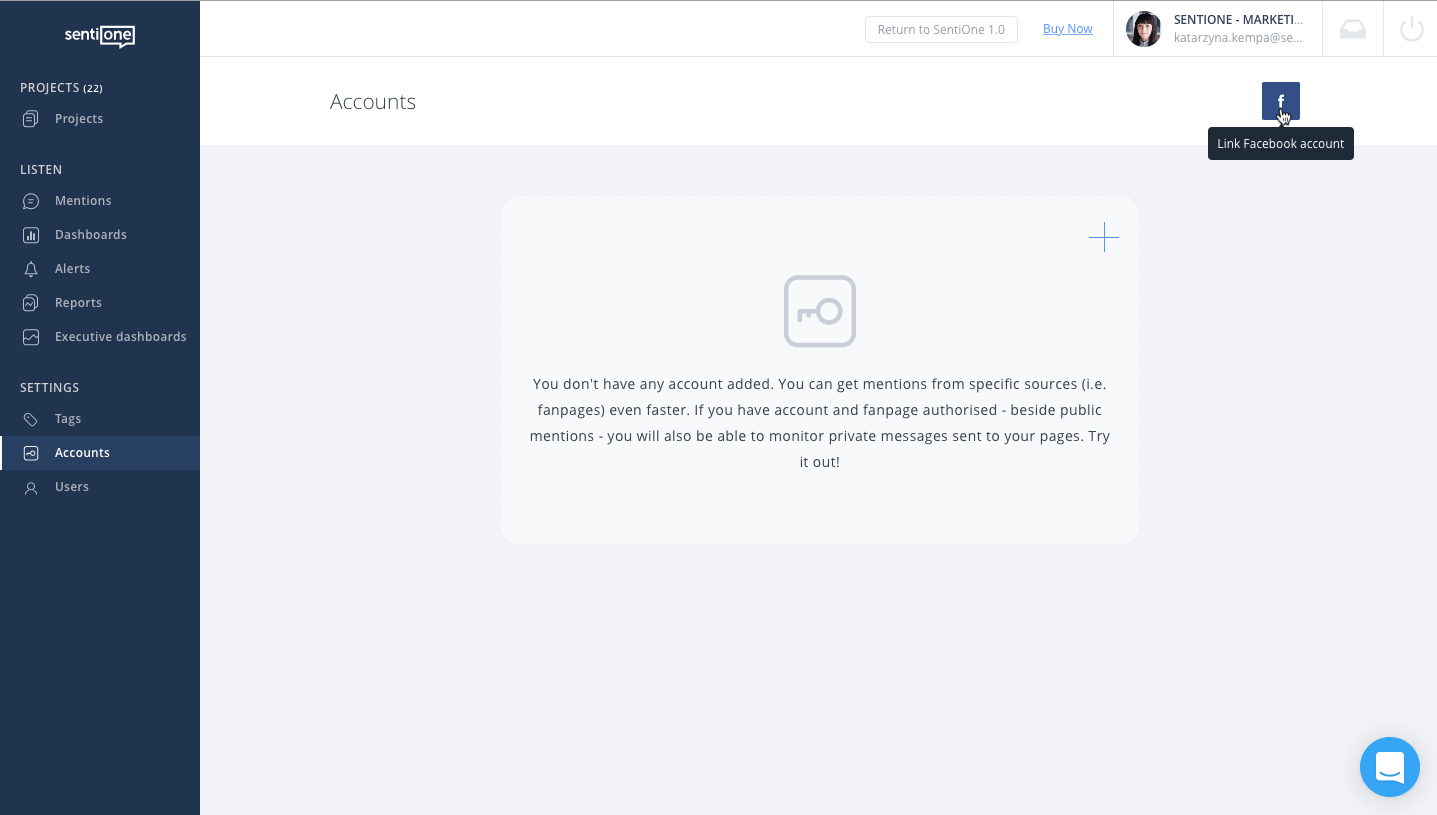 2. In case it's not your profile you want to monitor, you can always click through directly to the source and see the author's name.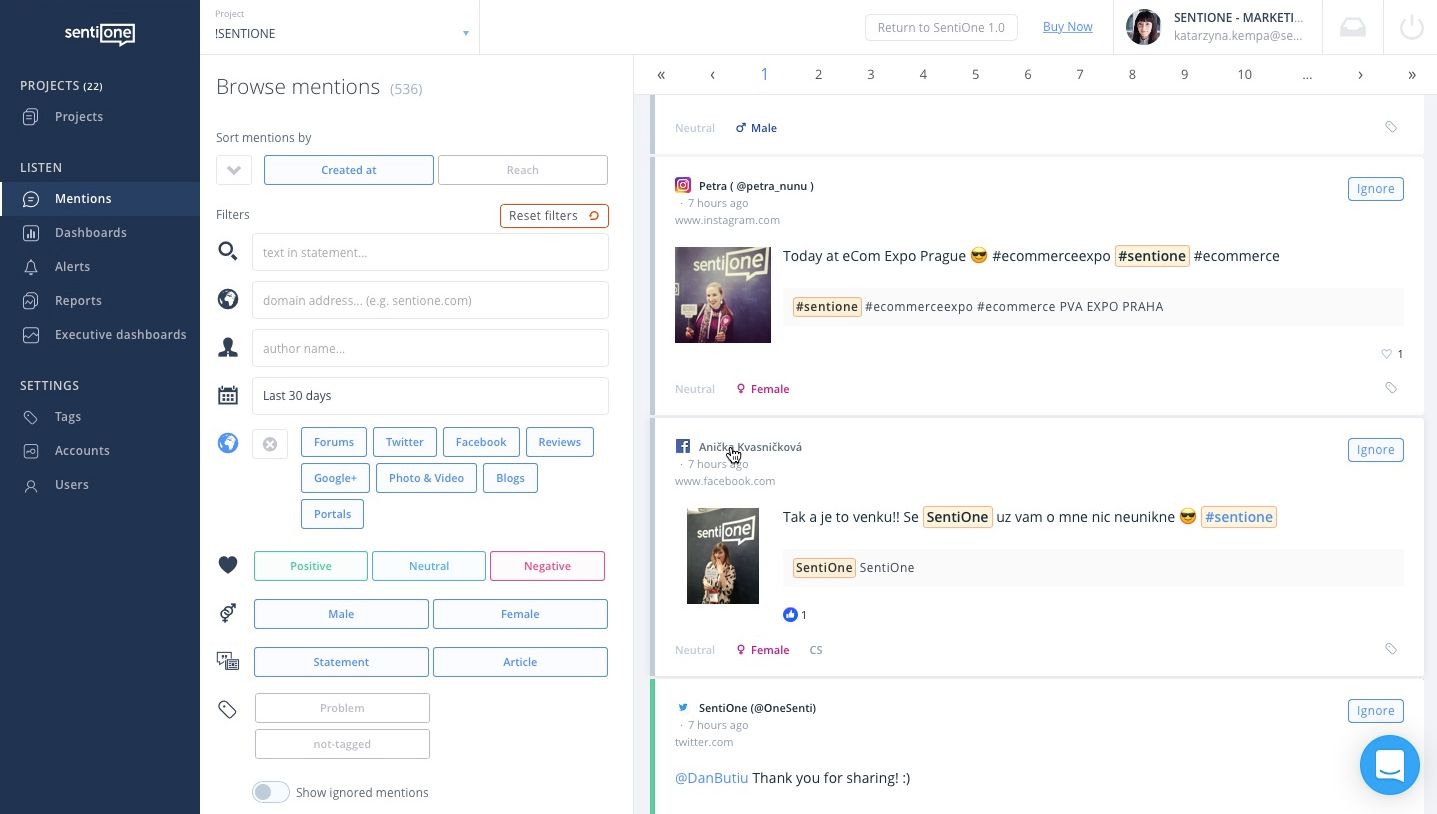 3. Focus your online activities on other channels. To do so, we've made sure we provide new sources that may interest you like Quora, G2Crowd, Amazon, and many, many more!
For example, take a look at what sources are most popular with Netflix mentions:

We believe it's always better to rather embrace the change than panic or whine. Since our service depends somehow on third parties and Facebook changes may affect our offer, we've been prepared for this scenario. What we're implementing to wipe away the proverbial tears, are system improvements that make our crawlers work even faster! Your mentions from YouTube and Instagram will get gathered in monitoring projects with basically no delay!
All that being said, we strongly encourage you to pick up the hacker-like approach and think of the Facebook Armageddon as more of an opportunity to get creative than the end of the world. Take the chance to develop and make sure your Facebook time and money get well spent.