The final game of this year's (well, last year's) Euro tournament was understandably hotly anticipated. For England, it was the first time the championship title was within their grasp – and on home soil, no less! For Italy, it was the culmination of an almost unheard of winning streak: 33 games!
The emotions were high and keenly felt in the buildup to the final game of the Euro. How did that translate into social listening results? Who tweeted the most? We decided to go on a little fact-finding mission after the dust settled and the winner was declared. Here's what we learned.
Twitter: where results are made
As with our summary of June's Euro discussions from our monthly digest, we focused our social listening efforts primarily on the official hashtag created for the purpose by UEFA. This means our results were heavily skewed towards Twitter. How much is "heavily"? Well, see for yourself: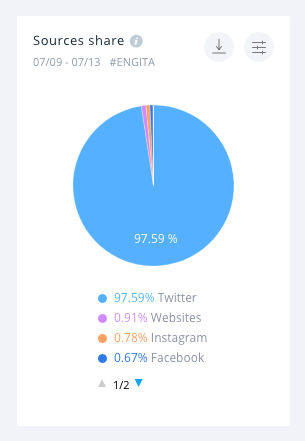 For all intents and purposes, we can treat this analysis as exclusively focusing on Twitter, with only slight anomalies coming from other social media platforms. So, what is the data telling us?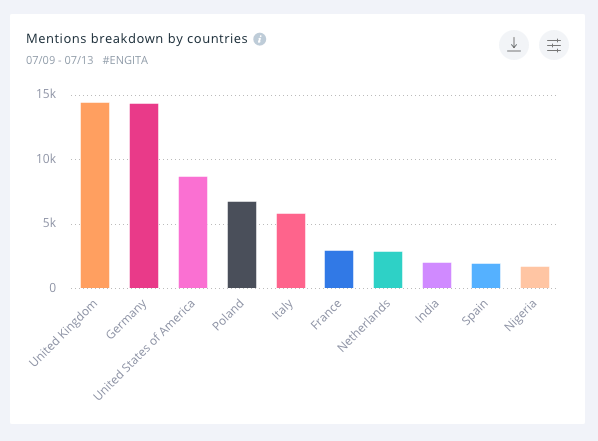 England and Germany are almost neck-in-neck when it comes to tweeting about the match. Weirdly enough, Italy is in fifth place, behind even the United States of America – not exactly famous for their enthusiasm for actual football.

Let's focus on the two main stars, though: England and Italy. How did the two countries compare tweet-wise?
England's top tweet belonged to Manchester United, who were hyping up their defender, Luke Shaw, and for good reason! Two minutes into the match Shaw scored a fantastic goal for England!
— Manchester United (@ManUtd) July 11, 2021
Italy's top tweet award goes to rapper and influencer Fedez, who posted this meme after the dust had settled on the match.
Mattarella attiviamo il piano! 💚🤍❤️ #inghilterraitalia #Euro2020Final #ENGITA pic.twitter.com/OZ8j3UdsbX

— Fedez (@Fedez) July 11, 2021
In the leadup to the match, a small social media rivalry formed between fans of the two teams. #ItsComingHome was the hashtag adopted by English fans who were convinced this year's trophy would end up in the hands of their national team. In response, the #ItsGoingToRome and #ItsComingToRome hashtags were created by users who supported the Italians. Who was more enthusiastic about their team?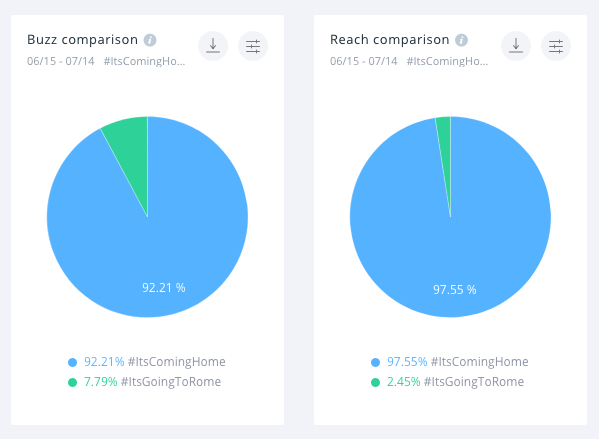 Don't worry, England – you may have lost the penalties shootout, but you reign supreme on Twitter.
Finally – the memes. Call me biased, but in my opinion no brand has capitalised on the final better than this amazing creation by the Royal Mail:
😢#Euro2020 pic.twitter.com/8fyW09pXzm

— Royal Mail (@RoyalMail) July 11, 2021