Online Trends
Elon Musk's Twitter Takeover — What You Need to Know
It's been a tumultuous week for social media. Elon Musk's Twitter takeover saga has finally concluded — the new boss is in, and he wasted no time introducing sweeping changes to the company. These, in turn, were met with a thunderous response from regular social media users and the broader business world.
But what happened after Musk bought Twitter? In this article, we're going to briefly sum up the events that led us to this point and everything that happened last week. We're also going to look at some of the reactions and what the changes mean for you.
Previously, on Elon Musk's Twitter takeover saga
The long and often confusing saga of Elon Musk's Twitter purchase began in January this year when he began purchasing shares in the company. In April, he revealed that he owned 9.2% of Twitter's stock, making him its largest shareholder. The news caused the stock price to surge, and the company responded by inviting him to join the board. He seemed to happily accept a seat — until he suddenly changed his mind.
Instead, he made an offer: he would purchase the company outright for $43 billion, at $54.20 per share, and take it private. To finance the acquisition, he secured several loans and put up a large chunk of his stock in Tesla.
Despite early reports that the deal would go through, in early May, Musk announced that the sale was on hold due to recent reports of a large volume of Twitter traffic consisting of bots. He threatened to back out of the deal unless Twitter clarified the situation— and that's when the seemingly endless back-and-forth began.
During this time, Twitter's stock continued fluctuating with every new news item. To complicate matters further, during this time, whistleblower Peiter Zatko came forward to report serious security flaws and oversights within the platform.
Then, Twitter decided enough was enough. On July 12th, the company sued Musk to force him to close the deal. Several months of struggles, subpoenas and renewed offers to buy the platform at a lower price followed before Musk finally gave in and agreed to move forward with the deal on its original terms.
Musk's Twitter takeover came into effect on October 28th, 2022. That's where our story truly begins.
So, what changed?
This is where it gets messy — so much happened in such a short time it can be difficult to tell where to start. We'll do our best to focus on the most important events of the past week in — roughly — chronological order.
The first steps
The first important thing took place before the acquisition closed. On October 20th, the Washington Post reported that one of Musk's primary goals was to downsize the company's staff massively. This caused strong reactions online as well as protests from current Twitter employees.
🚨 Exclusive: Twitter employees are circulating a letter protesting Elon Musk's plan to fire 75% of their workforce.

"We demand to be treated with dignity, and to not be treated as mere pawns in a game played by billionaires" it sayshttps://t.co/4KqkDxsvnL

— Billy Perrigo (@billyperrigo) October 24, 2022
Once the acquisition closed, Musk immediately went to work outlining his plans for the platform during several employee meetings. Then the layoffs began.
Is there a better summary of what's going on at Twitter than this? pic.twitter.com/4mpE5AvTx8

— Christian Christensen (@ChrChristensen) November 4, 2022
One of the very first things Musk did was dissolve the company's board of directors. He fired CEO Parag Agrawal, CFO Ned Segal and legal chief Vijaya Gadde, among numerous others. He then directed the remaining employees to start working longer hours to quickly deliver new features personally required by Musk, such as an overhaul of the company's verification system.
Revamping the blue check
Previously, the coveted blue check was reserved for people who confirmed their real-world identity with Twitter. This included political figures, celebrities, and journalists — people who wanted to ensure they wouldn't be impersonated on social media.
The new system allows everyone and anyone to pay $8 for a blue checkmark, with no verification necessary. Initially, Musk planned to require everybody currently verified to pay $20 per month to keep their checkmark, but overwhelming backlash led to that decision's reversal.
Instantly, chaos ensued — scores of accounts immediately started impersonating Elon Musk himself.
Twitter has permanently suspended YouTuber Ethan Klein, co-host of the popular show H3H3, for impersonating Elon Musk.

He joins comedian Kathy Griffin in the group of people who have been suspended for impersonating the new Twitter leader. pic.twitter.com/XTXPM3ljhj

— Pop Base (@PopBase) November 7, 2022
The mass layoffs — and the lawsuit
The real bombshell dropped on Friday, November 4th. Musk laid off an estimated 3,700 employees on that day, all within a space of hours. The firing happened across the board, with every single department losing a significant chunk of its workforce — those most affected included moderation personnel, including the entire Human Rights team.
Yesterday was my last day at Twitter: the entire Human Rights team has been cut from the company.

I am enormously proud of the work we did to implement the UN Guiding Principles on Business & Human Rights, to protect those at-risk in global conflicts & crises including Ethiopia,

— Shannon Raj Singh (@ShannonRSingh) November 4, 2022
At the same time, Musk announced that to save costs, he would cut Twitter's infrastructure spending. All told, he's looking to create $1 billion in annual savings. Currently, the company's most considerable expense is cloud hosting — and this is the area where the new leadership is looking to make the most significant cuts.
Many more things happened over the last week, but these are the most prominent events that shook the social media world. Let's talk about the reactions.
Social media reacts to the Twitter takeover
What drew the most attention were the firings. According to employment laws in California, where Twitter is based, mass layoffs require advance notice. Instantly, lawyers started calling on laid-off workers to join class-action lawsuits, one of which was filed on the same day as the firings.
Hey Twitter employees getting laid off tomorrow! IMPORTANT INFO from a CA employment attorney (me):

CA's "WARN" law requires Twitter to give you 60 days notice of a massive layoff.

A layoff of 50+ employees within a 30 day period qualifies.

I know you didn't get that notice.

— Lisa Bloom (@LisaBloom) November 4, 2022
Commenters also noted the timing — gutting the content moderation team and overhauling the verification system just days before a national election doesn't exactly inspire confidence in the new leadership.
just so were all clear, Musk is firing half of Twitter's staff, including huge swaths of their content moderation capability, four days before opening up identity-confirmation-free verification to the whole website which will happen…the day before a national election.

— nikki mccann ramírez (@NikkiMcR) November 4, 2022
Darker things started happening, too. Disinformation and hate speech have spiked since the acquisition. Musk himself didn't help things after sharing an unfounded conspiracy theory about the recent political attack on Nancy Pelosi's husband — for which he received widespread criticism.
You tweeted a conspiracy theory from a website less credible than the National Enquirer like four days ago. We all need to look inward as well as outward.

— Hank Green (@hankgreen) November 4, 2022
The mass firings and the spikes in racist and antisemitic rhetoric have led a coalition of civil society organisations to call Twitter's top 20 advertisers to boycott the company until it resolves the situation.
.@GLAAD will continue working with the #StopToxicTwitter coalition to educate brands that they are supporting a harmful platform that is out of step with its competitors. https://t.co/JROOAviAnv

— Sarah Kate Ellis (@sarahkateellis) November 4, 2022
The business world reacts, too
Speaking of the advertisers — they're the primary source of Twitter's revenue. In fact, advertising makes Twitter 85% of its money!
So when your advertisers start jumping ship, that's a Big Deal. That's something you need to deal with pronto. Advertisers began moving away from the platform the moment the Twitter takeover closed and the first issues with moderation and hate speech started.
As it turns out, brands don't like being linked with racist rhetoric — as it rises, advertisers back away. Previous incidents proved this fact repeatedly, with campaigns such as last year's #StopHateForProfit being the prime example.
Elon Musk made several calls with prominent businesses advertising on Twitter to reassure them that the platform remains committed to safety. Then he fired most of the site's moderation team. Top advertisers pointed that out on Twitter…
Elon, Great chat yesterday, As you heard overwhelmingly from senior advertisers on the call, the issue concerning us all is content moderation and its impact on BRAND SAFETY/SUITABILITY. You say you're committed to moderation, but you just laid off 75% of the moderation team!

— Lou Paskalis 🇺🇸 (@LouPas) November 4, 2022
…only to be blocked by the Chief Twit himself.
So for all the replies I received that content moderation = denial of freedom of speech (it doesn't),what do you say about the fact that the "chief twit" just blocked me for exercising mine? Yesterday, @elonmusk solicited ?s from marketers, today he's blocking those who ask them. pic.twitter.com/OrbteIv2vK

— Lou Paskalis 🇺🇸 (@LouPas) November 4, 2022
Subsequently, Musk reversed his position entirely. In a tweet, he publicly considered whether the company should conduct a "thermonuclear name and shame" on advertisers who left Twitter.
Relations between the wider business world and Musk remain extremely tense as of this writing. The fallout from his Twitter takeover spilt over to his other ventures, too — right now, Tesla stock is at its lowest point in 18 months.
Twitter's hate speech problem — and why it matters
Let's consider the hate speech question some more — it's more important than most people realise. Online hate speech is a direct predecessor to real-world violence. Bad actors have subverted social media sites to radicalise vulnerable people for decades.
We've seen this happen repeatedly — most recently, far-right conspiracy theories led to the January 6th, 2021 attack on the United States Capitol.
Twitter is no stranger to hosting extremist content. Earlier in the year, the company was in the news spotlight @libsoftiktok's posts have led to bomb threats sent to a children's hospital in Boston.
The hateful rhetoric spread on social media directly leads to real-world violence. Continued attacks on the LGBTQ+ community led to meteoric rises in real-world hate crimes. Kanye West's "death con 3" tweet directly lead to an increase in antisemitic violence, with the New Jersey branch of the FBI directing synagogue attendees to stay away from places of worship.
The FBI has received credible information of a broad threat to synagogues in NJ. We ask at this time that you take all security precautions to protect your community and facility. We will share more information as soon as we can. Stay alert. In case of emergency call police. pic.twitter.com/e64XSmQvNc

— FBI Newark (@FBINewark) November 3, 2022
The Twitter takeover saga is happening right before the United States midterm elections — elections in which political violence from the far right is on full display. Already, a democratic candidate was assaulted, a QAnon adherent assaulted Nancy Pelosi's husband in his home, and election workers across the country are receiving threats.
This is a crucial context which we can't ignore. Whether intentionally or not, Elon Musk's actions following the Twitter takeover have contributed to the real-world turmoil and violence permeating the current US political climate. "Free speech absolutism" is a phrase often used to describe Musk's beliefs. We are currently seeing what it looks like in practice. In the name of "free speech", hateful rhetoric and conspiracy theories are spreading like wildfire on Twitter, with nobody to keep it in check.
What the Twitter takeover means for SentiOne users
Right now, it's hard to tell what impact the Twitter takeover will have on SentiOne users. We receive our data directly from Twitter's API — and we're keeping a close eye on the situation to ensure that our services remain uninterrupted.
For everyday Twitter users, the situation is slightly different. If Elon Musk continues on his present course — downsizing infrastructure and the workforce — then access to the service might be difficult. We could even see the ever-elusive Fail Whale again!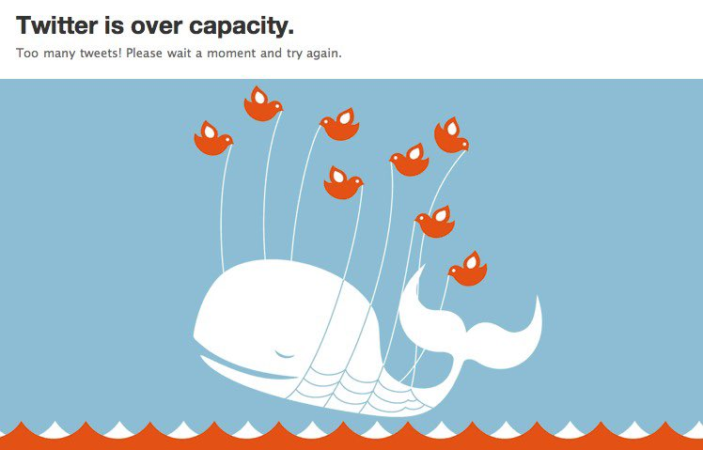 In the longer term, Musk will be forced to find different revenue sources if advertisers continue to leave the site. Already, he's holding discussions over whether he should put the entire platform behind a paywall. Additionally, there's the question of Twitter's technical debt — which needs to be managed by qualified staff. Unfortunately, the people best suited for the job were recently fired — and those who remained are already sounding alarm bells.
These are the proverbial "interesting times". Nobody can predict what will happen next to Twitter as a platform — but rest assured, we are keeping a watchful eye on new developments.