All
EasyJet – we got your back! Lessons learnt from EasyJet social media crisis.
Internet is an interesting space. On one hand, brands can use it to increase brand awareness and build engaged and loyal communities. On the other hand – it takes only one unfortunate mistake and the engaged community turns into a panel of critical judges using the Internet to spread negative word of mouth. Sometimes it slips out of control and turns into a classic social media crisis that went viral. Recent example? Tweet of EasyJet's passenger that sat on a backless seat. You can imagine the joy of online commentators: EasyJet's saving money, low-cost airline to the next level, post-Brexit cost-cutting, safety second, stools instead of seats, etc.… Don't get me wrong – PR mistakes, tired brand managers, unfortunate reactions can happen to anyone – we are all humans after all. However, we can always look into ways to protect ourselves from potential backlash, mitigate the risks and if the crisis is unavoidable – handle it gracefully. Let's review some lessons we can learn from EasyJet.
How did the backless crisis start?
Everything started on 6th August when Matthew Harris tweeted a picture of a fellow traveler on a faulty seat – allegedly one passenger was given a "backless" seat on a busy EasyJet flight from Luton to Geneva. In reality, no passenger's safety was compromised, no one traveled on a faulty chair – once the boarding was completed the stewardess moved the unlucky passenger to a proper seat. Unfortunately, this crucial fact was almost removed from social media debate and the tweet went viral gathering quite an audience.
#easyjet beats @Ryanair to have backless seats. @IATA @EASA this is flight 2021 Luton to Geneva. How can this be allowed. @GeneveAeroport @easyJet_press @easyJet pic.twitter.com/EthMoWRR8P

— Matthew Harris (@mattiasharris) 6 August 2019
Below you can find statistics from social listening tool SentiOne, which shows the peak of mentions on the day of crisis. EasyJet has just received more than a month's worth of social media mentions in one day: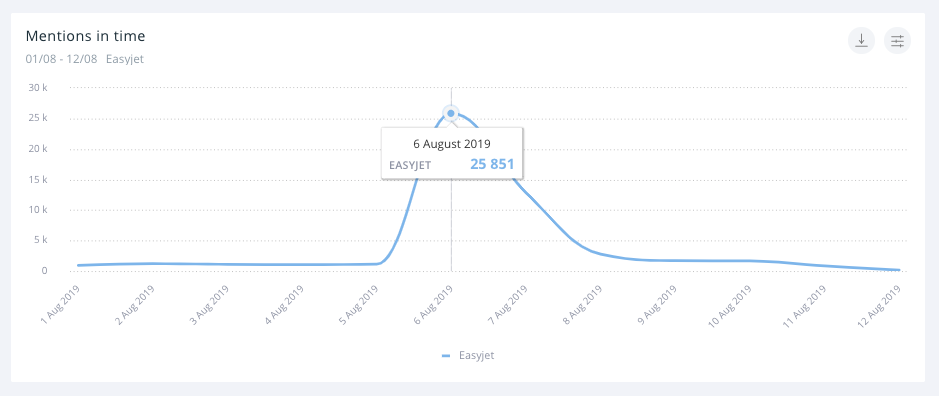 Majority of mentions were posted on Twitter.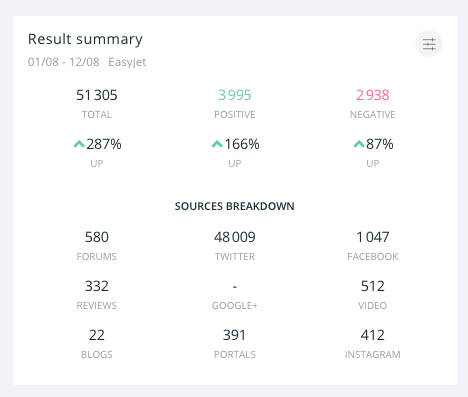 Why did the tweet go viral?
Since no one got hurt and no one traveled on the backless seat – where is the crisis coming from? Well, as the history of social media crisis showed in the past – crises emerge when there is no reply from the brand, or when the reply is completely missed. And the latter is the case of EasyJet. In the middle of backless seat jokes, Ross – customer service agent of EasyJet – kindly asked for the picture to be removed from social media. You can imagine how the people of the Internet react to censorship – with the more escalated crisis. The reason to go viral was not the picture of a funny seat, it was the poor reaction of the company. By asking to hide the picture, they gave customers the impression that there might be more to hide. The result is that rather than taking control it has well and truly lost control.
EasyJet backless crisis – what could have been done better.
As a brand never ask to sweep the issue under the rug
Trying to censor anything on social media is causing more damage than simply trying to resolve the issue. There is no reason to hide the issue or pretend the tweet never happened as "the customer is always right". For EasyJet, it was crucial to verify the issue quickly, as the passengers' safety is involved. The milk is spilled already, the first step is to acknowledge it, the second step is to prevent further damage. Hiding looks suspicious, you do not have the luxury to be suspicious if you are in the airline industry.

Hi Matthew, thanks for bringing this to our attention, before we can investigate this could I ask you to remove the photograph & then DM us more info regarding this, so we can best assist you. Ross https://t.co/Qq2zhBAizh

— easyJet (@easyJet) August 6, 2019

Keep one person responding to the thread
It is great to show that there is a real person behind the brand, but it will be even more appreciated, when the person who followed up on the first tweet, would also be the one to resolve the issue. For simplicity and reliability in communication, we need one point of contact that we can rely on. It builds more trust to keep one person as "face" of the conversation. In the case of EasyJet sometimes we were dealing with Ross and other times with Dan.

I have the following update: No passengers were permitted to sit in these seats as they were inoperative awaiting repair. Safety is our highest priority and easyJet operates its fleet of aircraft in strict compliance with all safety guidelines. – Dan

— easyJet (@easyJet) August 6, 2019

Be prepared to follow up with media – FAST
If you work in the PR department you should monitor the rising number of mentions of your brand, retweets of your account and the growing reach of the story. Then you can quickly realise that you have reached the snowball effect and the story will damage your brand reputation pretty soon. If you see that things escalated quickly and several journalists engaged with the thread, it's a great opportunity to follow up with the media and tell the EasyJet side of the story. It is better to be proactive rather than reactive as the famous tweet was featured in Forbes, CNN and the majority of PR news portals.

Is it a good idea for @easyJet to ask for the photo to be removed? Let us know your thoughts, #PR people https://t.co/7xs2Gjf6X5

— PRWeek UK (@prweekuknews) August 6, 2019

Apologize and show that you care.
It's not a golden rule to apologize in every situation, as there are social media users, who overuse brand courtesy. However, brands should at least addressed that they have caused some discomfort, the lost trust of many passengers and it will be in good taste to deal with it gracefully. Although EasyJet responded quite quickly there was no apology for the passenger on the backless seat. Shall they offer them a free ticket on the next flight? Free access to business lounge – where they have many seats with back support? There is always an opportunity to showcase the best customer experience.
How to keep your social media & customer service team ready for such crisis?
Equip your team with social media monitoring to be alerted whenever some anomalies happen
There are over 500 million tweets sent each day, you cannot control them unless you have a proper tool to do it for you. With SentiOne anomalies detection you'll get an alert whenever something unusual happens.
Have a social media crisis strategy in place.
You may never use it, but there are high chances you'll need it. Good crisis strategy includes communication guidelines for different departments, do's & don'ts, "to be notified" list and templates and examples. However, the best social teams are beyond just templates and know how to keep the brand voice consistent and with a personal touch, even in the case of a crisis.

Have an approval workflow, which works fast.
In case of a major issue, you'll need decision-makers, as it may include PR, legal or even management consultancy. Whatever you need – make sure the facts are gathered properly and decisions are made fast.
Involve your PR team right away.
Social media are one side of the story, but if the crisis evolves and journalists got interested it's wise to manage your communication on multiple fronts.
Whenever issue evolves, keep your engagement to the minimum – know your story, verify it quickly, acknowledge what you have to, but it's better to limit the damage with the press, where it will live longer.
Keep the list of "potential crises" up to date
Universal guidelines are good, but as a brand, you are capable to predict potential "hot topics" and brainstorm the responses any time, so you'll be ready when the actual issue happens.
Resolve the issue, where the real problem is.
The real problem is that EasyJet cannot repair their seats fast enough and assigned such seat the "lucky" passenger. For sure the costs of compensation for "overbooking" are much cheaper than flight cancellation for everybody, but it will be worth to make sure seats got the upgrade they need.
In the end, nobody sat on the "backless" seat and it was never intended to, however the issue went viral and there was some brand damage. Some brands even got the advantage of real-time marketing and continued the story of the 'backless seat'.
Hey @easyJet we love your funky new backless seats… possible uniform upgrade to compliment? ? #EasyJet #BacklessBoarding pic.twitter.com/CGta2PBK4D

— ASOS (@ASOS) 6 August 2019
Atleast our seats are designed to not have their backs on them… and ours are 20% off… Just saying #easyjet pic.twitter.com/InbmlVL8sI

— Footstools Direct (@footstooldirect) August 6, 2019