Though 2017 has ended almost 3 months ago, we kept our ear to the ground to provide you a summary of all the data you've been waiting for: which industry gained the biggest online attention in 2017? What brand had the most buzz? Which topics attracted women the most and which were typical for masculine discussions? Read below!
Which industry won internauts' attention in 2017?

In 2017 the most popular category turned out to be Automotive, gaining 45.4% of overall users' engagement, outrunning Consumer Electronics by almost 10 percent. The distance between Automotive and Fashion category might be a bit surprising, regarding the amount of popular influencers engaged in fashion industry, but on the other hand… who wouldn't appreciate this kind of advertisement?
Which industry was the most likeable last year, and which generated the biggest amount of negative mentions? You can find the answers for such questions in full version of our report.
The buzziest bee in the beehive of 2017
What is buzz? Buzz can be anything that creates hype, thrill, that simply gets people excited! In terms of our report, buzz marks the "it" brands, the ones who are "en vogue", those who are considered as the must-haves among internauts. Who won this category in 2017?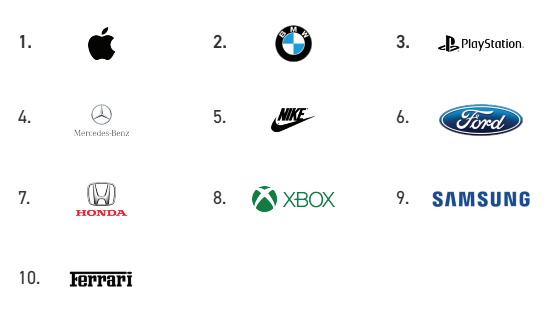 Internauts certainly have good vibes about taking selfies with Apple devices, driving BMW and spending free time either playing video games or pushing their bodies beyond limits – according to many, "just do it" slogan is not a cliche, but a serious call to action that really works!
What a girl wants, what a girl needs
What do women mostly talk about online? It turns out that they dominate fashion and household electronics topics, having 53% of all the online mentions. Girls flood the discussions concerning lingerie and jewellery brands. Which ones gained the most sympathy and attention? Check it in our full report!
When it comes to men, they definitely lead in automotive and consumer electronics categories, and their discussions vary from car brands up to gaming consoles or computers. They mostly discuss about BMW and Apple, making them the leaders in their categories. Will it change next year?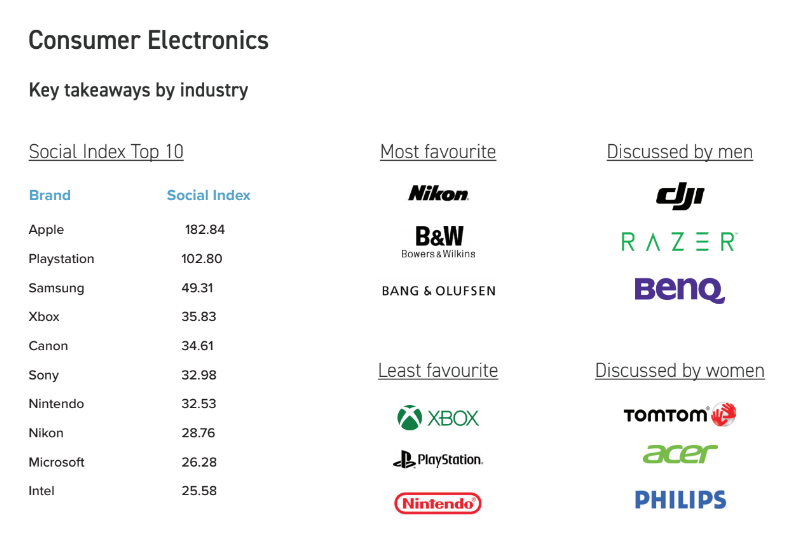 Are you curious about other categories? What brands won in Household Electronics category? And finally, what's the Top 100 of Social Index 2017? Is your brand on the list? Check our website and satisfy your curiosity!
When calculating the Social Index, the following factors were taken into consideration: number of positive, negative and neutral mentions, as well as the level of discussion intensity. The presented data correspond to the opinions of Internet users. Financial and business measures were not taken into account.
Thanks to social media listening you can hear billions of internet users around the world. You can compare your results with competitors or all industry according to your needs!
Sounds interesting? Write us – daniel@sentione.com