You don't have to look too hard to find the presence of chatbots (or AI automation) in everyday life. They help us get directions from one place to another, assist with buying decisions on websites, or help us find the answer to questions on our phones. But chatbots have more professional and practical applications in the world of business. 
Chatbots assist with completing repetitive tasks, help with customer service and support, track various activities, schedule events, etc. They are especially useful in the logistics sector and supply chain management where shipping, tracking, and delivery are the keys to their success and survival. 
What are Chatbots?
While chatbots seem like they are something out of science fiction, they are, for the most part, simpler than that. They are basically pieces of software written to mimic and interpret human conversation.  That means people then can interact with devices and applications as if they were talking to or with other people.
Chatbots can perform simple tasks, such as answering basic questions or looking up information, much like those that live on your phone or in your web browser. They use Natural Language Processing (NPL), but their responses are not in-depth. These chatbots are known as Task Oriented Chatbots. 
There are also chatbots known as digital assistants.  They are more complex and can learn from various data inputs based on NPL and Machine Learning (ML). These chatbots are called Data Driven and Predictive and use predictive intelligence and analytics to personalize responses to user behavior. Over time, they can make recommendations, foresee someone's potential needs, and even start a conversation without the need for a prompt.
How Do Chatbots Learn About Logistics?
When chatbots are merged with a company's servers and customer service system, it's easy to assume they are ready to go to work. Unfortunately, that's not the case. In order for chatbots to be effective, they have to be fed data. That data can come from lots of sources but primarily from these areas:
Emails, websites, and social media.

Transcriptions and text from customer interactions.

Transcriptions and data from customer support.

Server data about your company and the businesses you work with.
And it follows that the more data that is fed to chatbots, the more intelligent, responsive, and effective they will become. That's why when chatbots are used in logistics, they can be an essential assistant in customer service. They can help in the following situations.
Improve booking of customer orders

Processing of orders

Shipments (both sending, tracking, and delivery)

Customs clearance
For instance, AI chatbots in logistics check inventory for a proposed shipment to validate its availability, then send a booking confirmation.  For customs concerns, a chatbot messages logistics about a shipment and customer details. It then checks and verifies the customer's profile and sends a clearance.
Use Cases and Benefits of Ai Chatbots in Logistics 
Once chatbots have been trained on logistics and supply management data, they can perform various tasks and duties usually left to humans.  In fact, AI chatbots can even assist a small logistics operation staff that may be overburdened to be more efficient.  The AI, for instance, accounts for weather, routes, and forecasting, which are all important for logistics operations, and makes recommendations via predictive analytics. To get a general overview of how chatbots can improve a logistics and supply management operation, see the illustration below.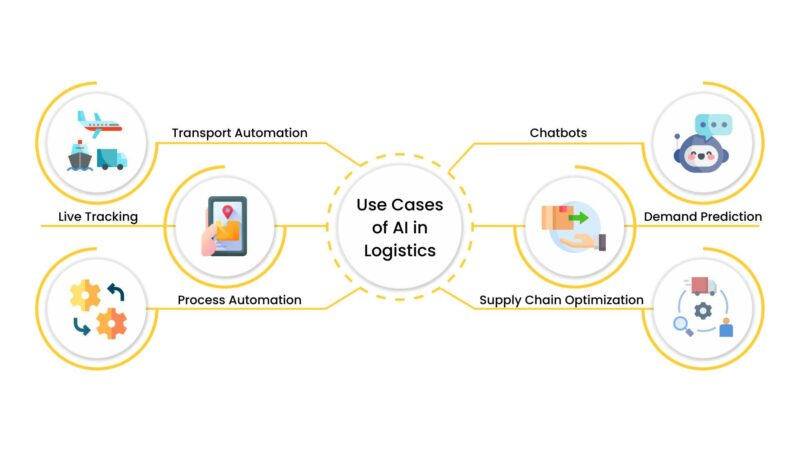 Machine learning built into supply chain apps can also schedule appointment times and predict average wait time along with estimated time for arrival (ETA) for shipments based on location and day.  Other possible use cases for the implementation of chatbots in logistics and supply chain management are as follows.
Delivery requests

Tracking shipments

Predictive analytics based on data to predict future trends and events.

Automated robots for smart management of operations in warehouses
That can sort, move, and track inventory.
Self-driving cars for getting shipments to destinations faster.

Supply chain automation.
Other beneficial aspects of using chatbots in logistics are enhanced customer service, customer personalization, and product recommendation.  Resource management and product inspection can also be improved so damage to products, such as fresh goods, can be avoided.
The Cons of Chatbot Use in Logistics
While many companies only see the plus side of using chatbots, customers who are forced to confront them in customer service and other situations don't like them. When asked, customers responded by stating chatbots are impersonal and detract from staying loyal to a brand. They think chatbots lack "sophistication and empathy" and would much prefer to talk with a real person.
Based on a survey about chatbot use in customer service situations, only 34% of respondents said they would be comfortable interacting with AI agents.  This response is not industry-specific either, many customers feel a company must not care for them if it is using automation to respond to their questions and requests.  This response is shown in the graph below.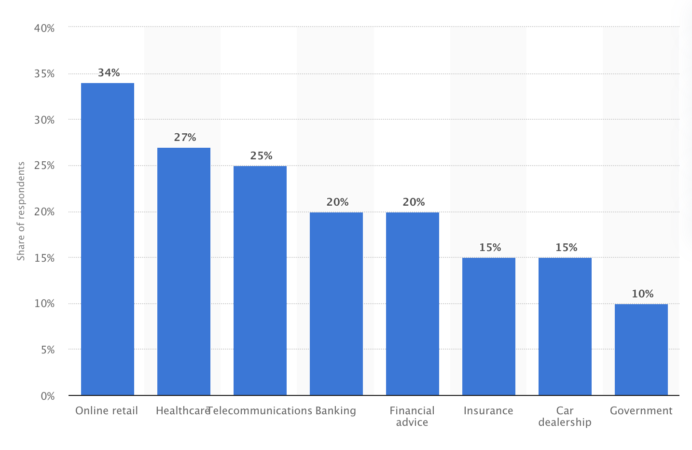 Overall, the major reasons customers find AI chatbots insufficient are numerous.  These reasons can also apply to their use in logistics and supply chain management.
They don't always understand human speech or speech patterns.

They are impersonal.

The likelihood for misinterpretation.

Steady attention is needed to maintain them. AI has several moving parts and pieces to observe, maintain, and update as shown in the graph above.

High cost to implement.

Limited functionality.  Chatbots are only as smart as the data they can access. 

Loss of customer feedback

AI doesn't work in every type of business setting.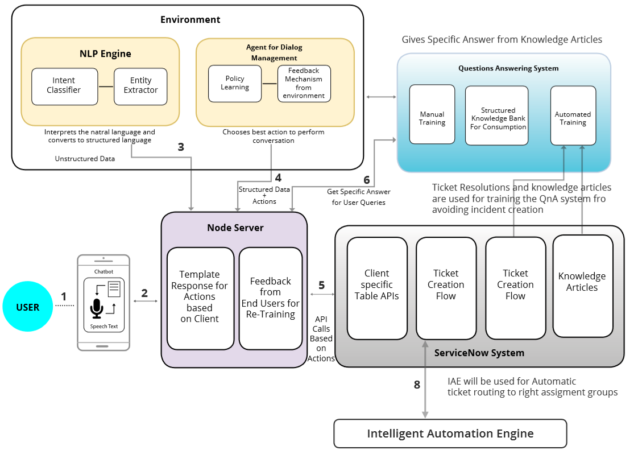 As far as logistics and supply chain management goes, customers feel chatbots also fail to work well because of these factors.
Lack of experience.

AI still needs human assistance at times.

Hard to detect the errors chatbots make.

Security issues and Cybercrime. The management of large amounts of data that can contain sensitive customer information requires the implementation of quality and robust security systems.

Implementation may require company-wide modifications.
Examples of AI Chatbots at Work in Logistics
Based on a survey taken six years ago, logistics companies stated that 6,500 hours of productivity were lost due to staff being occupied with daily busy work. These are tasks like processing papers, modifying purchase orders, and responding to supplier questions. All tasks that AI and chatbots could handle easily.
While implementing AI and chatbots into a company is not a perfect solution to increase productivity, they can help in these logistics and supply chain management areas.
Operational procurement

Supply chain planning and forecasting

Warehouse management

Quick and accurate shipping 

Optimal supplier selection
Here is a list of 15 logistics companies that have successfully implemented and are using AI in their businesses. 
Coupa

Epicor

Echo Global Logistics

LivePerson

Infor

Covariant

Zebra Technologies

HAVI

C3 AI

Symbotic
Many of these companies have been in business for a long time, one company since 1969.  So, while investing in these newer technologies is always risky, Zebra Technologies is having great success.  
Based in Lincolnshire, IL in the United States, the company uses AI for its logistics and supply chain management.  AI assists it in optimizing its loading process so that less air is shipped, which reduces its operating costs. AI also helps Zebra Technologies with faster parcel processing and reduced damage and loss. Most importantly, AI improves worker safety.
Conclusion
True, AI and chatbots may have a few issues. But for the most part, these technologies are helping logistics and supply chain management companies streamline their operations and become more efficient. As time goes by, updates will only bring more improvements and make AI and chatbots more intelligent.  That means that maybe humans can place more responsibility on their AI and chatbots and interact and monitor them less.