All
Chatbots and artificial intelligence in business. Where are we really?
Bots, chatbots, robots – whatever we call them, conversations in which there is no human on the other side but artificial intelligence instead, are more and more present in our daily lives. The future is now, as a wise man said.
At what stage of the general development of artificial intelligence are we right now? Is it possible, and if so, when the machines will run all the customer support? How exactly does the creation of an online customer service bot look like?
Artificial intelligence is, without doubt, a crucial part of modern business. The potential of machine learning makes the vision of implementing AI into organisation structure somehow seems tempting to most entrepreneurs, especially when it comes to customer service.
According to Gartner, by 2020 until 85% of customer service activities will not require human interaction – which means that bots will take over a vast majority of recurrent processes. Today, it is only natural for us – just think about shopping online. How do we do it? Browsing models and sizes on the website, comparing prices, and quick online payments.
The example above is a simple shopping process not including any questions or additional comments from the customer. However, even if issues arise, bots turn out to be more and more of a help. They are getting more and more popular in online customer service.
Why bots in online customer service?
Because client support processes (questions, complaints, suggestions) are repeatable and can be defined in a certain structure. A nicely designed AI bot is able to learn them easily and then recreate on a scale and with a speed exceeding human capabilities by thousands of times.
For example, questions asked on the internet about ATMs usually sound very similar:


As soon as we teach the bots natural language processing (in other words, when they can recognise the meaning of words and synonyms in common language), they will be able to answer such questions. Both in public channels as well as addressed directly on brand's social media, e.g. by messenger or on-site chat. The key to success is to make the bot understand the intentions correctly. Considering the specifics of many languages and different ways of expression (such as idioms or sarcasm, which sometimes confuse even humans), this is difficult but of course feasible. A task we, as SentiOne, have been successfully working on for a few months now.
Text channels are the key focus point for online customer service
In 2015, there were more instant messenger apps users than social networks users globally. And applications like Facebook Messenger or WhatsApp are developing very dynamically, often being the first choice, leaving behind older technologies like telephones. It turns out we use message apps more often not only when reaching out to a friend but also to the companies' client service. Not to mention the Chinese WeChat, which combines both communication and social functions, as well as shopping and payment functions – all using bots. Bots are also more and more popular at Messenger – last year IBM reported that there were 34,000 accounts with automated answers set on the chat channel.
Bots are applicable not only to communication with the client but basically every area of life. In order to understand exactly at least the basics of how it is that bots find themselves useful in reality and are able to learn it, you can watch this video:
It was the development of deep learning technology and information processed by machines that made 90% of the data humanity produced in the last two years. Knowing this and willing to optimise costs, 30% of companies from the B2B sector admit that by 2020 they will implement artificial intelligence in the sales processes.
How do we know that the bot industry is peaking?
In SentiOne on our day to day basis – apart from developing the online listening and customer management platform – we build intelligent bots for client service. There are companies from the financial sector already using our solutions. Together with our clients, we have been exploring the topic for many months, working and developing the second generation of customer support chatbots: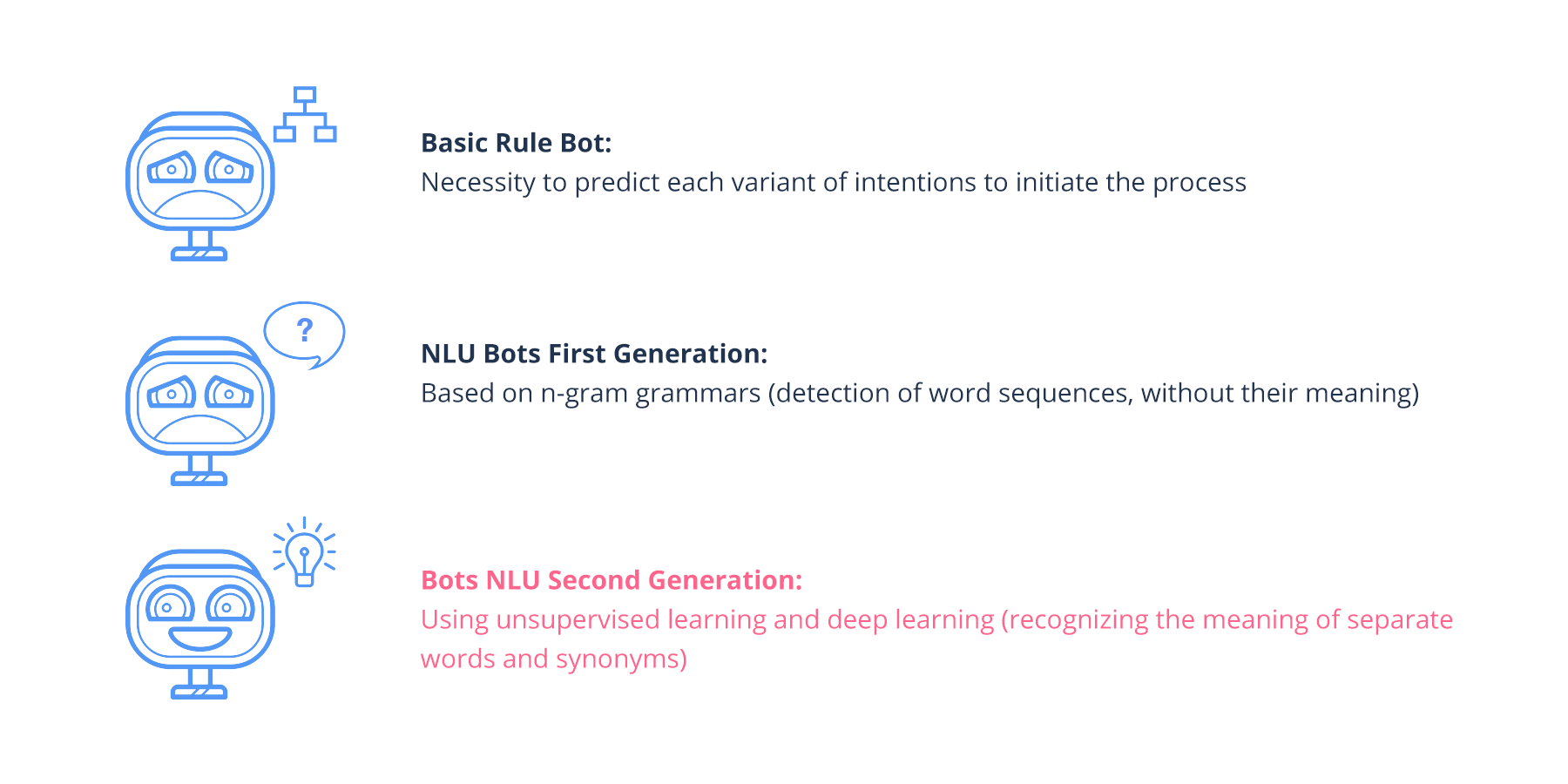 Intrigued? We are happy to answer all your questions.