Inside SentiOne
It's Black Friyay Time
Black Friday is originally from the US and is an american tradition for years. Every year it marks the beginning of the Christmas business. But the trend has longarrived in Europe many years ago. With its extra-long opening hours and extreme discounts, Black Friday has become one of the most important shopping days on our continent.
The origins of Black Friday go back to the 1960s, when a discount promotion was launched in Philadelphia. The sources disagree on where the name BlackFriday ultimately comes from: is it the large number of buying people who look like a big black mass on the street that day, or is it the black numbers that traders write when Black Friday is over?
However, it is clear that Black Friday always takes place on the fourth Thursday in November and follows Thanksgiving. In the US, Black Friday is a day of rest, and many Americans take it as an opportunity to get their Christmas presents. For this reason, the big retail chains open their doors the night before or at midnight. Nevertheless, there are always long queues and tumultuous scenes when it comes to the best bargains.
In recent years, Black Friday has also established itself in the European market. The day of action is boosting German m-commerce in apps even more than in the US.

Online mentions about Black Friday generated by Sentione from the last three years
A survey commissioned by mydealz.de shows that in Germany, six out of ten Germans want to shop that day. Almost 90 percent of female respondents know that Black Friday has something to do with shopping. After all Overall, 88.6 % of male respondents are male.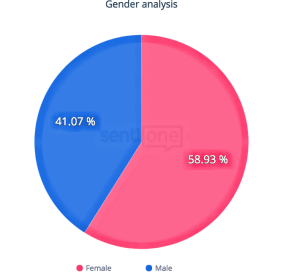 More women than men talk about Black Friday on the internet
Differences are also evident in the comparison with the other four largest economic nations in Europe: As far as the reputation of Black Friday is concerned, Germany ranks only in penultimate place. Less well known is the Black Friday in France: "Only" 88.57 % of the French know the Black Friday. In contrast, the shopping event is more widespread in Italy (94.85 %) and Spain (96.62 %). In the UK, Black Friday has the longest tradition in Europe, which, unsurprisingly, has the highest profile: 98.35 % of the British know the shopping event, which is taking place on the island for the fifteenth time this year.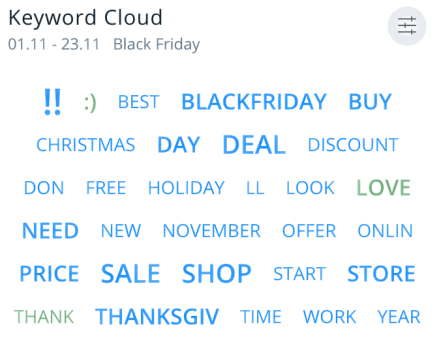 SentiOne shows the most frequently words mentioned in connection with Black Friday
It's Black Friyay Time
Yes, you read correctly. We from SentiOne asked us why you should get a discount on Black Friday only on electronic devices, fashion and furniture and what is actually about Cyber Monday? For this reason SentiOne created Black Friyay – a mix of Black Friday and Cyber Monday. That's why we offer you a special deal. Those who decide between Black Friday and Cyber Monday to buy the Personal or Team program online receive 20 % off from the monthly and 40 % off from the annual payments. This offer is valid only on Friday, 24th November 2017 (9am) till Monday, 27th November 2017 (11.59pm) and online only. Please note, if you want to take advantage of this offer you should contact our customer service as it is not possible to make this upgrade automatically!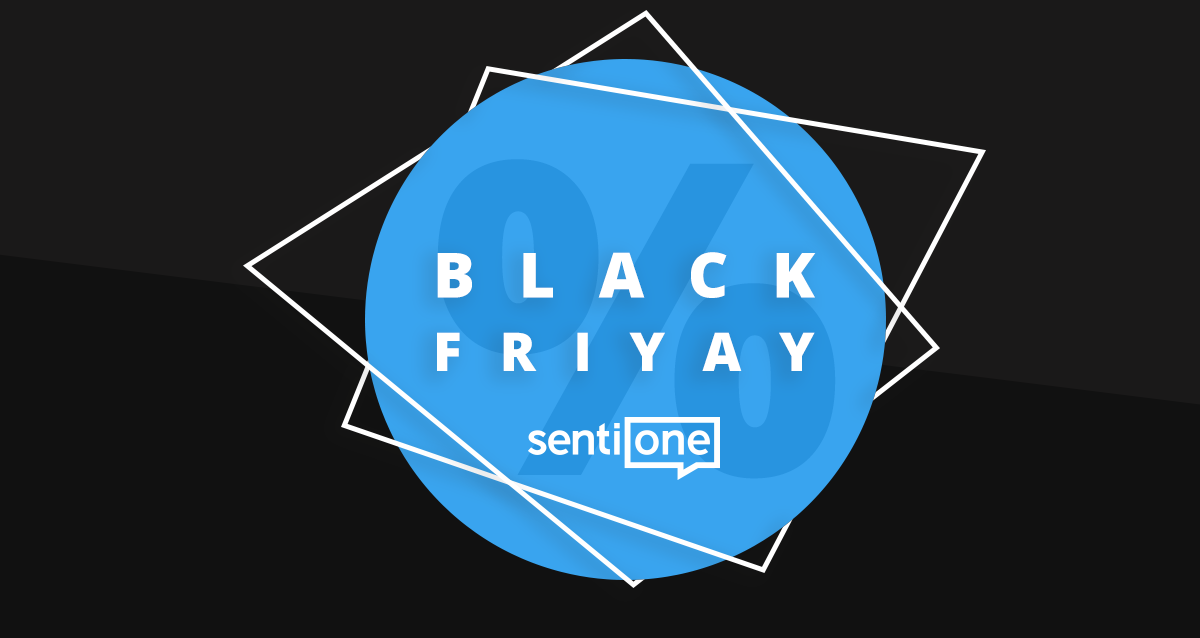 Terms​ ​and​ ​Conditions​ ​of​ ​the​ ​SentiOne's​ ​'Promo​ ​Weekend'​ ​Promotion