All
Barbiecore your own marketing? AKA The Barbie Movie Marketing Magic
We're all in a Barbie World this summer.
Everywhere you look and scroll, there's another meme, video, photo, even AI rendering machines, reminding you of Barbie. There are templates to copy, trends to mimic, and pink to splash everywhere. The Barbie movie marketing team continuously increased the hype, and there's a reason behind the sheer volume of posts with people wearing pink and vivid colors. 
Even though most (OK, all) of us don't have the budget behind the Barbie movie, we can still take some insights and benefit by applying similar logic. 
Briefly, here's how the Barbie movie marketing magic happened in a way normal marketers can benefit: 
Understand and relate to the audience (social listening is a huge help here)

Create a coherent, detailed campaign plan (it didn't just happen spontaneously)

Build tension and excitement (start to hint at what's to come) 

Reveal exciting pieces bit by bit (slowly peel back the layers) 

Incorporate user-generated content (find your own easily recreatable template)

Engage and interact (make cool comments, repost content) 
Plenty of movies have huge marketing budgets. There is so much more to marketing than that, and this year-long campaign was meticulously planned and crafted. Yet it also was led by ingenuity and simplicity, with plenty of lessons to be learned and applied by the marketing world at large.
Both the Barbie brand and Barbie movie were in a unique position to market like no one has before. Sure, some of their tactics might not be repeatable by everyone, but that misses the point. Even with their stature, Barbie and Mattel could have messed this whole thing up, and not fully capitalized on the opportunity.
If your brand or product doesn't have much or any history just yet, that's OK. Utilizing social listening tools allows any marketing team to better understand the audience, market, current trends. Plus, what people are really interested in, how, where, and why they interact and engage. Also, knowing the best practices and relevant successful tactics on social media and the web give a path that's available for anyone. 
Marvel at the reach the Barbie marketing team has created. 
Fun for everyone! Barbie marketing activities 
There are more than 100 Barbie marketing tie-ins, collaborations, and cooperations. While there is a viral, organic appeal to this all, there is also a grand plan in place. 
It's big boost to have major movie stars such as Margot Robbie and Ryan Gosling in the film and involved promoting the Barbie movie, but they've also been in on the viral marketing act.
Josh Goldstine, president of worldwide marketing at Warner Bros, said they tapped into the culture of Barbie, and people wanting something to celebrate during the summer movie season. 


"Everyone started wearing pink. All these outside brands came and wanted to partner with us. But that wasn't because we spent so much more than a normal movie. It's because the movie spoke to the culture," he said in an interview with The Guardian.
The best viral marketing campaigns right now feature memeable content, and templates (or even photos) that people can edit, insert themselves into, and create humor and storylines around. 
There was a clear branding strategy, a tone, and a visual voice to every single thing. The marketing by Warner Bros. and Mattel was personable, relatable, adding a human side to everything, which gave the movie a personal touch. The people behind-the-scenes and on screen engaged as well, including director Gretta Gerwig. 
Encouraging your team to naturally be a part of the fun by making it engaging and enjoyable can go a long way to creating successful viral marketing campaigns. 
The role and impact of campaigns
Even those unaffiliated with Barbie, Mattel, or Warner Bros. have found ways to capitalize off the sheer popularity and force of the film and marketing campaign. Brands can simply use pink, or write an article about the movie (heyo!), or even create something that is parallel to it without being affiliated.
Vibrant, vivid imagery
There was a clear understanding of viral marketing trends by the Barbie marketing crew. The first images released were of  Margot Robbie and Ryan Gosling rollerblading in Venice Beach. That didn't inform one bit of what the movie was actually about, but led to reactions galore, and set the tone for the movie as an identity, a culture, a phenomenon.
The writing was on the pink wall, it was time to deploy even more usable content for people to take and make their own.
Not every brand needs to go so big and bright. The crucial aspect of this campaign that can be repeated is to knowing what the campaign is about, and setting a tone. Too much social content isn't planned far enough in advance to demonstrate a cohesive branding strategy.
Make your own custom "Barbie" poster website
There's nothing complicated or complex here. They understood the audience, and what would appeal to people on a larger scale. People still love making memes. It gave people a chic, sleek, simple palate they could embed their own images and thoughts on, spoof, or even make social commentary out of it. The sharing exploded.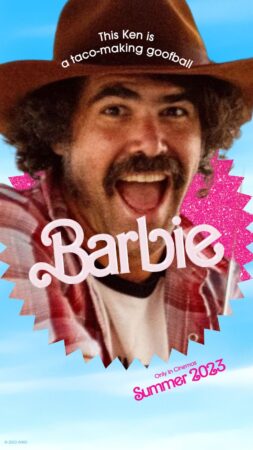 The aim and execution were straightforward, and nearly the whole world ran with it to create a viral marketing phenomenon. 
It was the most direct-indirect marketing possible — an insertion into people's daily lives and habits that reminds them that Barbie is all the buzz, and you're missing out if you're not participating.
This could be replicated — find a common, relatable thread your product or brand has that people could latch on to. Test it out internally, and tinker with it. Then, don't overcrowd the template or photo, leave open space for people to type on, to remove a piece and/or insert themselves. 
Be Barbie, or Ken 
This takes the meme a step further. The marketing team put life-sized boxes in different locations, including in cinema lobbies, so people could step into them and snap a photo. One they're likely to share online, which increases the desire to replicate that user-generated content yourself.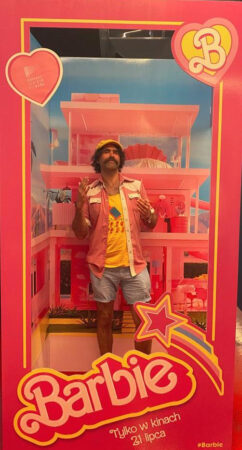 AI brings life in plastic to life
Take a look at bairbie.me for instance — it combines the rising influence of AI, and let's you make yourself into "everyone's favorite doll." 
They even have a disclaimer on the page that says
"This site was not created or approved by Barbie, Mattel, or anyone affiliated with them. It is dope though." 
It also subtly promotes the company behind it, Rvnway, with a clear example of what they can do. I had never heard of Rvnway before, but now I have. Pretty powerful. You can even pay to remove the watermark or customize the outfit and scenery, giving the company a path to earn off of the phenomenon.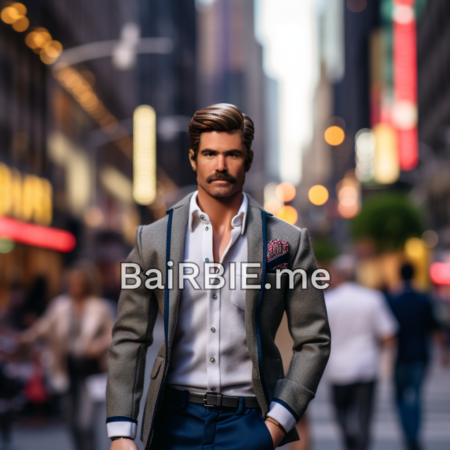 Next Stop — Collaboration Station 
The Barbie movie inspired hundreds of campaigns, some that aren't even affiliated with the film or brand.
There were themed candles, luggage, pool floaties, frozen yogurt, clothing, in-line skates, even floating sprinkles on the Google search page. Crocs, Primark, Aldo, Airbnb, even a bright pink Xbox gaming console…the list goes on and on. People saw products in partnership with the Barbie film, but they also were drawn to gear that was influenced by the fad and color scheme. And plenty of brands have benefitted even without being an "official partner" or sponsor, as noted above. 
There's always a way to blend a trend with your own brand, it just takes some ingenuity. 
Even without official partnerships or a huge budget, brands can align with trends and influencers through social listening and a shared vision. 
Using a wide-canvassing and precise social listening tool, you can see who has a platform and audience that is already talking about your brand, or a competitor. It can even be tangential to your brand and products, there's always a creative, focused opportunity. 
If you lack resources, such as a huge budget, use others such as deep research, utilizing available tools to mine actionable data, staying up-to-date on market trends, and taking calculated, well-informed risks. 
Influence of User-Generated Content on Viral Marketing
"The power of shared social events – that is something we have to remind ourselves about." Goldstine said.
With every piece of user generated content, it's a reminder that
a) the Barbie movie is coming out,
b) it's gonna be a phenomenon, and
c) you should be in on the fun.
It goes beyond the movie and becomes a celebration that everyone talks about. 
Personal anecdotal injection: Initially, I wasn't stoked about the Barbie movie when it was announced. I never planned on getting involved in the user-generated content but the people involved in the movie, and the marketing, seemed to be enjoying themselves while still being socially aware. 
The content flooded everything, even LinkedIn for goodness sake. It made me want to see the movie, make my own memes, get dressed up to see it with friends and make a whole evening event out of it. That's the influence and power of user-generated content. 
Barbie infiltrated everyday life, because other people were doing the marketing for them, and it worked on me. 
Key Takeaways
Know your audience — and let your audience know you! That was at the heart of the Barbie movie marketing strategy. 
Here it is in a nutshell, once again from Goldstine himself.  


"We saw it as a breadcrumb strategy, where we gave people little elements of the movie to stimulate curiosity and that created conversation. In every campaign, there are elements of earned media [like social media buzz] and paid media [such as a trailer spot]. We believed this brand had the opportunity to generate some exciting earned media. Some of the choices we made stimulated that. Then it did totally take on a life of its own," he said. 
Know your audience, and let them feel like they know you, too

A breadcrumb strategy can really add up, stimulating curiosity and conversation

Social listening

is crucial to understanding those true fans, and engaging them authentically where they are 

Replicating successful marketing strategies can mean taking pieces from more than one 

Monitoring campaigns' impact, and seeing your own trends via social listening will allow you to refine and improve
Marketing can be enjoyable, it simply takes a plan. And a great social listening tool won't hurt, either. Book a demo and build your own viral marketing and branding strategy like the Barbie movie marketing team today.