Customer Engagement
Action&Reaction – how can SentiOne React help you in daily customer service management
Some people say that timing is everything – especially in the era that we live in. Thanks to the Internet, information circulate with the speed of light, giving us the answers that we need in no time.
On the other hand, how to find the answers fast? According to Google, in 2013 the web had over 30 trillion unique web pages – and to make it even more dramatic, it went up from 1 trillion in 2008! Watching this tendency, we can assume that the era of information has just begun… there are more than 2 trillion Google searches per day in 2018.
Today you can find everything online! From food to doctors and schools, shoes and washing machines…
What does it mean for your company?
If you care about your company's online reputation, you've probably already taken care of your accounts on social media platforms by reading and reacting to the messages and comments. But…
Studies show that the vast majority of online discussions about brands happen outside companies' official channels. It means that there's a huge potential for your brand on market that you do not control. Of course, you can try googling your brand's name, but this could significantly slow you down, leaving less time for serious duties – it would be also somehow limited, showing you only a certain part of the results (without social media mentions). What to do then? Is there a good method to control all the aspects you'd like to dig into and profit from? We believe that our tool is the answer – but let me show you the examples!
I need dollar, dollar, dollar is what i need…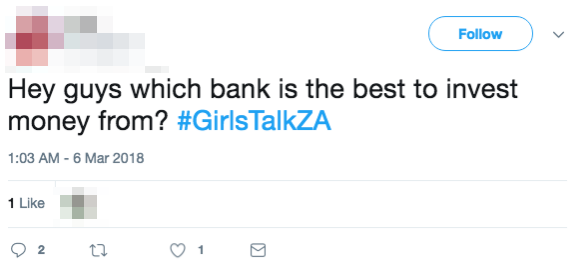 As investing money can be one's sink or swim, people look for useful insights, including recommendations of best bank accounts. What you see the most often are other users of the platform sharing their experiences in comments section, so the information may not always be one hundred percent accurate – there's an opportunity for you to mention your brand and invite the customer to test your services. By using SentiOne React you can answer to such questions directly from one tool – it doesn't matter whether the question appeared on Facebook, Instagram or Twitter, it's an all-in-one solution.
Who can profit from that: banks, investment funds, other financial institutions
Safety first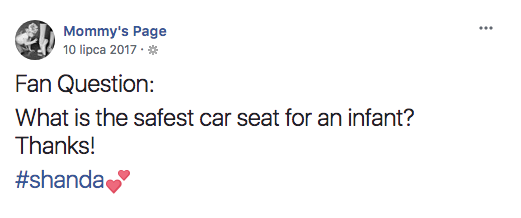 One of the attributes of a good car is its high safety level. No matter if you mostly drive alone or with a bunch of friends – effective airbags, seatbelts and other crash protection features are a must. Apart from that, sometimes our car need slight upgrades – such as baby accessories – to make the trip even more secure. Parenting blogs and fanpages are a thing these days – it means that if you're a producer of children-related products or you just want to prove your products safety to the parents, you can set up a project based on keywords that would trigger alerts, like "baby", "safety", etc and when the question or concern occurs in the discussion, you can reply to it, straight from your
Football trainings, language classes, other extracurricular activities – the variety of courses is huge, so is the amount of schools that offer them. Very often people have tons of questions regarding timetable, price, level of education and so on, and such questions often relocate to the online world, giving you the chance to track your potential customers. How to outsmart your competitors? Be fast and be present!
Who can profit from that: language schools, gyms, sports clubs, etc.
It's all fun and games until…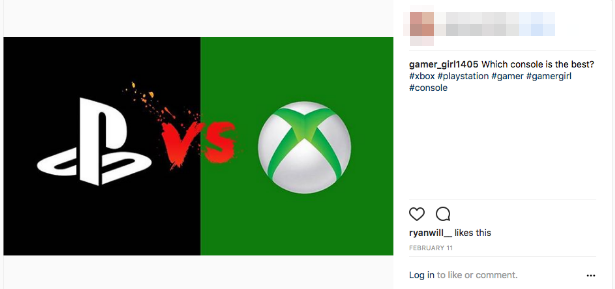 Ah, gamers! One of the most specific groups of internauts, spending crazy amounts of time arguing, discussing and comparing all the devices that you can play on. It's also the group that highly demands the possibility of direct and quick contact (online contact, as it's proven that new generations are not really into using their phones in classic way, such as calling). Looking at it from their perspective –  just imagine organizing FIFA tournament at home, and finding out that your console lags! Consoles' fanpages are full of such complaints and technical questions, but it's just a drop in the ocean, as broad part of discussions takes place on gaming websites or portals like Reddit. Having everything in one place, you can help your customers in no time and up your customer service ratio.
Who can profit from it: consumer electronic goods producers
Nothing really mattress anymore

In our times, a long sleep at night seems to be some sort of a privilege – privilege that needs to be taken care of. The quality of sleep has a huge influence on our daily performance, state of health, and it basically makes our lives better or worse, so it's quite essential to find best possible solution to get a good night sleep. Good mattress is a smart thing to start with – given that it's an object that's quite heavy and hard to transport, wouldn't it be perfect to order it online? In such case, it would also be nice to have an option to discuss the specifics with customer service representative. This is where SentiOne React enters, on the seller's side, giving customer service team an opportunity to conveniently handle all the potential clients from different platforms in one place!
Who can profit from that: homeware producers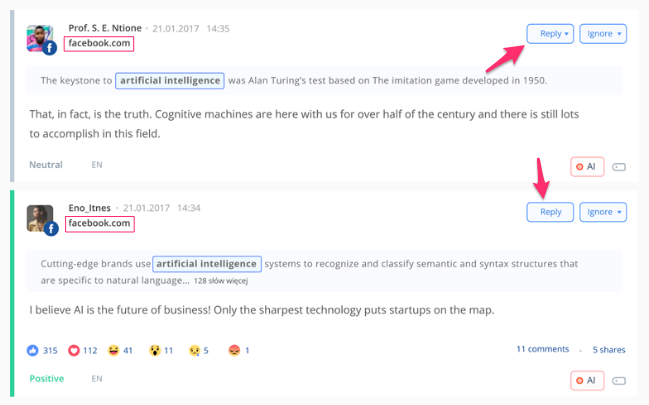 The examples mentioned above are just a small range of purposes that SentiOne React can be used for. Interested in getting to know more and implementing our tool in your company? Book a demo!