All
A year of excellence at SentiOne
From rapid growth to continued technological breakthroughs, SentiOne has been through a lot – and I'd like to share our journey with you. Join me as I take a look back at what defined the past year for our company.
SentiOne – more than just social listening
Initially, our main focus was on social media monitoring and sentiment detection.
However, repeated discussions with our customers made us realise there exists a need for a comprehensive customer service automation solution. After all, who's got the time to juggle around a dozen different social media platforms? 
Sure, most social media monitoring tools already offer rudimentary response functionality. However, we decided to go a step further and create a comprehensive, omnichannel customer service automation solution.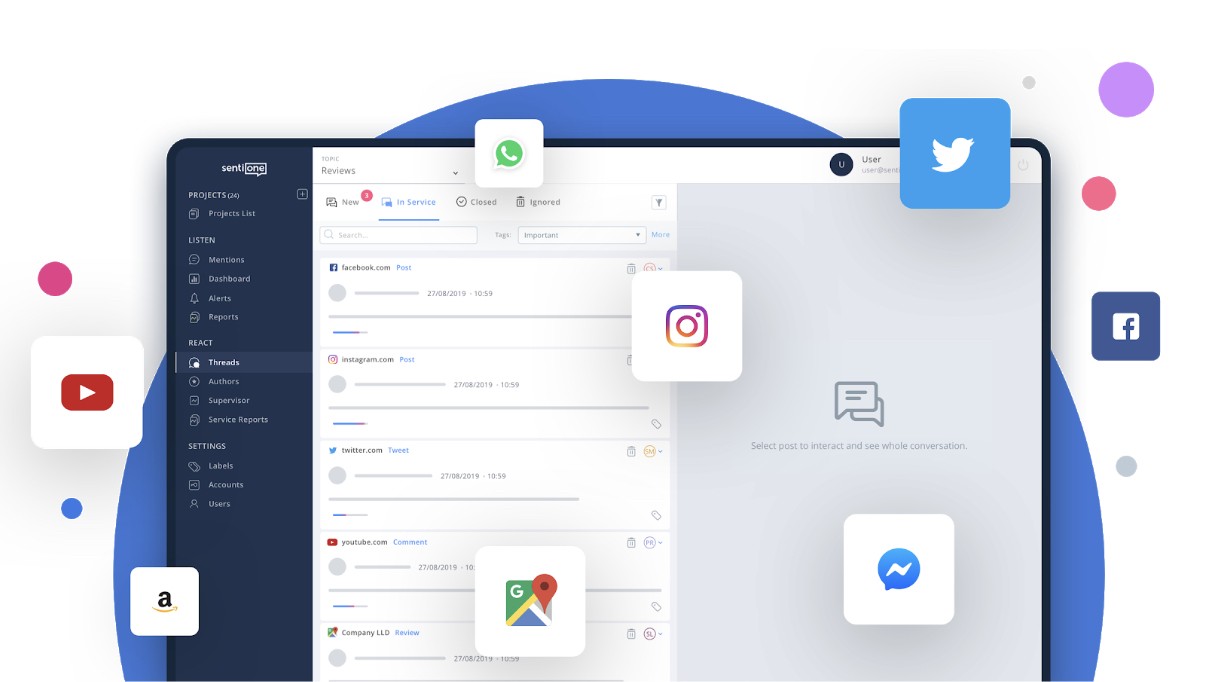 We asked ourselves: "Why do you even need separate apps to respond to your email, social media messages and your Whatsapp communiques"? The answer was: "You don't" – which is why we decided to simplify things.
This year, our team worked hard on expanding the number of communication channels supported by the SentiOne platform. Our current goal with regards to the tool is to support all of the major messaging apps – as they are the fastest-growing form of digital media. 68% of customers prefer communicating with businesses through messaging apps – and we believe you should have the best tools to handle your messages.
Let the bots do the talking
Speaking of customer automation, we decided to take our world-class sentiment detection algorithm to the next level by building a complete chatbot solution around it. This led to the development and release of SentiOne Automate, an enterprise-grade bot package perfect for augmenting any customer service automation effort.
Over the past year, we managed to hit several important milestones. Our bots are now able to detect intent within colloquial speech patterns with up to 90% accuracy in Polish, English, German, and Spanish. Several enterprise-grade companies have already deployed our bots with amazing results.
All of our research and development resources are currently focused on continued improvements to our AI platform and finding new applications for it. According to research published by Gartner, 80% of technologies that will emerge within the next two years will have their foundations in AI; which makes us all the more eager to invest in solid research.



Compliance issues? Leave them to us.
2019 was another important year for privacy efforts on social media platforms. The landscape shifted heavily due to continued private data leaks and new regulations, such as GDPR. Many companies in the social media monitoring space have fallen to the wayside by not being nimble enough to adjust their services to the changes.
Not us – from the very beginning, SentiOne's main priority was ensuring compliance with both: state regulators and platform owners. Our solution is regularly subject to compliance audits, passing them each time. As such, our customers can rest assured they won't suddenly lose access to any platform data.
We keep growing!
Last but not least, I wanted to talk about the numbers. There's no humble way to say this, so let's cut to the point: thanks to all changes and continued efforts we doubled our revenue in 2019! We keep growing and expanding to new markets – over the last year we acquired many customers from Asia, the United States, and Latin America. The latter of these markets expressed so much interest in SentiOne, we decided to open an office in Mexico City.
We're not resting on our laurels – in 2020, we plan to devote even more resources to expanding our customer base across multiple international markets. More importantly, however, we're committing even harder to our research efforts into AI, machine learning, and enterprise applications for both.
Of course, all of this wouldn't be possible without our A-M-A-Z-I-N-G Team. I'd like to take this opportunity to thank the wonderful people behind SentiOne: our developers, marketing, sales, customer success, research and everyone who is, or was, a part of our family. 
Thank you! 🙏🏻❤️
2020 – here we come! 💫🚀🦄