Analysis
Dashboard is where you can find the analysis of your online listening projects. They are showcased as customisable widgets presenting collected data. Dashboards are created automatically for each of your projects while forming a new project (unless you switch it off during the setup process). You can choose the widgets to display and arrange them freely.
New analysis
There are two ways of creating a new dashboard. Either as a part of project setup process or manually in Analysis module.
If you haven't got any dashboards yet, you can create a new one from the Analyses' list level in Analysis module. In this case, click the '+CREATE' button.

In order to create a new Analysis, you need to fill in the form: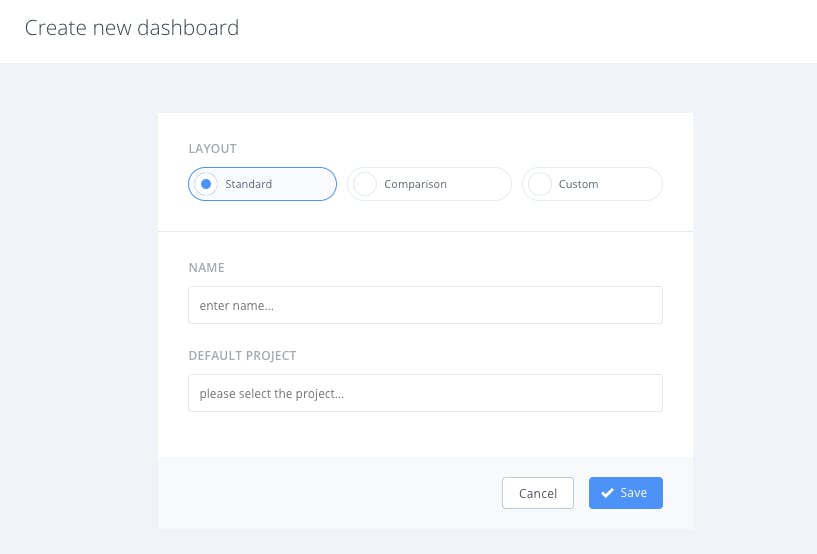 Decide on Analysis layout. Please note, that you can change and edit the widgets afterwards. There are three kinds of Analysis available: Standard, Comparison, Custom.
Name your Analysis– enter the name in the field.
Choose project – at this point, you should pick one of your projects for the analysis. To do so, enter the name of your projects in the 'Default project' field or choose from the drop-down list.
Widgets and custom analysis
Any predefined Analysis can be easily customized with widgets of your choice. You can also use "Custom" Analysis type and add your own widgets from scratch. To add widgets click "CUSTOMIZE" button in the upper left corner of the dashboard view.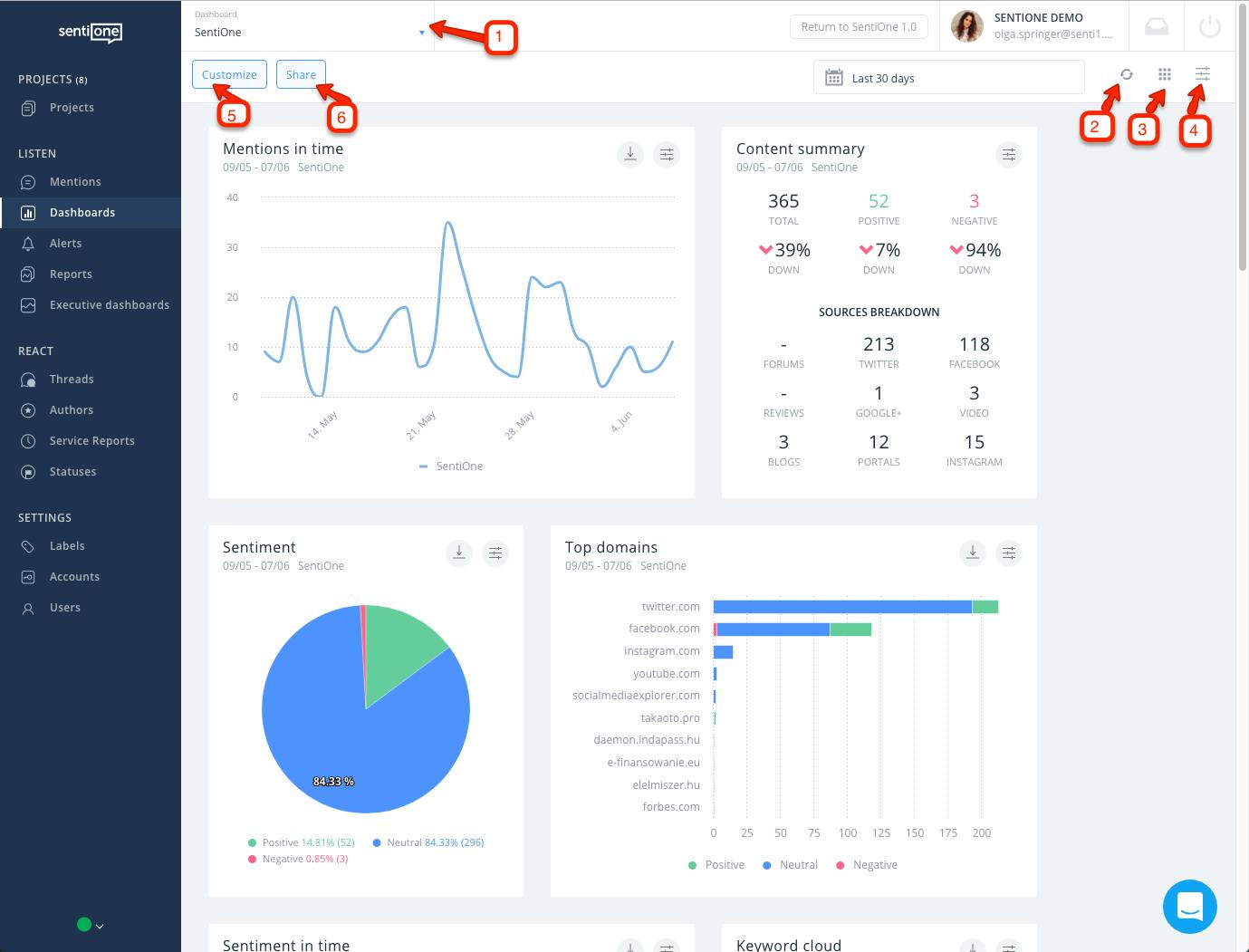 Analysis list – where you can see the list of available dashboards or look for a particular dashboard by typing its name.
Refreshing displayed data.
Adjusting the layout of widgets to screen resolution.
Data filters displayed on widgets according to projects, dates, domain groups, sentiment, influence score, the author's gender, mention types, granulation, tags, the statement's language. Particular filters are presented in the Mentions module.
Adjust – clicking on this icon displays a dashboard editing panel where you can freely add or delete widgets displayed on the dashboard.
Share – you can share your online listening analysis with everyone, using a public link (works even when someone is not logged in to SentiOne).
In SentiOne we have 7 categories of widgets you can add to your Analysis dashboard. Their availability depends on the chosen plan.

Results - including Results Summary, Mentions in Time, Buzz Comparison, Keyword Cloud, All Mentions List, Image Gallery, Social Stream, Anomaly Strength in Time, Anomalies in Time, Top Hashtags, Mentions in Time by Country, Mentions in Time by Language, Mentions Breakdown by Languages, Mentions Breakdown by Countries
Sources - including Sources Share, Mentions in Time by Source, Top Sources, Geolocation
Sentiment - Sentiment Share, Mentions in Time by Sentiment, Sentiment Prism, Brand Health Index, Sentiment Comparison
Gender - Gender Share, Mentions in Time by Gender
Tags - Mentions in Time by Tags, Tag Share
Reach - Reach Comparison, Mentions in Time by Reach, Reach Summary, Top Mentions, Top Authors
Engagement - Engagement Summary, Fanpage Stats, Top Hours of the Day, Top Days of the Week
To add a widget to your dashboard, click the one from the menu and it will automatically appear at the bottom of your dashboard (you can move and resize it later):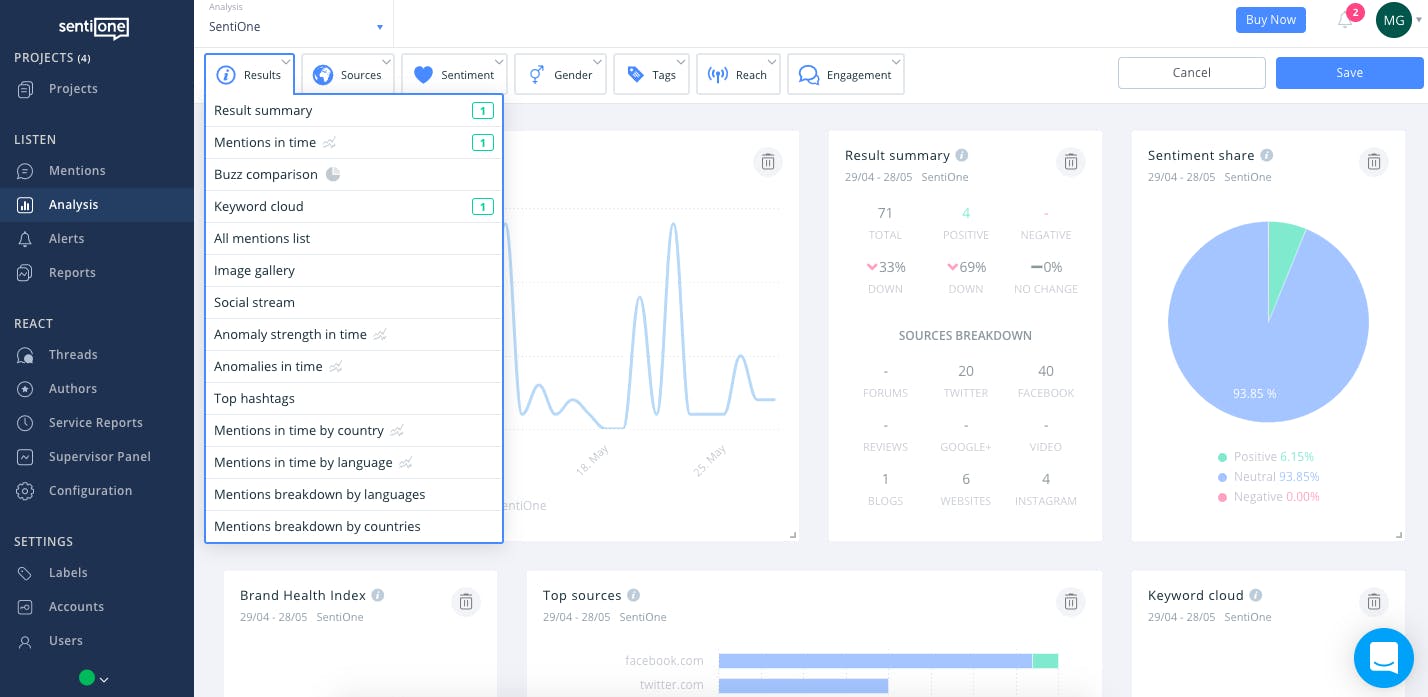 Customizing widgets
Any widget you add to your dashboard can be customized in terms of showcased data. To do so, click 'Edit settings' icon on the top right corner.
After you do that, a form will appear with the filters section you already know from the Mentions module.
Can I share my dashboard with people who don't have the access to SentiOne tool?
Yes, you can. Go to Online dashboards functionality description to learn more.