Online dashboards
This feature allows the users to share their dashboards online with other people. Even with those who don't have the access to SentiOne application.
This is what dashboards look like online: https://sentione.com/dashboard/G4jZEARlM7cqXb8V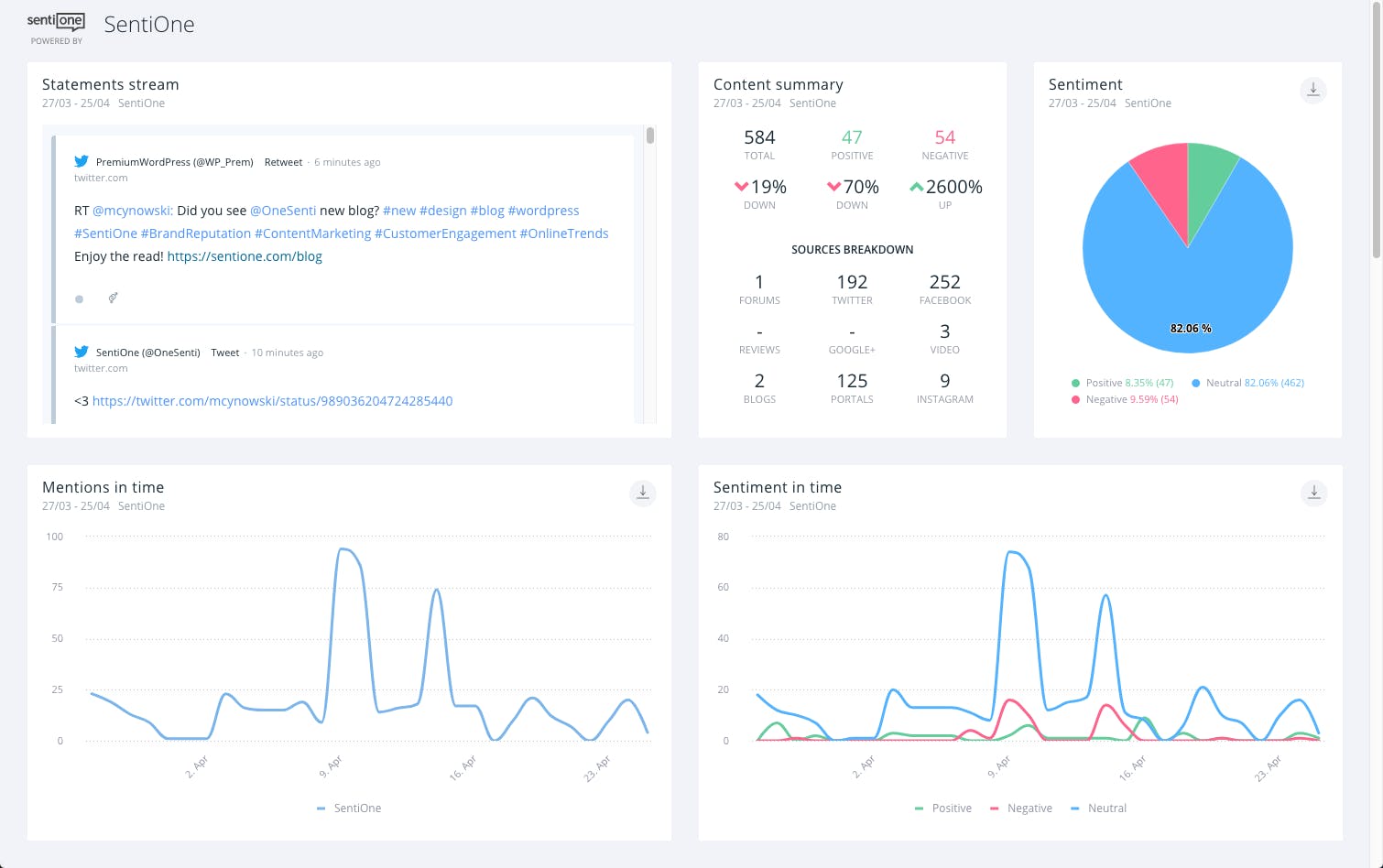 Shared dashboards keep all hints and tooltips available just as in the application – you just have to direct your cursor on particular elements of widgets to see all the details (but you can't click on them as it is possible within the application).
In the shared dashboard, everyone can see all graphs and charts from your original dashboard in SentiOne. There is no limit in number of widgets displayed in dashboard online but the order of widgets can be a little different.
There is also no limit for number of recipients who can open the specific URL with dashboard received from you. Everyone can open the URL with the dashboard without any additional restrictions like password or other security codes. Online dashboard can't be edited or personalised as in the application, although each time the users make some changes in the original shared dashboard, the online version will be updated after refresh as well.
Online dashboards are refreshed automatically when you have project setup to monitor data from following periods of time: last 7 days, last 30 days, last 3 months, last 12 months, this month, this year (when a specific period of time includes the current day).
How can I share my dashboard publicly?
If you have the proper permission - "Share Dashboards", you can log into the application and go to the "Dashboards" tab.
In every dashboard, there is the button "Share".
You will then get the URL, which should be copied (after clicking "Copy" button, URL is saved in cache memory automatically), then you should click the "Continue" button.\
You can send copied link to chosen recipient or share it on social media, if it was prepared for marketing purposes.
Every dashboard, which has been shared, is marked as "Shared". You can turn it off by clicking the "Shared" button.
If you want to share the dashboard again (when you've stopped sharing it), you have to generate a new URL.
If you make some changes in your original dashboard by editing, removing or adding some widgets, the changes will be visible on the online dashboard (after refreshing the website) as well.
You can read more about practical use cases of online dashboards here.